With erratic rain and snowfall, Humla struggles to adapt to a changing climate 
In the warmth of the December sun, little children run around dusty alleys while elderly women, scarlet-shawled and bedecked in heavy brass ornaments, lazily smoke out of wooden chillums. The school is closed for the winter, so the children get to stay home for two months, and the elderly women have little else to do but bask in the sun while it is still warm outside. The water has not frozen yet, so the younger women wash clothes and bathe at the village communal tap. Early in the morning, tendrils of smoke rise from small stone-and-mud houses.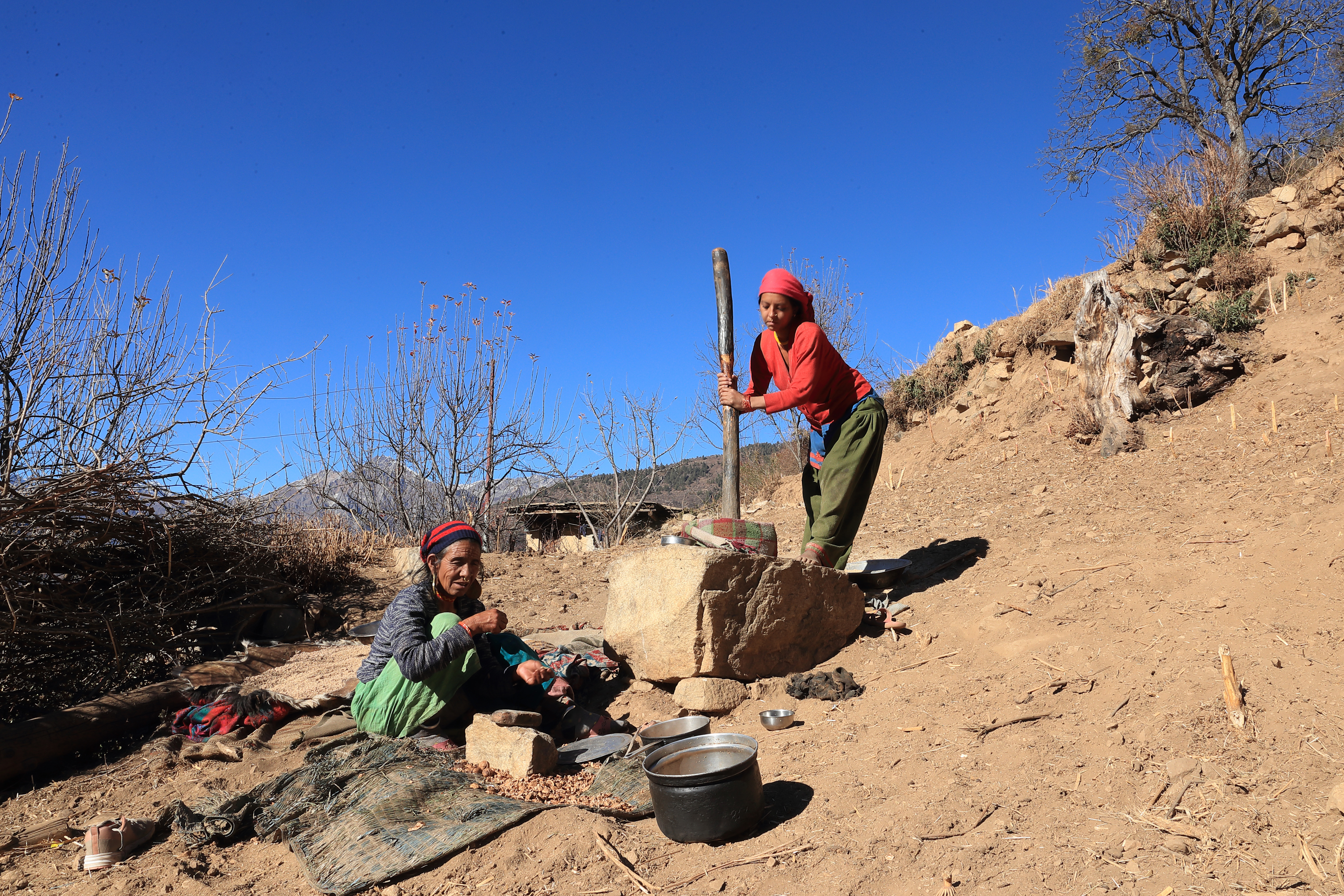 Published at : January 5, 2019
Updated at : June 25, 2019 13:26
In the warmth of the December sun, little children run around dusty alleys while elderly women, scarlet-shawled and bedecked in heavy brass ornaments, lazily smoke out of wooden chillums. The school is closed for the winter, so the children get to stay home for two months, and the elderly women have little else to do but bask in the sun while it is still warm outside. The water has not frozen yet, so the younger women wash clothes and bathe at the village communal tap. Early in the morning, tendrils of smoke rise from small stone-and-mud houses.
Winters in Simkot never saw this much sun just a decade ago. In fact, residents say that only a few years ago, snow would've completely blanketed the hills by December, making movement impossible—let alone playing outside or enjoying the sun.
"When I was a boy, we spent all our winters indoors, with our cattle locked in their sheds. We haven't seen that kind of snow in a long, long time here," says 60-year-old Choyang, who runs a small shop in Simkot, right next to the airport—the only way to get to Humla, the country's last district that has yet to be connected to the national road system.
"A few decades ago, during this time of year, there would be six to seven feet of snow. Now, we hardly see a foot or two," he says.
The airport is Humla's only link to the outside world. It is still the only district not connected to the national road network. Photo: Marissa Taylor
The ramifications of global temperature rise are being felt the world over, but particularly in the fragile mountain ecosystems of countries like Nepal. In Humla, which is already struggling with food scarcity, extreme poverty and a lack of basic amenities, weather anomalies are slowly becoming a reality that cannot be ignored.
Many of the district's residents are subsistence farmers, and a slight change in climate patterns could push entire villages deeper into poverty, changing the way they live, eat and survive.
"Climate vulnerability is directly aligned with poverty and development," says Vijaya P Singh, assistant country director of the environment unit at the UNDP.
"The changes in climate can be the same all over the world, but the capacity to respond is not."
When it comes to natural disasters, Nepal is geographically vulnerable—evident as recently as 2015 with the devastating earthquakes. The World Bank classifies Nepal as one of the global 'hotspots' for natural disasters.
The Tarai is prone to flash floods induced by incessant rainfall; the hills, where the treelines are receding, are susceptible to landslides; and the Himalayas are extremely sensitive to climate change.
In these mountains, the mean temperature is higher than the global average—according to a report by ICIMOD, from 1951 to 2010, the global average temperature rise was 0.6 degrees Celsius, but it was 1.5 degrees Celsius in the Hindu Kush Himalayan region. Here, climate-induced hazards are more likely to occur than anywhere else in the country.
"Climate change is a natural phenomenon, but the natural process of change is slow," says Singh. "However, because of anthropogenic causes, the climate is changing at an unprecedented rate right now. And that is evident in the mountains, which have a fragile ecosystem." For example, in Humla, erratic weather events, such as incessant rainfall in some parts, severe drought in others, drastic decline in snowfall, etc, have become a recurrent phenomenon. In 2011, Limi, a village inhabited by 400 people in northern Humla, was hit by a glacial lake outburst flood, which swept away two houses and eroded 200 ropanis of fields. The flood is the fifth since 2006.
A climate vulnerability assessment, conducted in 2010 by the Nepal government, showed that more than 1.9 million people in the country are highly vulnerable to climate change induced weather events, while another 10 million are increasingly at risk. And this number is most likely to increase in the future.
In Simikot, sowed wheat seeds should have been sprouted by now. But without adequate snowfall, the shoots remain underground.
Livelihoods already affected
"The most vulnerable communities in the world to climate change are often those who depend solely on their surrounding natural resources," says Singh.
Humla is a prime example of this frailty, considering its lack of development and poverty-stricken population. This means that the impacts of climate change will be exaggerated in Humla, say experts. And although there is a limited quantity of data currently available about the district, erratic weather patterns—indicated by levels of precipitation and temperature—have been noticed by the scientific community based on isolated events and climate shifts specific to the district. The impacts of such patterns on agriculture can be far-reaching. Along with destroying harvests, these unusual patterns—with their too wet, too dry spells—is affecting the quality of the soil, which has consequently affected the quality and quantity of crops. Locals say current weather patterns have thrown the crop cycle off balance.
Humla is the second largest district in Nepal in terms of area (565,500 ha), but very little of this land is arable, given its soil quality and arid climate. Currently, only 9,708 ha are cultivated. Of that, irrigation is available only for 1,072 ha, of which 397 ha get irrigation year round, while the remaining 675 ha are irrigated only seasonally.
In Humla, during the monsoons, villagers grow maize, pumpkin, buckwheat, potatoes, cabbage, chilli, millet, and apples. In the winters, their production is limited to barley and wheat. And while places like Namkha, Hilsa and Limi receive a lot of rainfall, all of which are up further north from Simkot, many smaller villages like Dandaphaya do not receive sufficient rainfall year round.
A few hours' walk from Simkot and you are decades away. Untouched by any form of development, seemingly forsaken by the world, Dandaphaya is a deeply impoverished farming community that has around 120 families that depend solely on agriculture for their sustenance, producing around 400-500 quintal of marsi, a unique type of rice grown in Humla. This production is not enough to feed everyone year round.
Besides the lack of rainfall, locals have another major fear. "The soil here is loose. Every year, landslips occur. We are worried it will one day take away our homes," says Lal Bahadur Shahi, a Dandaphaya resident.
The lack of rainfall is also affecting the electricity supply in Humla. "The microhydro in Simkot, which used to generate 500 KW of electricity, currently only generates 200 KW, as the water level in Karnali has receded," says Dinesh Ghimire, Field Coordinator at the Nepal Climate Change Support Programme (NCCSP) in Humla.
In winter, the villagers depend solely on snow to irrigate their fields. "We sowed our seeds in the fields in Kartik, and by Mangsir, we should have seen some growth. But since the snowfall so far has been inadequate, the fields are still barren, and it's already Poush," says Rajesh Rokaya of Tallo Gau, Simkot.
Wheat needs 12 to 15 inches of water to produce a good harvest, and that cannot happen if the region witnesses scant snowfall. If enough snow does not fall in Humla soon, the people in Humla will be facing a cold, hungry winter. "Nothing grows here at this time of the year besides wheat and barley," says 60-year-old Rupa Singh, a Dandaphaya resident.
While Dandaphaya is water scarce, other areas in Humla are at the receiving end of too much rain in the monsoon. "This monsoon we received so much rainfall that all our potatoes went to waste," says Rokaya.
According to locals, with the temperature rising, migration patterns among locals have also altered. "It used to be so cold in the winters that people used to migrate to lower altitudes. People who lived in villages above Dharapani used to move down to the lower belts. But they don't do that anymore," says Choyang.
In Humla, according to the FAO, only 10 percent of households have sufficient food for the whole year while 18 percent have enough for six to nine months. An alarming 28 percent have food sufficient for less than three months. The annual per capita production of edible food in Humla typically does not meet even a quarter of the demand, leading to the mass importation of food from other districts. In a district already under stress due to a scarcity of food, one can only imagine the impacts a changing climate will have on the population—a people who will have to pay the price for a problem they did not create.
"Whatever little food we grow, we eat. We sun-dry the vegetables we grow in the warm season so that we can consume it in the cold," says 18-year-old Kopila Singh, a resident of Dharapuri. "After we run out of food, we have to buy food either from Hilsa or Simkot, or we have nothing to eat."
Hilsa is a town on the northwestern corner of Nepal bordering Tibet, from where most locals purchase basic necessities—like flour, oil, ghee—at cheaper prices compared to Simkot. Rice costs Rs 3,500 for 30 kgs in Hilsa, while it costs Rs 4,500 for 25 kgs at Simkot. But there are restrictions on how much flour one can buy. "One person can buy three ghattas; one ghatta is 25 kgs, which means 3 ghatta is 75 kgs," says Singh. This does not last Singh's family more than four months. And Hilsa is a three to four day journey on foot. The prices of basic consumables are subsidised at the depot of the Nepal Food Corporation (NFC) in Simkot, but the stock at NFC is never enough for everyone. So, many resort to purchasing food at inflated prices, as everything has to be airlifted from Nepalgunj to Humla, which naturally increases the prices.
In Humla district headquarters of Simikot, barren fields and landslides are an increasingly common sight.
In order to address the adverse effects of a changing climate, the only step developing nations like Nepal can take is to adapt to changing weather patterns. To aid people in doing just that, the Government of Nepal prepared and started implementing the National Adaptation Programme of Action in 2010 and a Climate Change Policy (CCP) in 2011. The government also prepared and approved the National Framework on Local Adaptation Plans for Action in 2011, which closely works with local communities in 14 climate-vulnerable districts in the mid and far-western regions. NCCSP is the government body tasked with implementing the government's adaptation programmes.
According to NCCSP, 2,300 local adaptation actions have been implemented as of December 2017, benefitting over 6 million people in 14 climate-vulnerable districts. The activities implemented under local adaptation plans in Humla include building of irrigation canals, renewable energy projects such as micro-hydro stations, improved water mills, and providing alternative/drought resistant crops.
A recently constructed irrigation canal has brought great relief to farmers in Dandaphaya. The canal supplies water even during the winter to almost all the fields in the area, but this is just one of the many
villages that need urgent adaptational interventions. Efforts must be made on a larger scale to ensure immediate relief.
In an effort to adapt to the changing climate, the people too have been applying their own adaptation measures, such as using makeshift 'greenhouses' to grow seasonal vegetables. Humla residents have also resorted to other alternatives to make ends meet, as their traditional ways of agriculture have become more unreliable. Most women have also taken up selling oil extract from walnuts, chuiri, dudhilo, etc. People have started collecting medicinal herbs, like seto chini, which grow in the wild and have slowly become a cash crop for the people in Humla. "We have to first search for the herb underground, then we have to clean them, cook them and dry them in the sun," says Kopila Singh. The process takes at least two-three months and they hardly get Rs 200 per kg for the herb.
Why adaptation will be tough
As a signatory to the 2016 Paris Agreement of the United Nations Framework Convention on Climate Change, Nepal's government is developing adaptation plans to address climate risks. The efforts that are currently being carried out are noteworthy, but not enough.
Years of institutional neglect has resulted in Humla being one of the least developed districts in Nepal. It is still cut off from the rest of the country, which makes it all the more challenging logistically and financially for adaptation aid to reach the district. For lack of awareness, villagers pressed with solving immediate problems are more likely to turn to short-term, unsustainable solutions, further adding stress to the already fragile ecosystem, rather than thinking about the long-term implications of their actions.
Globally, as pollution levels continue to rise, the target of the Paris Accord—keeping global temperatures well below two degrees Celsius—has looked like a utopian dream. And with polluting polluters like the US and Russia, withdrawing from the Paris Accord, developing countries—and especially their most vulnerable people—have been left to fend for themselves.
While countries most responsible for the changing climate continue to bicker among themselves, for people like Kopila Singh from Dandaphaya, weather anomalies and climate change are not sometime in the future; they are occuring now, forcing her to either make substantial changes to her lifestyle, or perish.
---