Online pranks are hilarious, maybe even lucrative, but they are still illegal
As platforms like YouTube give rise to prank videos, some say there must be a line content creators shouldn't be allowed to cross.

Unsuspecting strangers being pranked by YouTube channel, Nepali Prank Minister. Screengrab via YouTube
bookmark
Published at : August 29, 2019
Kathmandu
Two Nepali traffic policemen stop a couple of motorcyclists and have them park on the side of the road. The policemen ask the riders for their driving license, and when they are not found, the policemen make them do push ups, perform poetry, and even indulge in insulting jibes.
This is what makes up a popular prank video 'Nepali Prank-Fake Traffic Police', which many viewers claim to be the "best prank ever", with 13,000 likes and around 650 dislikes.
The video was posted in July, on a YouTube channel named Nepali Prank Minister, which has more than 400,000 subscribers, and was created in collaboration with Nepali Pranksters, another YouTube channel that has more than 300,000 subscribers.
Although the humour in such videos is popular, the act is illegal, according to the Nepal Police. If anyone reports that such acts were conducted against their will, evoked fear or embarrassment in them, or resulted in physical harm, then actions can be taken. While the content helps creators garner fame and generate income, it can also affect self integrity and the safety of the people the pranks are played upon. With the rising competition between creators to produce more popular content, these 'pranksters' may be infringing upon legal boundaries.
"Even if such offences take place for as short as a minute, Nepal Police will take actions under indecent behaviour act," says Central Police Spokesperson Bishwaraj Pokharel. "And impersonating law enforcement officers without permission is also punishable under law."
However, for content creators, Niraj Shrestha of Nepali Prank Minister and Ashish Prasai of Pranksters Revival, pranks are done in good humour, and as both of their companies are registered companies, the two claim to have the right to create such "social experiments".
But according to the Nepal Police, one can only perform such acts within the members of the company or team. Involving strangers as a part of their act and breaching their privacy under the guise of law enforcement is a punishable offence.
"Such pranks are pulled off worldwide. Why can't we do it here?" questions Prasai.
Their question is fair—but only partially. YouTube has become a hotbed for a number of prank channels for mostly young people to gain more subscribers, views, and a decent income, and in 2018, popular YouTube prankster Chris Sails was arrested for impersonating a police officer. Similarly, a few members of a YouTube prank channel Trollstation were also arrested for a fake robbery at London's National Portrait Gallery in 2016, and a fake kidnapping at Tate Britain in 2015. Both acts terrified visitors and the public areas were flooded by frightened and fleeing visitors.
Even in Nepal, insensitive prank videos are found floating on the video-sharing platform: there's one in which people are being chased by a performer, who is holding a fake khukuri and axe; one in which people are pushed and dragged without their consent as an act of awareness; in one video some are misled into talking to a 'Jalal' who has a fake suicide bomb ticking on them, or a fake bomb is passed in a suitcase deceiving the ones who approach to help—as though any kind of act can be passed off and forgiven when termed as "pranks".
And while some viewers may enjoy these prank videos, it may not be a pleasant experience for the person—mostly a random stranger—who is getting pranked. In one such video, a man walks into a real Nepali wedding and starts accusing the bride, who is seated next to the groom, of being a cheater. The bewildered bride is polite during the whole incident and repeatedly tells the prankster that she doesn't know him. But when the man gets aggressive and gets on her face, the bride breaks down and starts crying.
The video isn't uploaded by a renowned Nepali prank channel, but is on the internet for people to see.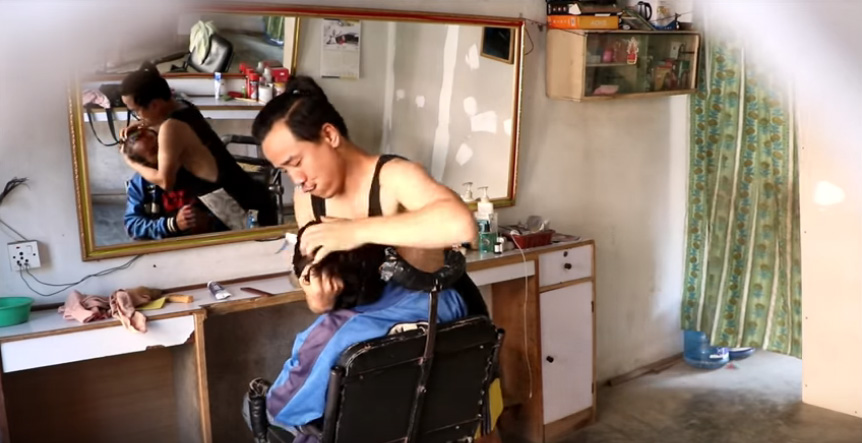 From Alish Rai's YouTube channel. Screengrab via YouTube
In another prank video, by Alish Rai, a YouTuber who has more than 200,000 subscribers, people are pulled by their hair, have their heads jerked on the hairdressing chair and have their faces drenched with excessive water. The video is titled 'Nepali barber prank', and the pranks were pulled off on people who were visiting a local hair salon.

After sometime, some people cannot bear the mistreatment and become angry, oblivious of the fact that they are being filmed. "Is this a joke? What kind of a joke is this? I don't want to cut my hair," says one of three men angrily, in Nepali, who was pranked.
Getting these kind of reactions by strangers is what drives more followers to their channels, say the YouTubers. But there have been cases where people have suffered long-term consequences due to such practical jokes.
In 2018, The Guardian published a parent's account of how their daughter was injured as a consequence of a prank video. The teenager was blasted with an air horn at her ears by her friend's step-father. The step-father was mimicking a YouTube prank he had seen before. After the incident, the teen suffered from acute ear pain and doctors have been unable to diagnose the problem or come up with a solution.
But not all who have been pranked say they had a bad experience. Twenty-two-year-old Kevin Bajracharya was out for an evening stroll last year in Basantapur when he was stopped by a person wearing sunglasses and a mask. As the figure blocked Bajracharya's way and came forward, he rudely asked, "Bhai timi hero bhayeko?" (Brother, are you being a hero?)
Bajracharya repeatedly said "no", but the figure wasn't willing to listen to him properly.
"I was intimidated at first," says Bajracharya. "Had it not been a short encounter, I would have panicked and taken any action in haste."
As a viewer of prank videos himself, Bajracharya figured out that he was being filmed. And the prank ended with both him and the prankster laughing it off. Having said that, he does understand that there are limits that must be maintained, and pranksters impersonating state authorities is a big no for him.
"I hope they understand that they have certain boundaries to play within for such roles," he says.
In Nepal, prank channels have been around since 2013 when Aakash Sedai was inspired to create his channel Nepali Pranksters after binge-watching videos of VitalyzdTV on YouTube. "I enjoyed watching them and thought of creating my own local prank videos," says Sedai, 25, whose channel has more than 300,000 subscribers on YouTube.
He says his audiences have appreciated his content and that is what drives him to create more prank videos. "One of my viewers even said that even when they're at a hospital, they laugh watching my videos," says Sedai.
These video makers too accept that they have to be sensitive. Following concerns regarding insensitive acts in the name of pulling a prank, they have stopped making violence-inducing or insensitive videos, say pranksters.
"Previously, even I made such [torturous] videos to gain subscribers and views," confesses Shrestha of Prank Minister. "But now, I've understood that such videos do no good so I no longer create such content."
Audiences too are more aware and have raised concerns regarding the legality of such acts, as they harass and bully innocent civilians. Some have even reached out on Quora asking if they can report a prank. Amidst such concern, YouTube has also updated its policy to 'explicitly ban dangerous pranks and challenges' from January.
Both Prankster Revival and Prank Minister say they have been following the YouTube policies. Yet, there are many who are caught on camera, some even in the background, who ask the YouTubers to remove their videos. When this happens, Shrestha says that he makes the videos 'private'; Prasai, from Prankster Revival, says that he makes quick edits, either blurring the person or trimming the part where they have appeared, from YouTube's editor after publishing the videos.
Regardless, Prasai is unapologetic about his pursuit in continuing being a 'professional prankster'. "Some complain through comments and even over the phone asking why we provoke people," he says. "But if one doesn't understand pranks, we can't make them understand."
To sum up his motivation behind making these videos, Prasai says, "We're pranksters, we do legal things in illegal ways. Had there been any specific laws for us, we'd be happy to abide by it. In fact, I wish there were laws for us too."
---
---