Reinventing customer experience in restaurants
Good food isn't always enough for a wholesome dining out experience, and Kathmandu's eateries are offering more.

A good customer service isn't just about taking orders and trays, a server needs to look presentable and have a polite outlook, say restaurant owners. Sanjog Manandhar/TKP
bookmark
Published at : August 22, 2019
Kathmandu
Three men in identical uniforms and neatly combed hair walk on a squeaky clean floor with trays balanced on their hands. It's lunch hour and Fuchhey Restaurant in Putalisadak is buzzing. But the servers are calm and composed, politely taking orders and delivering food without a hint of impatience or frustration.

This is a welcome change of scene, especially if you compare it to just a decade ago, when most servers in restaurants were unfriendly and impolite, say customers.
"A few years ago, when we were still college students, small eateries didn't usually have servers. Some places had servers but I wouldn't call them hospitable," said Reena Shahi, a 38-year-old office administrator, who usually visits cafes and restaurants near her office in Tangal. "Nowadays I rarely encounter an ill-mannered staff at restaurants."
With new restaurants mushrooming across the Valley, Kathmandu's service industry has tried to reinvent itself. Today, when people go out to eat, they don't just visit a place for food, they also look for customer service that matches the quality of the dishes that are offered.
"As a restaurant, customer satisfaction is our main goal," said Sanu Shrestha, owner of Fuchhey Restaurant. "Providing good food in a good ambience isn't enough to satisfy customers anymore. The service also needs to be top-notch."
To provide such service, Shrestha and her team go through an elaborate recruitment process to hire employees. After someone gets hired they are put on probation and evaluated for at least a week.
"We don't send them to the floor while they are on probation. They just observe and help out with other tasks that don't involve interacting with customers," said Shrestha. High school graduates and hospitality management students are given priority, she said, but good communication skills and a neat appearance are imperative.
The team at The Bakery Cafe too goes through a similar elaborate recruitment procedure to hire servers. "We post announcements on job portals while hiring servers so that we get to choose from a bigger pool of people. We spend relatively more time screening through the people so that we find a suitable candidate," said Prem Shrestha, in-charge of the Bhatbhateni branch of The Bakery Cafe. "We also spend a lot of time training and teaching them. It's better to take more time while training them rather than hearing complaints later."
Moreover, managers and owners of restaurants are very much involved in the operation of the restaurant and keeping their staffs in check.
Trishna Rai, the owner of Yellow Pomelo in Jhamsikhel, said she firmly believes in the Sanskrit saying 'Atithi Devo Bhava'. For her, the space of the restaurants doesn't matter but the customer service should be a top priority.
"The servers represent the restaurant; the customers meet with the servers even before they taste the food. So it's very important to groom them," said Rai. She conducts monthly meetings with her team to review the things they have learned during the training session.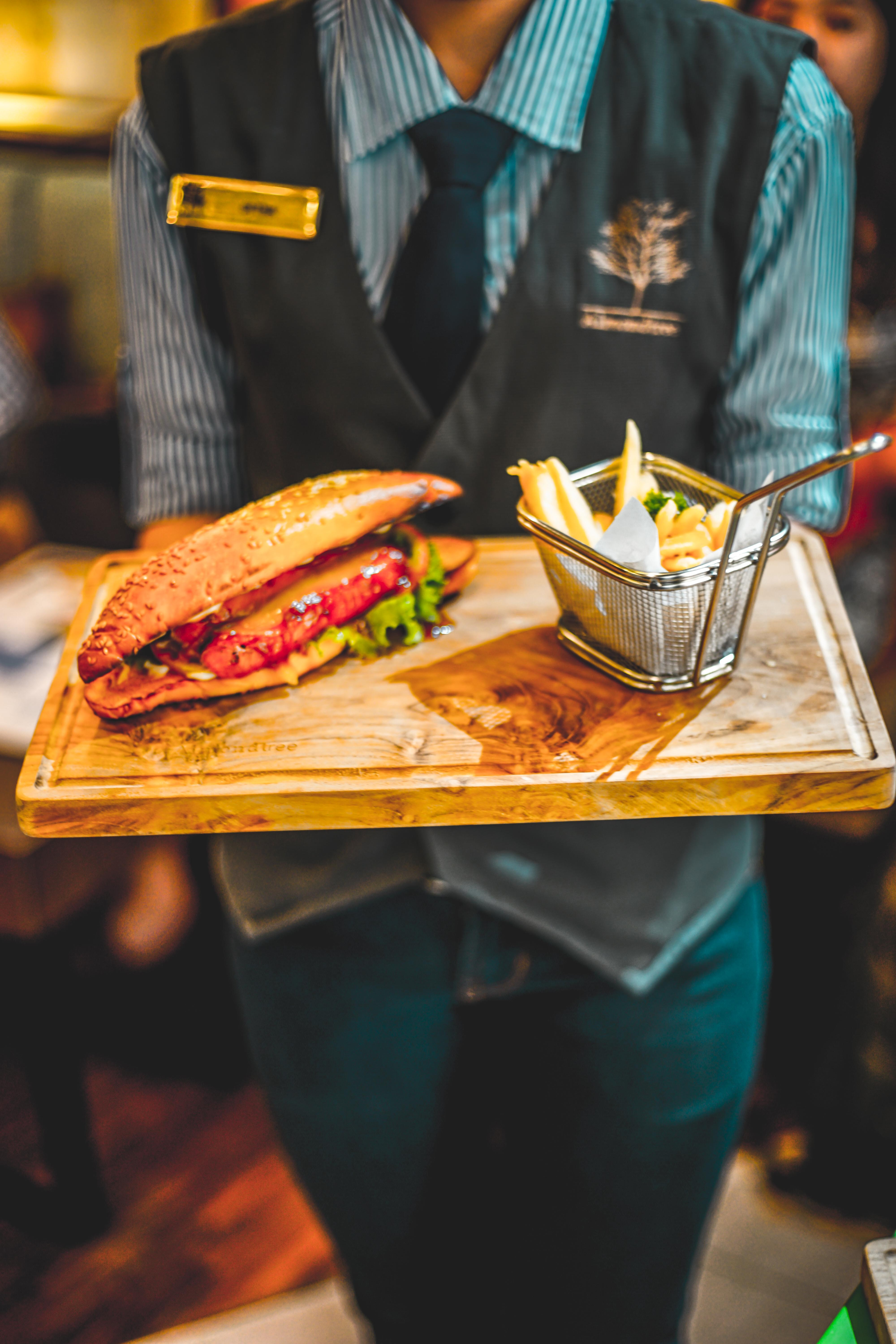 Bimo Luki/Unsplash
But in the digital age, in order to form an opinion about any restaurant, customers don't even have to step inside the premises.
"Nowadays, customers go through online reviews to decide whether they want to visit a certain place," said Krishna Khadka, manager at Upstairs Cafe in Basantapur Durbar Square. "This definitely puts us on our toes, which is good to maintain quality in restaurants."
In addition to on-the-job training, restaurant owners and managers say that human resources in the hospitality industry has improved also due to specific courses tailored by private training centres.
"In recent years, students who enrol in our training programmes have started to envision their career in Nepal rather than moving abroad, which used to be the trend earlier," said Niran Shrestha, principal of the Shangri-la Tourism and Hotel Management Training Center.
Shrestha said that there has been a marked rise in the number of students in the last five years, attributing this increase to flexible hours and good remuneration.
"The wage rate of workers in the service industry has increased up to three times over the years and this is attracting more young people to join the service industry," said Niran.
Training centres like Shangri-la provide 'industry-oriented training' to students, beginning with the basics of the service industry—being hospitable and personality grooming classes. The training can range from one to four months, and training centres also provide placement and internship opportunities.
"We are living in a time of globalisation, which is why we try to adapt our training techniques to the global standard," said Shrestha. He further points to cutthroat competition in the service industry—for both restaurants and staff—as a major reason for the improvement in Kathmandu's service industry. More competition means restaurants are vying to provide service that's exemplary.
"Gone are the days when all you had to do to be a good barista was make good coffee and hold trays properly to be a good server. Now, you have to look good, be polite and attentive, and have proper knowledge of the products on offer," said Madhav Devkota, training director at Himalayan Java Barista Coffee School.
---
---