'Our photographs show what it's like to lead a nomadic life'
'On the move' exhibits the journeys of three photographers through their travel photography.

The travel photographs of Mathilde Castaignede, Kaushal Sapkota and Nabin Baral are on display at Bikalpa Art Centre in Pulchowk, Lalitpur. Sanjog Manandhar/TKP
bookmark
Published at : August 5, 2019
Updated at : August 5, 2019 09:00
Kaushal Sapkota and Mathilde Castaignede consider themselves amateur photographers. But in collaboration with another professional photographer, Nabin Baral, their joint photography exhibition titled 'On the move' is ongoing at Bikalpa Art Centre. Evident from the exhibition's title, the photos illustrate the three photographers' stories, where they journey through different places and meet different people. The photographers say their works reflect their emotions and thoughts during those travels. In this interview with the Post's Sachitra Gurung, Sapkota and Castaignede share their journey as travel photographers and inspiration behind this joint exhibition. Excerpts:
How did you start your journey as a photographer?
Kaushal: I was inspired by one of the seniors in my college. I knew nothing about photography before I saw him toying with his camera and coming back with amazing photographs. He was kind enough to lend me his camera before I decided to own one myself.
Mathilde: I began photography when I was 15 years old, but I still wouldn't call myself a professional photographer. I loved doing film photography. When I am travelling, I always take pictures just for memories. But after starting my internship at Bikalpa Art Centre, I felt motivated working with other artists.
How would define your photography style?
K: I am a learner and that makes me experiment with different styles and themes. In recent years, working with other photographers and artists has helped me learn many things. But I would call myself a travel photographer, or someone who travels and takes pictures. I love Khalil Gobran's poetry, and I try to bring the same soul to my photography as his verses do— they leave a lasting impression on countless readers, like me. I mostly take portraits of people, and I aspire to reflect their stories through my lenses, to the audiences.
M: I am inspired by photographers like Coco Capitán. His photographs follow a certain concept, which I feel is a very creative style. I am also a student of graphic design, and I feel I tend to capture elements similar to that. I mostly prefer taking pictures of architecture, shadows, and lines.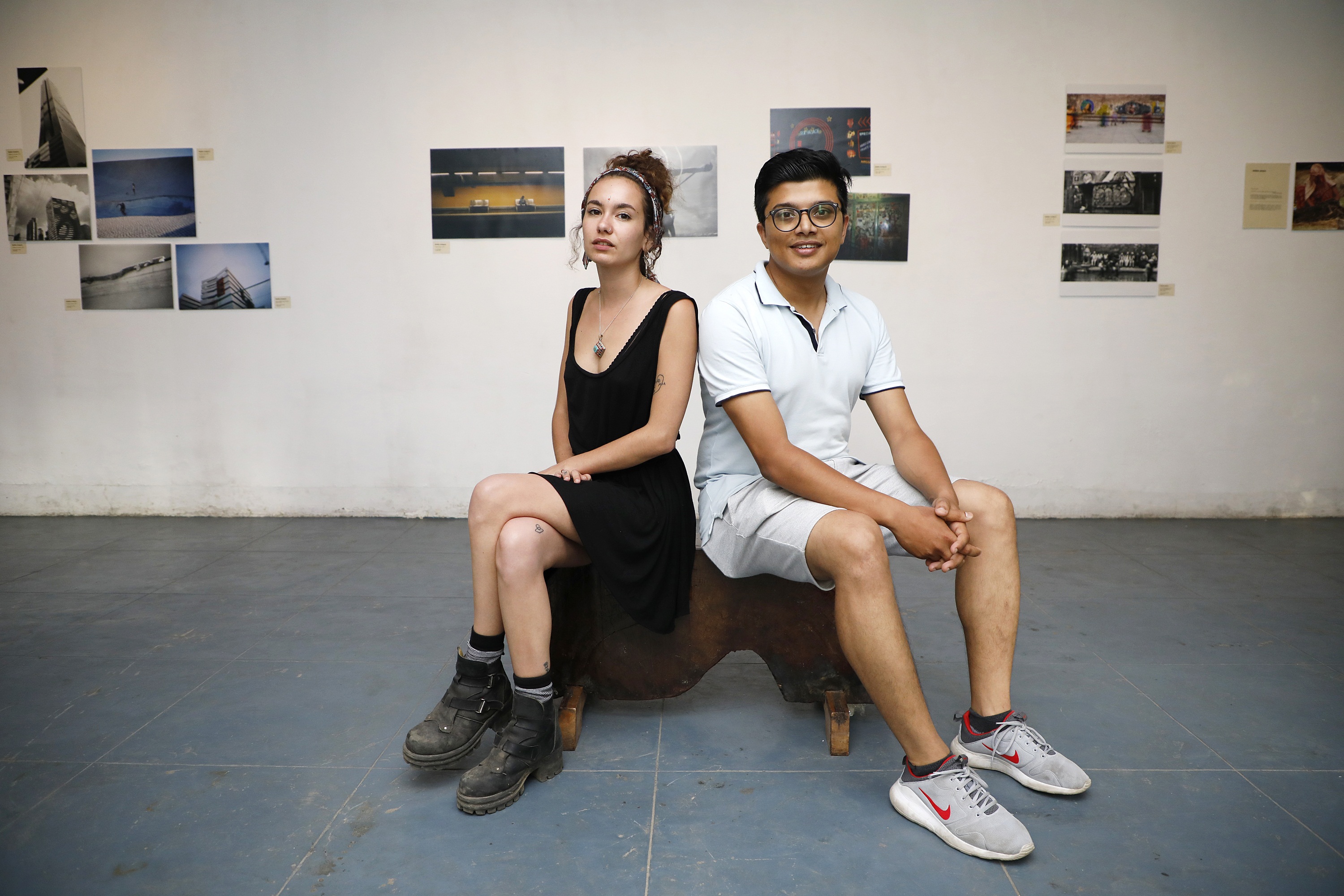 Mathilde Castaignede and Kaushal Sapkota. Sanjog Manandhar/TKP
Have either of you received any formal education in photography?
K: I didn't graduate in photography specifically. But when I was studying non-profit management in the US, all my electives were related to photography and multimedia. But most of my work is a result of experimentation and learning from different photographers.
M: I think my design studio helped me have a vision of composition and framing. And I also took photography electives—analogue photography to be specific. There, I got a chance to explore and know more about film photography.
What challenges have you faced as a travel photographer?
K: I need to immerse myself in the place before I take photographs. I want to know the story about that place before I capture it through my lenses. So, when I have just a few days to take photos, it's not possible and it is a big challenge for me.
M: My challenges are mostly because I'm a film photographer. Since I only use film cameras, unlike in their digital counterparts, I cannot see how my photos have turned out. This always makes me anxious and sceptical whether I have captured what I wanted to. Secondly, it's difficult to find film rolls everywhere I travel. So, I need to be careful with what I shoot.
Which were your favourite locations to take pictures?
K: San Francisco and Varanasi, both places felt like home. I loved walking around the streets and talking to people and taking photos.
M: Pays Basques, in South France, and Berlin, in Germany. Berlin is totally different during the day and at night, so it's really fun to take pictures there.
How do you find subjects to photograph?
K: I love talking to people whenever I travel, and peoples' stories inspire me. Sometimes I see a moment and I capture it.
M: I don't think about subjects, I just capture moments. Also, my photography reflects my opinions—be it politics, sexual identity or life in general. I choose my subjects 'on the move'.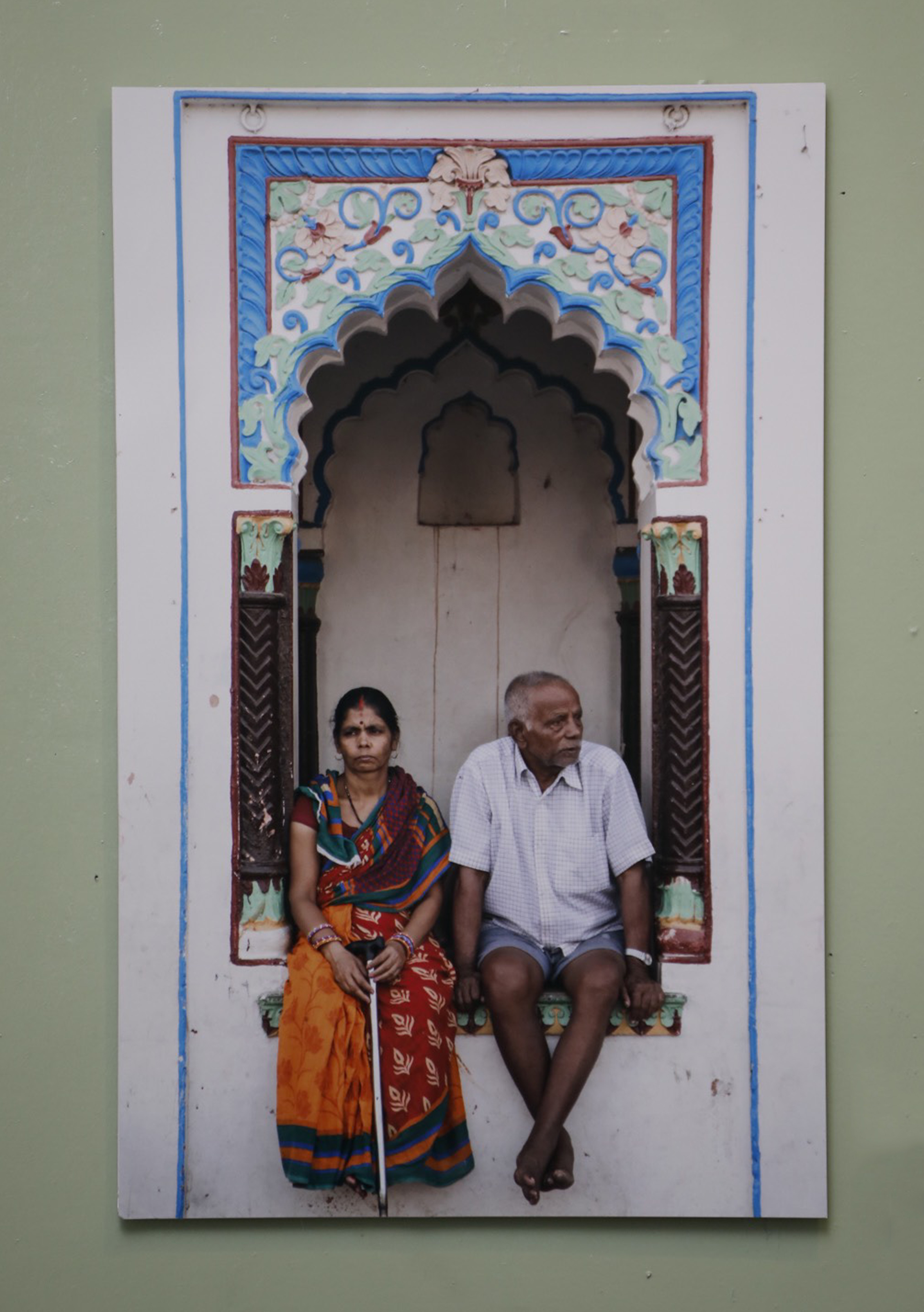 Sanjog Manandhar/TKP
Why did you decide on travel photography? And is this exhibition any different from what we see in Kathmandu?
K: Travelling is an integral part of life. It has shaped me into who I am today, and it has acted as a catalyst for my love for photography. So, combining these two was a natural process.
M: We are not offering anything different. But the exhibition is not just about travel photography, it shows our intimate lives, emotions and sensations that we felt at particular times while travelling. It also shows what it's like to lead a nomadic life.
Are there any stark differences or similarities in the photography style among the three of you?
M: Our styles are definitely different, but people have told us they can find some similarities. All three of us use lines in our photography. Each photograph tells a different story, but they compliment each other.
Why did you three decide to collaborate?
K: We were brought together by the founder of Bikalpa Art Centre, Saroj Mahato. He is also the curator of this exhibition. He weaved our stories together.
On the Move will be on display until August 12 at Bikalpa Art Centre, Pulchowk, Lalitpur.
---
---