Plastic straws are slowly being replaced in Kathmandu's restaurants, but a complete switch might take some time
Following global concern, a few restaurants in Kathmandu are consciously limiting their use of plastic straws by switching to sustainable alternatives.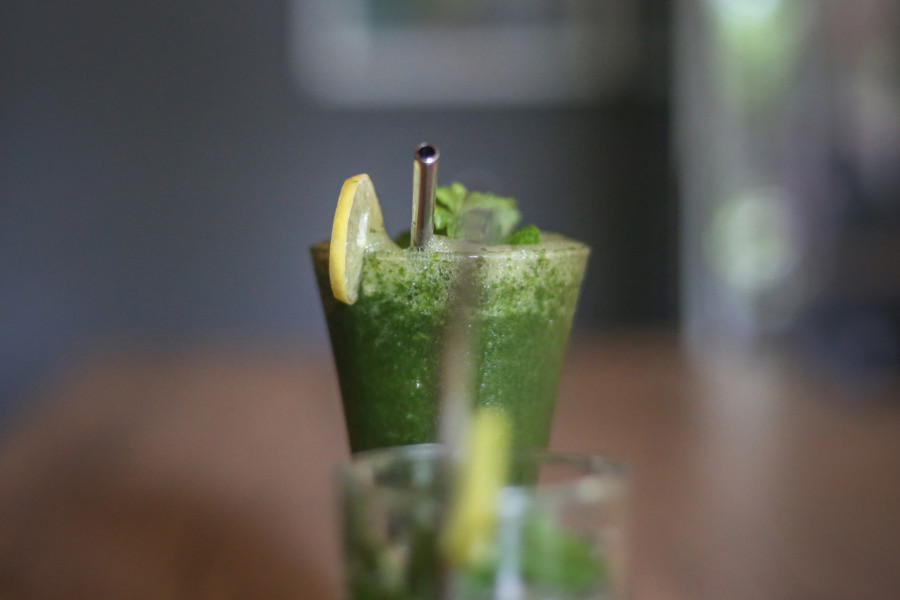 Le Sherpa is one of the restaurants in Kathmandu that resolve to using metal straws. Kabin Adhikari/TKP
bookmark
Published at : August 1, 2019
Twenty-one-year-old Asma Pun enjoys meeting her friends for a drink in cafes. And as much as she prefers to slurp her drinks with a straw, environment-conscious Pun says she has always been hesitant to use plastic ones.
That was why, in July last year, when she heard of the global pledge to ban the use of plastic straws, Pun too resolved to use bamboo and copper straws for her daily use. But she had difficulty keeping up with her new habit. It was tough to clean the straws, she says, and she had to constantly set reminders to carry them. Frustrated, Pun lost her motivation in four months. "I couldn't carry my straws every day, but I still use them at home," says Pun.
Today, almost a year later, Pun is no longer frustrated. Following global environmental concern, a few restaurants—even companies—in Kathmandu are consciously limiting their use of plastic, some by switching to using alternatives straws and some by manufacturing them. Pun no longer has to carry her bamboo straws with her everywhere she goes.
But this is not the first time alternatives to plastics have been encouraged in Nepal. The government first forbade the use of plastic bags in Hetauda almost 21 years ago, Pokhara joined the movement in 2010, and the Kathmandu Valley implemented the ban in 2015. Nepal has had a history of banning single-use plastics, but when it comes to regulating the law, it has miserably failed to sustain them—repeatedly.
Plastic bags, made from high-density polyethylene, take up to 10-100 years to degrade. Similarly, plastic straws, composed from thermoplastic polymer polypropylene, are estimated to take 100-500 years to decompose.
It was in 2015 that concerns regarding plastic started to rise, when marine biologist Christine Figgener uploaded a disturbing YouTube video of a male olive ridley sea turtle struggling as Figgener and her team tried to extract a 10-12 cm long plastic straw stuck in its nostrils. But it was only in 2018, after much of the world became aware of the effects of plastic, that the video went viral and so did the idea of eliminating plastic straws from daily use. A global pledge was taken by international food chains and service companies who refused to use plastic straws. This encouraged many consumers worldwide to join the movement.
But the global movement to ensure the safety of marine life is not just limited to countries with access to the sea. Even in landlocked countries, the plastic's ubiquity and use-and-throw characteristic cause many problems. Particularly in a country like Nepal, where we have a problem of allocating space for proper waste disposal, says Yajaswi Rai, founder of Lek Lekk.
Kathmandu Valley dumps more than 1,000 metric tonnes of solid waste daily at Sisdole landfill site. But even the landfill site, said to be the only dumping area of the Valley for the past 12 years, has outgrown its capacity.
Amidst such concerns in the Valley, Rai's initiation Lek Lekk—which translates to the colour green in Rai language—has been producing paper straws and collecting and recycling used ones.
Lek Lekk aims to tackle environmental issues and groom a hospitality sector that employs plastic alternative measures in Nepal. They have supplied paper straws to almost 65 restaurant chains in Kathmandu. And for every 15,000 paper straws they sell, they aim to plant a tree every year.
"It's a hassle for us to distribute and collect used straws," says Rai. "But as this is about environment emergency, we're passionately committed to our work."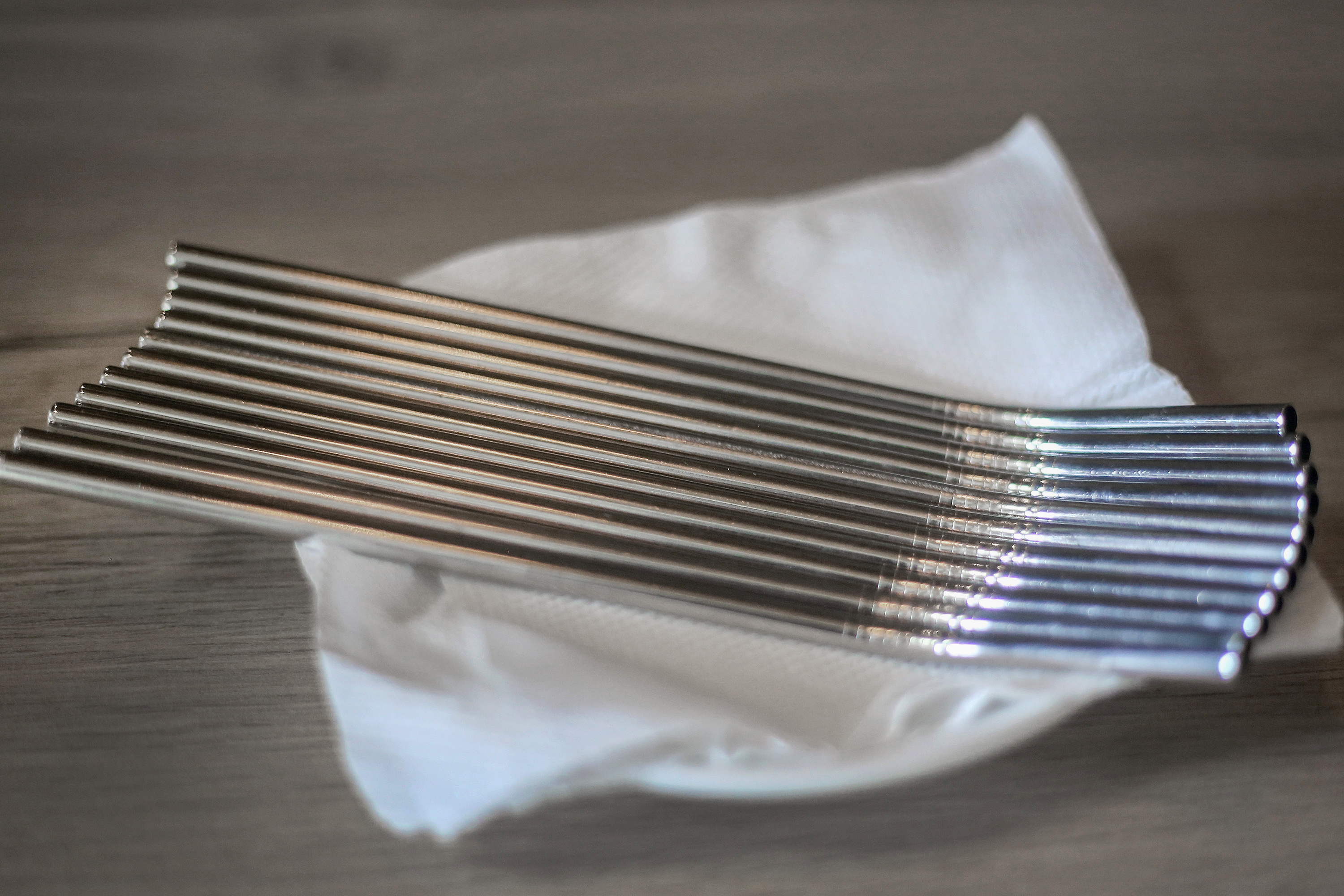 Kabin Adhikari
But for restaurants around the Valley, switching to an alternative is much more than just joining the global movement—a lot of effort goes into it.

Kar.ma Coffee aspired to become a plastic-free, eco-friendly spot since its inception, according to Shanti Karki, a staff at the cafe. But it was only 15 months back that they could replace their plastic straws with bamboo and metal ones. Today, they're strawless.
"We had bought 30 bamboo straws initially, but we lost almost 15 of them on our first day," says Karki. "Now we only sell bamboo straws for those who're willing to purchase for their personal use, else the drinks don't come with straws anymore."
At Himalayan Java outlets, all the plastic straws have been replaced with paper ones for a year now and they have been sampling bamboo straws as well. Le Sherpa, too, has been using paper straws for a year. They've shifted to metal straws only recently.
The restaurants in Kathmandu are currently experimenting with alternatives that work best for them. "Apart from environmental concern, chemicals present in plastics can also affect our health," says Mitra Raj Pandey, manager at Himalayan Java, Thamel. "We also have plastic cups for takeaways but they've been certified to be safe so we haven't thought of replacing them right away."
When switching into an eco-friendly alternative for the straws, customers were baffled at first, share the restaurants. "Initially, many were confused when we served their drinks without straws," says Kar.ma Coffee's Karki.
Some customers also have a problem adjusting to the soggy paper straws that eventually start tasting like paper once they mix with the drinks. But apart from that, pseudo paper straws coated with plastic are also available in the market, which don't degrade. Issues regarding the colouring agent used in the paper straws have also surfaced.
"Our paper straws, however, are approved by the Food Drugs Administration, US," says Lek Lekk's Rai. "We only use edible colourants and if someone specifically asks for colourless straws, we have that option as well."
Bamboo Straws Nepal, founded by Dhundup Gurung in February 2018, has been manufacturing bamboo straws and has, so far, supplied 800-900 straws this July. Similarly, Last Straw Nepal, established in January 2019, also started by manufacturing bamboo straws, but now sell imported metal straws as well. However, they're looking forward to collaborating with steel companies to make proper metal straws.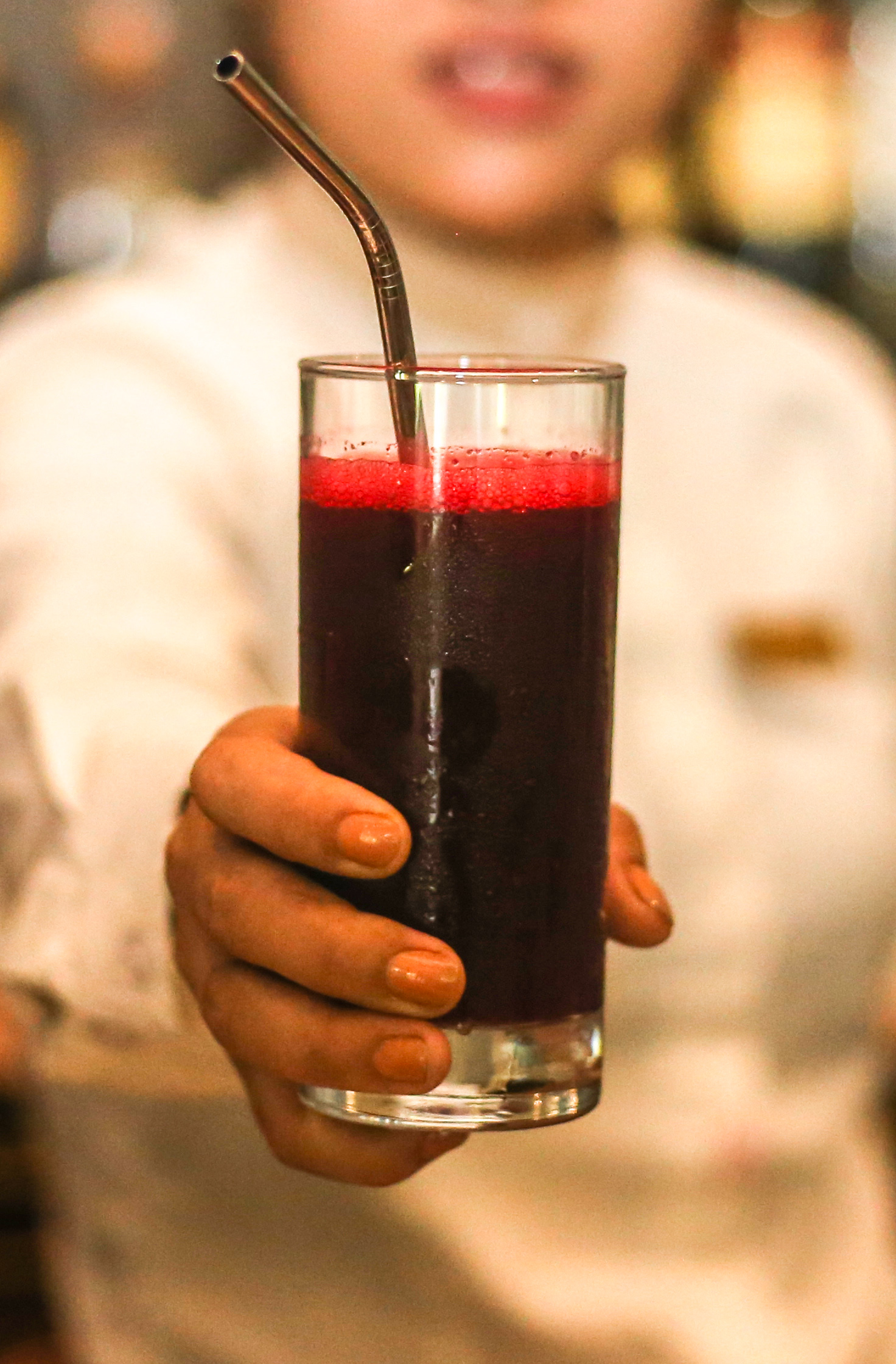 Kabin Adhikari
Last Straw Nepal has so far, circulated more than 3,000 and 7,000 metal and bamboo straws respectively. They also export to Sri Lanka at a wholesale rate.
Although the market for alternative straws has just started to boom in Nepal, entrepreneurs say that it wasn't very difficult to place their products in the market.
"Most of the restaurants operating these days are led by youths and we share a similar mindset regarding the environmental issues and sustainability," says Ayush Dev Pant, co-founder of Last Straw Nepal.
However, one of the main factors that is still obstructing environment-friendly straws from taking over Kathmandu's restaurants is the price difference. Plastic straws are approximately 40 percent cheaper than paper straws, says Manager Pandey.
According to Prateek Agrawal, managing director at B2B Hospitality, the price gap is even more than Pandey's calculation. If plastic straws are available for Rs 90 for a set of 100 pieces, paper straws come at Rs 200 for the same quantity.
Prices for bamboo and metal straws are even higher: Bamboo Straws Nepal charges Rs 120 for one straw and Rs 160-180 for a customised one; metal straws at Last Straw Nepal cost Rs 130-150 each. The companies say their prices can be adjusted when bought in bulk.
The switch is proving to be an expensive option for many small restaurants in Nepal, and not everyone can make the change right away, says Rai. However, Agrawal believes that within a span of two years, the hospitality market might fill the gap between the plastic and paper straws.
"Soon, hopefully, there will be many companies producing paper straws," says Agrawal. "And eventually the price will also reduce."
Social entrepreneurs like Pant are hopeful that the future will be bright, given that more and more people are becoming conscious of the environment.
Pun says that a lot of her friends have also joined the movement. "It's not easy to be committed to this cause, but you see so many people around you joining the cause, and that gives you motivation too," says Pun.
---
---