For most transgender women, sex work remains the only way to make a living
Faced with discriminatory hiring practices, most transgender individuals are unable to get jobs and resort to sex work, which comes with its own hazards.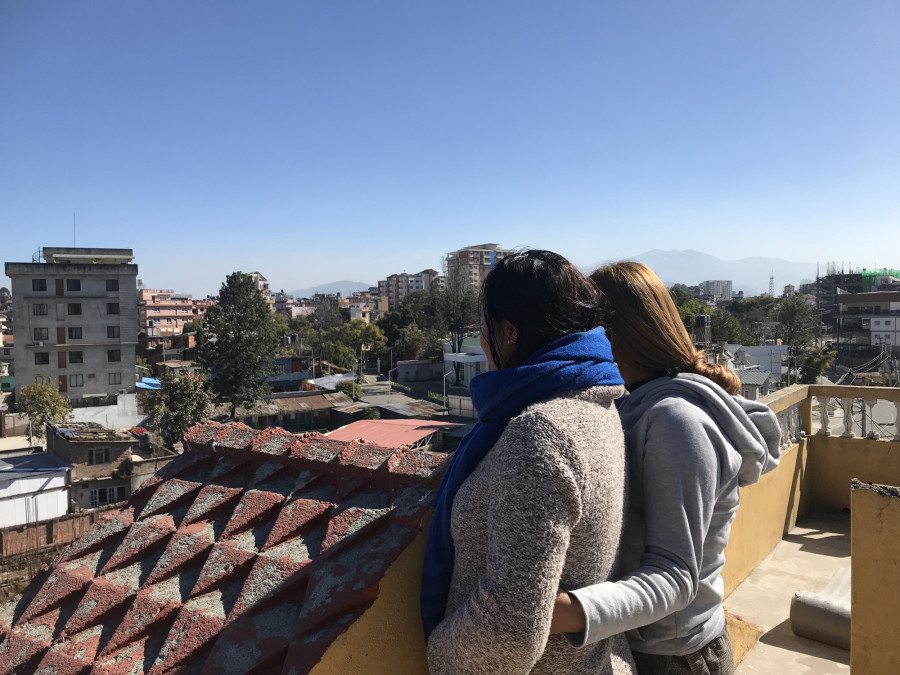 Pretty and Kripa, two transgender sex workers, look out at the city from the rooftop of the Blue Diamond Society. Elisha Shrestha/TKP
bookmark
Published at : January 24, 2020
Updated at : May 27, 2020 09:37
Kathmandu
Pretty was 15 years old when she first stood out on the streets of Chitwan looking for a customer. Bullied and teased by her teachers and classmates for her identity as a transwoman, Pretty had dropped out of school in the tenth grade to become a sex worker, earning as much as Rs15,000 to Rs20,000 a day.

"I knew that I was a female trapped in the body of a man at an early age," 27-year-old Pretty told the Post. "But I was made to feel like I was abnormal. School made things worse, as I was often humiliated and referred to as chhakka."
It was only when she met others like her that she was introduced to the LGBTIQ community. But at the same time, she was also introduced to the world of prostitution.
"Many transgenders would dress up and put on makeup like women. And they would look beautiful," said Pretty. "I saw that male clients appreciated them. I realised if I did that, I too would be appreciated and at the same time earn money and become financially independent. Prior to that, I hadn't experienced being appreciated as a woman or felt financially empowered."
In 2007, Nepal's Supreme Court made a ground-breaking decision on gender identity and sexual orientation by recognising equal rights for sexual minorities. The Supreme Court decision ordered the government to issue citizenship certificates and identity cards with a third gender option in the form of 'other'. In 2015, Nepal joined a handful of countries around the world by enshrining protections for the LGBTIQ community in its constitution.
Despite these progressive laws protecting the LGBTIQ community, discrimination and prejudice continue to permeate society. Transgender individuals especially are often exclused and ostracised, leaving them with few options to support themselves financially. This has led many trans individuals, especially transwomen, to engage in sex work to provide for themselves.
Kripa, a 35-year-old transwoman from Chitwan, chose sex work out of desperation.
"I tried searching for a job as a waiter in different restaurants multiple times, but no one would hire me," she said. "I didn't have any option except to engage in a profession that at least doesn't discriminate against me just because I am a transgender woman."
Various studies from around the world show how transgender women who don't have access to support systems face discriminatory hiring practices at workplaces and resort to sex work as the only option. However, sex work can be dangerous, all the more so because it is illegal in Nepal.
The recent rape and murder of Ajita Bhujel, a trans sex worker, in Hetauda impresses how transgender individuals continue to face violence. Last year, in March, another transgender sex worker, Junu Gurung, was beaten to death.
"Ajita was into sex work because she wasn't getting any jobs despite trying her luck many times," said Pinky Gurung, a friend of Bhujel's and president of the Blue Diamond Society, the country's oldest LGBTIQ rights organisation. "If Ajita was not transgender and was not involved in this kind of work, maybe she would be alive."
Although police have yet to uncover details of her death, queer rights activists are concerned that Bhujel's murder could be a hate crime.
"At the time when transgender people still face stigma and discrimination, transgender sex workers are even more vulnerable and are at high risk for a spectrum of dangerous outcomes," said Gurung. "They are often victims of physical violence and emotional abuse."
Kripa and Pretty, both of whom asked that they not be identified by their last names, are aware of how dangerous the profession they have chosen is.
"Working as a sex worker means I am consciously reducing my life expectancy," said Pretty.
Kripa agrees, especially given that there is a constant risk of getting infected with HIV and other sexually transmitted diseases. Both Kripa and Pretty have faced mistreatment and assault from their customers.
"I have been gang-raped, beaten up and robbed many times," said Kripa.
Since prostitution is illegal in Nepal, they cannot seek legal recourse when they are mistreated by their customers. And often, they are humiliated and victimised by the police themselves, said Kripa.
"Last year, when Blue Diamond Society organised a programme to interact with the police, many of them complained how there was an increase in the number of transgender sex workers on the streets and how it is negatively affecting society. When I asked if any police station was ready to offer transgenders job opportunities, no one answered," said Gurung.
Blue Diamond Society estimates that there are around 22,651 transgender members affiliated to the organisation from around the country. None of them are employed outside the organisation.
"Although Blue Diamond Society has been providing full time and part-time jobs to around 800 transgender members, there are many who don't have job opportunities and are relying on sex work," said Gurung. Although there isn't exact data, Gurung estimated that there are around 3,000 transgender people who are involved in sex work in the Kathmandu valley.
According to Gurung, constitutional recognition of the rights of sexual minorities will be effective only when the LGBTIQ community gets equal opportunities.
"LGBTIQ is a marginalised community and the government should provide a quota, like for other marginalised groups, so that they can secure jobs opportunities," said Gurung.
If she had gotten support from her parents and teachers, Pretty says that may not have dropped out of school and she would not have ended up as a prostitute.
"We are as qualified as any other member of society," she said. "All we need is support and opportunity."
---
---