France stabbing: Four children wounded in Annecy knife attack
France has been shocked by a number of violent incidents over the past few months, including the fatal stabbing last month.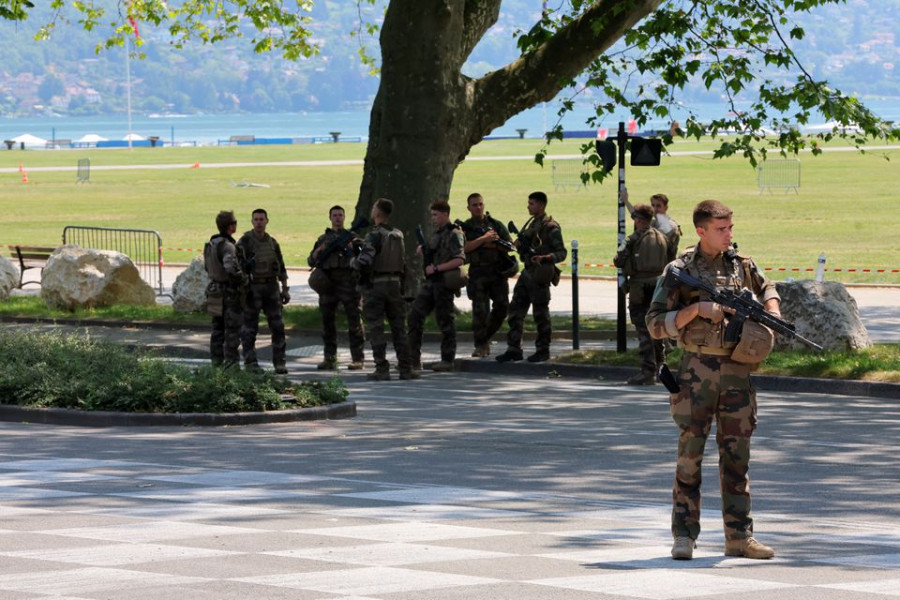 French soldiers secure the area after several children and an adult have been injured in a knife attack in Annecy, in the French Alps, France, June 8, 2023. REUTERS
bookmark
Published at : June 8, 2023
Updated at : June 8, 2023 17:47
Paris
A Syrian national wounded four young children and an adult in a knife attack in a park in the southeastern French town of Annecy on Thursday, police said, and some of the victims were in critical condition.
The attacker was a Syrian national with legal refugee status in France, a police official told Reuters. He was not known to security agencies and his motives were unclear, an investigative source said.
French Interior Minister Gerald Darmanin said on Twitter that the attacker had been arrested. BFM TV showed footage of several policemen overpowering an individual in the park.
Two children and one adult were in life-threatening condition, while two children were slightly hurt, police said. The wounded children were aged between 22 months and 3 years, they said.
"Children and one adult are between life and death. The nation is in shock," French President Emmanuel Macron said in a statement on Twitter, calling the attack "an act of absolute cowardice".
Witnesses said at least one of the children wounded in the attack was in a stroller. The incident took place at around 0745 GMT in the playground of a picturesque lakeside park in Annecy, a town in the French Alps.
"He jumped (in the playground), started shouting and then went towards the strollers, repeatedly hitting the little ones with a knife," a witness who gave his name as Ferdinand told BFM TV.
"Mothers were crying, everybody was running," said George, another witness and owner of a nearby restaurant.
Several witnesses described the scene of the attack, the Le Paquiet park, as a usually tranquil place popular with tourists for its stunning views of Lake Annecy and the mountains.
"It's a place where babysitters and parents take young children to play. I often see around 15 toddlers there in the morning, and the atmosphere is fantastic," said Yohan, who works at an ice cream parlour just opposite the park.
France has been shocked by a number of violent incidents over the past few months, including the fatal stabbing last month of a nurse in the northern town of Reims. Also last month, a drunk driver accidentally killed three policemen.
Macron has denounced what he calls a "de-civilisation process" in the country, while opposition lawmakers say his government has been too lax on law and order.
"Nothing more abominable than to attack children," National Assembly speaker Yael Braun-Pivet said on Twitter. Parliament observed a minute of silence to mark the incident.
---