Mosul battle: US says IS using human shields
The US has accused Islamic State (IS) militants of using civilians as human shields as Iraqi forces move closer to the group's stronghold in Mosul.

bookmark
Published at : October 19, 2016
Updated at : October 19, 2016 16:16
The US has accused Islamic State (IS) militants of using civilians as human shields as Iraqi forces move closer to the group's stronghold in Mosul.
Some 700,000 people are believed to remain in city, where up to 5,000 IS fighters face the third day of the operation to retake Mosul.
News that the nearby town of Qaraqosh had been liberated was later denied by a government commander.
But the US-backed coalition say they have driven IS out of 10 villages.
Government troops are moving up from the south while their Kurdish allies are approaching from the east in a two-pronged campaign which began on Monday.
US President Barack Obama has sought to allay concerns about an exodus of civilians from the area, saying "plans and infrastructure" are in place for dealing with a potential humanitarian crisis.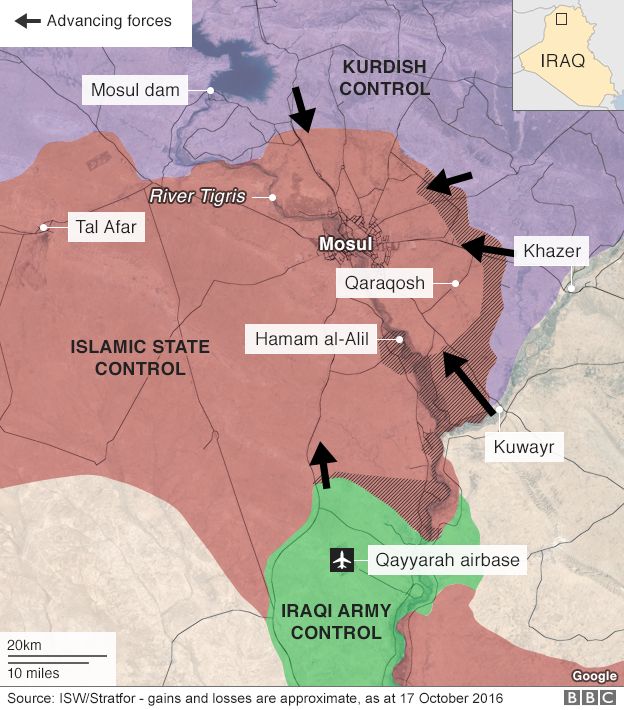 How dangerous is it for civilians in Mosul?
Asked by reporters in Washington if IS was using civilians as human shields, Pentagon spokesman Navy Captain Jeff Davis said "absolutely".
"They are being held there against their will," he said on Tuesday. "We have not seen any change in the last day of people leaving or fleeing."
Residents reached by telephone by Reuters news agency said IS was preventing people fleeing the city and had directed some of them towards buildings likely to be targeted by air strikes.
The UN is working to create new refugee sites outside Mosul.
Lise Grande, the UN's humanitarian co-ordinator for Iraq, said the organisation was working on the assumption that as many as 200,000 people might need shelter in the first days and weeks of the operation.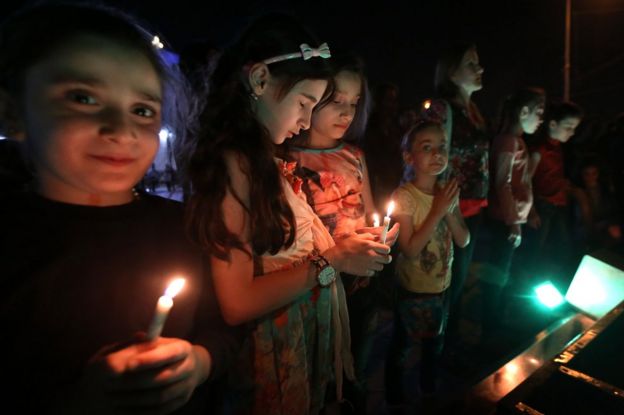 Iraqi Christians celebrated in Irbil after hearing reports of Qaraqosh being liberated
How far has the coalition advanced?
Government and Kurdish forces are still between 30 and 40 km (19 and 25 miles) from the city.
They are still besieging Qaraqosh to the east, where snipers have been holding up the advance, the commander of the Iraqi ground forces, Riadh Jalal Tawfeeq, confirmed.
Earlier reports that the town had been freed caused a momentary outpouring of joy among Iraqi Christians who had fled to the Kurdish regional capital, Irbil.
Before the war, Qaraqosh, 32 km (20 miles) from Mosul, had been Iraq's largest Christian town.
IS fighters appear to be putting up stiff resistance in places, with the group releasing video purporting to show them firing on coalition armoured vehicles.
The coalition advance is expected to resume on Wednesday. Some 34,000 Iraqi security personnel, Kurdish fighters, Sunni Muslim Arab tribesmen and Shia Muslim paramilitaries have been deployed.
Why does Mosul matter so much?
The oil-rich capital of Nineveh province was Iraq's second-largest city when IS militants overran it in June 2014.
Its capture signalled the rise of IS as a major force, an extreme Sunni Muslim group capable of controlling territory.
The EU has warned that jihadists fleeing Mosul, many of them citizens of EU states, could return to Europe and present a grave security risk.
Some of the militants involved in the deadly IS attack on Paris last November had recently returned from Syria.
Mosul was once one of Iraq's most diverse cities, comprising Arabs, Kurds, Assyrians and Turkmens, as well as a variety of religious minorities.
Sunnis there are wary of the involvement of Shia Muslim militia groups in the offensive.
The commander of one of the main groups, Hadi al-Ameri of the Badr Brigades, sought to reassure them on Tuesday, saying only Iraqi security forces would be allowed to operate inside the city.
---