A peek into the nomadic life of the Rautes
The settlement on the riverbank of the Thamghat River is home—albeit a temporary one—for around 141 individuals.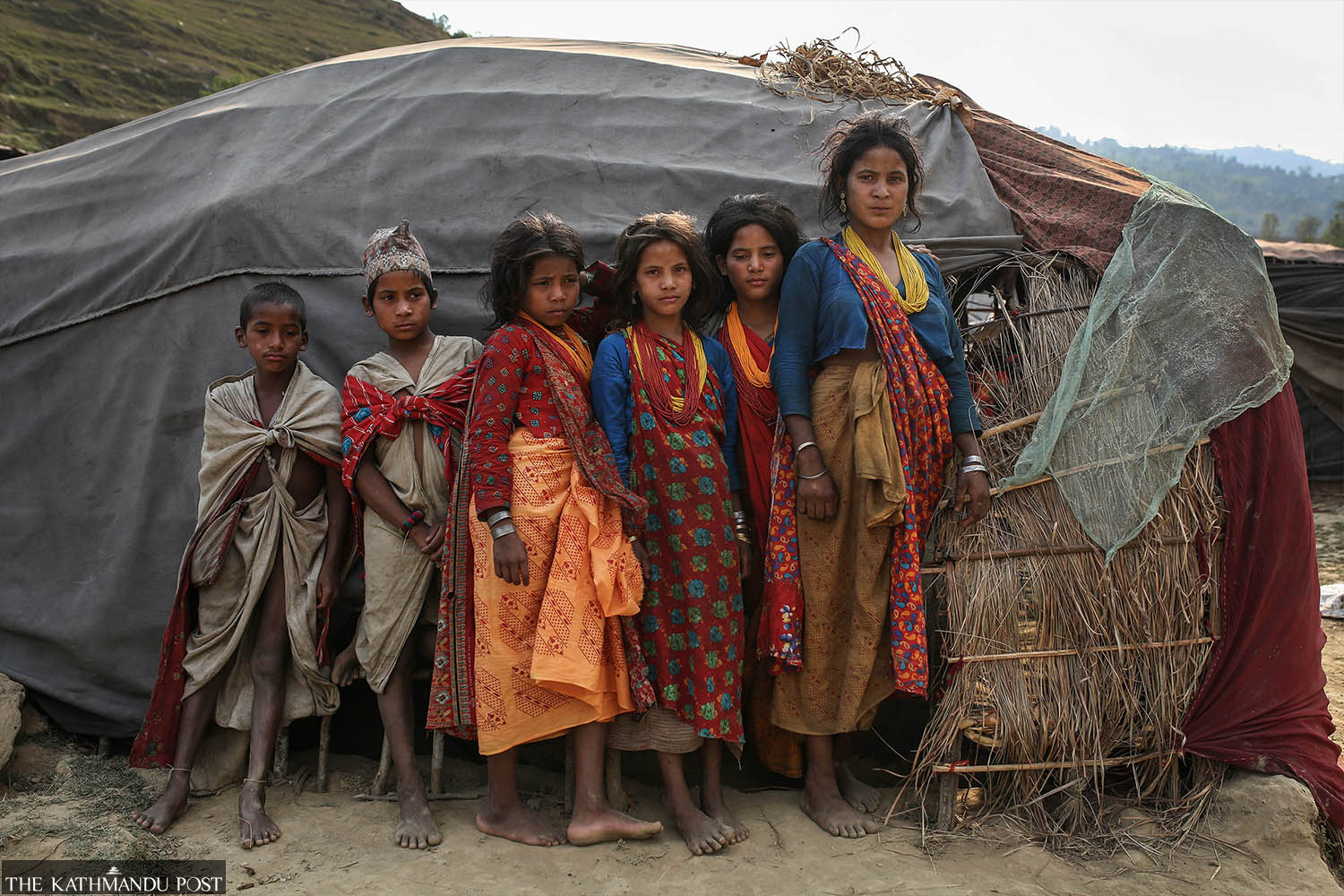 Children posing for the camera. Prakash Chandra Timilsena/TKP
Published at : August 5, 2023
Updated at : August 5, 2023 10:33
The first time I saw someone from the Raute community in person was some time ago. I was covering a Nepal Tourism Board event where three-four individuals from the community had come to the Valley. Details of the day are hazy now, but I clearly remember taking pictures of the Rautes, who had donned blazers on top of their regular attire for the occasion.

Last month, I went to Bajura to work with a few colleagues—including Kantipur reporter Jyoti Katuwal. We planned to stop by Dailekh on our way back to Kathmandu. Jyoti has written a few stories about the Raute community, so she was more accustomed to their culture. She and the Dailekh correspondent of Kantipur TV, Chakra Bhandari, helped us navigate the way to the Raute basti (settlement), which wasn't easy to get to.
The Raute settlement in Dailekh Prakash Chandra Timilsena/TKP
En route to the settlement at Mahabu rural municipality, I started picturing how the community and their lifestyle would be. I had wanted to visit the settlement and take pictures there for some time. So, I was excited to finally get to see their unique way of life.
The Rautes have their own empire in Dailekh, and they live by their own laws. They rule the forests in Dailekh and call themselves Suryavanshi (descendants of the sun). They are considered an endangered tribe of the Khas Arya community. For urban folks accustomed to the city lifestyle, their way of living seems strange. The language they speak, Khamji, also sounds unique. It didn't take long for us to realise that things like convenience and modern comforts had no meaning in their lives. They are also nomads who don't stay in a place for long.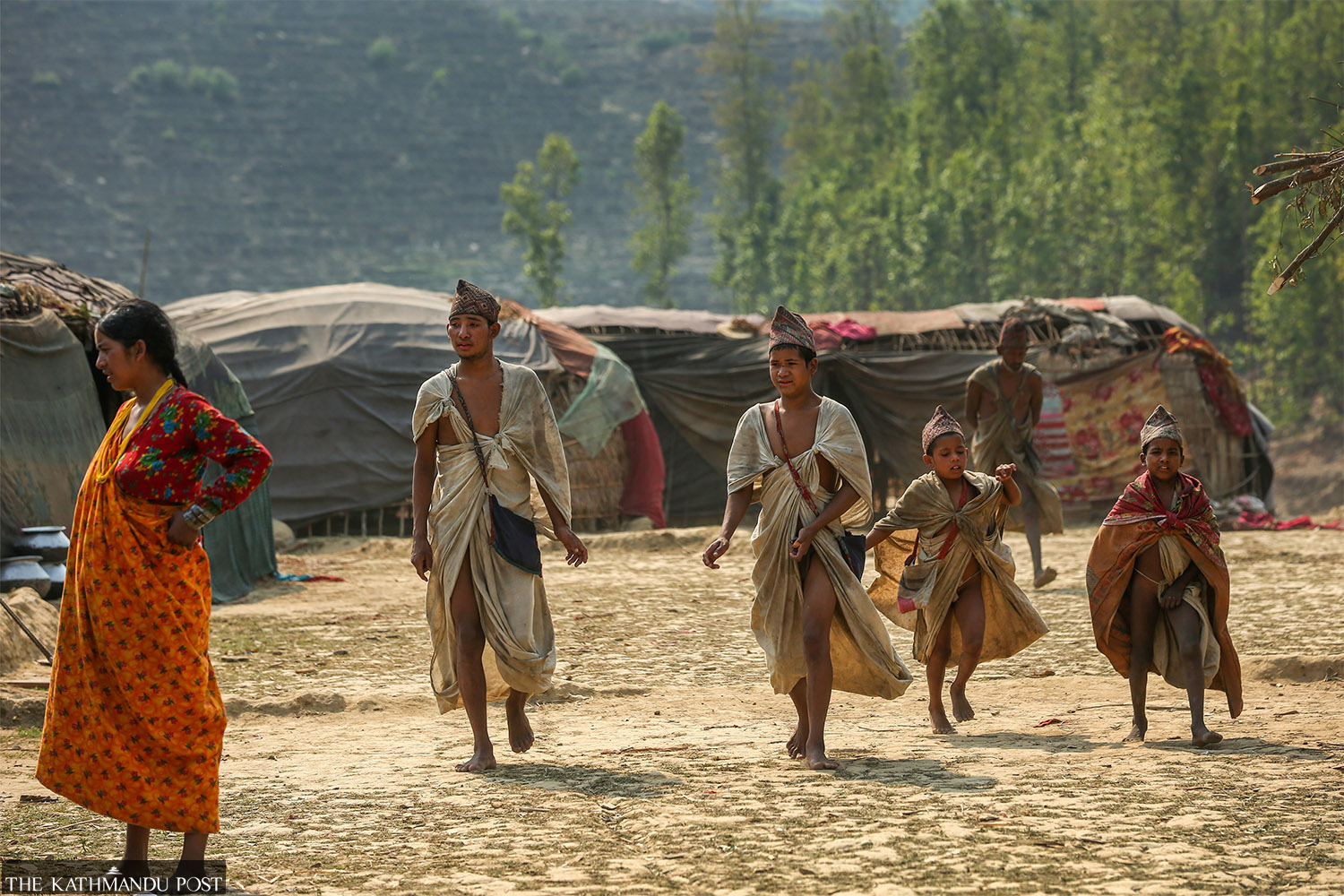 Raute youths running about. Prakash Chandra Timilsena/TKP
On the way to their settlement, a person was on the ground—drunk and passed out. A few feet away, the other Rautes were feasting and dancing about. Apparently, an old Raute had passed away some days ago, and this was their way of mourning. The kids were busy playing about, and the adults were seen drinking.
We joined in their dancing and singing. I wanted to take out my camera and capture these moments as they unfolded but didn't think it was time yet. Just then, we met the Mahamukhiya—the main chief—Man Bahadur Shahi. The Mahamukhiya is the head of the Rautes, who is treated as a ruler by the other community members. He also decides who gets to do what on any given day. Besides the Mahamukhiya, there are also three Mukhiyas in power—Bir Bahadur Shahi of the Kalyal clan, Suryanarayan Shahi of the Rashkoti clan and Dil Bahadur Shahi of the Chhatyal clan.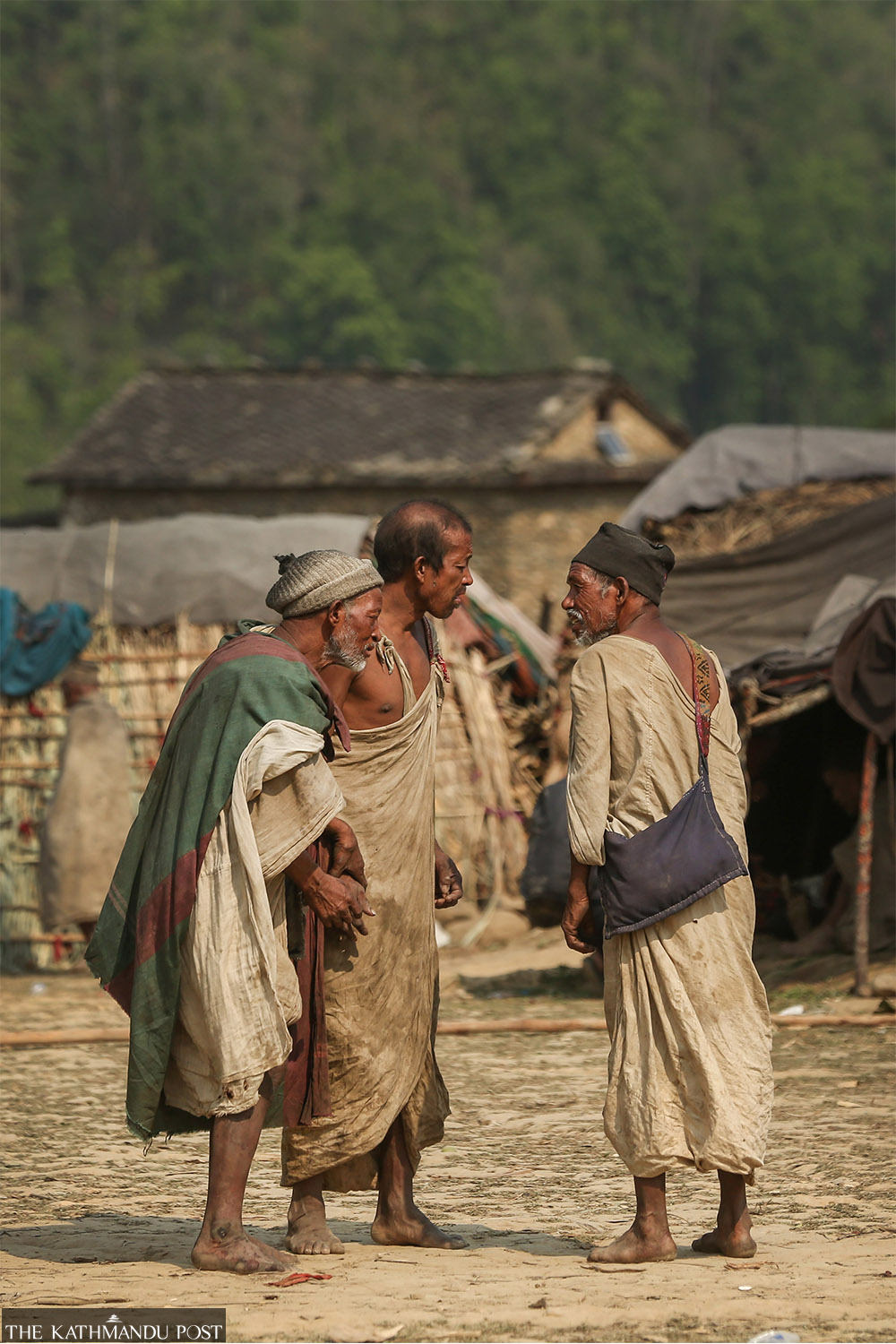 Community elders are seen chatting. Prakash Chandra Timilsena/TKP
We began conversing with the Mamamukhiya inside his hut. After a long chat, I mustered the courage to take out the camera. Soon we were surrounded by the other Rautes, who started asking us for money after seeing the camera. We gave them what we had. They seemed less reluctant to us taking photos after that.
A woman combs through her son's hair, searching for lice. Prakash Chandra Timilsena/TKP
About 141 Rautes live in Dailekh today. The Rautes are known for their exceptional hunting skills. They are also good crafters, skilled at making wooden pots and pans. Earlier, they used to go to the market to sell goods made from wood and use that to buy salt and cooking oil. But presently, it looks like they are giving up on their craft.
A reason for this could be the monthly allowance—around Rs3,000—they have received from the government for the past 16 years. That is enough for them to buy food and basic necessities. Recently, it was also revealed that the community is facing problems due to alcoholism which has increased infant mortality rates as well.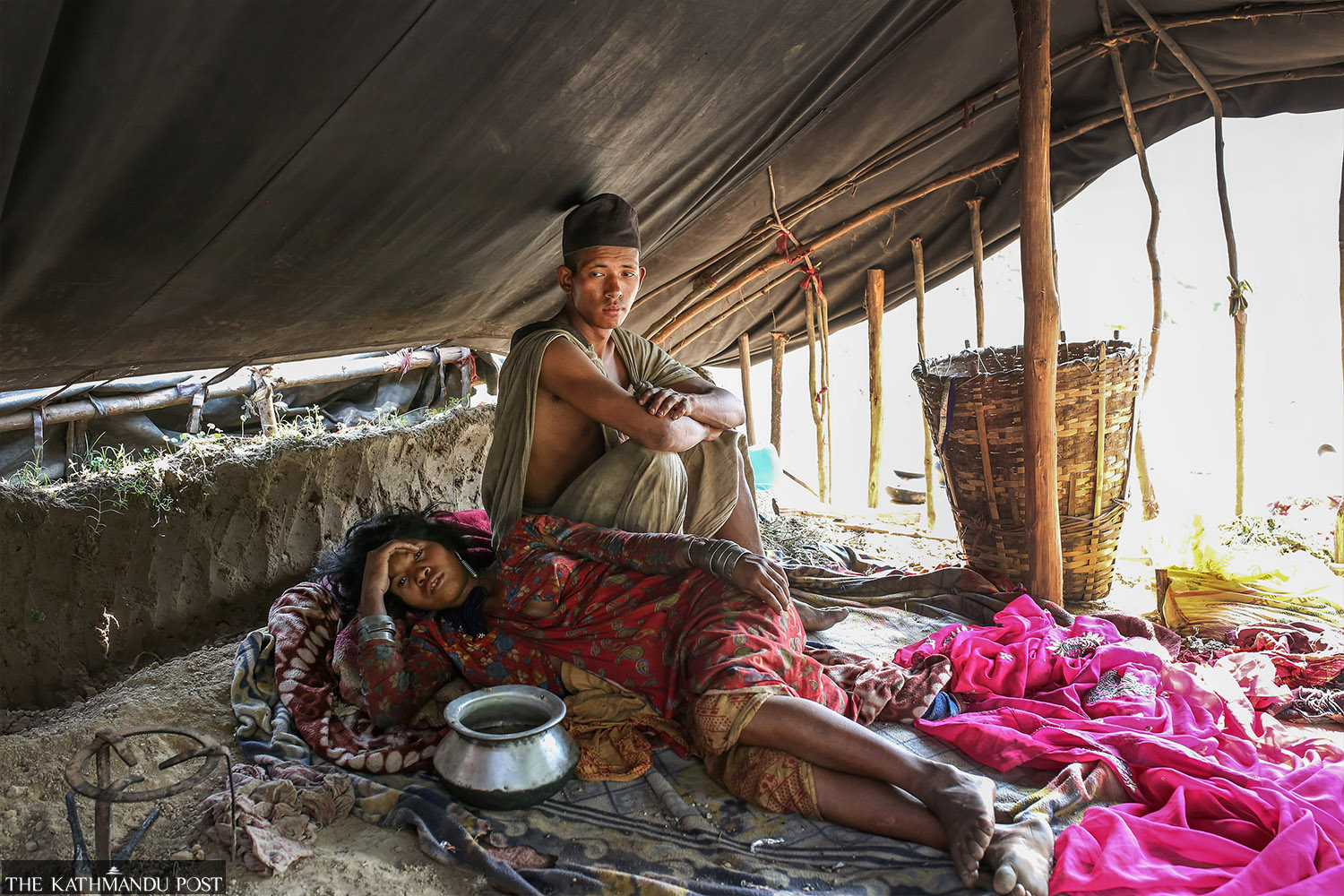 A woman and a man resting inside their hut. Prakash Chandra Timilsena/TKP
The government has also tried to give them formal education and access to primary healthcare. But the Raute community don't seem receptive to any of this.
Even in the present context, the Rautes live in a different world alone and don't care much for outside interference. Mahamukhiya Shahi revealed that his wife gave birth to fourteen children, but all died. Was he hesitant to take them to the hospital or give them medicine on time? He wouldn't admit. Now the Mahamukhiya has a grandson and his wife as his only living relatives.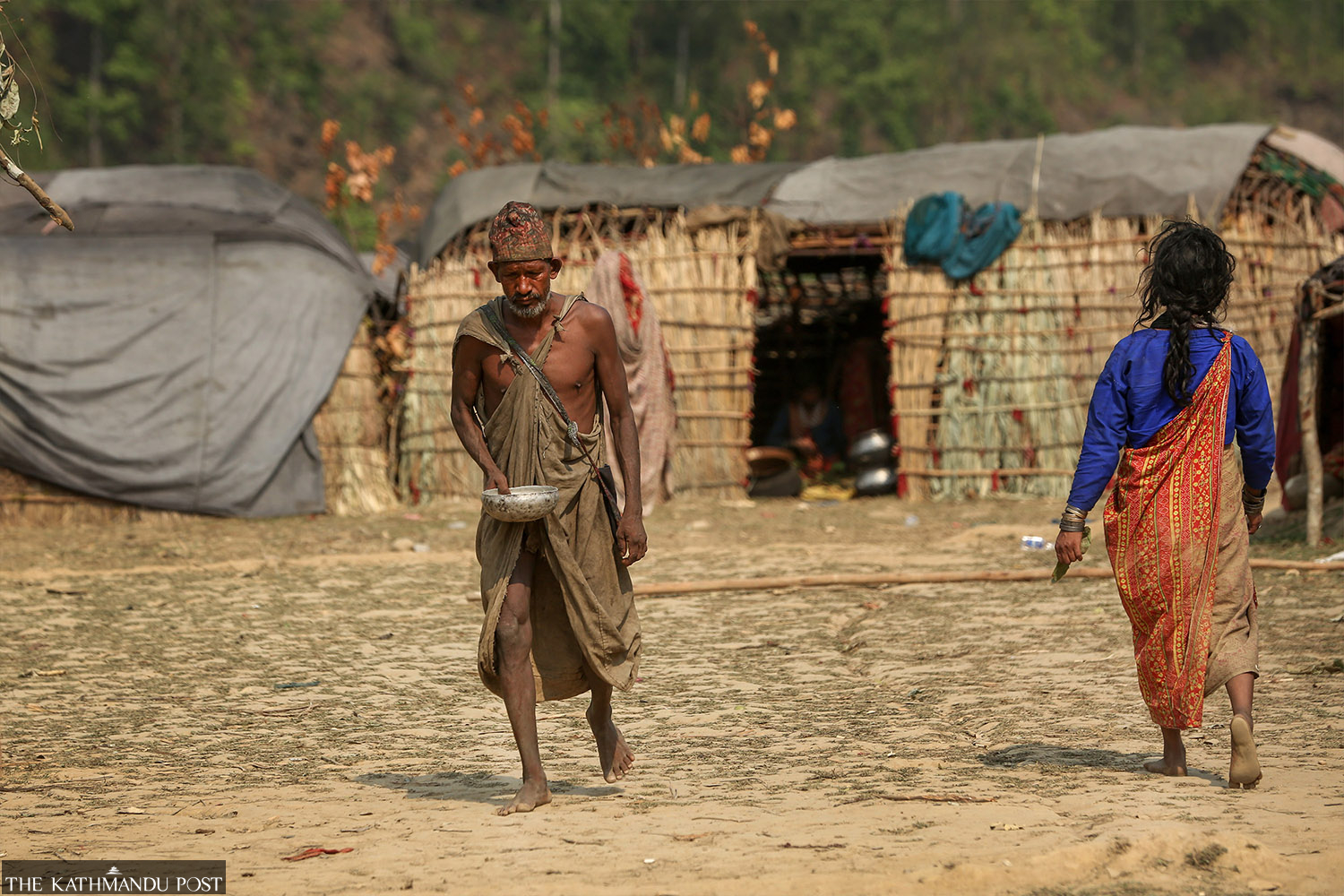 A man, donned in their signature attire, holding a metal bowl. Prakash Chandra Timilsena/TKP
Two women going about their day. Prakash Chandra Timilsena/TKP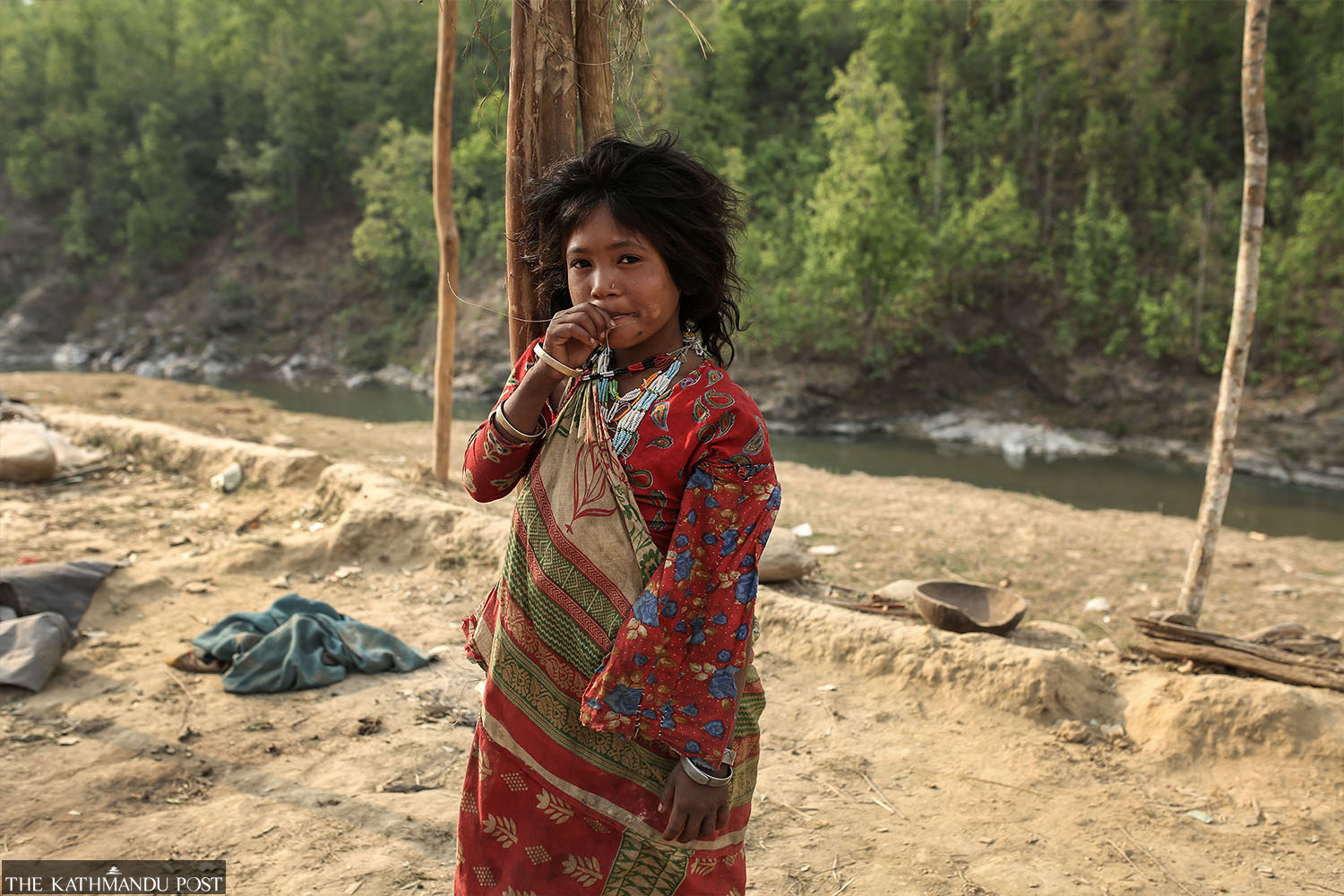 A young Raute girl. Prakash Chandra Timilsena/TKP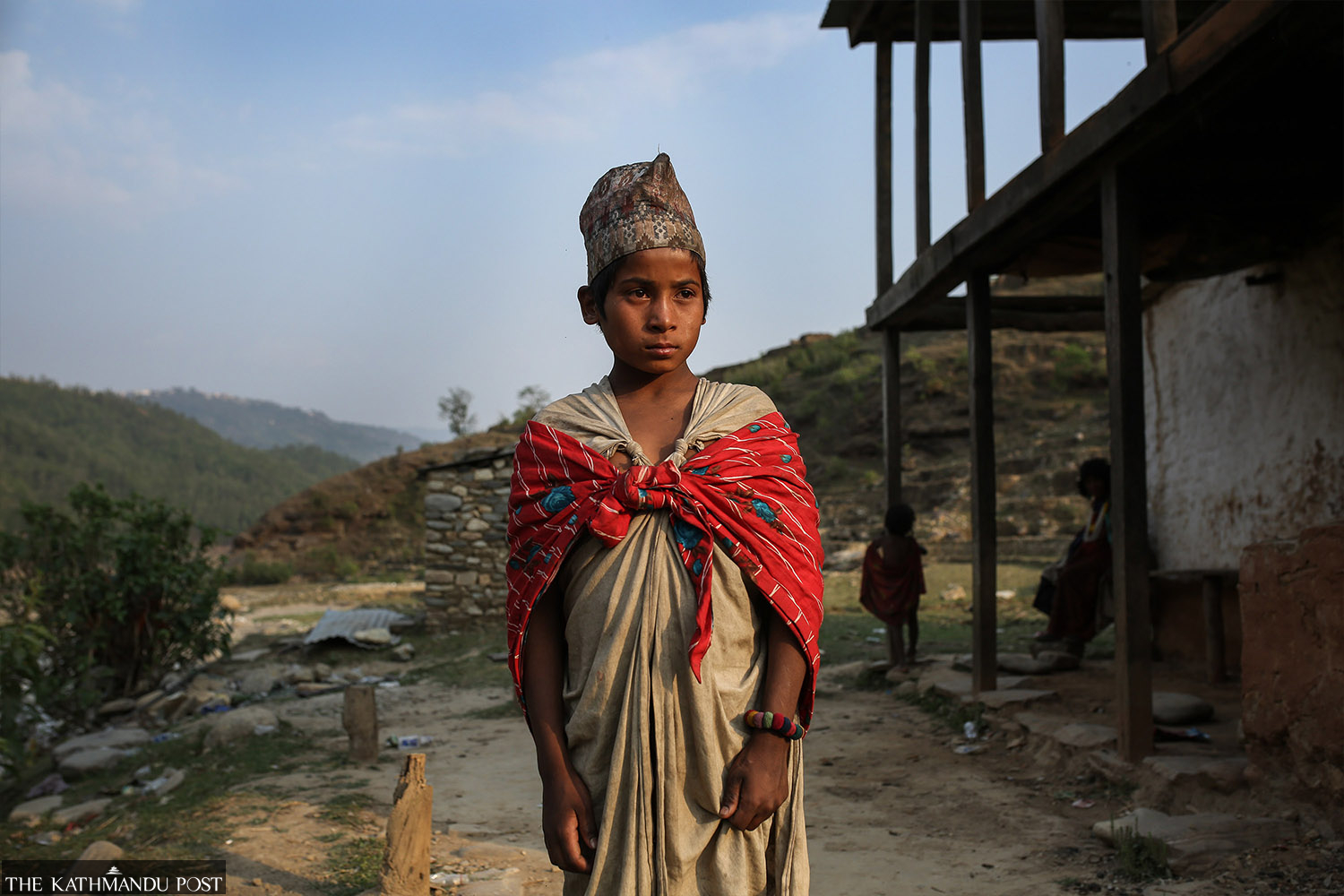 A young boy with a red cloth tied over his regular attire. Prakash Chandra Timilsena/TKP
An elderly woman wearing traditional earrings with a turquoise torchlight slung over her blouse. Prakash Chandra Timilsena/TKP
---