Complexities of injustice
Devotion to superstition upholding the rampant witch trails.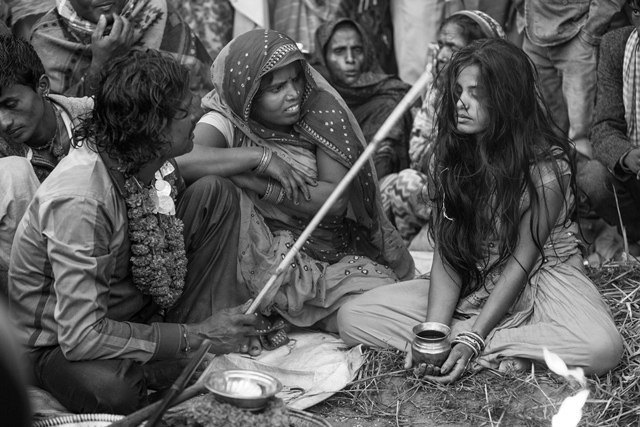 During one of the rituals, a dhami uses force during interrogation to make a woman tell the name of the ghosts or witches that he says possess her. Nabin Baral
Published at : November 30, 2019
Updated at : November 30, 2019 07:11
When I was still a kid, my mother fell severely ill. In the course of seeking treatment, she encountered a jhakri, who blamed an old neighbour for all her health. He branded the woman a witch and instead of seeking medical help, my family and community believed the witch-doctor. In 1991, my mother committed suicide and I blamed it on the same woman. Now looking back, I realise how wrong I was to hold a grudge against a person for the tragedy that fell upon us. But we knew so little—with superstition so prevalent in society and lack of awareness, or even access to proper health services, we became part of that injustice.
The woman had to endure cruel mistreatment from the community. My mother, who on the hindsight was suffering from some kind of mental illness, was not able to access appropriate health services.
Deep-rooted beliefs like witchcraft are still embedded in the social and cultural structures of society. Oftentimes, these conservative beliefs lead to violence, physical and mental, with most victims being poor, single or marginalised women, and particularly, Dalits.
One of the examples of the superstition's prevalence is the 'ghost festival' which takes place during the full moon of the month of Kartik, the eighth month on Hindu calendar. The annual festival is celebrated on the banks of Kamala river in Dhanusa district. Thousands of pilgrims visit with their dhamis who claim to have the power to eradicate any misfortune. The devotion of these pilgrims renews their faith in superstition—every year. This blind faith then becomes a part of society and allows for more injustice to continue. This photo series documents the dire need for these conditions to change.
The photo story will be exhibited on December 6-7 at Boudhi Mata Mandir in Janakpur, as part of Women of the World (WOW) Madhesh festival organised by the British Council.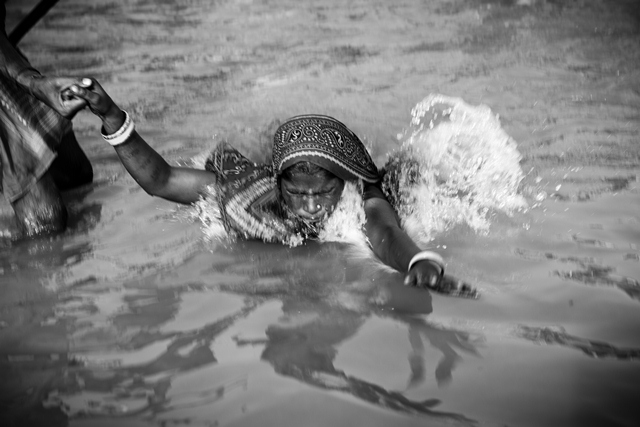 A woman taking a dip in Kamala river. Nabin Baral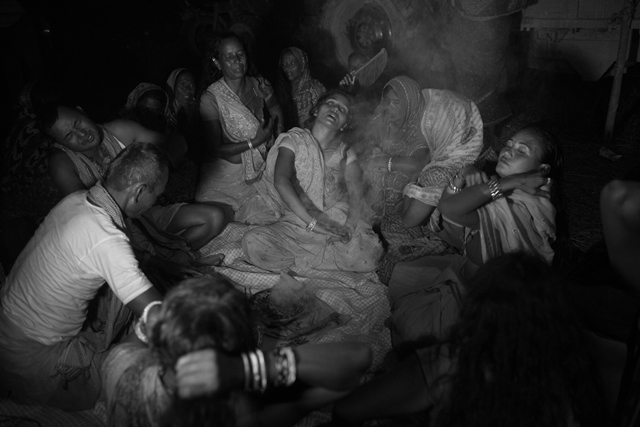 A dhami practices divination to determine the reason of a woman who is in trance. Nabin Baral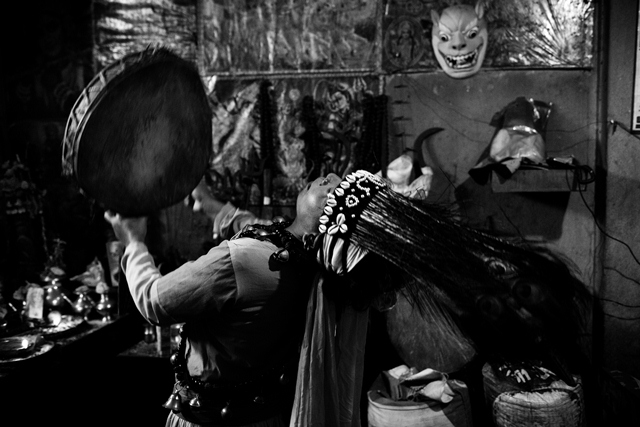 A dhami in trance while interrogating a woman. Nabin Baral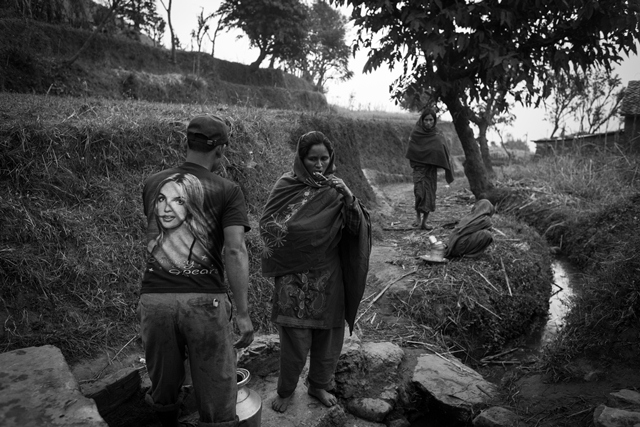 People walking towards Kamala river. Nabin Baral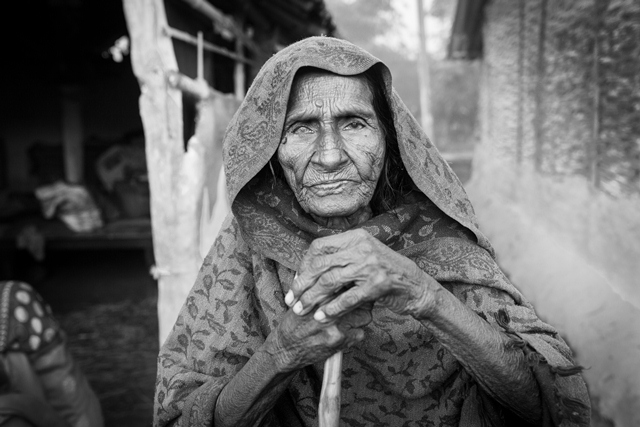 Kanti Yadav, a 103 year old widow from a village of Dhanusa dristrict. The dhami of the same village blames a villager's illness on her. Nabin Baral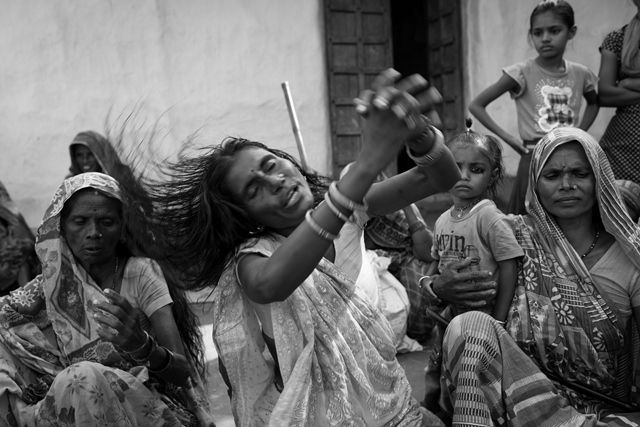 Women are often made to believe ghosts and witches are the cause for their family's bad economic conditions, illnesses or deaths. Nabin Baral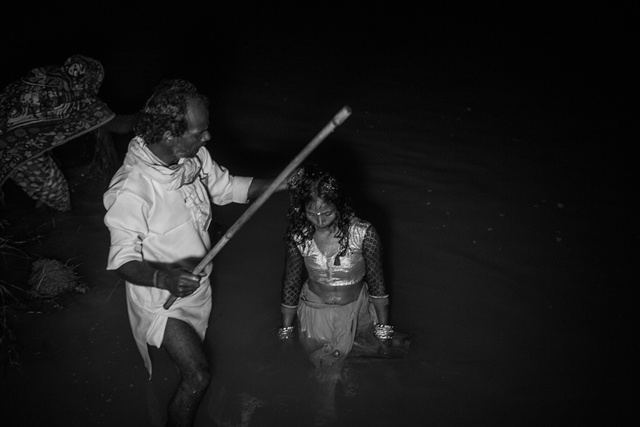 Dhamis usually use 'beth' sticks to ward off evil spirits from women's body. Nabin Baral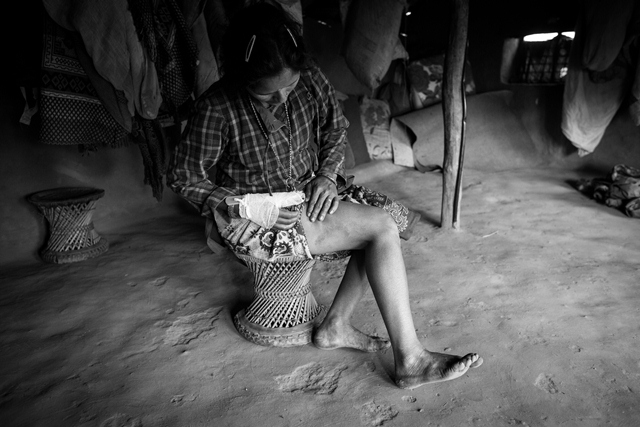 Chanamati Magrati shows one of the scars on her body as a result of her beating. Nabin Baral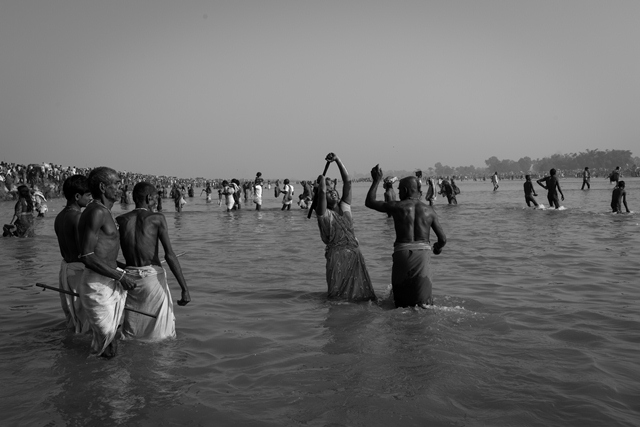 Thousands of pilgrims bathe in Kamala river on the eve of the Kartik full moon. Nabin Baral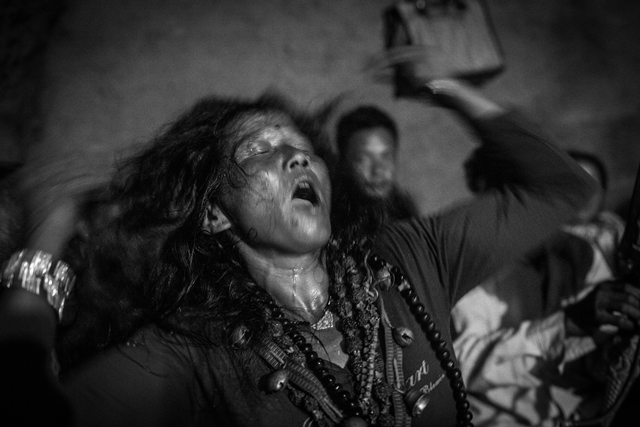 A woman in a hypnotic state during a dhami's interrogation. Nabin Baral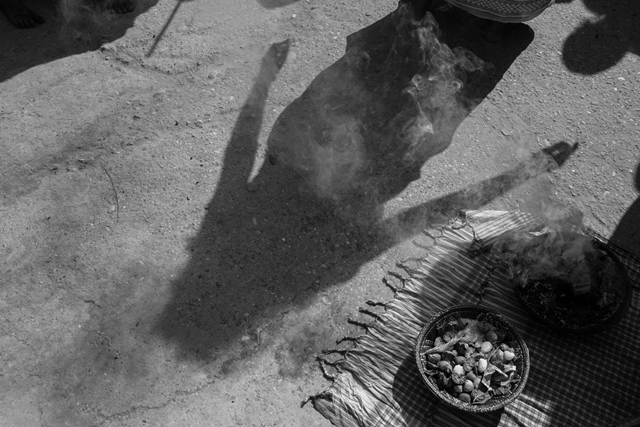 A woman is led to the divination ritual. Nabin Baral
---