When it rains, Kathmandu turns into Mudmandu. Here are the photos to prove it
Every year, as soon as the monsoon arrives, the dusty roads of the Capital turn into a disgusting mess.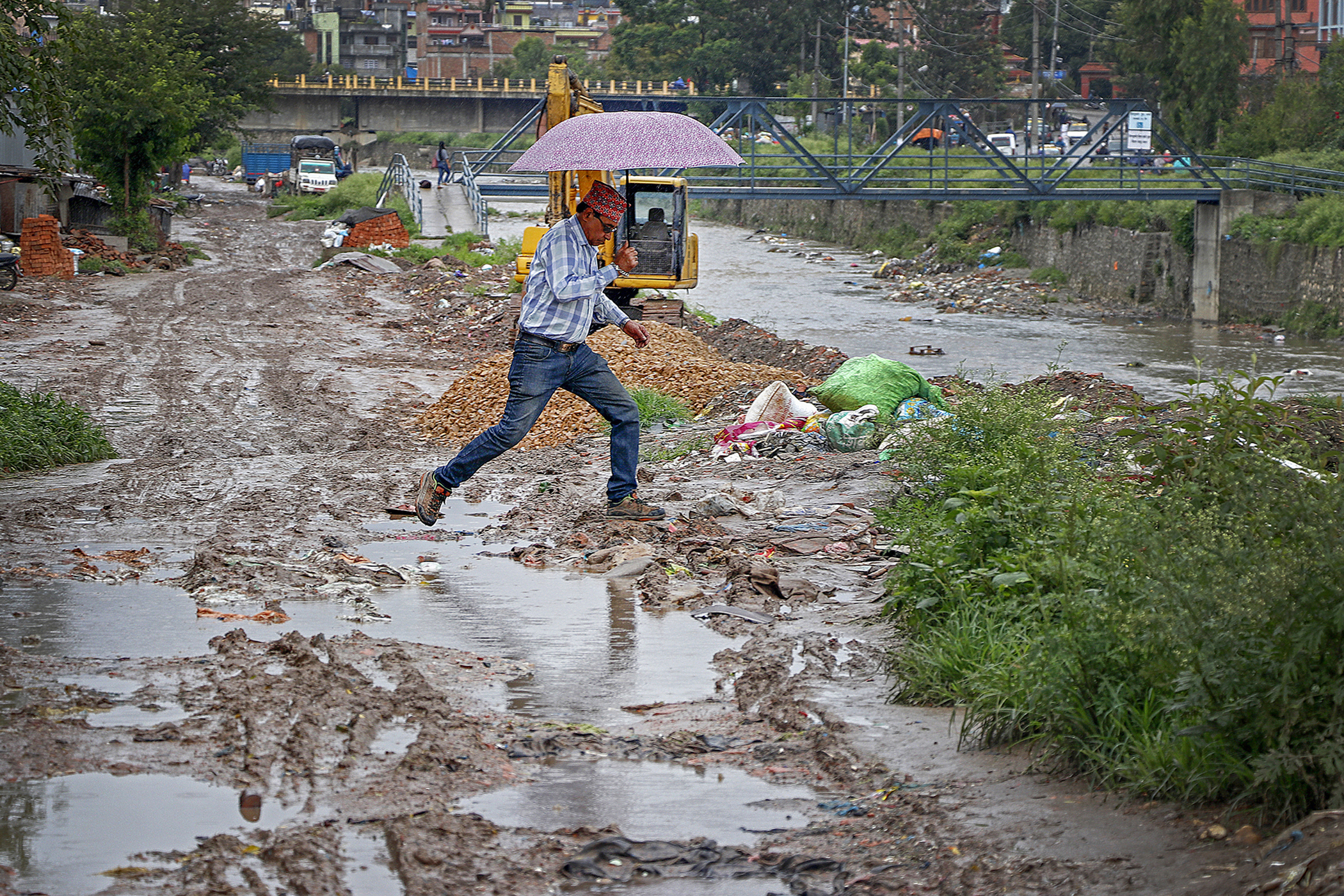 A man struggles to walk on the road full of puddles at Dallu in Kathmandu. Aashriuti Tripathy/TKP
Published at : July 23, 2019
Updated at : September 17, 2019 12:54
After a brief taste of blistering summer heat, the late monsoon came as a blessing. While the farming community welcomed the rains, many in the southern plains also felt its wrath in the form of floods and landslides.

While the rest of the country is having a love-hate relationship with the rains, Kathmandu valley, each year—and for a long, long time—has a whole different experience when it comes to monsoon.
The dusty roads of the Capital, as soon as the rain arrives, turn into a muddy mess. Scenes of people trying to avoid the puddles, vehicles stuck in waist-deep mud, and school children navigating through waterlogged road sections with their overweight backpacks have become common at this time of year.
Why is it so bad? The reasons haven't changed over the years either: unplanned and delayed road constructions, haphazard urbanization, and apathy from the local authorities in repairing damaged road sections.
These photos show the deplorable condition of our nation's capital.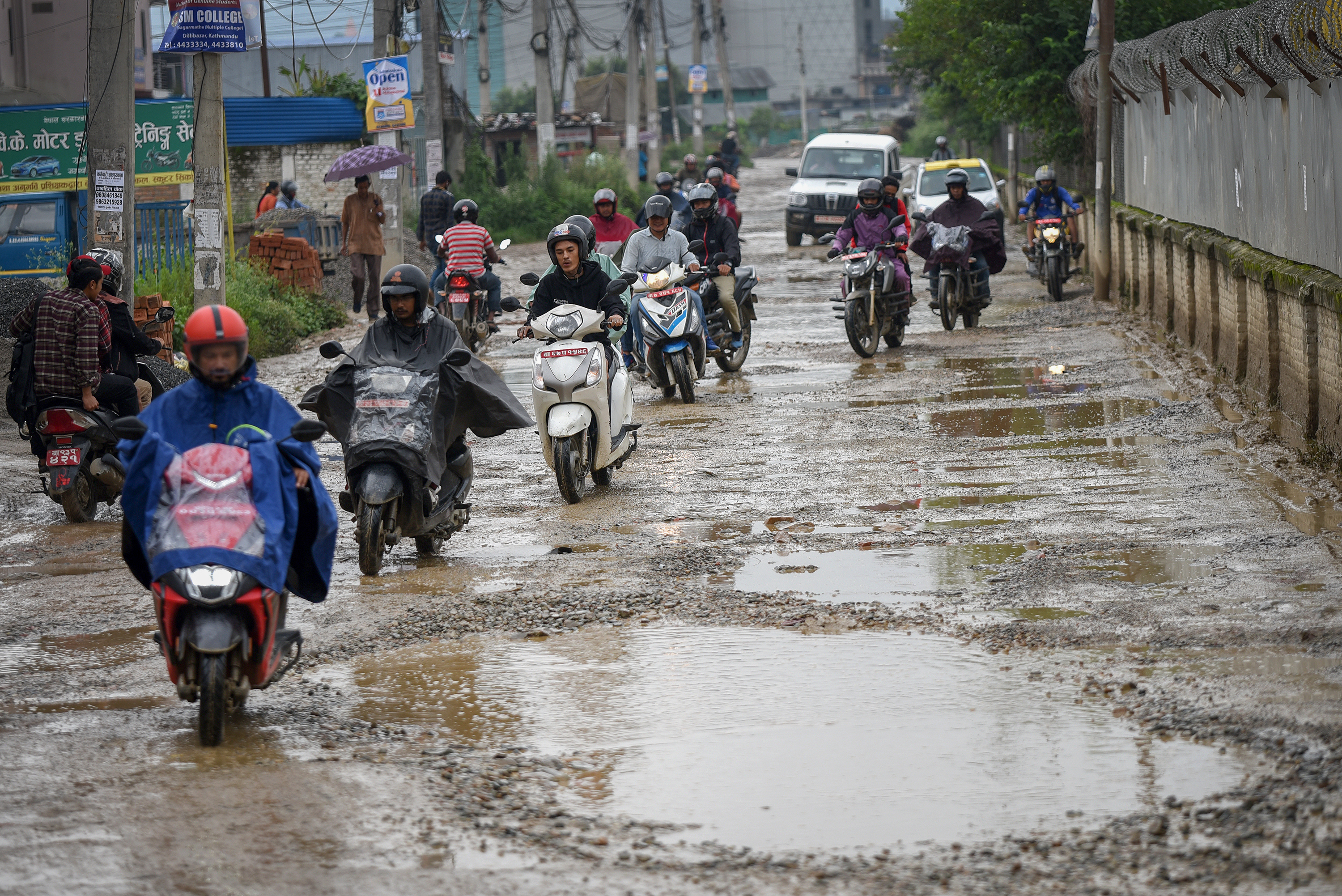 Vehicles navigate through a road section with potholes at Guheshwori, Gaushala. Angad Dhakal/TKP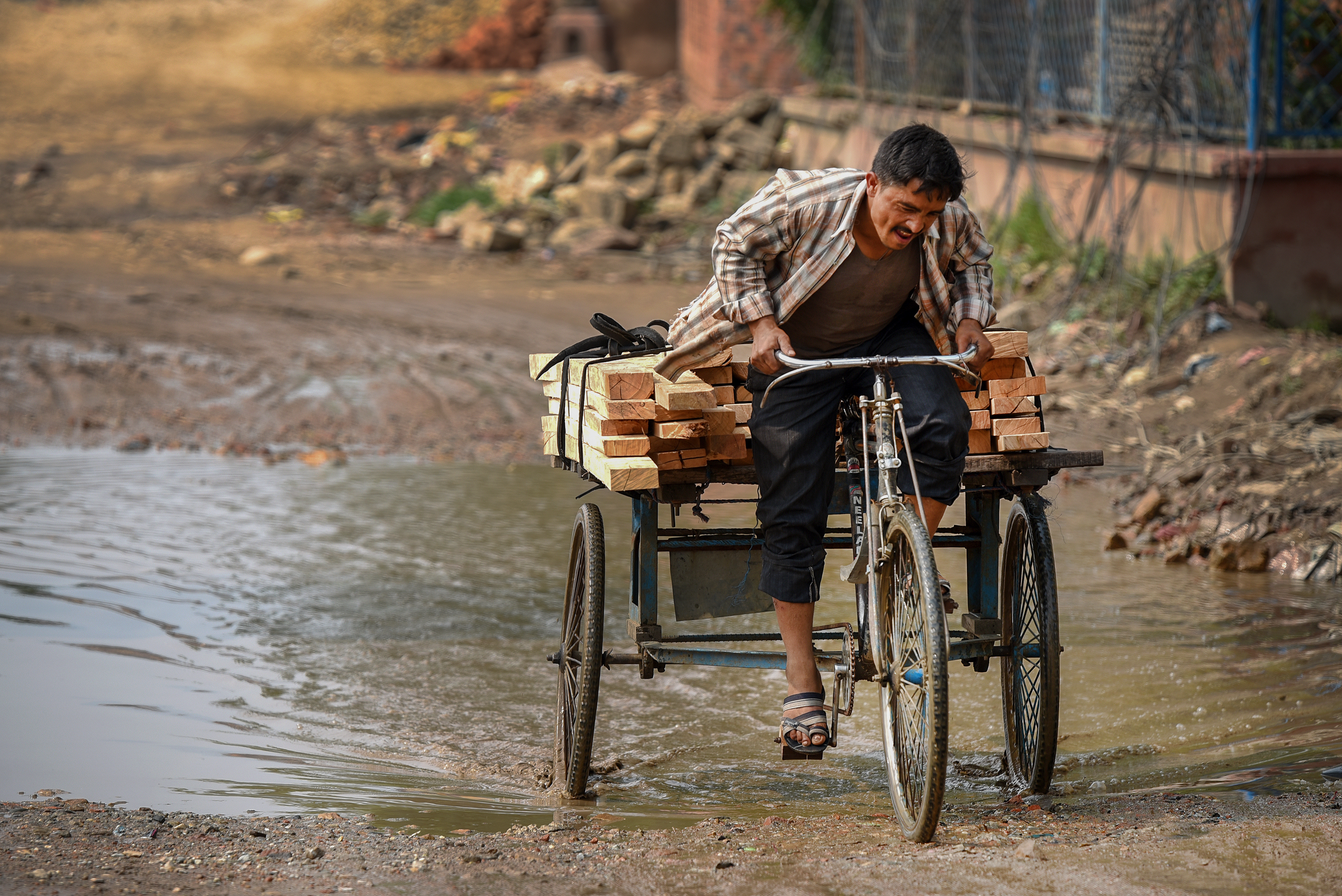 A rickshaw driver struggles to push through a waterlogged road section at Dallu in Bishnumati corridor. Angad Dhakal/TKP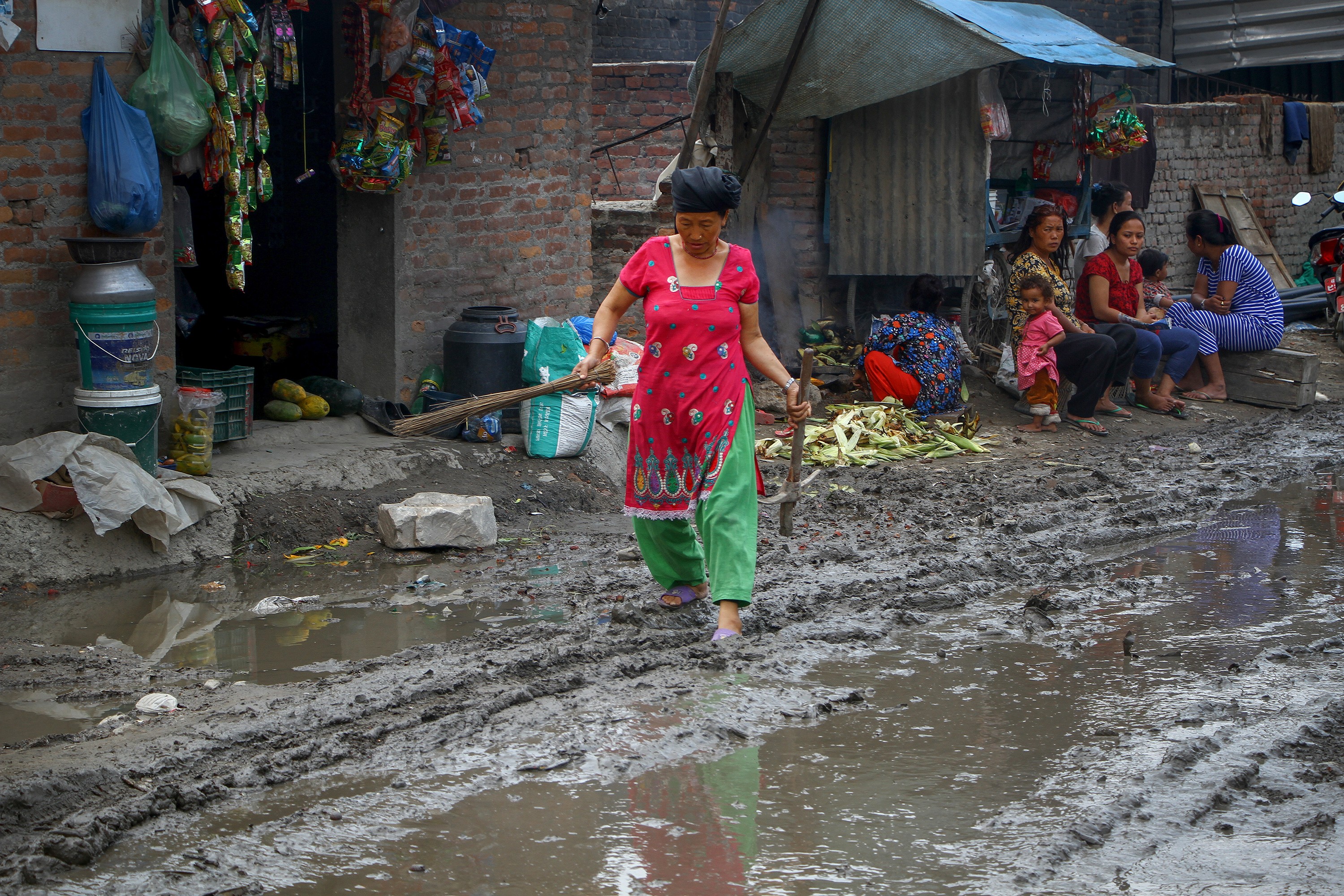 A woman walks in a muddy road at Jagaran Tole, Balkhu. Beeju Maharjan/TKP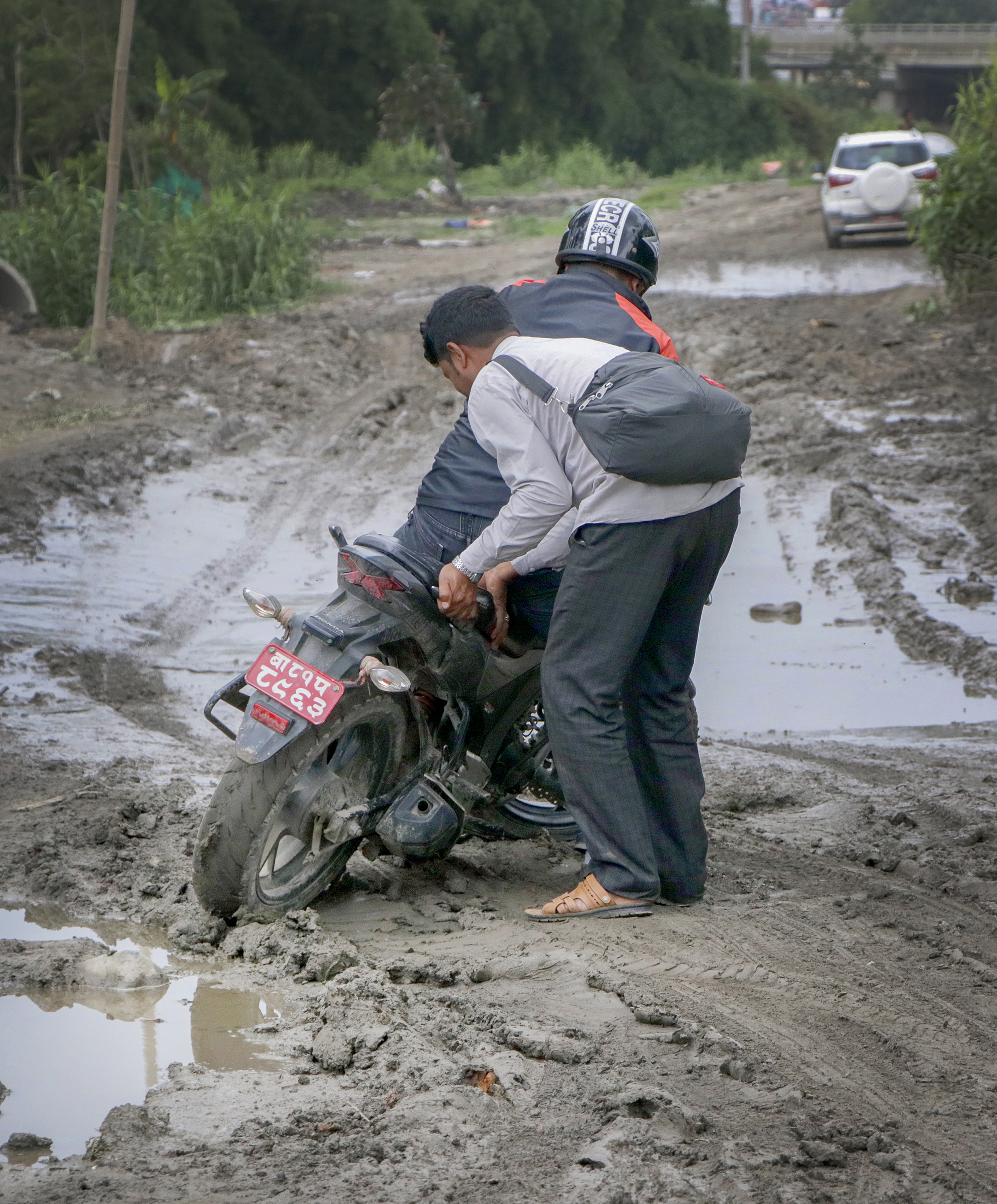 A biker tries to keep balance after his motorcycle slips at a muddy road section near Balkumari in Lalitpur. Anish Regmi/TKP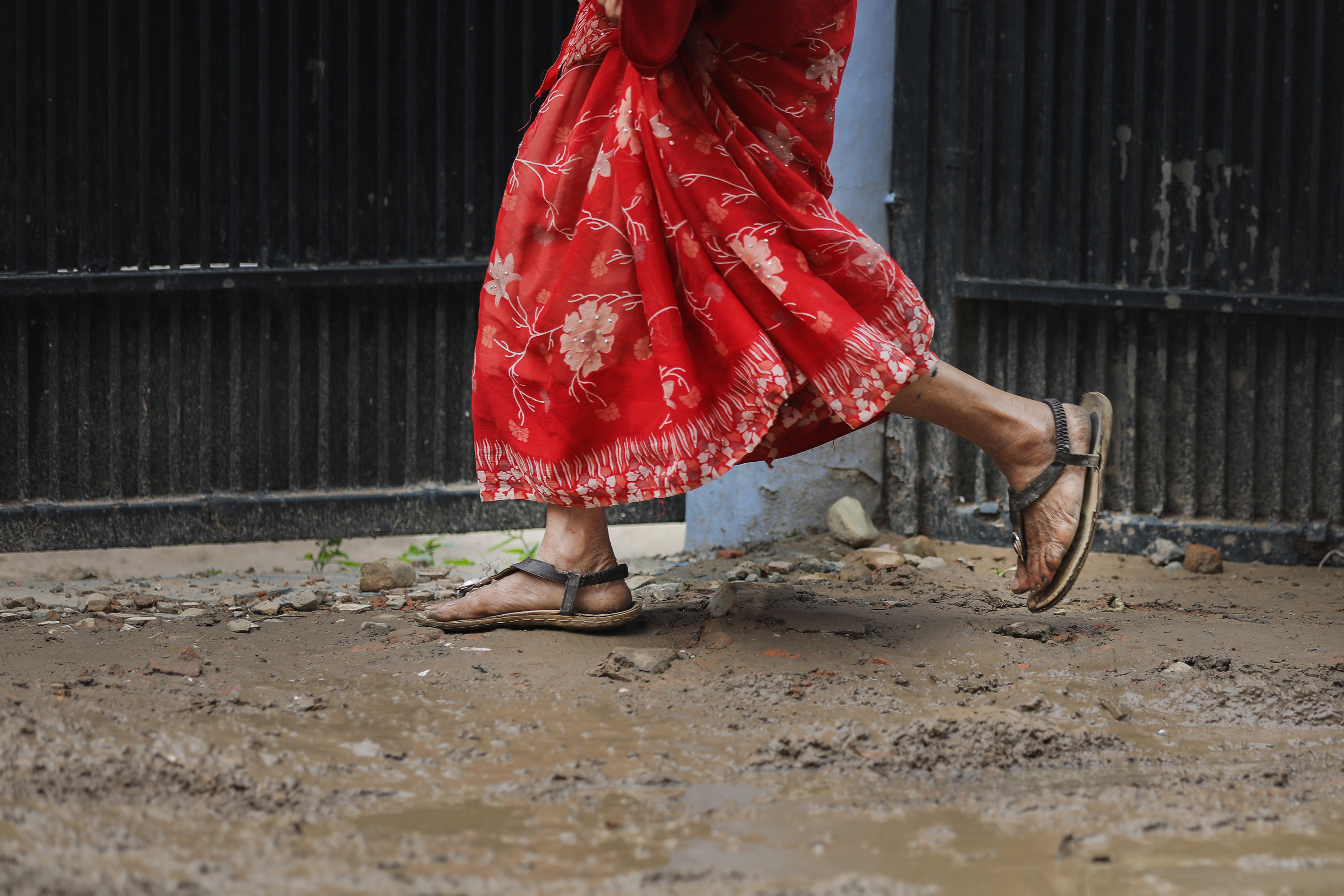 A woman walks through a muddy road section at Jawalakhel, Lalitpur. Elite Joshi/TKP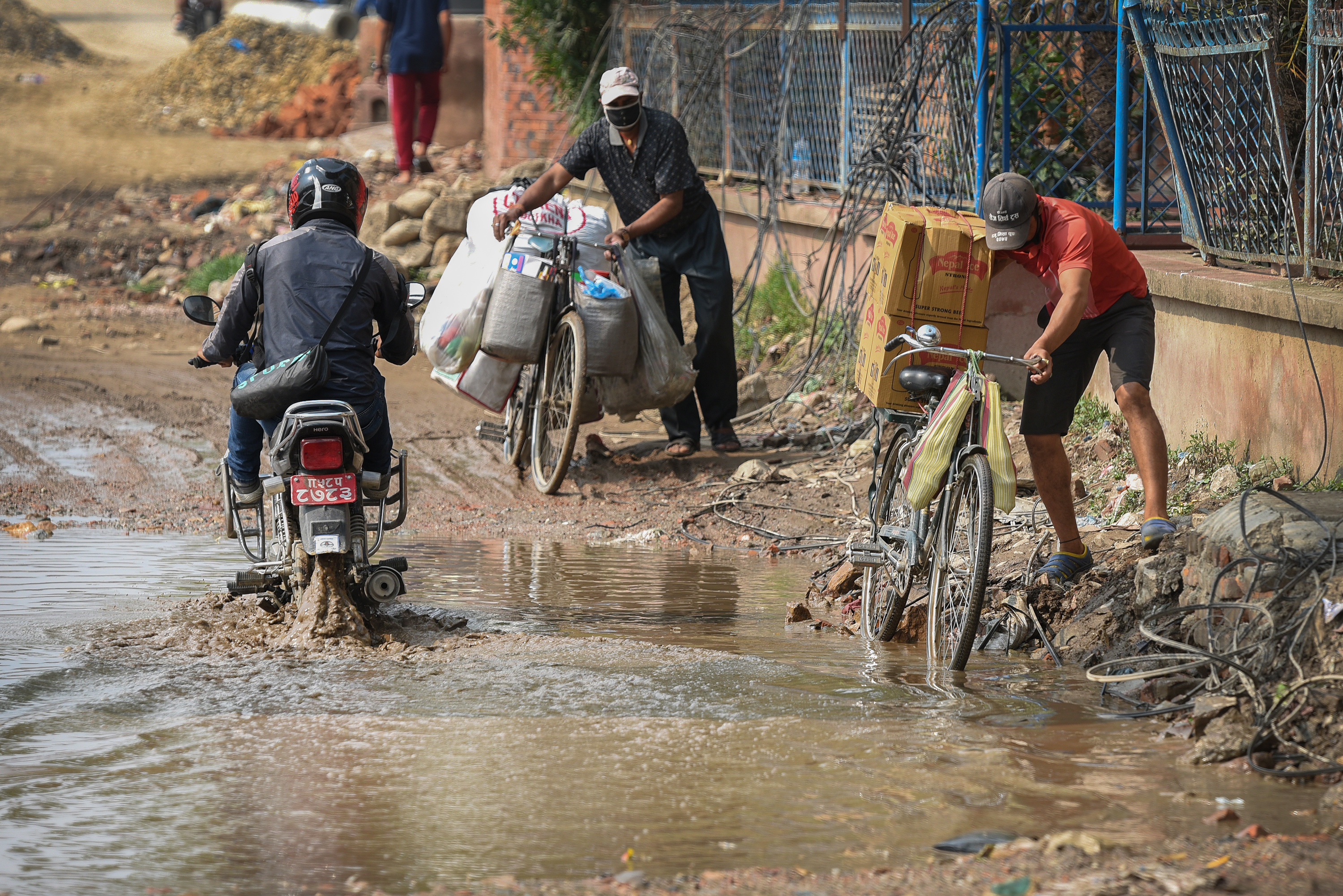 A motorcyclist rides through a waterlogged road section as two cyclists try to avoid the muddy water at Dallu road section in Bishnumati corridor. Angad Dhakal/TKP
A woman crosses a muddy road section at Chuchepati along the Chabahil-Jorpati road section. Angad Dhadkal/TKP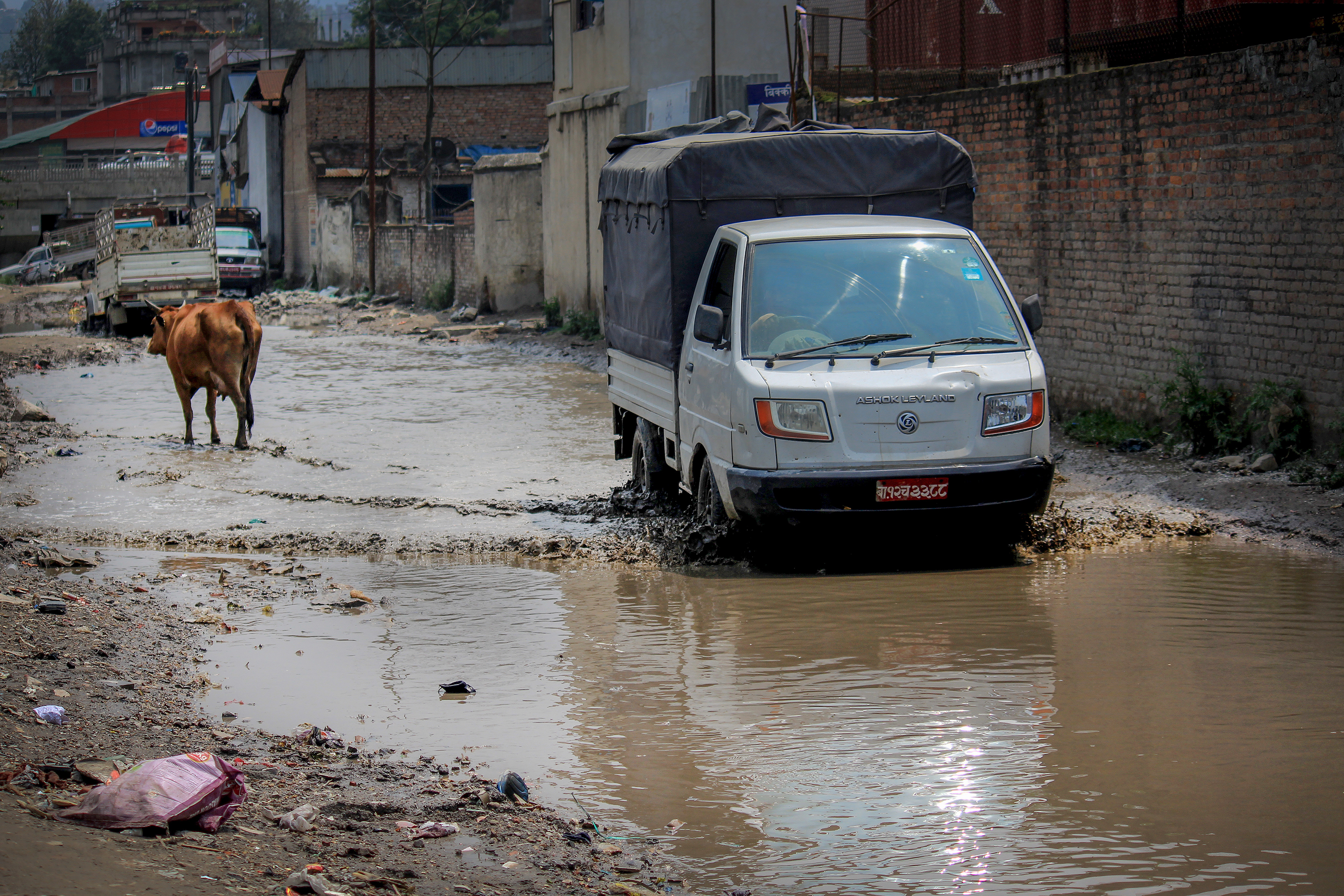 A vehicle plies through a waterlogged road section in the Capital. Beeju Maharjan/TKP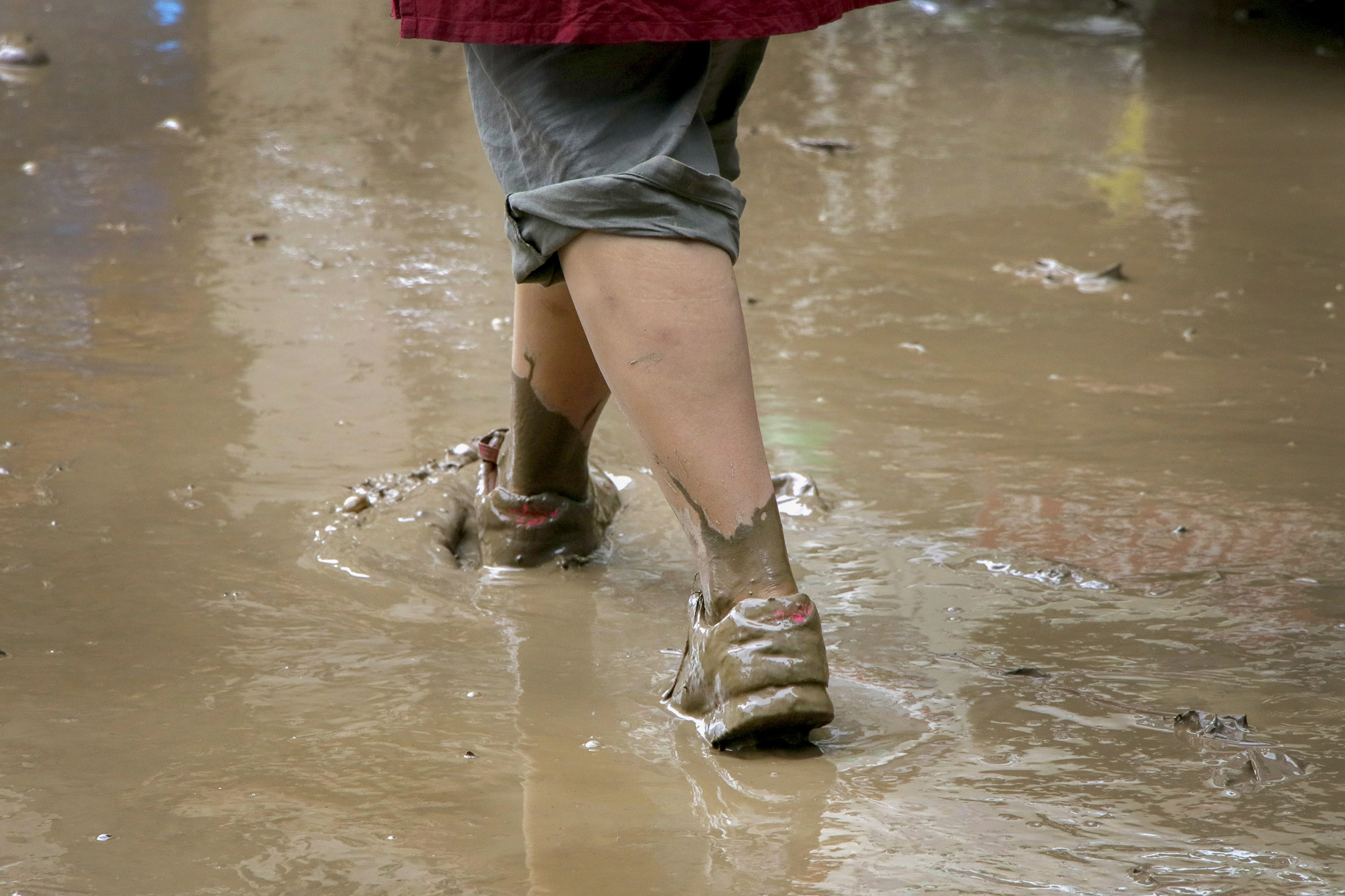 A person walks in the mud as the water level descends after a flood at Oriental Colony in Kuleshwor, Kathmandu. Anish Regmi/TKP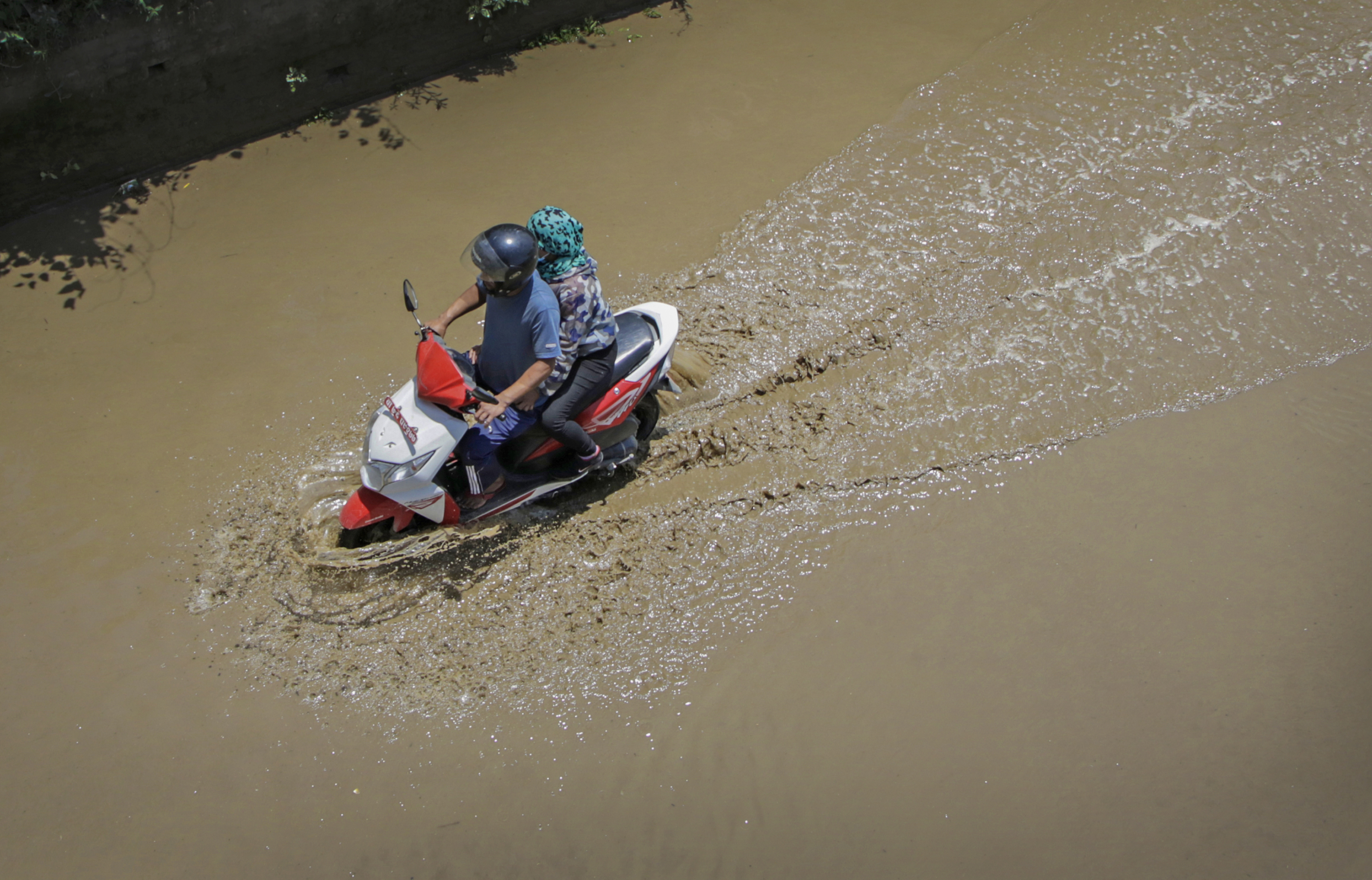 A two-wheeler passes through a waterlogged road section in the Capital. Anish Regmi/TKP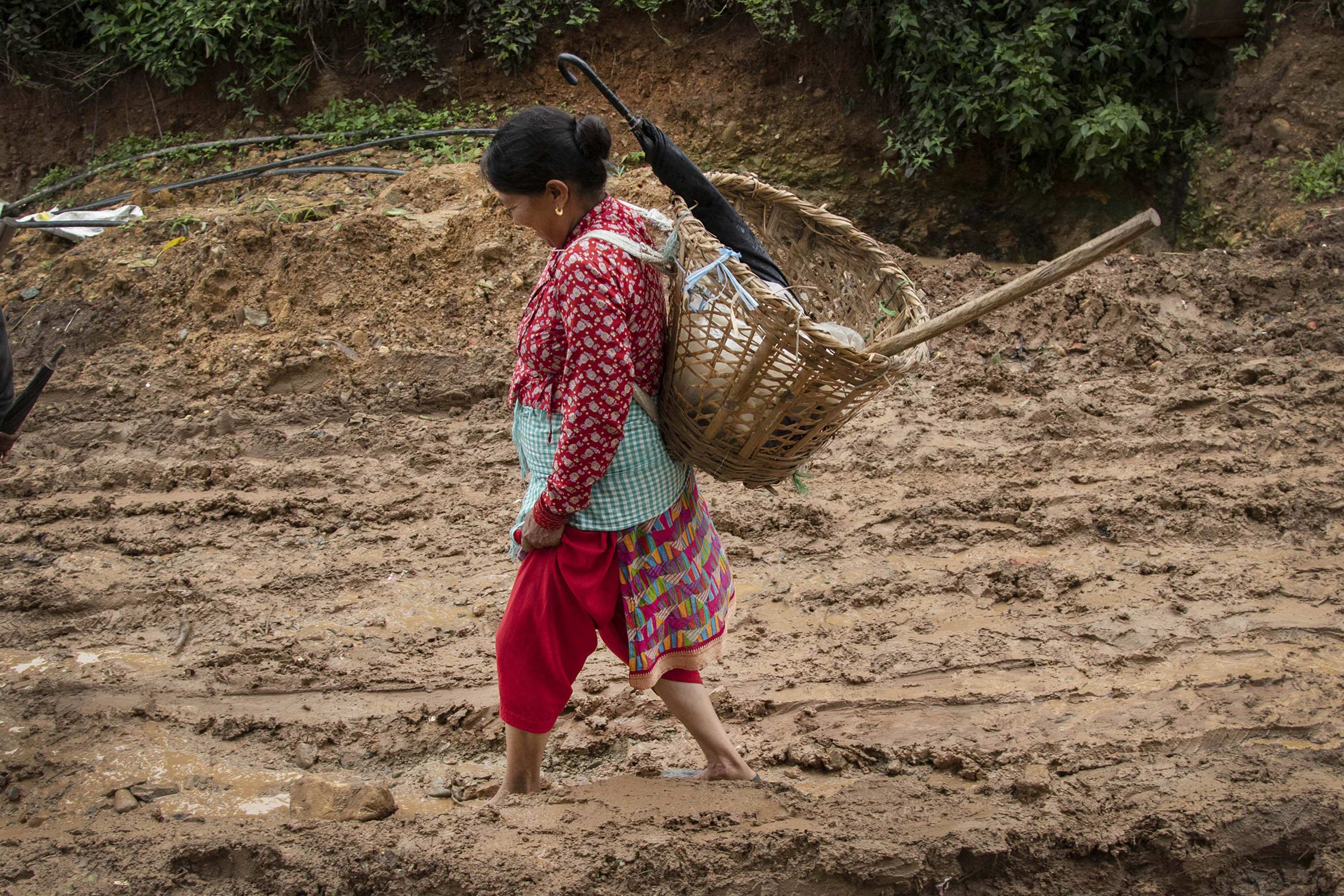 A woman carrying a traditional basket heads towards her destination over a muddy road in Thecho, Lalitpur. Prakash Chandara Timilsena/TKP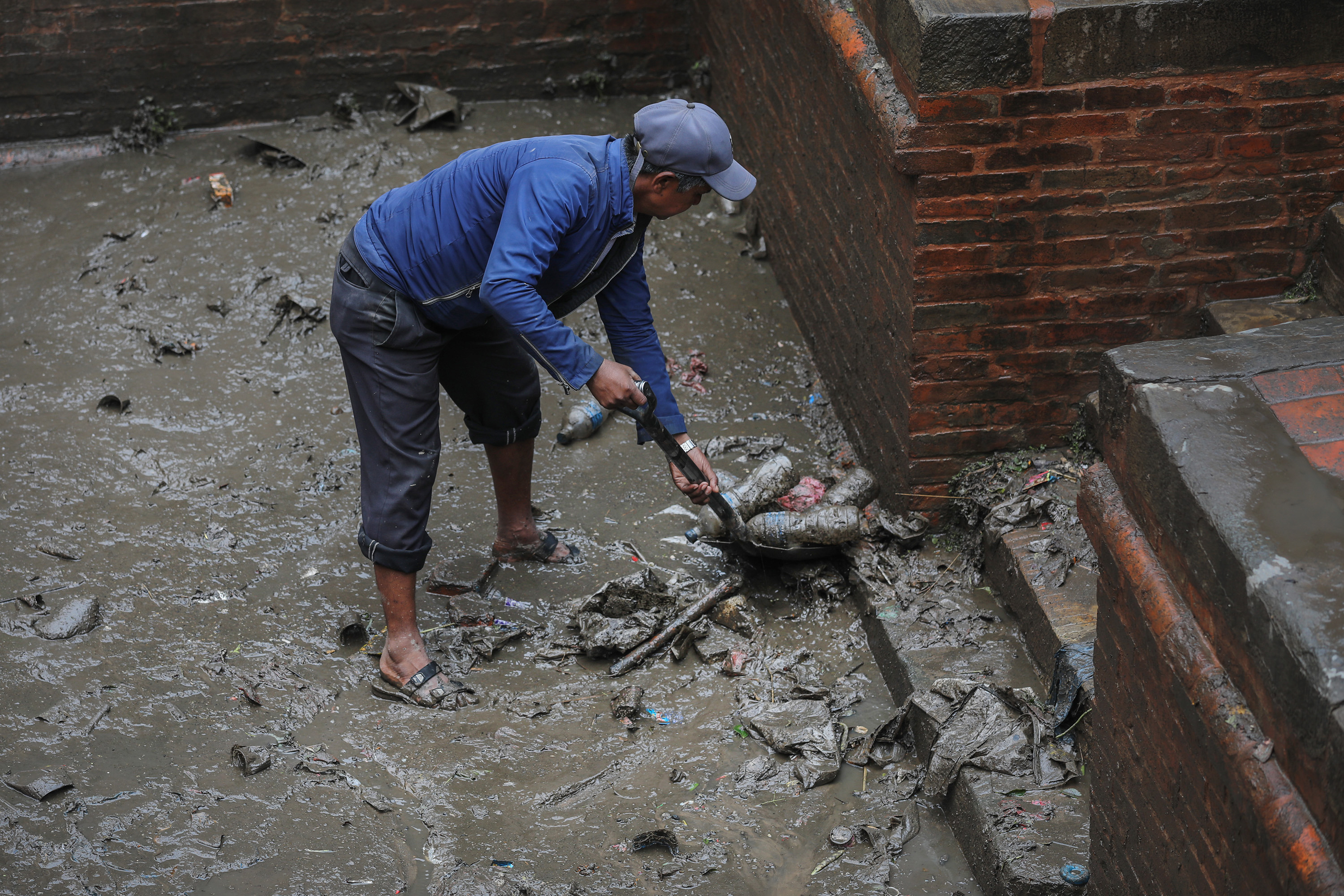 A staffer at Lalitpur Municipality cleans the debris swept by rain water inside Mangal Dhara at Patan . Elite Joshi/TKP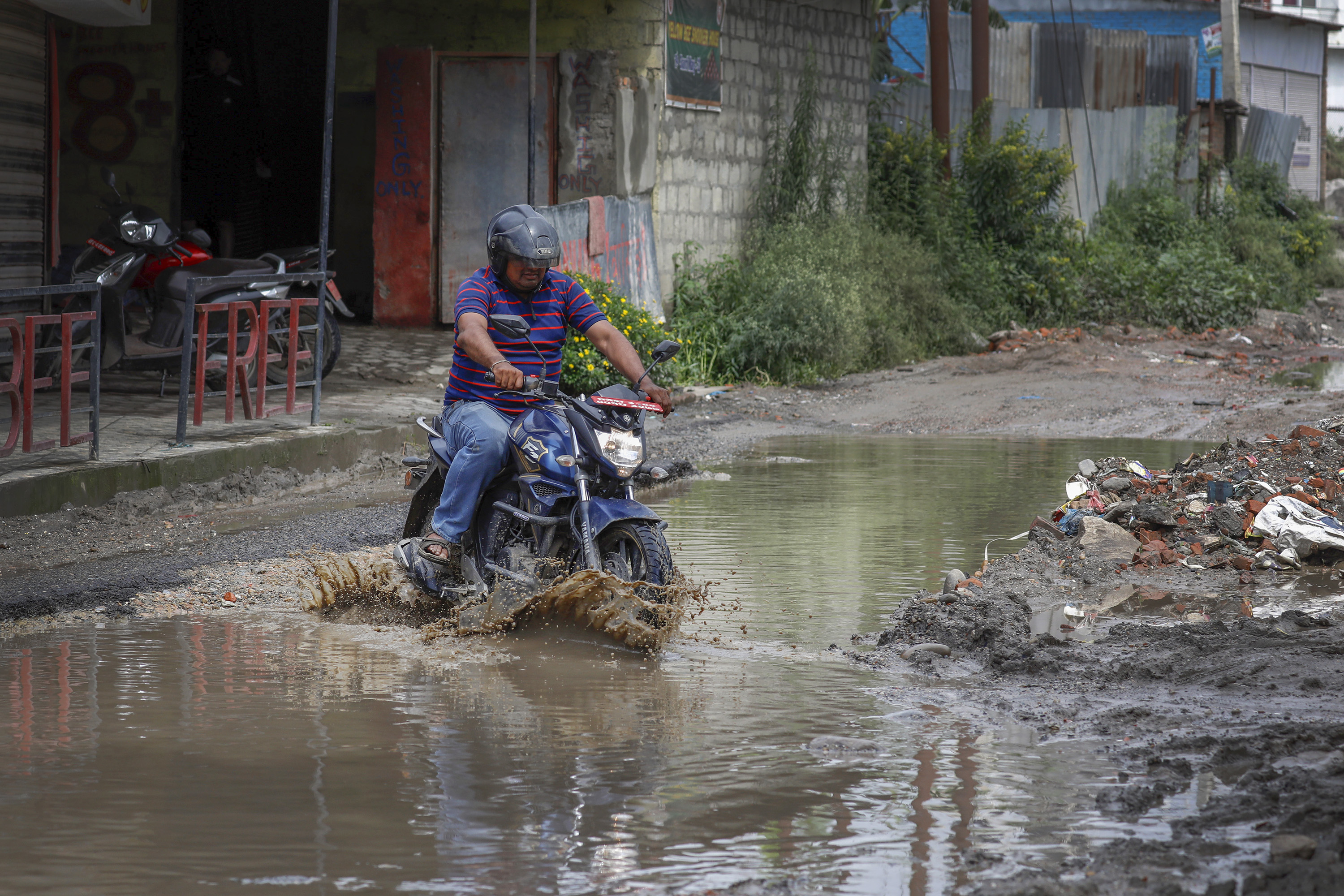 A motorcyclist rides through a waterlogged road at Manohara corridor in Balkumari, Lalitpur. Hemanta Shrestha/TKP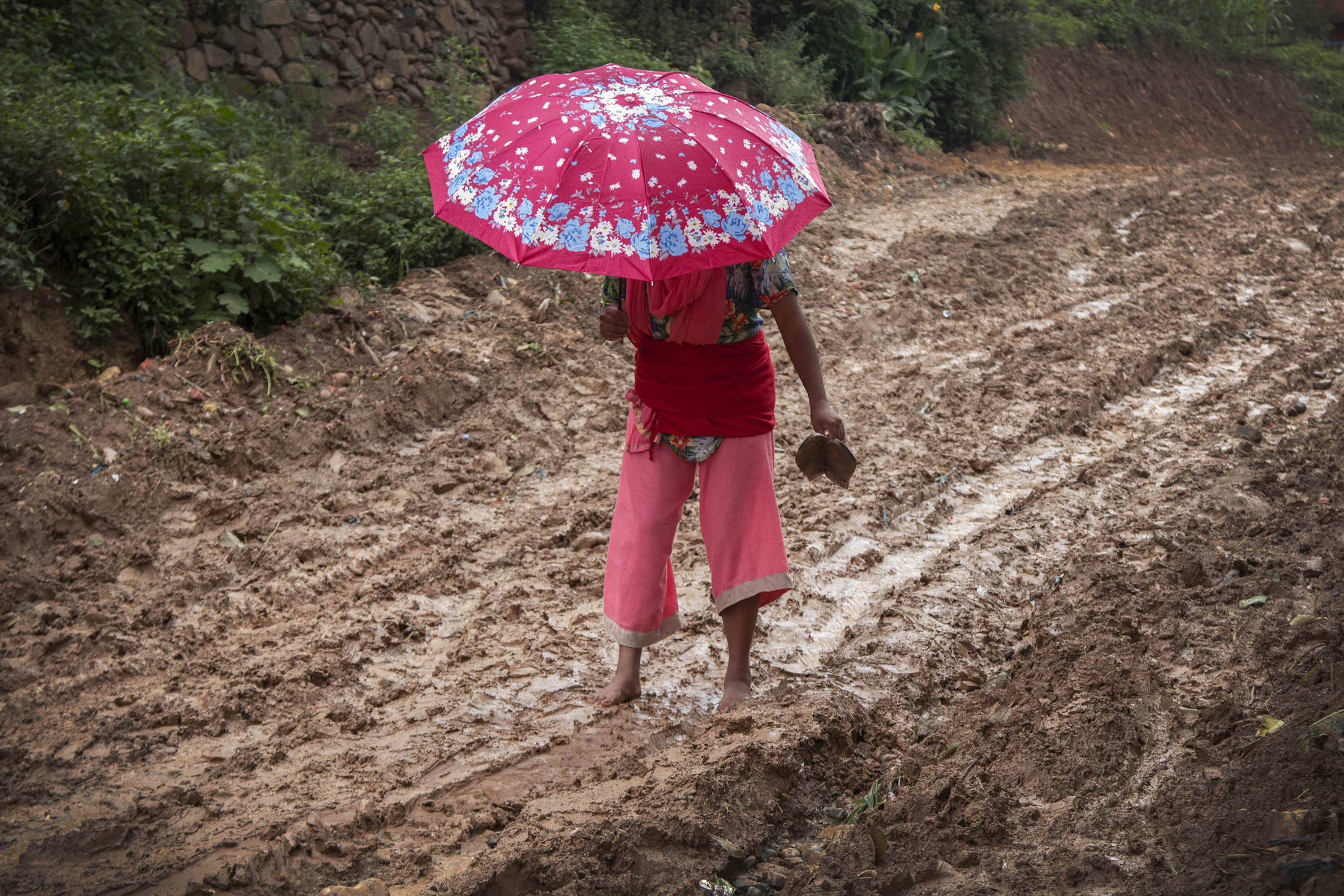 A woman walks along a muddy road section at Thecho, Lalitpur. Prakash Chandara Timilsena/TKP
---