DASHAIN: ceremonies and celebrations
DASHAIN: ceremonies and celebrations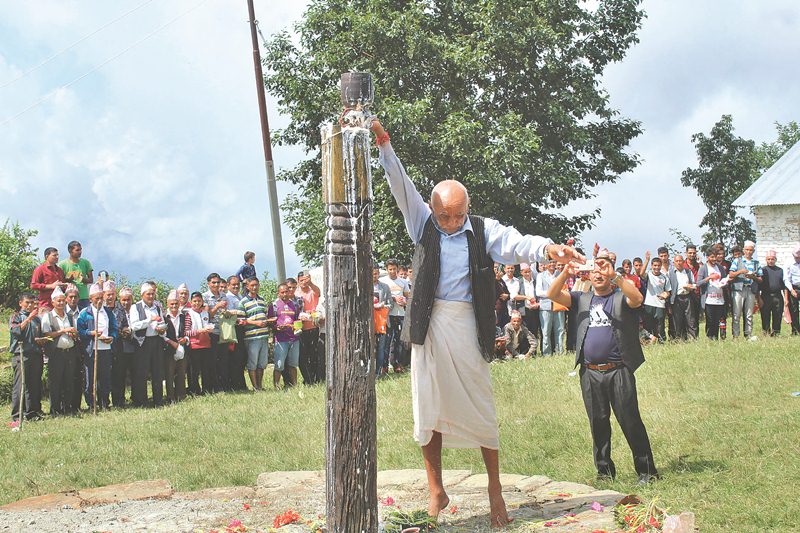 Published at : October 3, 2017
Updated at : October 3, 2017 08:11
A group 'Tika' event in Kushma, Parbat; Tika is a ritual akin to many other Hindu festivals and ceremonies where a mixture of rice, curd, water and preferably red dye is put on the foreheads of one's loved ones and relatives, as a symbol of blessing.
A Tika ceremony in Kathmandu.
Foreigners take part in a Tika event organised at a homestay in Kavre.
President Bidya Devi Bhandari offers Tika to Prime Minister Sher Bahadur Deuba at Sheetal Niwas.
A bus packed with passengers travelling back to Kathmandu after celebrating Dashain with their families.
A few vehicles are seen plying the Maitighar-Tinkune road in the Capital on the main festival day.
A procession of Living Goddess Kumari at Basantapur in Kathmandu on Nawami, the ninth day of Dashain.
Hindu priests perform a ritual dance on Durga Puja, the tenth day of Dashain, in Bhaktapur.
Women enjoy ride on a 'Roti Ping' (traditional ferris wheel) at Mathagadi in Palpa.
PHOTOS: KESHAV THAPA, LALPRASAD SHARMA, MADHAV ARYAL,
NAGENDRA ADHIKARI, SHALIGRAM TIWARI, RSS & AFP
---