Traffic police book 3,331 rules violators on New Year's Eve
According to the Kathmandu Valley Traffic Office, police booked 291 people for drink-driving on New Year's eve on Thursday.

Post File Photo
bookmark
Published at : April 15, 2023
Updated at : April 15, 2023 07:08
Traffic police in Kathmandu Valley booked as many as 3,331 motorists for various traffic rules violations on New Year's eve on Thursday.

Among the offences, drink-driving topped the list. A total of 291 drivers were booked after alcohol was detected in their breath. Police ticketed 267 people for violating lane rules, 214 for overspeeding, 91 for violated traffic light rules, 44 for unnecessary honking, nine for violating number plate rules, and the remaining 2,415 were booked for various other rules violations such as unauthorised parking, driving without documents, or riding motorcycle without wearing a helmet.
"We were more strict against drunk driving and overspeeding on the New Year's eve, compared to the other days," said Rajendra Prasad Bhatta, spokesman at the Kathmandu Valley Traffic Police Office.
He said on Thursday, the Kathmandu Valley saw 42 accidents in which 25 caused minor injuries.
Bhatta claimed that the police drive against overspeeding and drink-driving helped reduce fatal road accidents.
On Thursday, the Valley Police also used radar guns and Gopro cameras to track speeding vehicles and booked 214 riders along the Ring Road and in the Koteshwar-Bhaktapur section of the Araniko Highway.
Traffic police have set a speed limit of 50 km per hour for major roads in the Kathmandu Valley.
With special focus on the New Year's eve, 250 traffic police personnel were deployed in 46 different points all over the Valley to check drink-driving.
The Valley Police had enforced an anti drink-driving campaign on December 3, 2011. In the first year of the campaign's establishment, the traffic office had booked 39,667 people, on charges of drink-driving, of which 39,480 were male and 187 females.
Over the past 12 years, traffic police has been enforcing rules more stringently, but the drive was stopped during the Covid pandemic. Traffic office data show that the number of people driving under the influence of alcohol came down more than three times when the Covid pandemic was raging throughout the country in 2020. As per the traffic police data, in the fiscal year 2018-2019, altogether 12,058 people were booked for drink-driving, of which 12,015 were male and 43 female.
The number of drivers booked for drinking has gone up this fiscal year. According to the Valley Traffic Office data, the police have handed tickets to 41,727 such drivers during the first nine months of the current fiscal year.
"It's because we have adopted a stricter approach against drink-driving, so more people were caught," said Bhatta. Experts say more drivers are being booked for drinking because the number of people going out for socialising has already returned to pre-pandemic levels.
During the pandemic, traffic police had stopped using breathalyzers fearing the transmission of the virus. But now, traffic officials say they have been using around 150 breathalyzers to check drink-driving on a daily basis.
Those booked under drink-driving, which is known as MaPaSe (madak padartha sewan) in Nepali, have to pay Rs 1,000 and attend an hour-long class on traffic rules. Meanwhile, the traffic police are imposing a fine ranging from Rs 500 to Rs 1,500 for illegal parking and lane rule violations.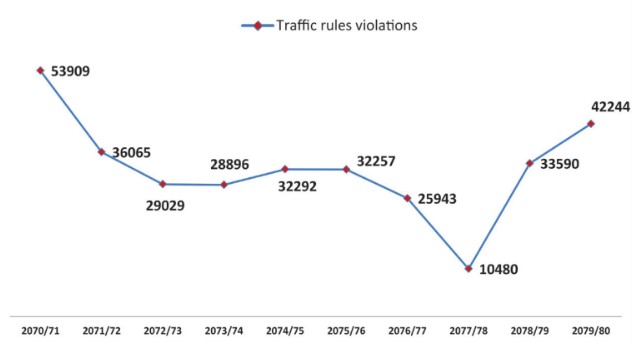 Source: Valley Traffic Police Office
---