Residents, shoppers in City's old quarters complain of festival traffic nightmare
Metropolitan Traffic Police Division accuses Kathmandu Metropolitan City of not doing enough to manage parking.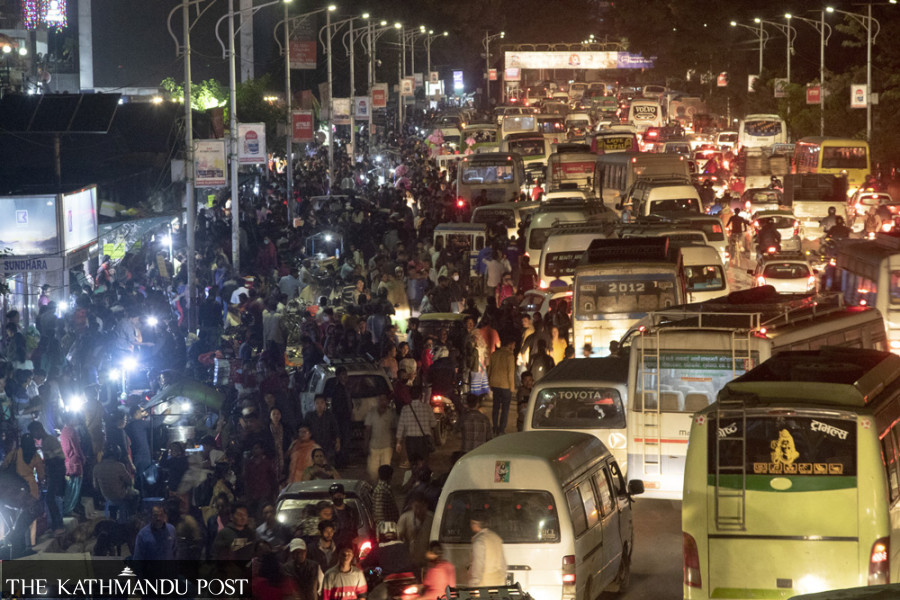 Post File Photo
bookmark
Published at : October 11, 2021
Updated at : October 11, 2021 08:38
Kathmandu
Since last week Sarmita Sthapit has been coming out of her house only in the morning to buy groceries.
The resident of Ganabahal says with the Dashain festival just a couple of days away, hundreds of shoppers crowd her neighbourhood until the evening and getting out of the house is difficult.
"You can't imagine how hard it is for us. New Road, Khichapokhari and Indra Chowk areas are filled with a sea of people all day long," said the 48-year-old.
High mobility of people has also increased the problem of traffic jams and haphazard parking.
Sthapit's daughter Trishna works at a private firm in Thapathali.
"I commute to work on a scooter. These days I leave for work much earlier in order to avoid the traffic. But when I return home, the road is filled with vehicles and pedestrians," said the 21-year-old.
Even festival shoppers have complained of traffic jams and lack of parking spaces.
Sarmila Adhikari and her friends had reached New Road for Dashain shopping at 11am on Saturday. Their shopping trip lasted nearly six hours.
"It was a nightmare," the 27-year-old said of her shopping experience. "There were so many people in New Road and Bhotahiti areas that it was suffocating. Returning home was equally difficult, because of the traffic."
Traffic authority says the traffic problem has worsened mainly due to lack of parking spaces.
"It is the job of the Kathmandu Metropolitan City to manage parking spaces. But it hasn't done enough to solve the problem," said Superintendent of Police Sanjib Sharma Das, also the spokesperson of the division.
He said the city authority should have anticipated the situation and designated parking spaces weeks ago.
"Now it is difficult to manage the traffic and the crowd," said Das.
The Metropolitan Traffic Division has deployed nearly 300 traffic personnel to manage traffic at Ratnapark, Bhotahiti, Ason, Indrachwok, and New Road areas.
Kathmandu Metropolitan City, meanwhile, claimed that it is not the lack of parking spaces that is causing the traffic jams.
"This problem was caused due to the increase in vehicle numbers," said Dhanapati Sapkota, chief of the implementation department at the City office. "How can we manage parking spaces when the vehicle numbers are increasing every day?"
"We are already managing five smart parking areas at five different spots in the New Road area alone. We cannot add new parking areas," added Sapkota.
The traffic authority, however, says the City office could still have done a lot to ease traffic jams instead of blaming the vehicle numbers.
"For example, it could have converted Khula Manch into a temporary parking space for festival shoppers visiting the New Road area," said Das, the spokesperson of Metropolitan Traffic Division.
---
---