Hungry and now shelterless, Thapathali monkeys getting more venturous
Unlike those in Pashupati and Swayambhu, monkeys at Kalmochan Ghat do not get much to eat.

Anish Regmi/TKP
bookmark
Published at : April 17, 2021
Updated at : April 19, 2021 09:44
Kathmandu
Last Friday Shanti Dhakal and her husband Parbat, both teachers by profession, left their rented flat at Kupondole for school in the morning. They had forgotten to unlock the kitchen windows. Upon returning home in the evening both were shocked to find that the kitchen was a mess.
"The bananas kept in the basket on the dining table were all gone and half-eaten apples were thrown everywhere on the floor," said Shanti, 39, a secondary-level teacher. "Later I learnt from my landlord that a troop of monkeys had come to the area in the afternoon," she said.
Devendra Mahato, 48, owner of a fruit shop at Kupondole, says these days he needs to be extra careful as a big number of macaques from Thapathali's Kalmochan Ghat, which lies just across the bridge, are regular visitors.
"As I do not go anywhere from the shop, I haven't let them come here but many residents have started complaining about the troublesome monkeys, so I need to be on extra alert," said Mahato. When Mahato was speaking with the Post on Wednesday, two monkeys were walking on the telephone cables just above Mahato's shop.
Other residents in the neighbourhood complained that the monkeys have destroyed their vegetable patches on the rooftops and flowers.
"I had grown some cucumbers at my home, but the monkeys ate them all. They even enter our rooms and now I am more fearful of getting a monkey bite," said another local, who was buying fruits at Mahato's shop.
Mukesh Chalise, a zoologist who has done an extensive research on rhesus macaque (a pale brown asian macaque), the same monkey species found in Thapathali, says there are over 90 monkeys in Thapathali and they have lately started travelling longer distances in search of food.
"I have noticed that nowadays they reach up to Patan Campus and Mangalbazar in search of food," said Chalise.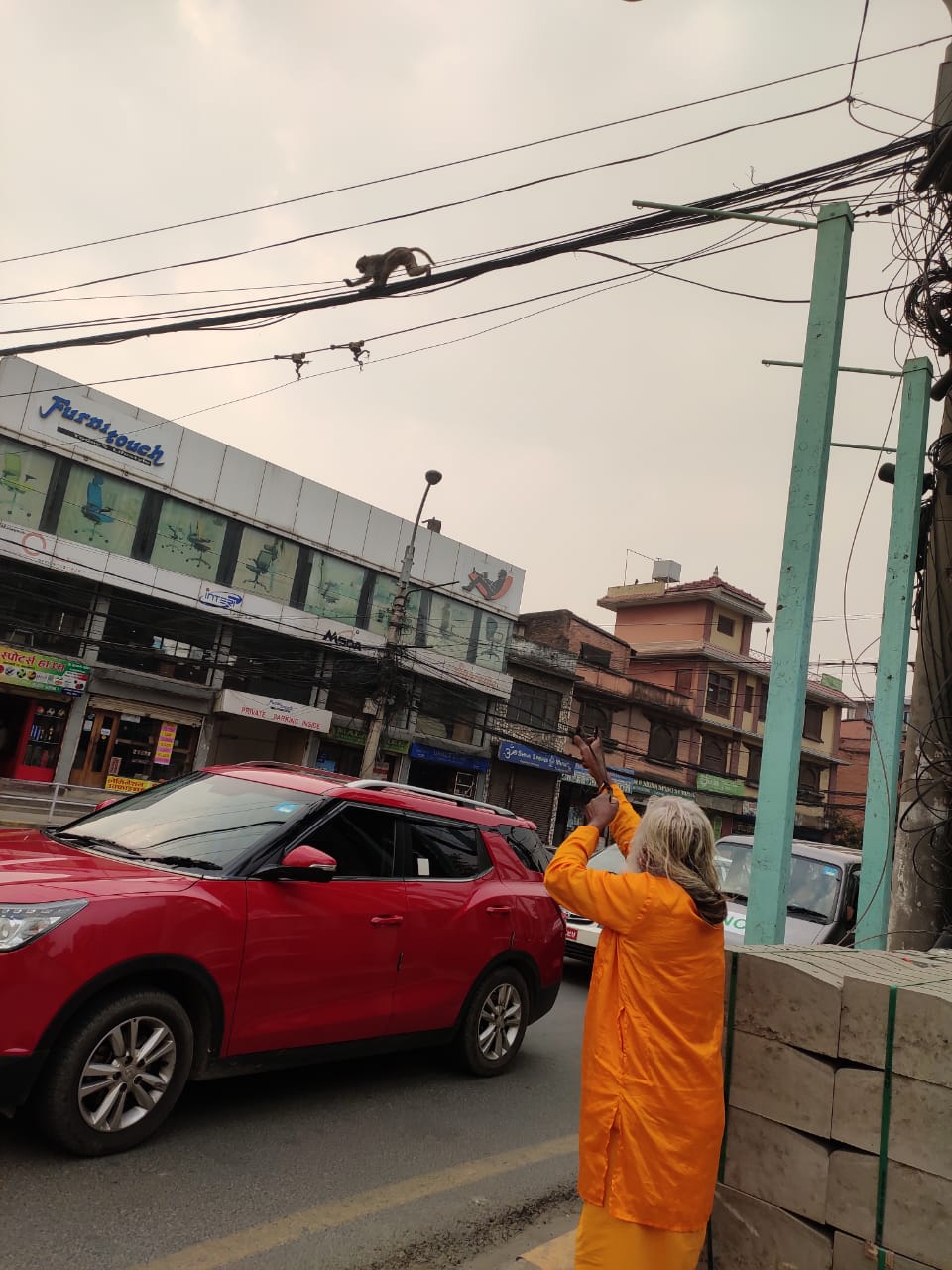 A sadhu from Kalmochan Ghat aims a catapult at a monkey at Thapathali, Kathmandu. Anup Ojha/TKP
Ramananda Giri, 60, the head priest at Synashi Aakhada who has been living at Kalmochan, Thapathali for the past 16 years, says the monkeys have started moving from the area as the old sattals (public rest houses) that provided shelter for the monkeys have been demolished for restoration. Also, there aren't' enough trees and food is getting more scarce for the monkeys, he said.
At present, the High-Powered Committee for Integrated Development of the Bagmati Civilization is working to renovate and restore 26 quake-ravaged monuments, including the sattals and temples on a three-kilometre stretch from Kalmochan Ghat to the Teku Dovan (confluence).
"Until a year ago, no monkey would cross the Bagmati bridge, but after the government announced a nationwide lockdown in March last year, the animals started crossing the bridge in groups as the roads were empty and now they regularly go to the other side of the bridge," said Giri.
When asked about the possible reasons for the monkeys entering human settlements and stealing food, zoologist Chalise said humans themselves are responsible for the monkeys' behaviour because they taught the monkeys to eat human food, especially junk food. "Food is scarce for them and forests are gone. People offer them biscuits, noodles and ice cream among other things, and now the monkeys have developed a taste for such foods," said Chalise.
Chalise, meanwhile, warned against monkey bites and the possibility of the animals infecting humans with diseases. He thinks the only solution to the problem is their translocation to some safer place away from the city.
"Or we can grow more trees including fruit trees for the monkeys, but that is not possible as the city does not have space for that," he said.
Last year to curb the monkey menace in the Gandaki Province, locals had turned to innovative methods such as setting traps, hiring trappers and playing loud music among other things, but employing those methods would be difficult in big cities like Kathmandu, according to experts.
According to Chalise, there are around 1,500 monkeys in the Kathmandu Valley and unlike those residing in the Pashupati and Swayambhu areas, the monkeys at Kalmochan Ghat do not get much to eat. "Major shrines like Pashupati and Swayambhu are visited by hundreds of people every day and many people regularly feed the monkeys, but that is not the case at Kalmochan Ghat, which sees fewer visitors," said Chalise.
He said the Kathmandu Metropolitan City must find ways to manage the monkeys.
When the Post asked ward-11 chairperson Hiralal Tandukar if his office has done anything to address the problem, he didn't have a definitive answer. "We are also looking for a solution, because they have created a kind of terror in the Thapathali area itself, besides many of the monkeys are diseased and disabled and could spread diseases," said Tandulkar.
Last year, Tandukar had suggested caging all those monkeys and he was ridiculed for the idea.
But this week in conversation with the Post, Tandukar appeared to have dropped that idea. "If anyone has a solution, we request them to come to our office. We are ready to work with them to manage the monkeys," he said.
Talking about the diseases in monkeys, zoologist Chalise said monkeys in Kathmandu in general suffer from respiratory problems including asthma and gastrointestinal diseases.
"When these diseased monkeys reach human settlements, they could spread the viruses and some of them could prove fatal. The government needs to take the monkey menace seriously," said Chalise.
Dr Sagar Raj Bhandari, director at the Teku-based Sukraraj Tropical and Infectious Disease Hospital said the hospital seldom receives monkey bite patients from the Kathmandu Valley. "Nobody from the Thapathali or Kupondole areas has ever come here with a monkey-bite. But people come from outside the Valley and we use anti-rabies vaccines for such cases," said Bhandari.
Meanwhile, Dr Krishna Prasad Paudel, director general at the Epidemiology and Disease Control Division echoing Chalise stressed the need for prompt action against the monkey menace.
According to Paudel, monkeys can transfer Herpes virus (easily spread from skin-to-skin contact) and others include bacteria, fungi, and parasites among other things to humans.
---
---