Kathmandu city police accused of taking kickbacks from street vendors
Nepal Street Vendors' Trade Union says that members of the city police have been earning hundreds of thousands of rupees every month by intimidating street businesses.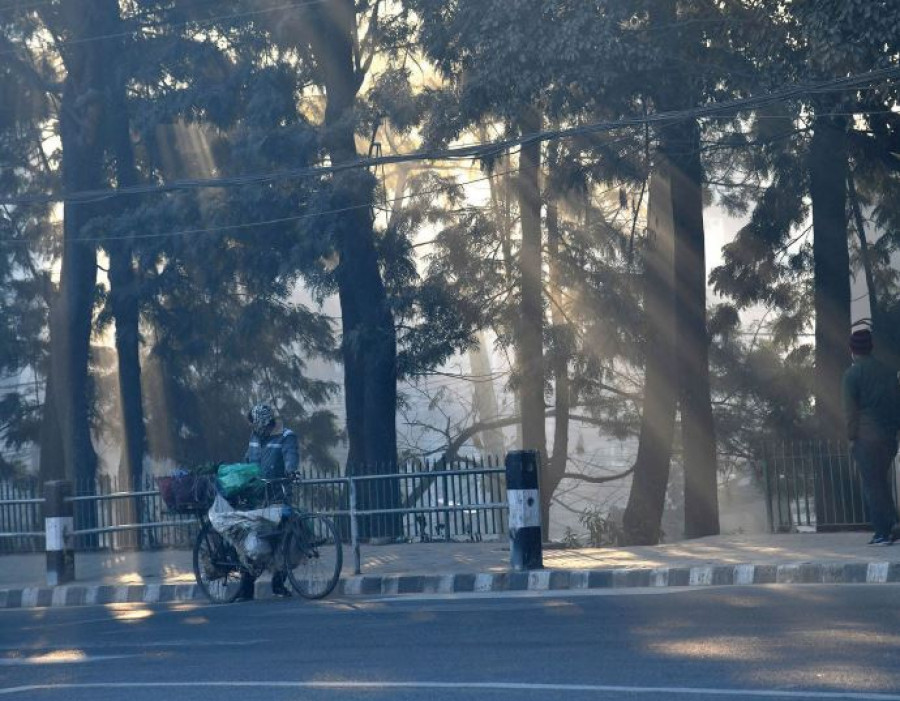 Deepak KC/TKP
bookmark
Published at : January 19, 2021
Updated at : January 19, 2021 08:01
Last Friday when municipal police from Kathmandu Metropolitan City confiscated Manju Kunwar's vegetable cart, a video of her pleading with the personnel not to take away her wares went viral, inviting public criticism against the city authority on social media.
The same video also showed the municipal police load a fruit seller's bicycle onto a truck.
City officials say that they are not allowing anyone to run their businesses on the roads and that Friday's incident was part of their crackdown on street vendors.
But, despite the zero-tolerance approach towards street vendors, it has been revealed that city officials have been receiving kickbacks from some street vendors for allowing them to ply their business.
Three street vendors who spoke with the Post on condition of anonymity admitted to paying a "monthly commission" at the city office so that they could sell their goods on the road.
"We pay Rs 4,000 to the city office every month," said a fruit seller who operates in the Balaju area. He said that he has been selling fruits for the past 10 years and that he pays the city office through an "agent" because he gets a lot of customers in the area.
When the Post enquired Dhanapati Sapkota, chief of municipal police unit at Kathmandu Metropolitan City, on the issue, he demanded evidence or contact numbers of the persons who admitted to paying kickbacks to the city office.
"We will investigate the case if the individuals concerned come up with proof," said Sapkota.
Mahendra Mahato, the municipal police in charge of Balaju, said they can only take action if there is evidence.
When the Post talked to the man who has been paying the city office, he feared that his livelihood could be ruined if authorities saw him talking to the media.
"Officials call our business illegal wherever we go. They have kept us in so much fear that nobody is ready to talk about it. If they take our goods, those fruits can't be sold another day. They only return our fruits after we pay Rs 500, but don't return our bicycles," he said.
According to the Implementation Division of KMC, the city this year auctioned 5,000 bicycles, carts, and clothes worth Rs 6.1 million seized from roadside businesses. The bicycles collected over two years were sold as scrap.
The city has been keeping seized bicycles, carts—fruits, vegetables and other confiscated items from the footpath to Teku. It only returns fruits and vegetables after taking a certain amount but other items such as clothing items or other materials that are only kept for auction.
"This is my only occupation, and with this little business I send money to my children's education," he said.
Like the man in his mid-forties, Sunil Gupta, 26, is another fruit seller who has started his business in Balkhu after the nationwide lockdown was lifted in mid-July last year. He says officials have confiscated his bicycle and fruits on three occasions.
"I have heard that city police won't do anything if you provide them money. But I do not know the proper channel to do that. It's better to pay them than to get your goods seized," said Gupta from Mahotari.
He said he bought his bicycle from the scrap dealer by paying Rs 2,000 each time his bicycle was seized by police.
"It's really hard for poor people like us. After the Covid-19 pandemic hit the country, there were no job opportunities. So I started selling vegetables in Kathmandu. But the city police have become intolerant towards us," said Gupta.
Like Gupta, over half-dozen fruit sellers in Balkhu stay alert and prepare to run away when they see city police come for their bicycles.
It's not only vegetable or fruit sellers who blame the city police for giving them unnecessary hassles and demanding bribes, those people who have long been doing business on the footpath also accuse Kathmandu city police of being corrupt.
Rajkumar Shrestha, secretary-general at the Nepal Street Vendors' Trade Union of around 9,000 street vendors, said, street vendors are the biggest source of money for city police officials.
"Members of the city police earn hundreds of thousands of rupees from businesses every month. They have intimidated the businesses so much that they don't want to talk about it," said Shrestha.
Data from Kalimati Fruits and Vegetable Market Development Board states that there are over 3,000 fruit hawkers and nearly 1,000 vegetable sellers who sell their items on carts across the Kathmandu Valley.
"The implementation division of the KMC has made these poor people a good source of income. They have been calling them illegal, threatening them, thrashing them and keeping them under their close surveillance and earning huge money," said Shrestha.
---
---