Five foreigners detained over Saturday's protest banned from entering Nepal for two years
Of the seven foreigners caught by police, one was found to have not participated in the demonstration, other was found to be on a marriage visa.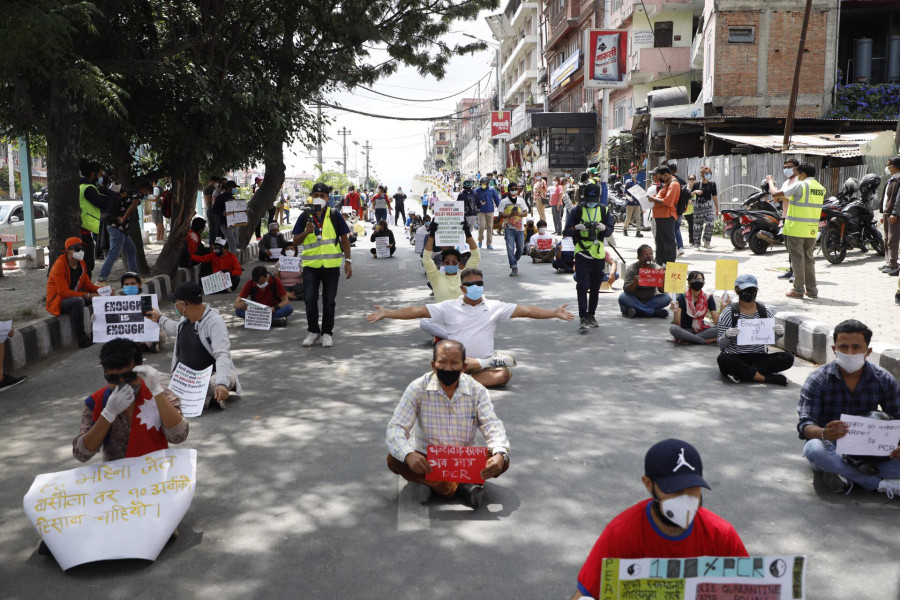 Hemanta Shrestha/TKP
bookmark
Published at : June 16, 2020
Updated at : June 16, 2020 20:49
Kathmandu
The Department of Immigration on Monday decided to ban five of the six foreigners, detained for participating in a youth-led anti-government protest on Saturday, from entering Nepal for two years.

Officials, who arrested the seven in Maitighar, had later released one of the detainees after it was found that the individual didn't participate in the protest. However, six others were handed over to the Department of Immigration.
Ramesh Kumar KC, director-general at the department, told the Post that the foreigners had violated the terms of their visa by taking part in the protest.
"Foreigners can't take part in any demonstrations over internal issues of the country, as per prevailing laws. The six appear to have violated this law," said KC.
The detainees are: Kalani Gacon, 24, from Australia; Stephanie Ann Thornton, 32, from the US; Marita Liverod, 31, from Norway; and Qin Li, 40; Li Xu, 26, and Yanan Jia, 30, from China.
"The department has banned five foreigners from China, USA and Australia from entering Nepal for two years," said KC. "But in the case of the Norwegian national, Marita Liverod, she was found to be on a marriage visa," said KC.
"The five will be deported after the lockdown ends and will not be allowed to enter Nepal for two years." The department has released them on bail for now.
"The three Chinese nationals and the American national have been released on a bail of Rs 10,000 each, the Australian on Rs 20,000 and the Norwegian on Rs 3,000," said KC.
According to officer Baikuntha Regmi, who is overseeing the case, the foreigners told officials that they were invited to the protest by their Nepali friends to support them, and they had no idea that they were violating the law.
The youth-led protest, organised largely on social media, first took place last Tuesday and spread across the country since then.
The protesters are demanding wider use of polymerase chain reaction tests for coronavirus, improvements in quarantine facilities, and that the government publish details of the money spent on managing the pandemic.
---
---