29 people arrested in last one month for possessing illegal drugs
According to police, illegal prescription drugs are being smuggled into Nepal via India in large quantities of late.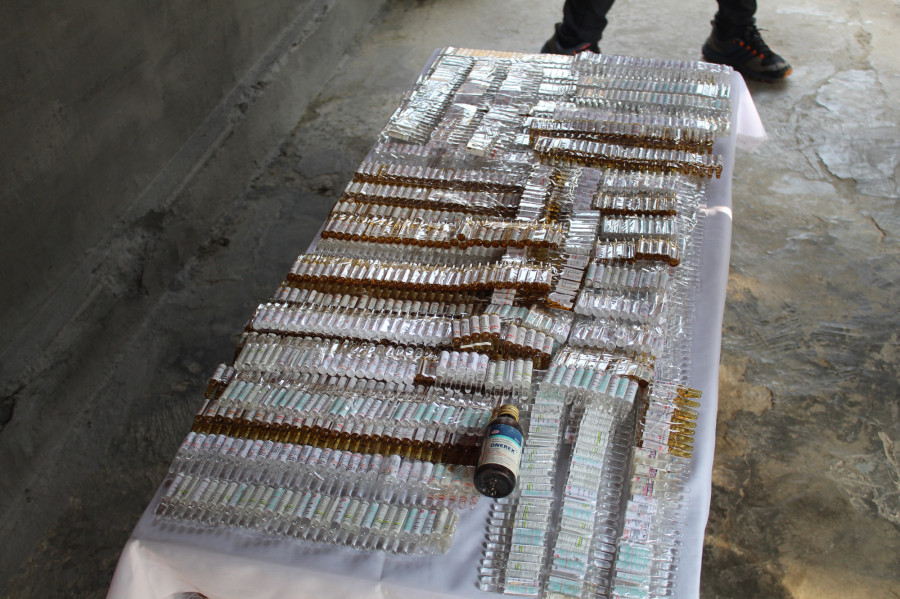 Post File Photo
bookmark
Published at : October 27, 2019
Updated at : October 27, 2019 07:49
Kathmandu
Police have arrested a person from the bus (LU 2 KHA 389) en route to Kathmandu from Butwal in possession of illegal drugs.

The arrestee was identified as Rabin Thapa, 24, of Kavre who was currently residing at Sukedhara in Kathmandu.
Metropolitan Police Beat, Thankot had arrested Thapa with illegal drugs while searching the bus. Police have confiscated 120 ampules of diazepam, 96 ampules of buprenorphine and 145 ampules of Phenergan. According to police, illegal prescription drugs are being smuggled into Nepal via India in large quantities of late.
Similarly, on the same day from another bus police have arrested driver conductor and a passenger for possessing illegal pharmaceutical drugs. The arrestees were Prakash Darlami, 24 of Suryabinayak, Laksan Tamang, 26, of Kathmandu and Indra Prasad Kapali, 26, of Bhaktapur.
The police beat had detained the trio from the bus (NA 7 KHA 7730) en route to Kathmandu from Kakadvitta. Upon searching, police have confiscated 774 Nitravet and 4 tablets of Spasmo.
According to the Data provided by Nepal Police, in the last month police have detained as many as 30 smugglers inside the Valley. "Police are able to arrest those smugglers as the security has been made very tight during this festive time to curb criminal activities," said Deputy Superintendent of Police Hobindra Bogati, spokesperson at Kathmandu Metropolitan Police Range.
"The number of quick response teams, patrol units, sniffer dogs and reserve units have also been increased to check illegal activities in the border and Valley."
"However, the reason why many people try to smuggle illegal items including drugs during festive time is that lots of goods enter Nepal from India. And during this time, border security is usually lax, allowing drug smugglers to cross the border without getting caught," said Superintendent of Police Krishna Prasain, also the spokesperson for the Narcotics Control Bureau. The bureau's data of the last three years show that drug smuggling cases and arrests are on the rise in the country.
In the fiscal year 2016/17, police arrested 3,607 people on drug smuggling charges—of them 159 were foreigners. In the fiscal year 2017/18, police arrested 4,754 people, including 149 foreigners. Similarly, in 2018/19, police arrested 5,558, including 201 foreign nationals.
---
---