Traffic police have a difficult job, but many drivers say they could be a bit friendlier
The traffic police are woefully under-equipped to deal with the city's chaotic traffic and this can lead to accidents, injuries and even deaths of personnel.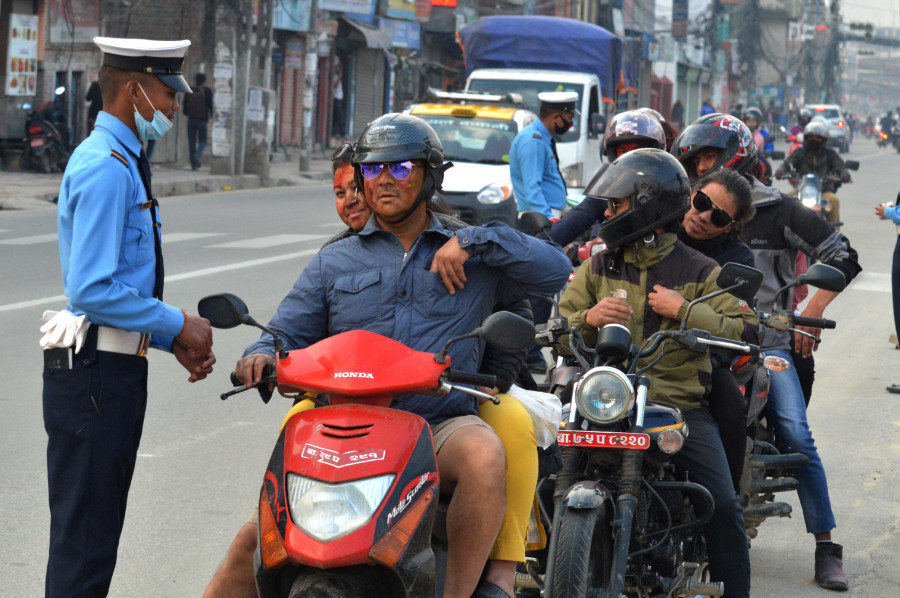 Traffic police work on chaotic streets, attempting to manage traffic and prevent accidents. Post File Photo
bookmark
Published at : September 29, 2019
Updated at : September 29, 2019 07:32
Kathmandu
On September 10, at around 8:30 pm, police constable Manita Chemjong was rushed to Kathmandu Medical College Hospital after getting dragged by a motorbike while trying to stop a drunk driver near the Tribhuvan International Airport.

The Metropolitan Traffic Police Division conducts random roadside checks for alcohol with a breathalyser that shows the Blood Alcohol Concentration (BAC) through analysis of a driver's breath. Chemjong was on duty conducting random checks when a drunk driver, afraid of getting caught, sped off and escaped.
"I was holding a red magic light and had my hand extended when the drunken-driver suddenly sped up his motorbike and hit me," said 22-year-old Chemjong. "My arm got caught and I was dragged for a good 30 seconds before ending up on the side of the road."
Chemjong suffered no internal injuries but the driver is yet to be found and the police are investigating the case. As the incident took place at night with only Chemjong at the incident site, she didn't get a chance to note the number plate. Even after reviewing CCTV footage, police haven't been able to identify the motorbike.
For traffic police personnel like Chemjong, this is all part of the job. Braving Kathmandu's dirt and dust, the traffic police diligently work the city's chaotic streets, attempting to manage traffic and prevent accidents, even while facing physical and verbal assault from unruly motorists. While the traffic police themselves don't have a reputation for fairness or polite conversation, there is no doubt that they are on the frontlines of Kathmandu's mayhem.
Jeevan Shrestha, superintendent of police at the Kathmandu Metropolitan Traffic Police Division, recalled his days of trying to stop vehicles for speeding.
"When speeding drivers spot traffic police officers, they speed up even more in order to escape, which at times results in accidents and injuries to both the police and the drivers," Shrestha told the Post. "Many police officers have been handicapped, severely injured and some have even died on duty."
In 2016, a severe accident resulted in the death of civil police constable Sajan Thapa and serious injury to head constable Shyam Thapa, according to incident record files that were provided to the Post. Bus driver Subash Thapa hit the two police officials who were patrolling on a motorbike on the way from Banepa to Bhaktapur.
According to Senior Superintendent of Police Bhim Prasad Dhakal, chief of the Metropolitan Traffic Police Division, each officer spends around 14-15 hours per day on duty, battling all sorts of weather conditions and managing traffic movement during protests, VIP arrivals, natural disasters and accidents. And although the traffic office has adopted CCTV cameras, traffic lights, street lights and traffic monitoring rooms in public places in recent years, the traffic police personnel continue to face risks.
"Nepal's traffic policing is manual, where we have many police officers working tirelessly at every checkpoint, highway and busy streets because we lack technology," said Dhakal. "Although the government has provided relief accessories like sunglasses, masks, boots, raincoats, gloves and hats, I believe if we can work on advancing technology, the human resource being used on the roads can be used somewhere else."
According to Manisha Budhathoki, a traffic police inspector, although every police officer is reachable via walkie talkie and mobile phone, without advanced technological gadgets besides CCTVs and Go-pro cameras, Nepal will continue to have manual traffic policing, which isn't always accurate and fast.
"The reason we haven't yet caught the individual who tried to avoid the checking and hit Chemjong is that we didn't have a local CCTV monitoring unit. There was no proper street lighting in that part of the road as well, and we have no drones or automatic licence plate recognition devices," said Budhathoki.
While few disagree with the fact that the traffic police have an unenviable and difficult job, many drivers take issue with the way they conduct themselves.
Thirty-eight-year-old Ramesh Gurung has been driving a bus for Nepal Yatayat for the past 15 years and his complaint is that traffic police officers often give bus drivers tickets in circumstances in which they're not at fault.
"I understand that the job of the traffic police is very difficult and I also understand how small delays might cause frustration," said Gurung. "But we always speak to them with respect and politeness while they raise their voices at us and speak in a demeaning manner. If we try to put a point across, they slap us with a fine."
Dhakal agrees that there are traffic personnel who might not be polite and respectful towards public vehicle drivers. Ten years ago, behavioural training wasn't in practice but after citizens started complaining about the traffic police's behaviour, they've started communication and human relations training as a focal area in both practical and academic sessions, said Dhakal.
"We respect the public but we have to hold them accountable when they're at fault because an offence is an offence regardless of the class, caste, colour, age and gender of the individual," said Dhakal.
Raju Regmi, a 38-year-old taxi driver, echoed Gurung that some traffic police officials tend to vent their anger on public vehicle drivers for no reason.
"I have no bitterness towards the traffic police. They have a tough job and all taxi drivers and bus drivers understand that, but if the police spoke to us normally instead of demeaning and ordering us, we would respect them a lot more," said Regmi.
According to these drivers, the use of technology would not just help traffic police but also drivers like them. Gurung pointed out that neither the Traffic Police Nepal app nor the Traffic Police website has a separate section where the public can officially file online complaints against the police officers and not just leave feedback.
There are thousands of complaints registered every day using the same registration section where complaints against the police's bad behaviour and injustice tends to get neglected amongst other public complaints. Having a separate registration section to file complaints against the police officers will help the public as well as the police to proceed with an unbiased investigation, said Gurung.
---
---