Times are changing for the dhobis of Kathmandu
With young people pursuing alternative career options and elder people taking up initiatives to modernise the laundry service, the traditional means of laundry is adapting with changing times.

In an alley in Dhalkhu, people are seen busy with their laundry jobs. It is a caste-based occupation for some, but with the introduction of new technologies, this service-based industry has also been evolving. Anish Regmi/TKP
bookmark
Published at : September 11, 2019
Updated at : September 11, 2019 07:32
Kathmandu
For Tara Kanaujiya, mornings mean business. Right at 6am every day, she is up and starting her day. She is serious about starting her day right, which means she's not wasting any of her time. As soon as she wakes up, she readies her big, old washing machine and starts segregating towels, bedsheets, and pillow covers into separate buckets for washing.
The 55-year-old was just 16 when she was married to a boy who lived near her locality in Dhobichaur, a 15-minute walk away from the bustling streets of Thamel. And for the past 30 years, Kanaujiya has been helping her husband out with his family business. The Kanaujiyas are laundry workers, a profession that has been passed onto them—as part of the Hindu caste system—for centuries.
But today, things are different. As it is with all things, the traditional laundry system has evolved. "I like to work and this makes me busy but I can't expect my daughter to give up her career for this profession," said Kanaujiya, while waiting for the washing machine process to finish washing the clothes. "Centuries ago, society may have been divided into castes by our occupation but times have changed. We aren't forced to take this as a full-time profession any more," she said.
This doesn't mean Kanaujiya's daughter Laxmi doesn't help her out. Every morning before heading to college, Laxmi, who is pursuing a career as a beautician, works with her mother. She again returns in the afternoon to help fold clothes and deliver the laundry to hotels that have given them consignments. And Kanaujiya is happy that her daughter is pursuing something different that she was born into.
According to data collected by Rajak Community Development Association, more than 72,413 people belong to the 'Dhobi' community. But not all of them are associated with the caste-based profession. While the younger generation have started pursuing other career opportunities, some have taken initiatives to modernise as well as capitalise the laundry service according to the present market demands—trying to move away from the prejudice adhering to the profession and making it a marketable business.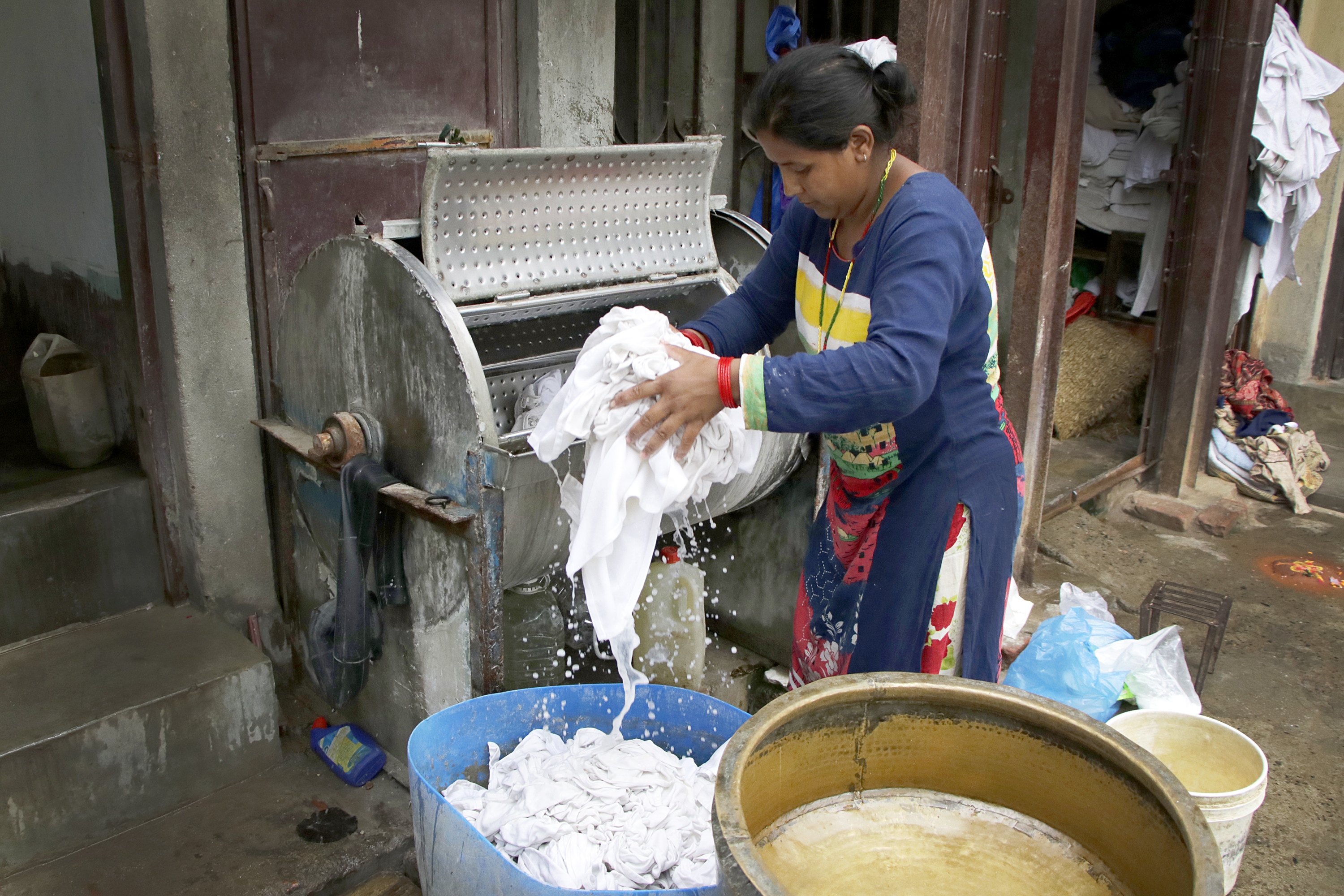 Anish Regmi/TKP
With the country evolving after the end of the Panchayat regime, the laundry business also went through rapid changes—detergents and washing bars entered the market along with traditional washing machines that were less time consuming.
While clothes were exclusively hand-washed with biochemical methods before, manual washing machines were introduced to make things easier.
For Kanaujiya, the washing process she currently follows is simple—soak the clothes in a bucket filled with detergent, then shift them to a rolling washing machine for half an hour, re-check the clothes to clear off the dirt, rinse those clothes, crinkle them, and then dry them in Dhobichaur, a public park.
These tasks demand a lot of physical toil and hard work, but according to Kanaujiya the business has been slow in recent years.
"Earlier, we could buy an entire goat from washing a single coat, now we only get Rs 250. How times have changed, we can't even imagine buying an entire goat that could sustain at least a week of a good meal," said Kanaujiya.
For centuries, members of this community have been stationed around the royal palaces—either around Hanumandhoka palace or nearby Shahs and Ranas neoclassical palaces. Naradevi, Dalkhu, Lainchaur, Swayambhu, Lazimpat are some locations where Dhobis resided. However, Dhobichaur in Kathmandu and Dhobighat in Patan are two places that have been named after this community, said Rajendra Rajak, whose family have been living in the narrow alleys of Naradevi for generations. Rajak, who belongs to the 'Dhobi' community, and owns Griffins Dry Cleaners in Kapan, which was established in 2005.
Dhobis, who were also known to be wrestlers in the past, have been part of the Kathmandu Valley for over 800 years ago, primarily doing laundry for royalty and other high-class people.
In a book published by the Rajak Association, the late historian Ishwor Raj Aryal states the origin of the Dhobi community in Nepal can be traced back to 1324 AD, when they travelled with the king of Simraungadh Hari Siddhi Deva Malla. Along with the king came the shrine of Taleju.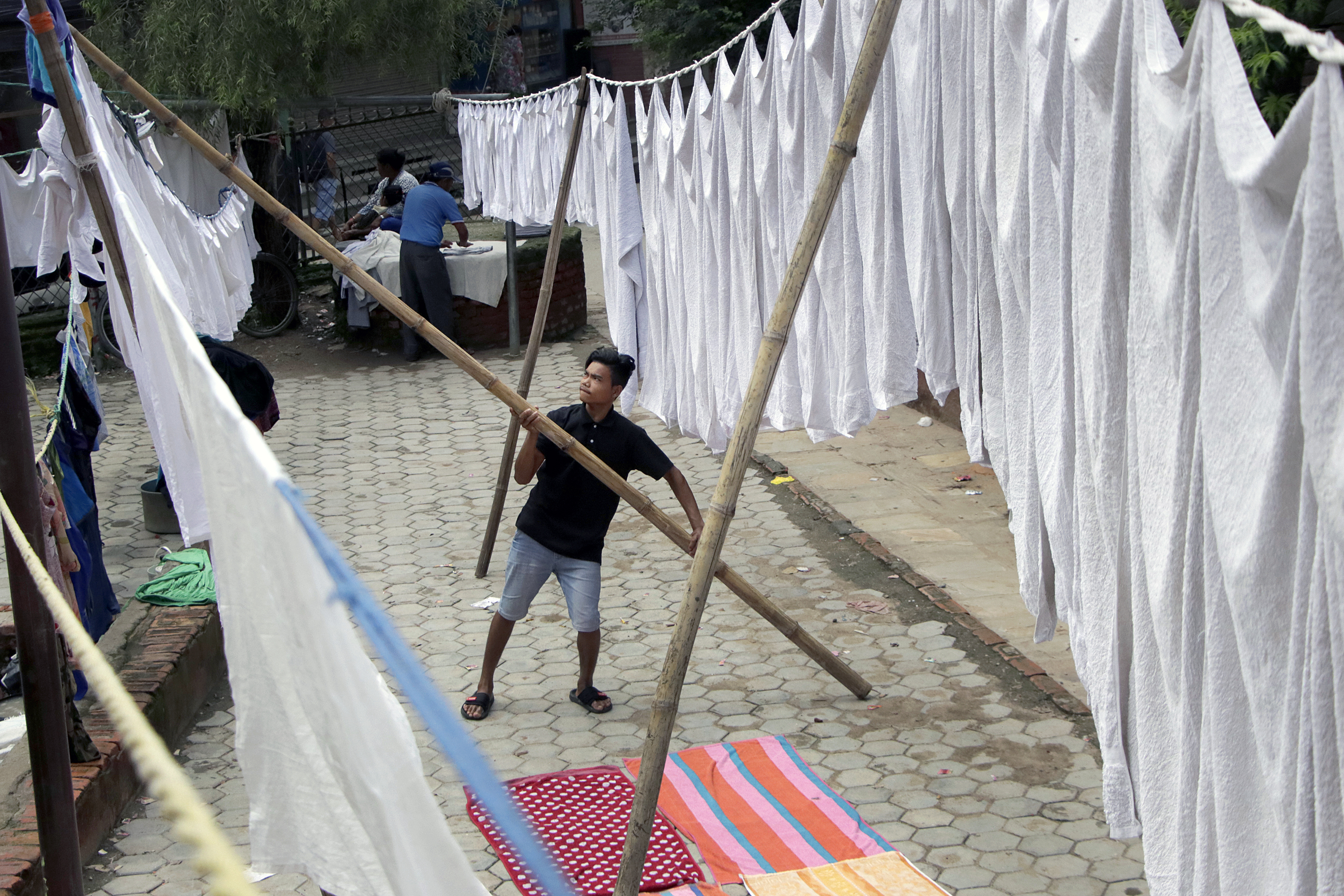 Anish Regmi/TKP
Although they were commissioned to work for the royals, it was still a caste-based occupation. And like other caste-based occupations, many who still follow this profession have not been able to advance further from traditional methods and technologies.
Due to this very reason, Kanaujiya feels it is only better if her daughter ventures into some other profession that is more lucrative in terms of standard of living and quality of life.
But Rajak has more optimistic views, as he says he grew up listening to his father's and grandfather's tales of the evolving technology of laundry and the laundry business in Nepal.
"While detergent and washing bars are commonplace today, I remember my father using biochemical products, such as rittha, a soapnut that has natural cleansing properties, and kharani—ash, which helps disinfect clothes," he says.
Kiran Magaiya, who is an elected ward member of Ward No 20, also grew up seeing his father use a large box that resembled a wood-fired oven that had a hollow top. The clothes were rather stuffed on top of the hollow to steam off the dirt. This process was called dry-cleaning in the past, Magaiya said.
Now, Magaiya also owns Three Brothers laundry service in Dhalkhu where five of his employees work to get the company running. He has one rolling washing machine and one hydra machine that is used to dry washed clothes. He hopes to elevate his business by investing in modern technology, but has been holding back due to lack of funds.
The laundry business, according to him, is also struggling to keep their business afloat due to two major reasons: scarcity of water and lack of open space to dry the clothes.
In the past, everywhere Dhobi communities were, there were dhunge dharas. From Naradevi to Dhobichaur, there are over 14 water sprouts. According to Magaiya, over the years these sprouts have dried and it's the laundry people that have had to suffer the most.
"We pay the government to provide us with water, for which we spend between Rs 5,000 to Rs 10,000 a month, which takes away half of our income," said Magaiya.
But according to Rajak, like any other profession, these are the challenges that come with a business.
For Kanaujiya, on the other hand, doing laundry is only a means to earn a living rather than a caste-based obligation for generations to come. "This is our bread and butter, but we also need to evolve—through this business or other professions," she said.
---
---