After widespread criticism, Kathmandu Metropolitan City revises smart parking fees in New Road
The new charge for two-wheelers is Rs 15, for up to 30 minutes, and Rs 25 for an hour; while for four-wheelers, it is Rs 50 for 30 minutes and Rs 80 for an hour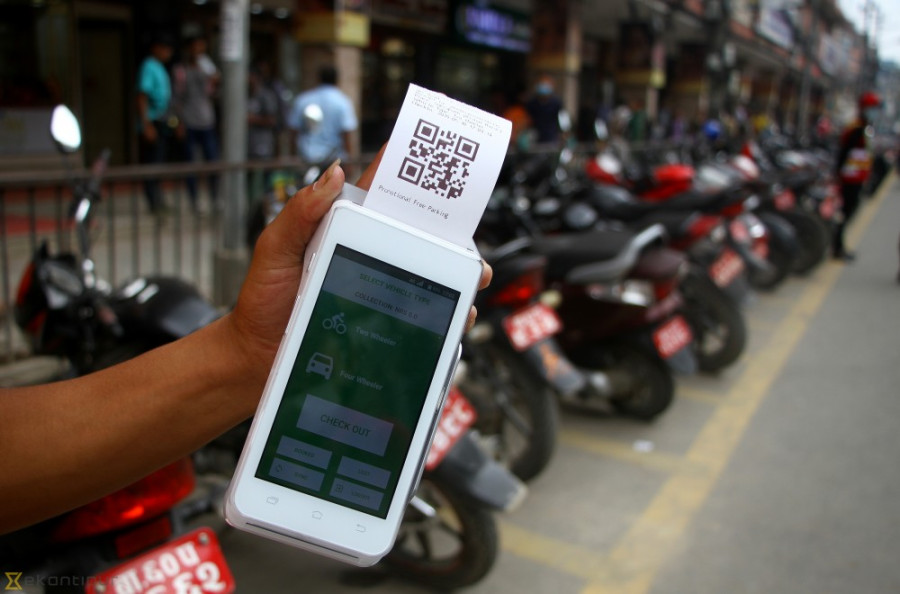 A smart parking device that is currently being used by the KMC, in collabaration with Wheels Truly Yours, a private company, in New Road. Post Photo: Biju Maharjan
bookmark
Published at : July 16, 2019
Updated at : July 17, 2019 16:27
Kathmandu
After widespread criticism, the Kathmandu Metropolitan City has revised its fees for 'smart parking' in New Road.

The fifth Municipal Assembly meeting held on Monday to table the budget of fiscal year 2019-20 decided to revise the parking fees.
The city, in collaboration with a private company, Wheels Truly Yours, had launched 'smart parking' in New Road on June 6 where anyone could book a parking space using the mobile app Park KTM with an android phone.
Though the implementation of 'smart parking' in New Road was well appreciated, users had complained about the amount of fees they had to pay.
The parking fee was set at Rs 25 per hour, but the Post during its survey found that those using smart parking had to pay the same amount even if they parked their two-wheelers for three minutes.
As per the revision, the Metropolitan City will now charge Rs 15 for two-wheelers for up to 30 minutes and Rs 25 for an hour. Regarding four-wheelers, the new parking charge has been set at Rs 50 for 30 minutes and Rs 80 for an hour. Earlier, four-wheelers had to pay Rs 80 per hour.
Locals business persons had shifted their parking lot to the inner areas of New Road and Mahaboudha to avoid having to pay such a huge amount for parking.
Many of them were compelled to pay Rs 200 a day for parking their motorcycles in the areas designated for smart parking.
Now, the KMC has announced free parking lots for business owners in New Road.
"I was not comfortable with the parking charge taken from commoners. I had also raised the issue in the assembly, " said Deputy Mayor Hari Prabha Khadgi. "We won't let anyone make such faulty decision in the coming days."
Ishwor Man Dangol, the spokesperson for the Kathmandu Metropolitan City, said the earlier fee was set as a trial phase. "After we realised the inconvenience faced by the general public, we decided to revise the fee."
"We are also going to extend this service to other parts of the city, where the general public has been facing parking problem," said Dangol.
The 'smart parking' system is being run under a public-private partnership model, where the private company takes 80 percent of the money raised through parking fees, with the rest going to the metropolitan city.
'Smart parking' in New Road is being operated at five different places in New Road.
***

What do you think?

Dear reader, we'd like to hear from you. We regularly publish letters to the editor on contemporary issues or direct responses to something the Post has recently published. Please send your letters to [email protected] with "Letter to the Editor" in the subject line. Please include your name, location, and a contact address so one of our editors can reach out to you.
---
---