UCPN (M) mired in ideological dilemma
UCPN (Maoist) Chairman Pushpa Kamal Dahal has drawn flack from party leaders for failing to articulate party's future ideological course.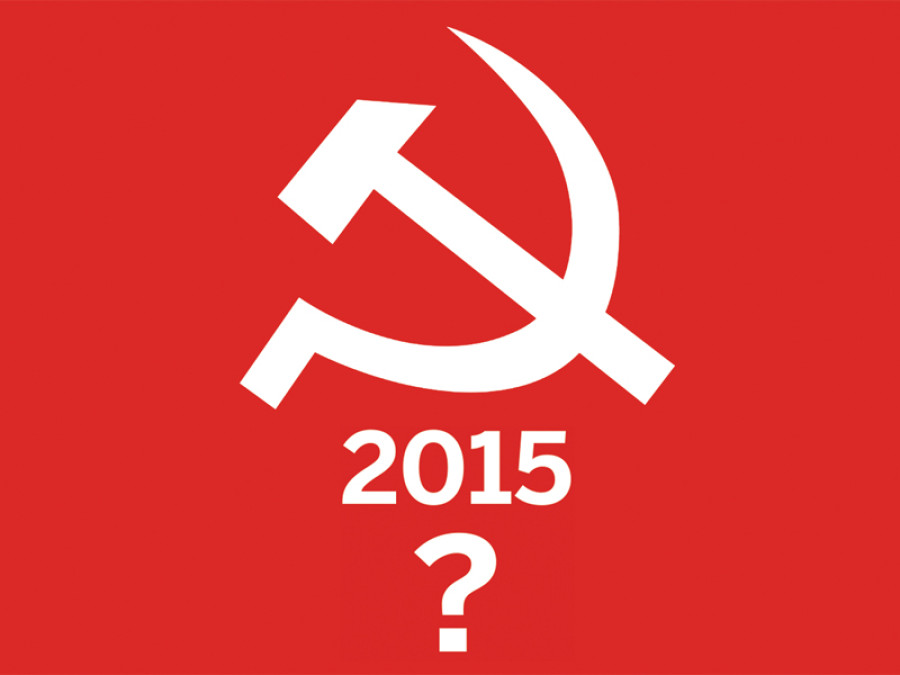 bookmark
Published at : December 23, 2015
Updated at : December 23, 2015 08:43
Kathmandu
UCPN (Maoist) Chairman Pushpa Kamal Dahal has drawn flack from party leaders for failing to articulate party's future ideological course.
Despite repeated requests, according to leaders, Dahal has failed to come up with a clear-cut ideological line, which they say "is a must for revamping the party".
Central Committee (CC) members have said that Dahal's political document, which was endorsed by the CC on Tuesday, is vague about party's political course, filled with ambiguities and focuses more on organisational structures. They were of the view that without a clear ideological position, it will not be possible to revitalise the party.
The UCPN (M) is holding its first CC meeting after Baburam Bhattarai's departure from the party. Bhattarai quit the party on September 26, a week after the promulgation of the constitution.
Leaders say the CC meeting at this point of time is of much significance in view of the end of one big chapter in the party's history, as its agenda to promulgate a constitution through a constituent assembly has been achieved.
The Maoist party—then known as CPN (Maoist)—through its Chunwang meeting in 2005 had endorsed its political line for promulgating a constitution through a constituent assembly, on the basis of which the party in 2006 had then signed the Comprehensive Peace Agreement with then seven-party alliance and laid down the arms to enter the mainstream politics.
That course has been completed now, say the leaders, adding that the party now needs to have a new ideology in the changed context to attract the masses and replace the decisions taken during the Chunwang meeting.
Interestingly, Bhattarai, the main architect of the party's line that was endorsed by the Chunwang meeting in 2005, is no more associated with the party. Bhattarai quit the party, saying that UCPN (M) is "no more relevant in the changed political context".
About a year ago, owing to pressure from then senior leader Bhattarai, party Chairman Dahal had pledged to hold party's general convention and nation-wide debate to formulate new party ideology. He had also pledged to hand over party leadership to the young generation.
With Bhattarai's departure, leaders say Dahal has forgotten his promises.
About three years ago, Dahal had faced another setback after yet another Maoist ideologue Mohan Baidya severed his ties with the party to form CPN-Maoist.
When asked, party Spokesperson Dina Nath Sharma said party's main priority now is "economic development and prosperity".
UCPN (M) leaders reportedly see no difference between the ideologies of their party and the CPN-UML, particularly after they joined mainstream politics, and there is growing disenchantment with the party among the cadres.
Leaders say party's position passed by the seventh general convention held Hetauda in February 2013 was also unclear.
The convention had decided to officially abandon the party's line of "protracted people's war" and decided to launch "a capitalist revolution" through peaceful means.
Leaders also argue that party's vague ideological position is "the reason for party's poor showing in the second Constituent Assembly elections held in November, as it slipped to third position—contrary to party's spectacular win in the first CA elections in 2008.
Party's CC meeting now has decided to concentrate on the organisational aspect of the party before finalising the party's ideology.
According to CC member Hemraj Bhandari, the party has decided to hold nation-wide debate to devise party's ideology.
Bhandari said Dahal had failed to identify "the main contradiction in his political document".
"The CC has decided to develop party's ideology from the general convention which will be held next year," said Bhandari. According to him, without identifying "the main contradiction", it will be impossible for the UCPN (M) to come up with a clear-cut party policy.
Political course since 2005
2005: The Chunwang meeting of then CPN (Maoist) endorses its political line for promulgating a constitution through a constituent assembly
2006: Based on the line adopted in 2005, the Maoist party signs a peace deal with then seven-party alliance and lays down arms to enter mainstream politics
2008: First Constituent Assembly (CA) poll held; Maoist party witnesses
spectacular win
Feb 2013: Party through its seventh general convention in Hetauda decides to officially abandon the party's line of "protracted people's war" and decides to launch "a capitalist revolution" through peaceful means. Leaders look askance at the decision, saying party's position unclear
Nov 2013: Party performs poorly in the second CA elections, slips to third position.
Sept 20, 2015: The second CA promulgates the constitution. The agenda decided by the Maoist party in 2005 achieved.
Sept 26, 2015: Baburam Bhattarai quits, saying UCPN (M) is no more relevant in the changed political context
Dec 2015: UCPN (M) holds Central Committee meeting, draws flak from CC members
---