Dearth of flowers, lights looms large ahead of Tihar
After scarcity-hit Dashain, shortage of lights and flowers looms large during the Tihar festival in the Valley due to quake-damaged northern trade route and India's unofficial blockade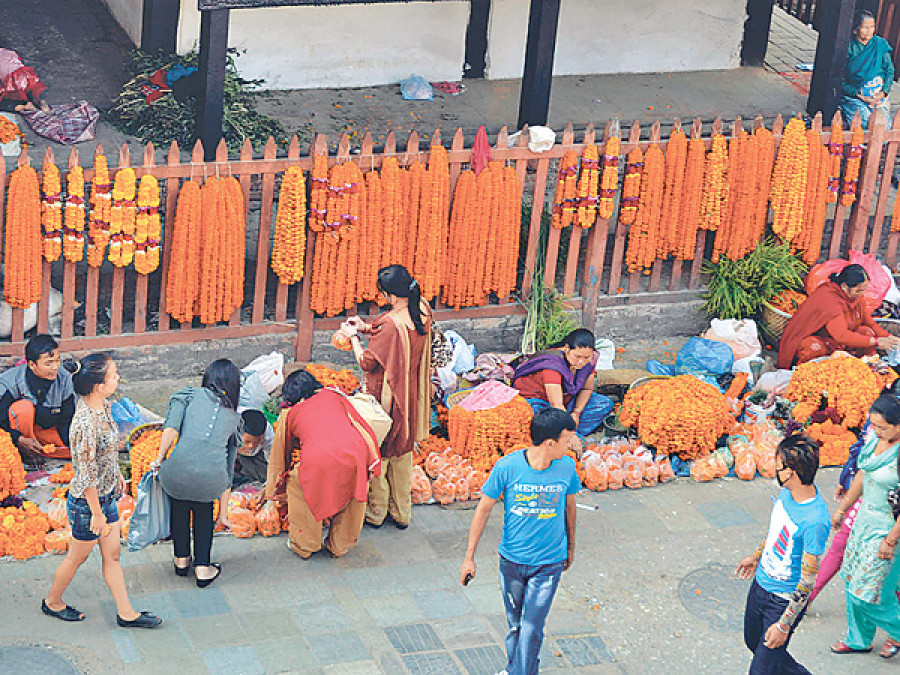 bookmark
Published at : November 2, 2015
Updated at : November 2, 2015 09:01
Kathmandu
After scarcity-hit Dashain, shortage of lights and flowers looms large during the Tihar festival in the Valley due to quake-damaged northern trade route and India's unofficial blockade in the south.
Almost all the lights sold in Kathmandu for decorating houses for the festival are imported from China while about a quarter of total flower supply comes from India. After the Gorkha earthquake, Tatopani entry point has remained closed due to heavy damages to the cross-border trade route with northern neighbour China. On the other hand, southern neighbour India has closed its border to cargo movement into Nepal after the promulgation of new constitution.
For the country's floriculture industry, Tihar is the busiest time of the year when sales go boom. Florists do a business of more than Rs14 million during this season. Meanwhile, as per the projection of the Nepal Electric Traders Association, electric lights worth Rs30 million will be sold in the country during the festival.
Tihar is one of the two major festivals in Nepal when people decorate their houses with flowers and lights. People light oil and electric lights throughout the night during the five-day festival and use marigold flowers in large quantities for various pujas.
Chairman of the Floriculture Association of Nepal, Loknath Gaire, predicts a shortage of flowers this festival. "We used to import marigold flowers from India, which has sealed its border," Gaire said. "Local production has also dropped due to the April 25 earthquake and it is also difficult to bring flowers into the Valley due to the shortage of fuel."
Likewise, Kabindra Kumar Devkota, proprietor of an electric shop at Bhotebahal in the Capital, says he has no goods to sell for Deepawali celebrations. "LED lights are the latest trend among people as they are increasingly abandoning traditional candles and oil lamps during Tihar and all of it used to be imported from China," he said.
Amid scarcity, people are preparing to celebrate Tihar with some compromises. Pragya Rijal of Kandaghari in the Valley said instead of marigold flowers, she will prepare garlands of chrysanthemum (godavari) and globe amaranth (makhmali) flowers for her brother on Bhai Tika. "For Deepawali this year, we have to make do with oil lamps and candle lights only," she
said. "It is hard to fully enjoy during festivals when you cannot get what you want in the market. But, we have to make an effort to celebrate with what we have with our families."
Nevertheless, traders are weighing their options to meet Valley's lights and flowers demand. Gaire expects domestic production to fulfil demand. "As Tihar arrives slightly late this year, farmers will have more time for harvest while people can try flowers, apart from marigold, which we have in abundance." Similarly, light trader Devkota said traders like him are planning to bring lights from China through air.
---
---