The untapped potential of Chitlang
Legend has it Chitlang was one of the favourite spots of the revered poet Laxmi Prasad Devkota. Locals claim that Devkota wrote many poems during his stay there.

Photo Courtesy: Chitlang Organic Village Resort
bookmark
Published at : March 3, 2023
Updated at : March 3, 2023 08:02
Upon arriving in Chitlang, I was struck by the stunning beauty of the area—its rolling hills, lush greenery, and charming cottages added to the peaceful atmosphere. I couldn't help but feel excited to explore this hidden gem of a place. Eventually, I also discovered that locals in Chitlang were incredibly friendly, welcoming and eager to share their culture and traditions with visitors.

I had heard about the efforts of the locals and business persons to bring attention to Chitlang by creating beautiful resorts and homestays, despite having minimal resources. It was only when I visited the place did I notice just how much thought had gone into the place to make it a sanctuary of relaxation and peace.
I woke up refreshed after a good night's sleep at a beautiful cottage resort I was staying at. The cottage was run by Devenvdra Nepal who was a lovely host. I enjoyed a hearty breakfast of bread and homemade kiwi jam along with other local delicacies that were bursting with flavours. I couldn't wait to start exploring the area.
After breakfast, I set out to explore the area and learn more about its culture. I soon discovered that the word Chitlang held a deep significance for the area's people. According to folklore told to me by a local there, the name Chitlang comes from the Newari word Chaittya Lhon which translates to 'a chaitya made of stone'. Others told me that the ancient name of Chitlang was actually Chitrapur. Ethnic Newars predominantly inhabit this place. Other communities that live there are the Tamangs, Khas etc.
There is also the legend that boasts Chitlang as one of the favourite spots of the revered poet Lakshmi Prasad Devkota. Locals claim that Devokota wrote many poems during his stay in Chitlang. As I learned more about the history of Chitlang, I discovered that it was also a village of strong and brave people. I was fascinated to learn that in the past, the vehicles used by the Ranas were transported from Bhimphedi to Kathmandu as there were no roads at the time. The people from Chitlang were called to undertake the arduous task of carrying these heavy vehicles across rivers and difficult terrain. As I spoke to the local elders, they shared stories of how the Tamangs worked tirelessly for many days to carry the Rana rulers' vehicle through the rugged topography of the hills.
It was inspiring to hear about the strength and courage of these people who had faced such daunting challenges with determination and perseverance, despite such unfavourable circumstances.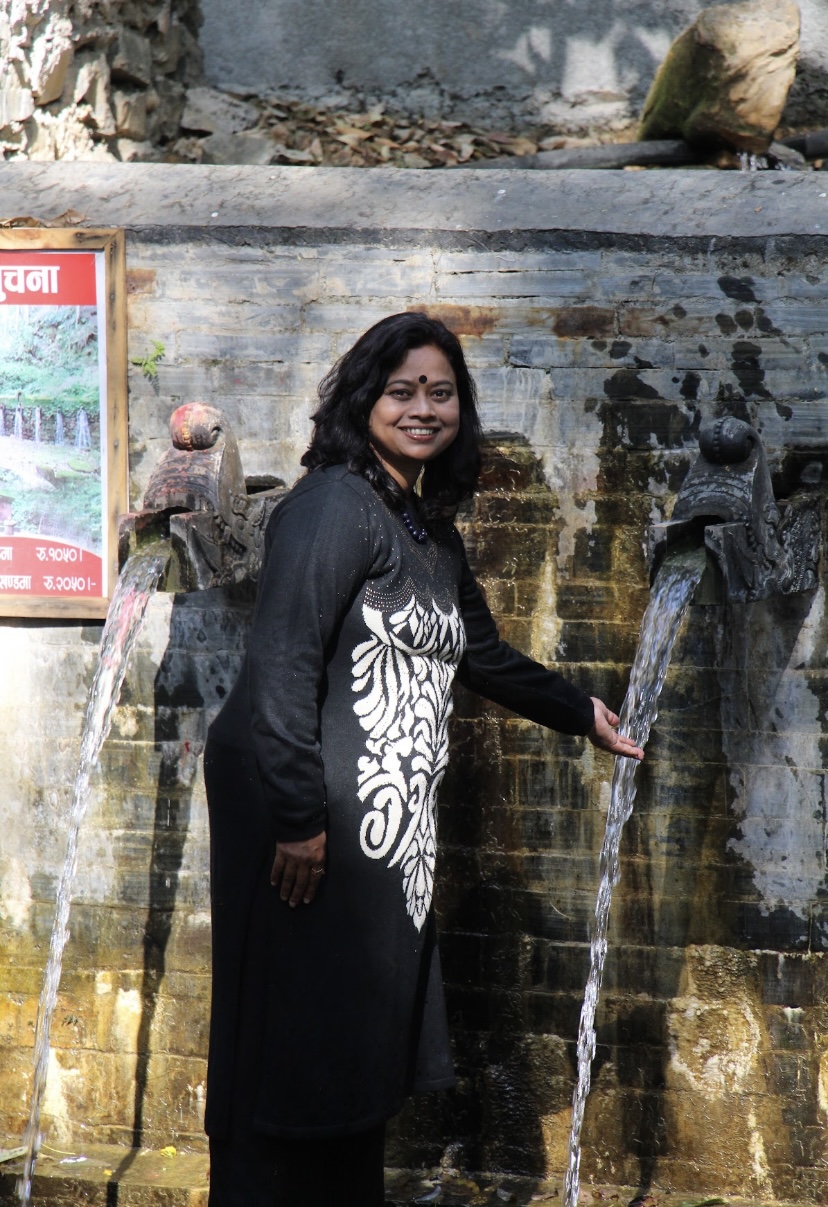 Photo Courtesy: Anamika Srivastava
One of the locals took me to Saatdhara (seven waterspouts). Throughout my stay, I marvelled at the beauty of the place which was like a natural garden filled primarily with Katus trees. The air was fresh and clean—the sound of birds, the rustling of leaves filled the environment with serenity. I learned that every year on the day of Basant Panchami locals of Chitlang come together to celebrate at Saatdhara.
I could see that Chitlang had been able to retain its natural allure for so many years. The forest nearby echoed with the sounds of the conversations and laughter of the people who gathered here to pay respect to the gods and goddesses of the forest. For me, it was truly a magical space— filled with the spirit of nature and kept vibrant by the local community and their rich cultural heritage.
My trip to Chitlang was a delightful experience that acted as an escape from the chaos of city life to enjoy the simple pleasure of nature.
As I made my way back to Kathmandu, I couldn't help but feel a sense of nostalgia for the memories I created there. The beauty of the place had left a deep impression on me. But, my mind also filled up with concerns for its future. I believe that with the right support and infrastructure, Chitlang could become a thriving hub for agriculture, tourism, and the service industry—bringing in positive changes for the local community. I was inspired by the efforts of my host who worked tirelessly to promote Chitlang. I couldn't help but wonder what would happen if more people like him invested their time and resources into the region? The potential was endless, and I felt a sense of excitement at the thought of what Chitlang can become in the future.
As I reflect on my experience I want to encourage everyone to visit Chitlang at least once. It's a place one can enjoy, get rejuvenated, and realise the importance of the natural marvels of Nepal. We do not have to create anything artificial, nature has already given us everything we need. We only need to embrace, maintain and use it to our advantage. Instead of flocking to western countries, we should focus on developing the resources and opportunities in our own country.
Chitlang is a place of great potential and I hope that more people will discover its treasure and contribute to its development. It's a journey that I will always cherish and I look forward to visiting Chitlang again in the future.
---
---