Finding solitude on the Khumai trail
Khumai Danda has so much potential as a tourism destination, but it remains in the shadows because of a lack of resources and attention.

Trekkers busy taking photos of Machhapuchhre from Korchan. Arati Baral/TKP
bookmark
Published at : November 18, 2022
Updated at : November 20, 2022 10:54
Visiting my hometown, Pokhara, this Tihar, wasn't enough to quench my yearning for solitude. I wanted to go somewhere that would allow me to get away from it all. Somewhere remote was what was on my mind. But I was too short on time to go on a long trek, so I looked for destinations that wouldn't take more than two days to reach.
"Where should I go?" I contemplated. When a friend suggested I go to Khumai Danda, I packed my bags without a second thought.
Situated north of Pokhara, Khumai Danda (3,245 metres) is a relatively unknown destination near Pokhara. The hilltop offers panoramic views of the Annapurna range, Machhapuchhre, Mardi, and several other peaks. The hilltop can also catch the best sunrises and sunsets from the hill.
The first day of the trek started early, at 7:15 am. My friend Shraddha and I took a jeep from Pokhara's Harichowk to Saripakha, Ghachok. A spectacular view of the mountains smiled at us. I felt as though they were journeying with us, leading us to their proximity, and the only thing on my mind was how gigantic Machhapuchre would appear from Khumai Danda.
At 9 am, we reached the sleepy village of Saripakha, the starting point of our trek. After three hours of an easy hike, we stopped for lunch at Hile Kharka.
While we were having lunch at Hile, the lodge owner advised us to carry plenty of water, warning us that there were no tea shops or water sources between Hile and Khumai. We had only carried a single bottle because we had assumed we'd be able to get water along the trail. Fortunately, the owner was kind enough to give us water in a huge bottle.
While we had the option to stay at Hile, we didn't want to extend our trek, so we hiked without resting for the rest of the day.
The path to Khumai was not easy. Had there been no signboards, arrow signs carved on tree trunks, or red khaadas (prayer scarves) tied on branches of trees, we would have been lost. The most challenging part of the climb came an hour before we reached Khumai—a grassy hill with a narrow path. Adding to the difficulty was the weather, which turned foggy, and the poor visibility.
I had feared we would be alone on the trek, but, fortunately, we encountered some people along the trail. We grinned and asked how far Khumai was and how many hours it would take us to get there. I also couldn't help but wonder why there weren't foreign trekkers.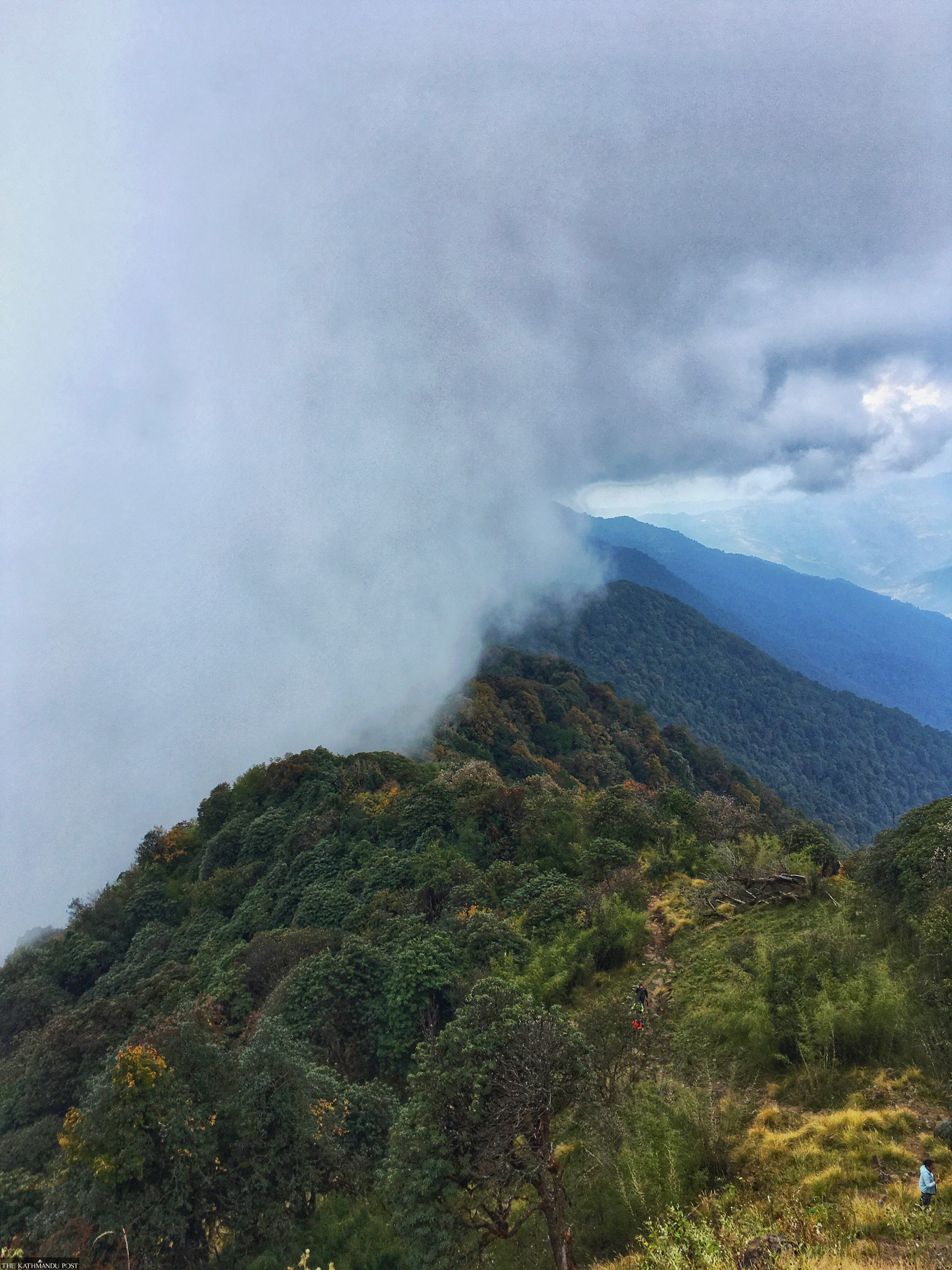 Dense forests made up most of the trail from Saripakha to Khumai Danda. Arati Baral/TKP
"Watch your steps," a voice warned us while climbing the grassy hill. The voice was of Naran Gurung, the owner of the Green Cottage in Khumai, where we would stay for the night.
It was a pleasure to walk with him. He was on his expedition to climb Mardi Himal with a group of foreigners who would join him at Mardi High Camp. I was surprised to learn that the route to Khumai led to Mardi as well. Mardi and Khumai were a part of the Machhapuchhre Model Trek or the Great Machhapuchhre Trail—a trail many still don't know exists.
At 5 pm, we finally reached Khumai and followed Naran dai to his lodge, one of the only three lodges there.
To the west, a reddish sky welcomed us. We had just missed the sunset, but the red and orange colours the sun left behind made the evening sky look beautiful. When it became dark, I was pleasantly surprised to see the shimmering, star-like city lights of Pokhara from where we were. There was no cellular network or WiFi connectivity, but I felt closer to home seeing the city.
The small hill to the north of Khumai obstructed the view of Annapurna I. After talking with fellow trekkers, we learned of a promising view that could be seen from Korcha/Korchan hill at an altitude of 3,682 metres. At the suggestion of Naran dai, we decided to trek to Korcha the following morning.
Our day started at 4 am because we wanted to reach Korcha before sunrise. We reached our destination at 5:30 am. After a brief wait, the first rays of the sun gently landed on the snow-capped mountains. As the sun climbed higher, the hills to the south became more visible. Because of the sunrays, the trees on the hills appeared red and yellow. I was awestruck by the view in front of me.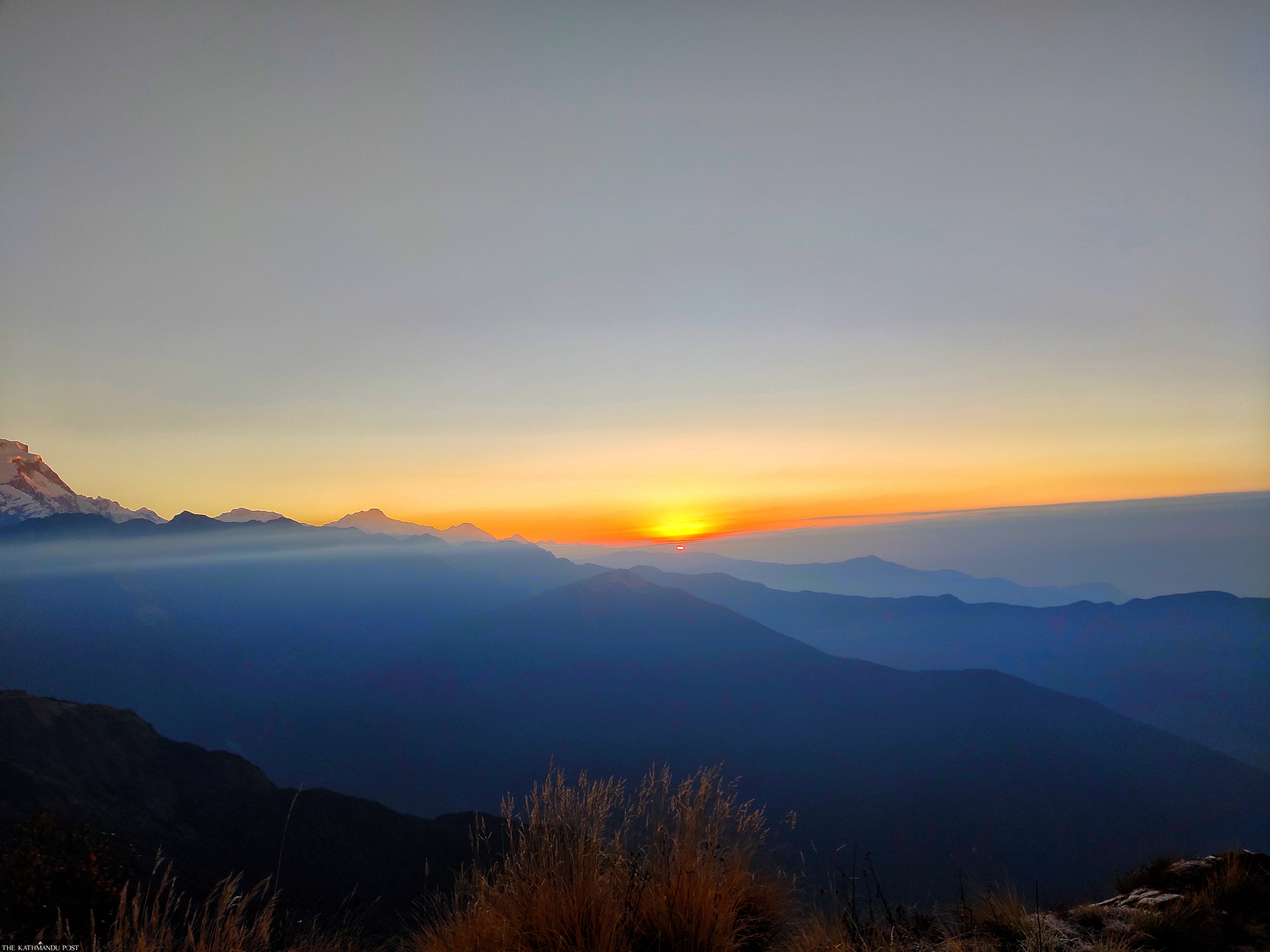 The view of the sunrise from Korchan is one of the many reasons to visit Khumai Danda. Arati Baral/TKP
Naran dai, who accompanied us to Korcha, pointed to a hill with several blue rooftops. "That's Mardi Highcamp," he said.
He added how they had been working to promote Khumai but hadn't received much support from the government. "People are slowly making their way here after watching Ghumante's video. However, Mardi is still the centre of the craze, and many don't know about Khumai," said Naran dai. "Don't miss this trek during the monsoon. Wildflowers here are even more beautiful."
As Naran dai walked towards Mardi, his words kept ringing in my ears. I could sense the divide that was only a hill away.
I felt an inner peace that I had never felt before as I walked down to Khumai, where we had our breakfast. Each of us paid Rs2,500 for the stay package, which included dinner, snacks, tea, hot water, breakfast and accommodation.
At 11:30 am, we walked downhill to return home and reached Ghachok in six hours. We had to reserve a taxi to Harichowk because we missed the last bus to Pokhara, which had left at 4 pm. On the expensive taxi ride back home, I couldn't help but imagine visiting Khumai during monsoon and seeing the place's hills draped in colourful wildflowers.
Destination: Khumai Danda
Getting there: Take a jeep or bus from Harichowk, Pokhara, to Saripakha or Tuse, Ghachok. From there, Khumai Danda is an eight-hour walk.
Budget: Around Rs5,000 per person

---
---