Gorkha: A major destination to consider for a rich travel experience
Archeologically important, naturally beautiful and culturally significant, boasting historic palaces, monuments, and temples, Gorkha has it all.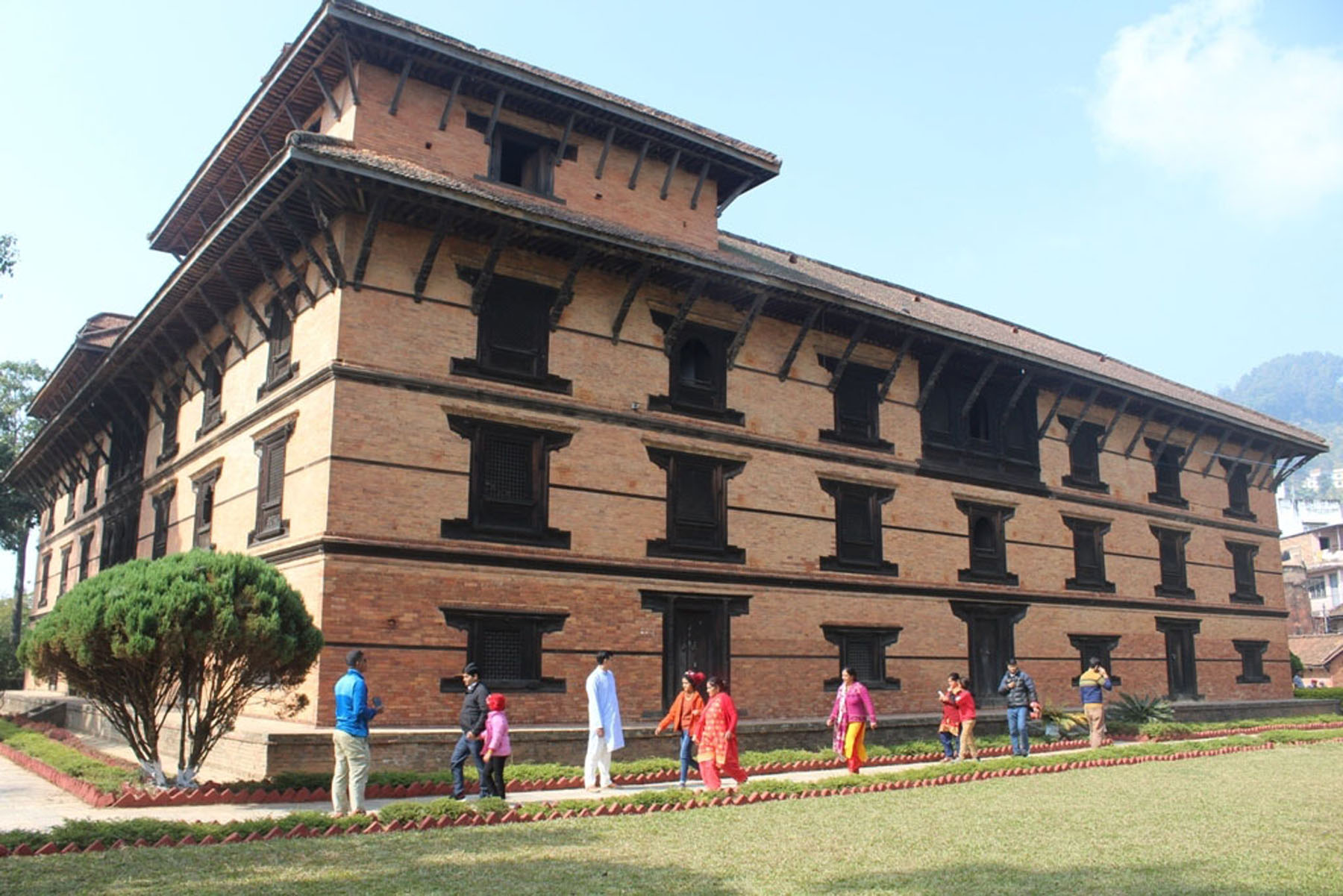 Tallo Durbar, a historic building that houses Gorkha Museum. Hariram Upreti/TKP
Published at : January 10, 2020
Updated at : January 11, 2020 11:52
Gorkha is a district with rich narrative firmly cementing itself in the country's history when the 16th Century king Drabya Shah conquered it after Ligligkot. He then founded the Gorkha Kingdom, one of the Chuabisi rajyas in medieval Nepal.
The kingdom was ruled by kings from Drabya Shah to Prithvi Narayan Shah, the unifier of present-day Nepal. Bhimsen Thapa, who is considered to be Nepal's first prime minister, was also born in Gorkha.
Gorkha is a district that is archeologically important, naturally beautiful and culturally significant, boasting historic palaces, monuments and temples.
Visit Nepal 2020, the ambitious government programme launched to promote tourism and welcome two million foreign tourists, is underway. And the local authorities say they will leave no stone unturned to attract a good number of tourists in Gorkha and establish the historic town as a major tourist destination in the country.
"We are working aggressively to welcome more tourists this year to mark Visit Nepal 2020. We will launch various programmes to promote tourism in this historic district," said Rajan Raj Panta, Mayor of Gorkha Municipality.
The major draws of Gorkha Bazaar, the district headquarters, are the Gorkha Durbar, Gorkha Museum, Kalika Temple, Gorakhnath Temple, and Ram Shah's Chautara, among others. Of late, Gorkha has been a major hub for educational excursion among students from across the country. According to data by Gorkha Museum, around 98,000 tourists, including both domestic and foreign tourists, visited the museum in the last fiscal year 2018/19. Around 25,000 people visited the museum in the first five months of the current fiscal year.
"I read about Gorkha in my history book," said Jhalanath Gautam, a student from Jhapa who recently visited Gorkha along with his friends and teachers. "Now that I've visited the historic place, I know more about Prithvi Narayan Shah and his unification campaign."
Gorkha Bazaar is 24km from Aanbukhaireni, which lies along the Prithvi Highway. Gorkha Museum is situated just around five minutes walk from Gorkha Buspark. The historic Gorkha Durbar lies at the top of the hill which is a few kilometres from the main bazaar. One can reach the Durbar either through a serpentine road that cuts through Satipipal and Gairikuwa, or walk for around half an hour through Durbarmarga and Guitardanda.
A firearm that dates back to Rana Bahadur Shah's regime on display in Gorkha museum. Hariram Upreti/TKP
Ram Shah, well known for his judicial reforms, had built the Gorkha Durbar circa 1610. Though the monument is currently undergoing reconstruction after the 2015 earthquakes brought it down, it is still the main tourist attraction. The widely-revered king Prithvi Narayan Shah was born, ascended to the throne, and ruled from here until the Kingdom of Gorkha conquered Kantipur, in 1825 BS, and shifted the national capital to Kathmandu.
Though the reconstruction of Gorkha palace started two years ago, it is still in ruins. According to officials at the Gorkha Durbar Herchaha Adda [Gorkha Durbar Inspection Office], which oversees the palace's maintenance, only about 30 percent of the reconstruction work has been completed so far. "The number of tourists has been abated because the palace is in the reconstruction process," said Hari Bhusal, chief at the Gorkha Durbar Herchaha Adda.
The District Coordination Committee demanded to include the historic place in UNESCO's list of world heritage sites. According to the committee, it urged the Nepal Tourism Board to take necessary initiatives to enlist the palace in the World Heritage Site list.
Kalika and Gorakhnath temples
The temples of Kalika and Gorakhnath are holy places for Hindu devotees. The foundations of the temples were shaken by the devastating quake and its powerful aftershocks, as a result of which the temples are currently in a dilapidated condition. But the faith among the devotees hasn't shaken. Today, around 500 to 2,000 people visit the temples daily to offer prayers and perform pujas.
Gorakhnath Temple has an age-old tradition of offering specially-baked rice bread, locally known as Rota, to Gorakhnath. Ritually, the locals offer Rota made from their new harvest to Gorakhnath before starting to consume the new produce.
Visitors are pleased to see Nepal Army personnel clad with the traditional attire of Prithvi Narayan era in Kalika Temple and its vicinity. A troop of Shardul Jung Battalion in Hanumandhoka, Kathmandu, has been deployed in Kalika Temple for the past few months. "It (Gorkha Durbar and the entire district) is our history. I am very happy upon seeing Nepal Army soldiers with the traditional attire of Prithvi Narayan Shah's time," said Shivanath Yogi, who the Post met on the temple premises.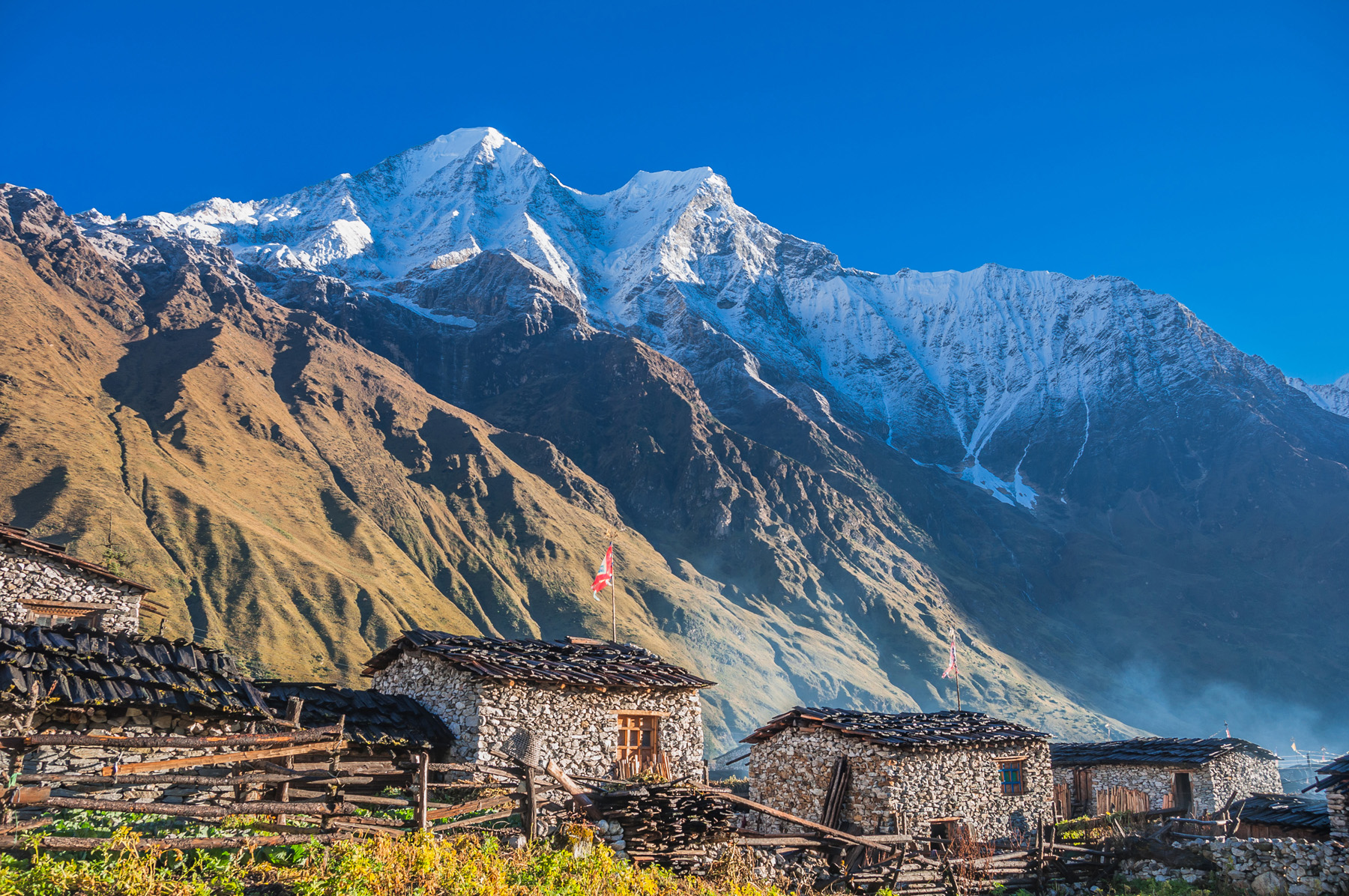 A view of Kutang Himal range with Khayang and Saula Himal peaks on Nepal-Tibet border, towering above Shayala village below, Manaslu Circuit trek, Manaslu Himal in Gorkha district. Shutterstock
A historic building that houses the museum is called Tallo Durbar. According to historians, the then king Rajendra Bikram Shah built the palace for his son Surendra. The palace occupies around four ropanies of land and a park has been built in 64 ropanies of land in its surroundings. Nabaraj Adhikari, chief at the Gorkha Museum, claims that it is the youngest palace built in traditional Malla style. "Other monuments mostly built by Rana rulers afterward have been built in European style," said Adhikari.
The palace was used as an office until 1980. The government made a plan to set up a museum by starting the Gorkha Durbar Conservation Project. The museum, previously known as Prithvi Memorial Museum, opened for the general public in June 2008.
One can see weapons used in the unification and utensils, cultural uniforms of various ethnic groups of Prithivi Narayan-era. Janmakundali, the astrological position at birth, of various Shah kings are also kept in the museum. "The artefacts at the museum are subjects of study. They will help one in understanding the history, culture, social and economic status of the contemporary people of Nepal," Adhikari said.
The ticket price to enter the museum has been fixed at Rs 10 for students, Rs 25 for Nepali citizens, Rs 50 for tourists from SAARC countries, and Rs 100 for tourists from outside the SAARC countries.
Statues of Shah kings and other attractions
The statue of Prithvi Narayan, his great grandfather Prithvipati, Ram Shah and Drabya Shah are other major tourist attractions of Gorkha. Prithvi Narayan's statue is installed in the premises of Gorkha Museum while that of Ram Shah is installed at the Ram Shah's Chautaro, a platform from which he used to provide justice to the people, it is said. The bust of Drabya Shah is also a major attraction among visitors in Paslang Chautara while Prithipati's bust stands tall in the premises of Ranipokhari. The statues of other historical figures including Bhimsen Thapa, Lakhan Thapa—the first martyr of Nepal—and Bise Nagarchi have been installed in various places in Gorkha district headquarters. Bise Nagarchi, history says, was Prithvi Narayan Shah's royal tailor upon whose suggestion Shah collected Re 1 from each household in Gorkha to fund the unification campaign.
"The visitors to this area are curious about the statues of historical figures," said Makar Bahadur Gurung, a local. "They especially seem to enjoy taking selfies with the statues in the backdrop, a gesture that marries history and modernity."
Nepal Army personnel dressed in traditional attire from Prithvi Narayan Shah's era. Hariram Upreti/TKP
How to get there: Visitors can easily travel to Gorkha on a passenger bus or a private vehicle from Kathmandu or Pokhara. It is around 142km from Kathmandu and 106km from Pokhara.
Where to stay: Accommodation options in Gorkha Bazaar and its surrounding areas are aplenty, suitable for all budget types. Bisauni Hotel, Gorkha Palace, Miracle Hotel, Gorkha Gaun Resort and Paslang Homestay (around two kilometres from Gorkha Bazaar) are some of the many. A room per night can cost anywhere between Rs200-Rs1,500 depending on the accommodation you choose.
What to eat: Almost all the hotels serve Nepali food—dal, bhat and tarkari set. Check in to one of the homestays to enjoy a meal of gundruk and dhindo. Kodo ko roti (locally made bread of millet) and other organic foods are also widely available.
Detours: Bhimsen Park, Children's Park, Sitapaila.
Budget: Around Rs 1,000 to 2,000 budget per day.
---