The 'wild' west frontier
If I ever thought I knew Nepal and its cultures, western Nepal showed me a whole new world.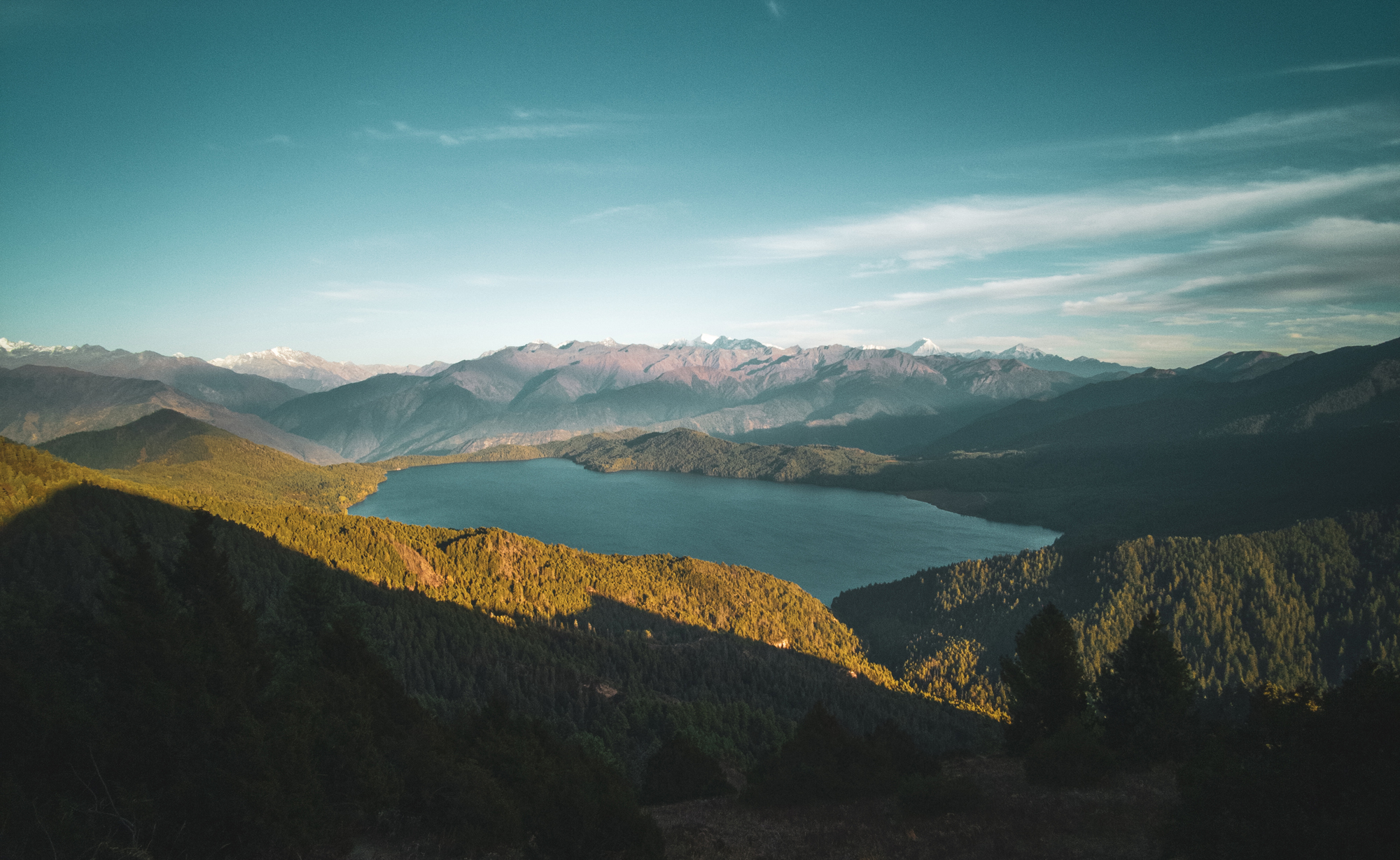 Photo Courtesy: Anjan Karki
Published at : December 20, 2019
Updated at : December 20, 2019 17:42
If your feet are itching for more adventurous walks and your sense of discovery wants a lick of more culture than Pokhara, wildlife that is beyond your imagination, and terrains more dangerous than the Annapurna Circuit, dare to discover the wild west of Nepal.
Along the way on my five-week walk along the western Himalayas, a colourful rooster heavy on pink feathers fluffed its roseate plumes at me as though to say, 'Yes, bideshi, it's all real'. The flightless bird and I stared at each other for a brief moment and I could have sworn it winked at me. By this point my sanity had already gone a bit hazy, unlike the clear blue skies above the high passes of Dolpo.
Further along the trail, patches of pink grass and purple flora sprinkled the ground. Sun-dried shrubs filled the crisp Himalayan air with the familiar sweetness of chamomile. Stone houses held themselves together under a rock, above a river, looking too crumbly to live in, but the inhabitants didn't seem to mind. I wondered how much more oddity hides and flourishes in western Nepal. I wasn't supposed to be in this region. But, as with any good story, a happy accident would see me walking through the country's unknown trails.
Having been living on the road as a traveller for four years now and visiting Nepal for the third time, I wanted to push the envelope and experience places where few tourists go. I chose the Dhaulagiri Circuit. The day I started my walk I asked bus drivers in Beni to point me towards the direction of Tatopani. As it were, there are two Tatopanis—one on the east along the Annapurna Circuit, one on the west along the Dhaulagiri Circuit. I would end up in the east and I would learn too late that I was on the other side of where I wanted to be. My options would be to turn back or to swim in the pickle I was in. I took my map out and decided to walk up to Muktinath.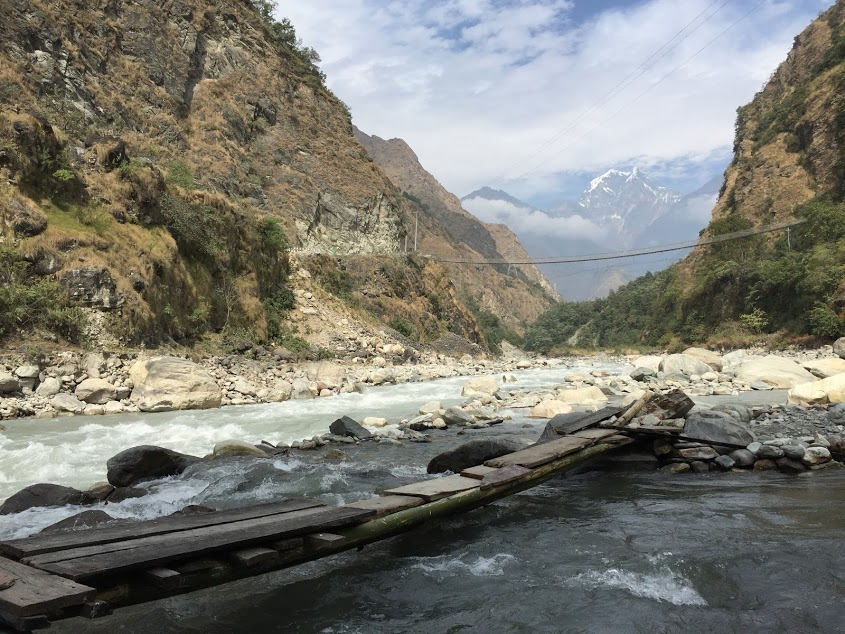 Trekkers should expect extremely diverse terrain. Photo Courtesy: Megan Leung
In a guest house in Lower Mustang I met a traveller walking the Great Himalayan Trail. We exchanged stories over cups of hot raksi to warm our cold selves and the man I came to know as Charlie from England invited me to join him on his walk to the wild frontier. He was walking all the way to Darchula to complete his crazy personal project and I decided to make a pilgrimage to Rara Lake.

In Darbang we stopped to resupply our food rations and walked towards a village named Sibang, 15 kilometres further as the crow flies but we are talking about the largest mountains of this planet. It was a long day. From one lush green hill to another, I went mathi and tala, mathi and tala, through warm temperate forests, under giant spider webs, over rapids, beside glassy waterholes too tempting to swim in, if not for their stinging coldness.
In a scenic village named Lamsung, a young couple welcomed us in their home. We were shown to our room upstairs, its walls designed with open wooden beams. It would have been a balcony had it not had a roof. "We're basically camping tonight," Charlie noted.
In Bhujekhung, I washed my clothes and myself by the river. The didi who hosted us for the night called 'sutne' (bedtime; literally, to sleep) at seven in the evening. There was no electricity but there was a hole in the ceiling and the bright stars lit the cold dark room up so beautifully that I didn't mind.
The next day, a 10-hour walk to Dorpatan had us marching until past sunset. We had to take our shoes off to make a river crossing. I knew that the slippery rocks and angry glacial water were going to be a painful adventure. A bahini crossed the river and took my pack off my back, made me wear her flipflops, held me by the hand, instructed me where exactly to place my feet, and got me across. Her girlfriends were all cheering, I said my tourist classic "Namaste," hugged them all, and moved on.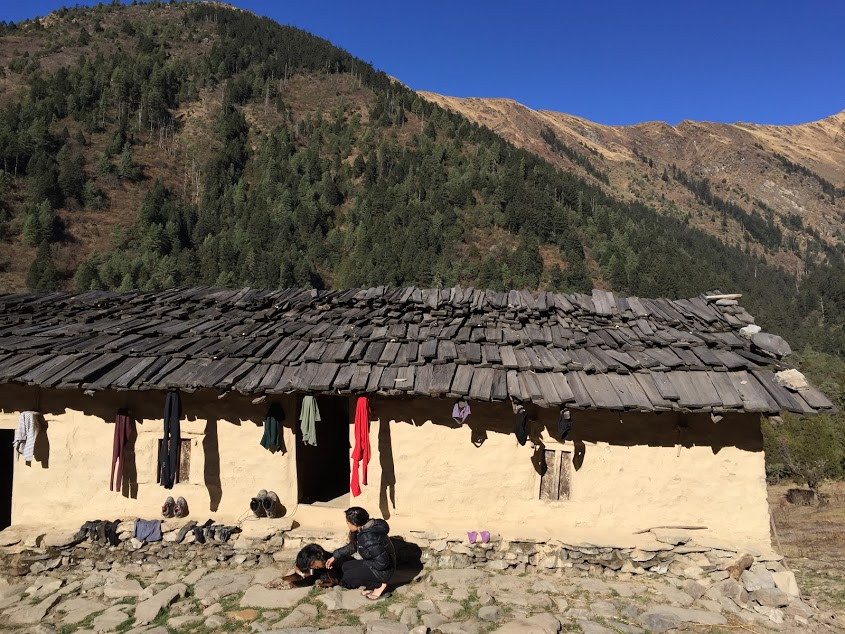 Getting acquainted with a local hound in a small village off the map. Photo Courtesy: Megan Leung
When, finally, we found our home for the night, we were soon joined by a small group of what we thought were local tourists. They turned out to be politicians from Kathmandu, who were on an official trip. The evening stretched as we all danced in the dining room—Nepali music on full blast.

A village named Thankur had only two houses. On the way there, we had a mild heart attack as three large birds suddenly took flight from a tree next to the footpath. It was an arid region with not much life visible in the periphery but these birds happened to be huge, shiny, and rainbow-coloured. As it happens, they were the national bird of Nepal, the Himalayan monal. That wasn't the last surprise for the day—the stars in Thankur that evening were blinding, the most brilliant I have ever seen this side of the globe.
In Pelma, we met a Welshman, who has been to Nepal nine times. We met him again in Dule, and all three of us walked towards the Jang La and to Dunai. The distance between the two villages was immense that we decided to camp halfway through the trail. We squeezed into the Welshman's tiny summer tent and attempted to sleep on 4,500 metre altitude. We laughed at the fact that no one else was insane enough to be on that mountain on a cold November night. The next morning was even more ridiculous as we got up before sunrise to cross the pass, careful not to slip on the barely visible icy path. The sun gave us the motivation we needed as it climbed up the sky behind us, gifting us warmth.
Further west into remoter regions, school children led us to a village that sounded like Orta, just after Sarmi. The village is built on brown rocks, houses stacked together with open, free-fall decks. A family fed us, sheltered us, and walked with us the day after to show us a shortcut—a snowy pass towards Jumla. We walked for five hours in the snow and a further three hours in cold winds, through ancient alpine forests and exposed mountain ridges.
Two lodges sit by the bank of Rara Lake. Photo Courtesy: Anjan Karki
By the time we reached Jumla, Charlie and I were ill with an unknown virus and bad tummies. An American we met at the hotel in Jumla gave us medicine. The spaghetti at the hotel aided in our recovery, as much as the pani puri in a local eatery.
Once we felt well enough to carry on, we started walking towards Rara, through Khali Lagna and then Bulbule. In Khali Lagna, I was welcomed by a didi who was picking the brains out of a sheep skull. She said if I wanted to wash myself, there was a bucket of water in the outhouse. I checked it out and the water surface on the bucket was frozen. Cracking it felt strangely satisfying and the pani underneath was surprisingly lukewarm.
"One more day," I whispered to myself. I was excited for the last push, thinking it would be an easy final walk. Of course it wasn't.
To get to Rara Lake, we decided to take a shortcut and cross another pass. On the map, the trail to this pass was barely visible. The suggested route is a 25 kilometre walk. Our chosen route was less than half of that. Oh boy.
We walked through foot-deep snow for three hours, our shoes and feet were wet but the sky was blue and the sun was bright and the views were otherworldly, giving us enough to be cheerful about. Once we had reached the pass we were in for a shock: the skinny cliff path was snowed-in. There was a steep drop of 300 metres and we were on top of a 4,000 metre mountain. There was nothing to hold on to but loose metamorphic rocks; grabbing the wrong one could be fatal. But turning back meant walking more hours, and in the dark. Without tent and food, that option was only slightly more dangerous than crossing an icy cliff edge without axe and crampons. We dug our heels and hands in the snow, one frozen movement at a time, until we were on the other side. Our adrenaline ran so high that we were sweating from the suspense. Imagine our relief once we've completed all four (four!) cliff crossings.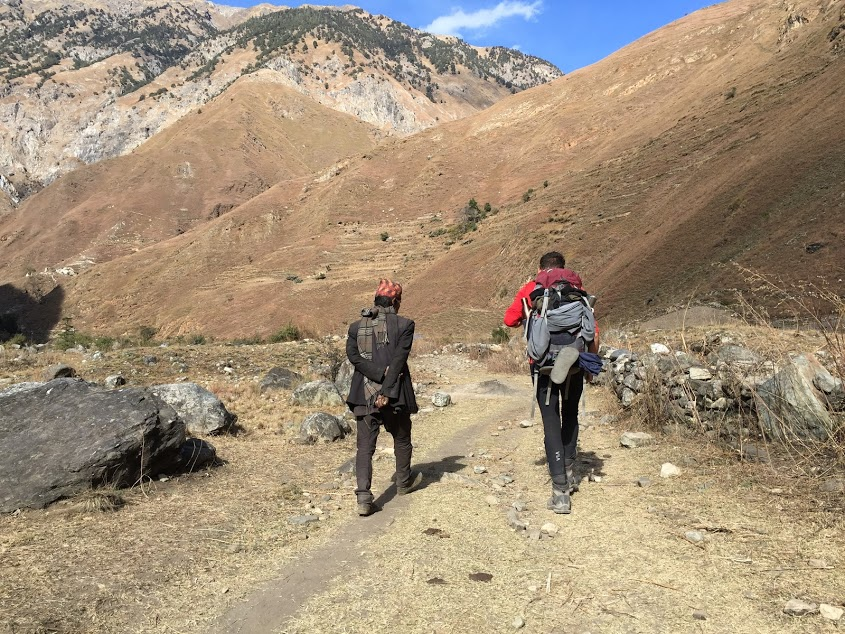 Walking with a local man towards a village named Ila. Photo Courtesy: Megan Leung
And so I arrived at Rara Lake alive and well, albeit with an injured left knee from a slip in the forest. The biggest freshwater lake in the Nepal Himalaya was there, glistening in its dark blue glory, waiting for my arrival. The magnificent sky-scraping pine trees decorated the ground with extra large pine cones. Coots glided over the crystal clear water, occasionally diving under to disappear and resurface again. White peaks said hello from a distance. There were only two hotels in the national park, at least on the lake side. It's strange to think that Fewa Lake in Pokhara was once this quiet.
Through a five-week long walk, I have covered a distance that totals up to 25 percent of the Nepal Himalaya via the lower Great Himalayan Trail, along with some funky detours. If I ever thought I knew Nepal and its cultures, the west shook that knowing. By and large, I would describe what I have witnessed and experienced in the words I borrow from two friends: medieval, and raw. The wild western region is a step or two back in time, when we knew how to survive with our primal instincts, human intuition, and oneness with nature.
---