Seven places to visit while you're in Jhapa
One of the most diverse destinations in Nepal in terms of people it houses to the food it offers.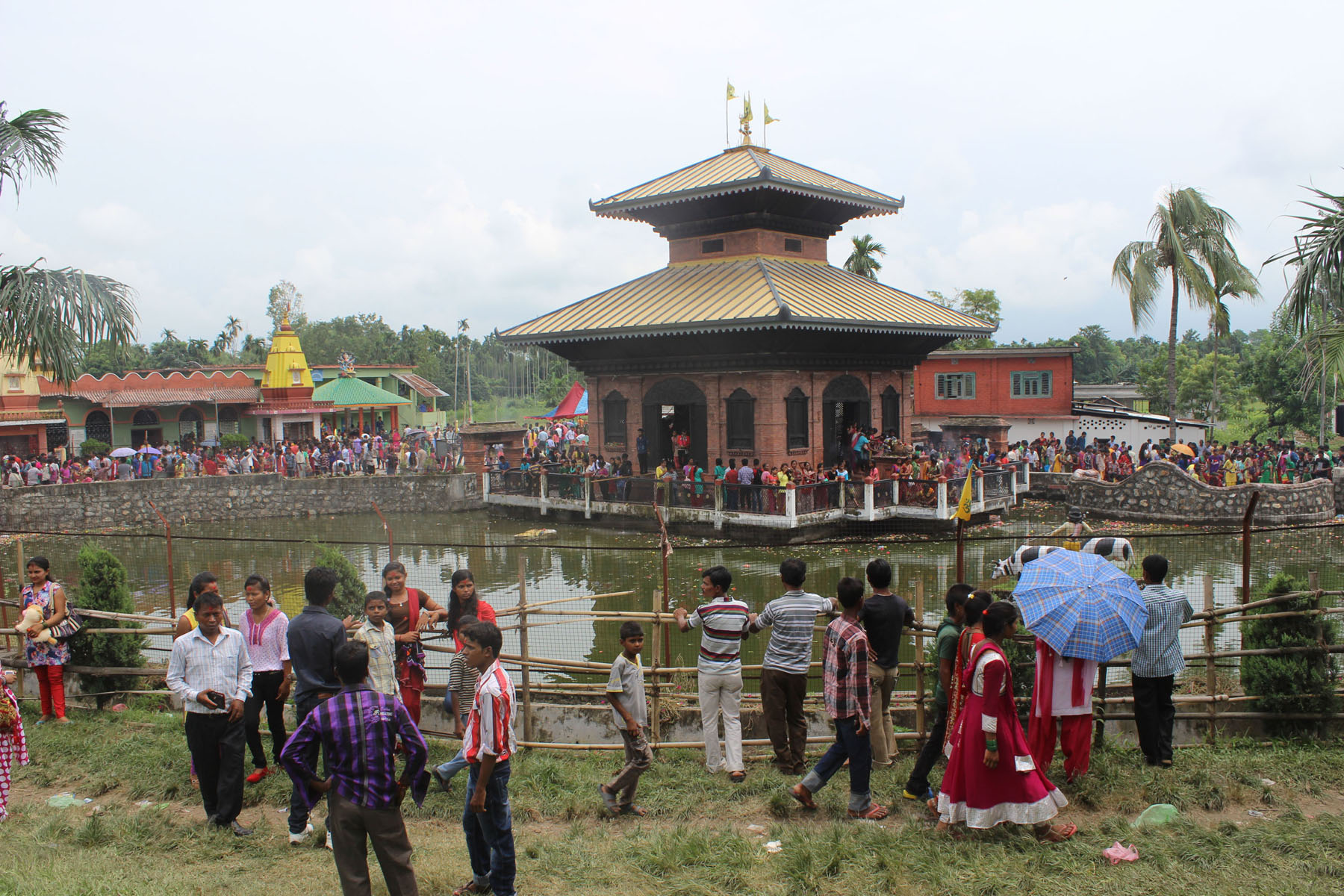 Devotees throng Arjundhara Dham in Jhapa. All photos by Parbat Portel/TKP
Published at : December 14, 2019
Updated at : December 13, 2019 20:04
Jhapa might just be the most diverse of Nepal's districts. Out of the total 126 castes/ethnic groups across the country, Jhapa is home to 110 ethnic groups, including the endangered Santhal and Ganesh (Gangai) tribes. The majority of marginalised indigenous tribes reside in the southern part of the district while Rajbanshi and Muslim communities live in bordering local units of Kachankawal and Kichakvadh.

Each community found in Jhapa is as diverse and culturally colourful as the next. While festivals such as Dadikado, Siruwa and Fagu are exclusive to Rajbanshis, Dashayen, Sorahaya and Faguwa are exclusive to the Santhals. As you move to the northern belt of the district towards Bahundangi, Arjundhara and Shivasatakshi areas, you'll find a cultural mix of people ranging from Kirats to Magars to Brahmins to Tamangs to Chhetris and so on.
It's a given that a place with such ethnic diversity in its people has an equally diverse palate to showcase. Dishes like Bhakka (rice flour cake) and Machha-Murai (puffed rice with fish) that are native to the Rajbanshi community are some of the must-haves when in Jhapa. Food sourced from the numerous rivers and streams are the mainstay for the locals so expect to find river crabs, snails and a variety of fishes to feature on your plate.
One of the ethnic communities to have had a major influence on the food habits of the locals here is the Limbu community. Since pork plays a major role in a Limbu kitchen, it is highly advisable to try the famous pork curry dish prepared with Yangben (wild edible lichen). Dipin Rai, a local, talks highly of the foods that dominate the region while carrying different identities but coming together seamlessly with the love of the locals for experimental foods. "Some eccentric Kirati dishes one can try in Jhapa are Sargemba (blood sausage), Ethnic Limbu Cuisine made from pig's meat and Wachipa (a potpourri of rice, minced chicken and chicken feather burnt to powder)," he said.
Outside the vibrant culture, Jhapa is also home to many religious destinations and wetlands. Here are seven important destinations to visit for a wholesome experience of Jhapa.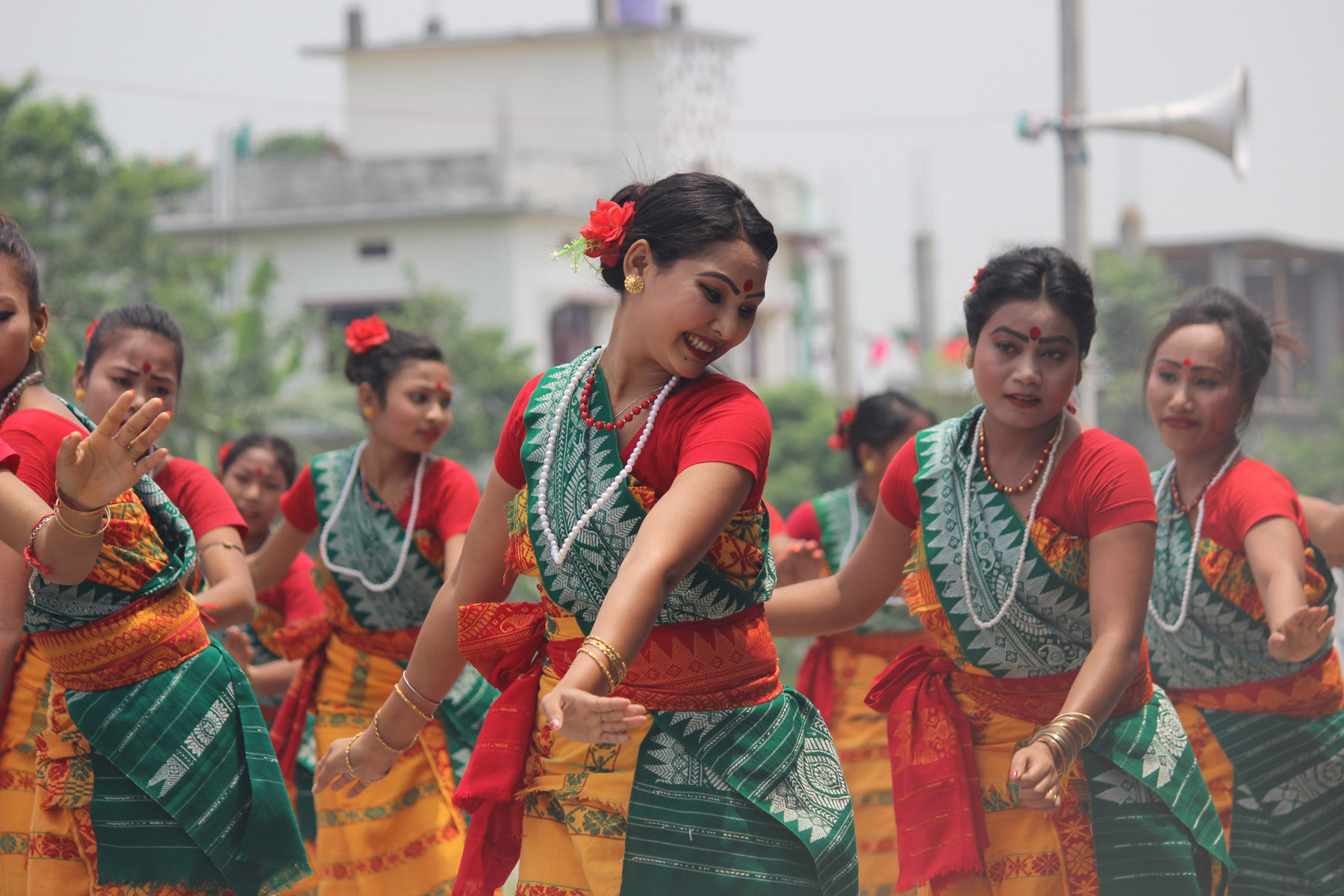 Women from the Meche community, a marginalised community native to Jhapa, in their culture attire.
Satakshi Dham is often called the "second Janakpurdham". This religious site comes most alive during the Hindu festival of Bala Chaturdashi wherein people pay homage to their family members and relatives who've died the preceding year.
The site has ponds, gardens and caves—Pandav Bagaicha, Pandav Yagyakunda, Draupadi Talau, and Parbati Gufa. Satakshi Dham lies in Shivasatakshi Municipality, 38km northwest of Bhadrapur Airport in Chandragadi.
This place is regarded as the Pashupatinath of the east. Nabin Gattani, chairman at the Dham, said that people from Darjeeling, Sikkim and north-east India are regular visitors to the Dham. Binaya Pradhan, an Indian national, said that he came to know about Arjundhara Temple through social media. "Pashupatinath in Kathmandu is too far for us and is also expensive to travel to," he said. "Arjundhara Dham takes the place of Pashupatinath for us." Arjundhara lies 29km north of Bhadrapur Airport.
Biratpokhar is a historical tourism destination in Jhapa. There are seven ponds of various sizes here. Legend has it that these ponds have been in place since the time of the Mahabharata. Legend has it that King Birat would come to the ponds here to quench his thirst. This place is also equally important to maintain the ecology of the region, locals say. Biratpokhar is one of the most noted sites in Birtamod Municipality and lies just about 4km away from the town of Birtamod.
Kichakavadh, which lies 10km from Bhadrapur Airport, is also one of Jhapa's major tourist destinations carrying religious and historical importance. Dil Bahadur Thebe, chairman at the Kichakawadh Conservation Committee, said that there are famous ponds, temples, and statues of various gods and goddesses in Kichakavadh area. "A demon named Kichak was killed here, it is said," he said. "That's why this place has been named Kichakavadh."
According to legends, it is also the place where King Birat had constructed Natya Ghar (a theatre) during his reign. The Department of Archeology has been carrying out excavation works every year here. During a recent excavation, a team of archaeologists had found 8-room building and other artefacts. According to archaeologists, these remains and artefacts were 2,000 years old.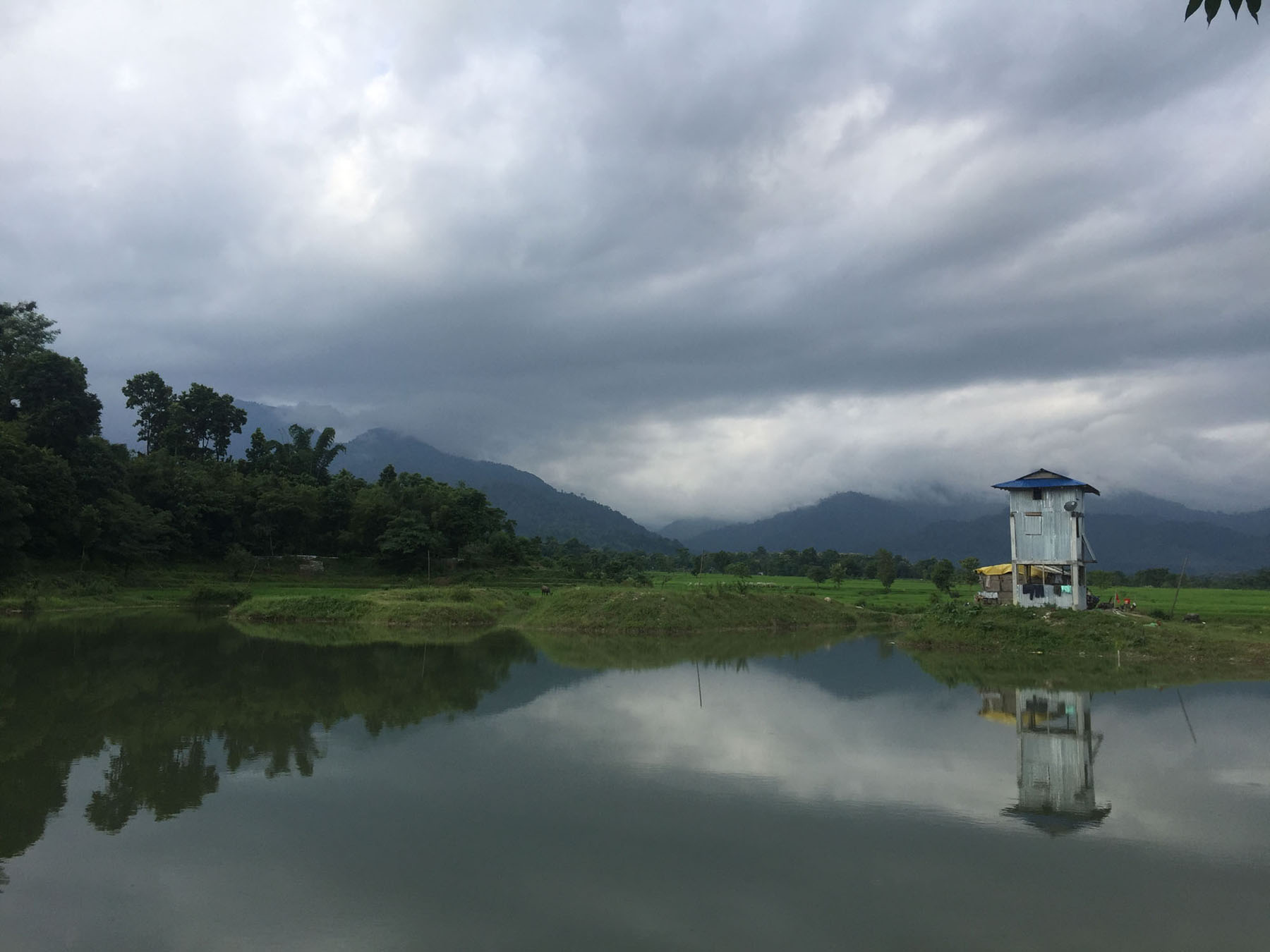 A scenic view of Hiledhap wetland.
Krishnathumki is enveloped in rich enticing legends. Locals talk about the tales passed down through generations about how Lord Krishna used to graze his cows here. Mahendra Malla, a local, said that the place was named after a hill Krishna was particularly fond of grazing his cows on.
Krishnathumki makes for a great vantage point to see Mirik and Kurseong in the Darjeeling district in West Bengal, India. There are other five hills adjoining Krishnathumki. These peaks together are known as Pandavthumki.
Every day more than 5,000 domestic tourists visit Jamunkhadi. The locals of the area and the ones living around the vicinity favour this wetland as a picnic spot. The wetland is home to deer, leopards, porcupines, pangolins, among others. A leisurely boat ride on the Jamunkhadi lake will give you a peek into the natural habitat of the wildlife.
Khyam Sitaula, chairman of Jamunwari Community Forest, said, "The area is so famous that on any given holiday, the locals pack the picnic baskets and head out here." The area was developed as a wetland area some 11 years ago.
There are 17 ponds (with more than 1.7 million fish) in Hiledhap Wetland. There are also flocks of turkeys, roosters, and ducks here. Manjil Dewan, a local, said that they plan to start a homestay in the area in the near future. He said, "We are also thinking of operating boats on the lake here. It will help the visitors take in the scenery better."
A 45-minute flight from Kathmandu to Bhadrapur Airport and an hour's drive to Birtamod bazaar. Or, you can opt for around 10-hour road trip via BP Highway from Kathmandu to Jhapa.
There are several hotels in Kakadbhitta, Birtamod, Surunga, and Damak among others. In Kakadbhitta, check out Riyaz Hotel.
Try a variety of fishes in Bangali Hotel in Bhadrapur. Kakadbhitta and Surnga are popular for Khasiko Sekuwa and Damak is popular for Sungurko Kan and Sekuwa. Try Ghongi while in Charaali, Mechinagar and chicken items in Dhulabari.
Rs 5,000 per person (including food and accommodation) for a day.
Visit Kachankawal, the lowest point in Jhapa about 22km south from Bhadrapur Airport. You can also visit Domukha in Shivasatakshi, about 3km north from Maidhar along the East-West Highway.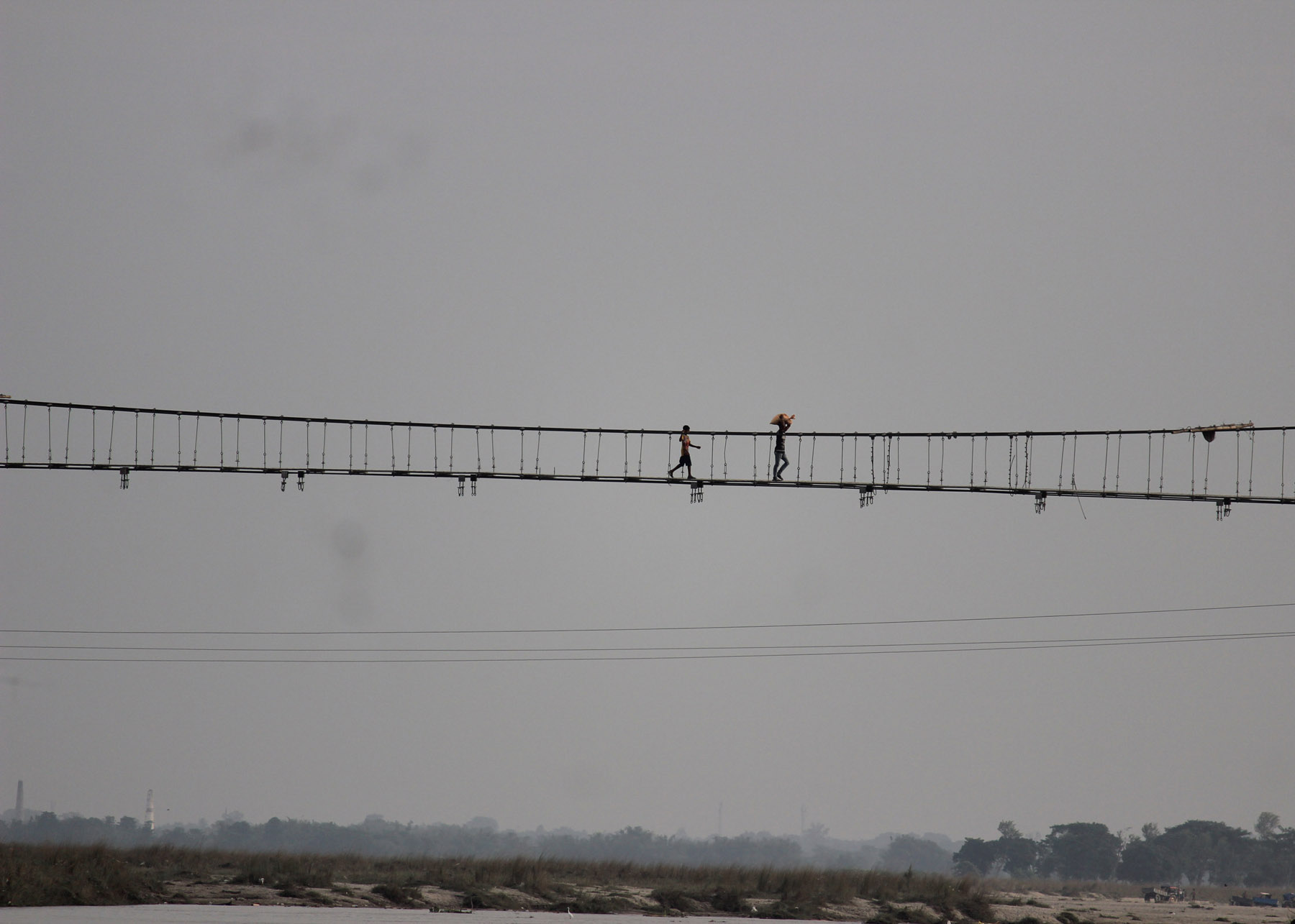 Two figures seen crossing a suspension bridge in Bhadrapur, Jhapa.
---