Are you planning a trip to Dharan? Here are seven places around the city you would want to visit
A city of many faces flanked by the Tarai plains and the Eastern hills welcomes you for an experience of a lifetime.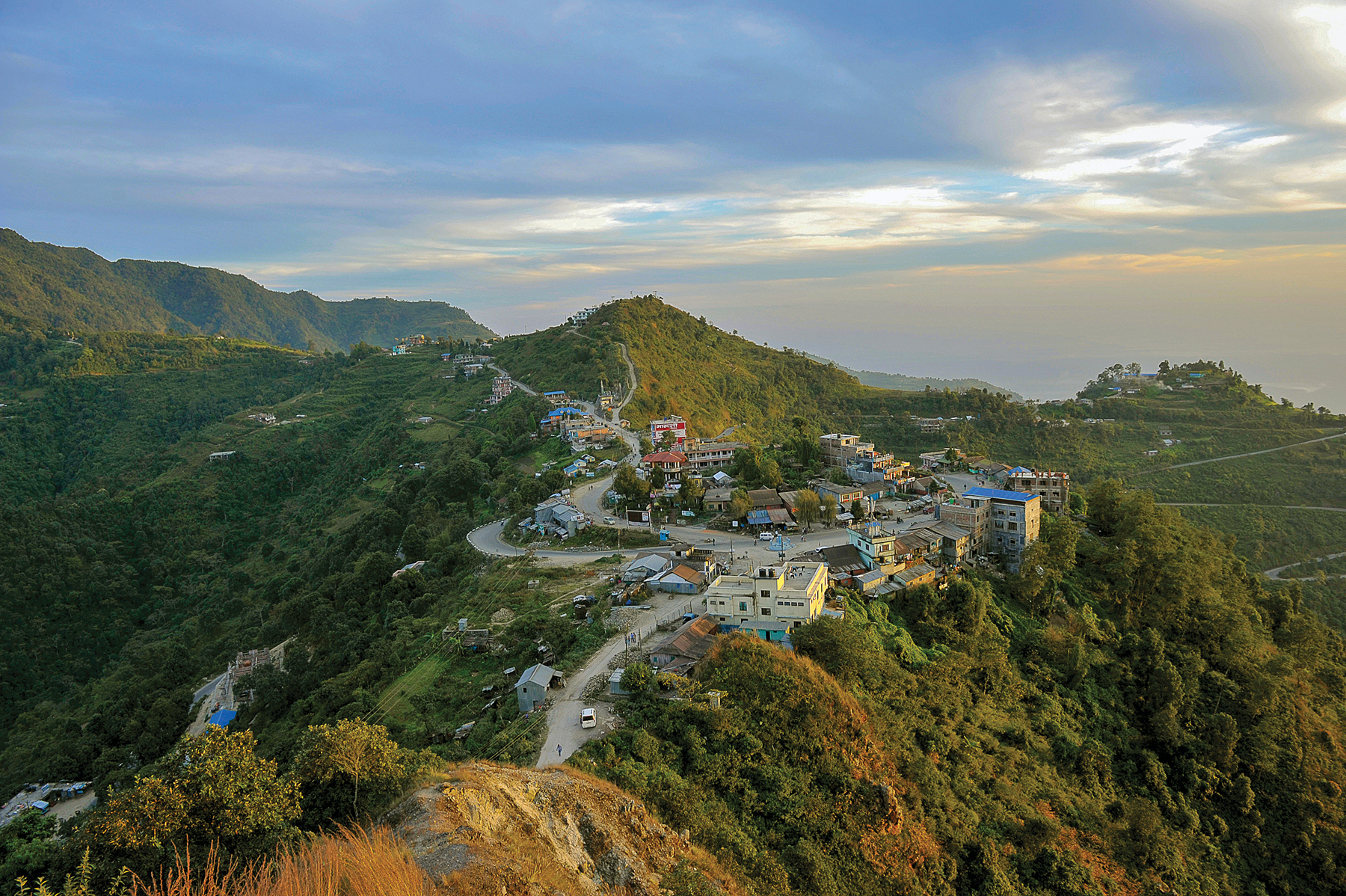 A view of Bhedetar, one of the most popular spots among Dharan locals and tourists visiting Dharan. Shutterstock
Published at : November 8, 2019
Updated at : November 8, 2019 21:39
Dharan is long known as "fashion city" for it is commonly held that most youths in the city are connoisseurs of fashion. For a long time, this was almost the city's sole identity. But among outsiders, there's little knowledge that Dharan has many places of religious and cultural importance that may attract tourists in droves—from the mythical Budhasubba to Namje Gaun, which was listed by the American news portal CNN as one of the 12 "best places you've never heard of" in 2011. There are more, out of which we have listed seven below that you should visit.

Have you ever imagined a temple without statues in Nepal? Or that there is a temple where people offer alcohol, cigarettes and tobacco to the gods? Budhasubba Temple in Bijayapur, Dharan, is one of such unique temples. Those who come to pay homage to the gods here sometimes also come carrying a pig's head. It's because of these peculiar sights that people visit Budhasubba, which many believe grants wishes. Even those who never drink or smoke come to Budhasubba loaded with alcohol, cigarettes and tobacco. The bamboo clump that lies in front of the temple is popular among lovers, who believe that carving the couples' names in the bamboo barks lends immortality to their love. But once the temple administration reckoned there were just too many names in the trees, they encased the trees with a fence lest the trees die down. One can get to Budhasubba, located at 1145ft from the sea level, after a 45-minute walk from downtown Dharan. If you opt to take a vehicle, then it's just a ten-minute ride.
As the legend goes, this is where Satidevi, Lord Shiva's lover, lost a tooth when the latter, overcome by unspeakable grief, walked the earth carrying Satidevi's body after she walked into a holy pyre ending her life. Hence the name: Dantakali (danta translates to teeth in English). Though there are no physical evidences naming the founder of the temple, scriptures note that a king of Bengal had repaired the temple.
Dantakali is located about 1.5km from Budhasubba and 1km from Pindeshwor, another temple (more about it below). Dantakali was a pagoda-style temple until 1934, when the earthquake brought the temple down. The temple was then remodeled to Gumbaj style. In 1988, another earthquake brought down the gumbaj-style roof of the temple. It was later restored into the earlier pagoda style. The temple is considered a major Shakti peetha by the Hindus and sees pilgrims from India, Bangladesh, and Bhutan all year around.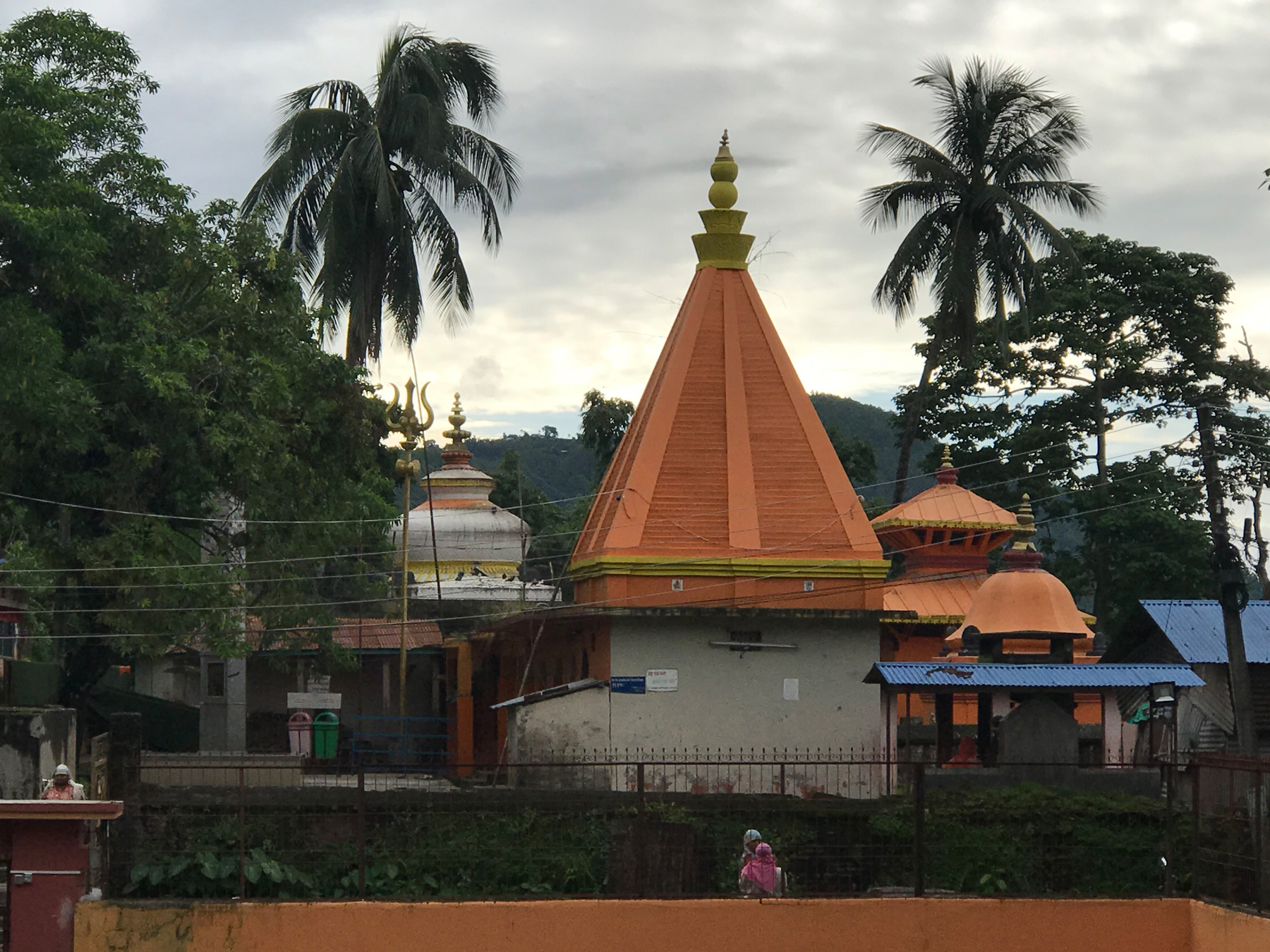 Pindeshwor Baba Dham in Dharan is believed to be older than Pashupatinath Temple in Kathmandu. Pradeep Menyangbo/TKP
This temple is believed to be even older than the Pashupati Temple, but who founded it and when is not ascertained. The temple is extensively described in Hindu scriptures such as Veda, Upanishad, and Skanda Mahapurana. The temple sees Hindu pilgrims in droves during the month of July, especially Bolbam pilgrims coming from India and other South Asian countries.
Bhedetar lies in the border point of Sunsari and Dhankuta. One of the most famous destinations in the east, Bhetedar, at 1,420m from sea level, sees a cool climate year-round, contrasting the tropical climate of Dharan in summer. Close by, there's the Shailung Danda, often also called the Charles' Point, after the British Prince Charles visited the hill in 1981. The hill overlooks verdant hills towards the south and snow-capped hills towards the north. Today, the place boasts as many as 80 hotels and restaurants. About a 25-minute drive from Bhedetar is the famed Namaste Waterfall, an excellent detour to consider while you're there.
Since Bhedetar is one of the most popular tourist spots in Dharan, there are a variety of options for accommodation here. The hotels here cater to all budget bracket with Hotel Buddha Inn, Bhedetar Village Resort, Lawati Corner among others prepared to accommodate you on your visit.
Namje is close to Bhedetar. The village, particularly Dandabazaar, a quick, 5km away, is noted for its excellent view of sunrise and sunset, and is well-facilitated with hotels and homestays in abundance. About 5km away, there's the Rajarani Lake which is also famous for local foods. There are many homestays here run by the locals which serve organic fruits and vegetables grown by the farmers. While here do try local chicken soup, teen pane kodo ko raksi (millet alcoholic brew), pork sekuwa (pork barbeque) and dry buff meat.
This village is mostly inhabited by folks from the Magar community and the vibrancy of their culture is at display during their festivals and ceremonies.
After roaming around the aforementioned venues, one can go to Dadabazaar in the evening, just before the sun begins to set. Excellent view of sunset is the main feature this hilltop bazaar. Situated 2250m above sea level, the hill makes for a vantage of many popular snow peaks such as Sagarmath, Makalu, Lhotse, Kanchenjunga and Kumbhakarna, among others. One can observe the sunrise and sunset from this spot at eye level and the peaks are also seen straight ahead.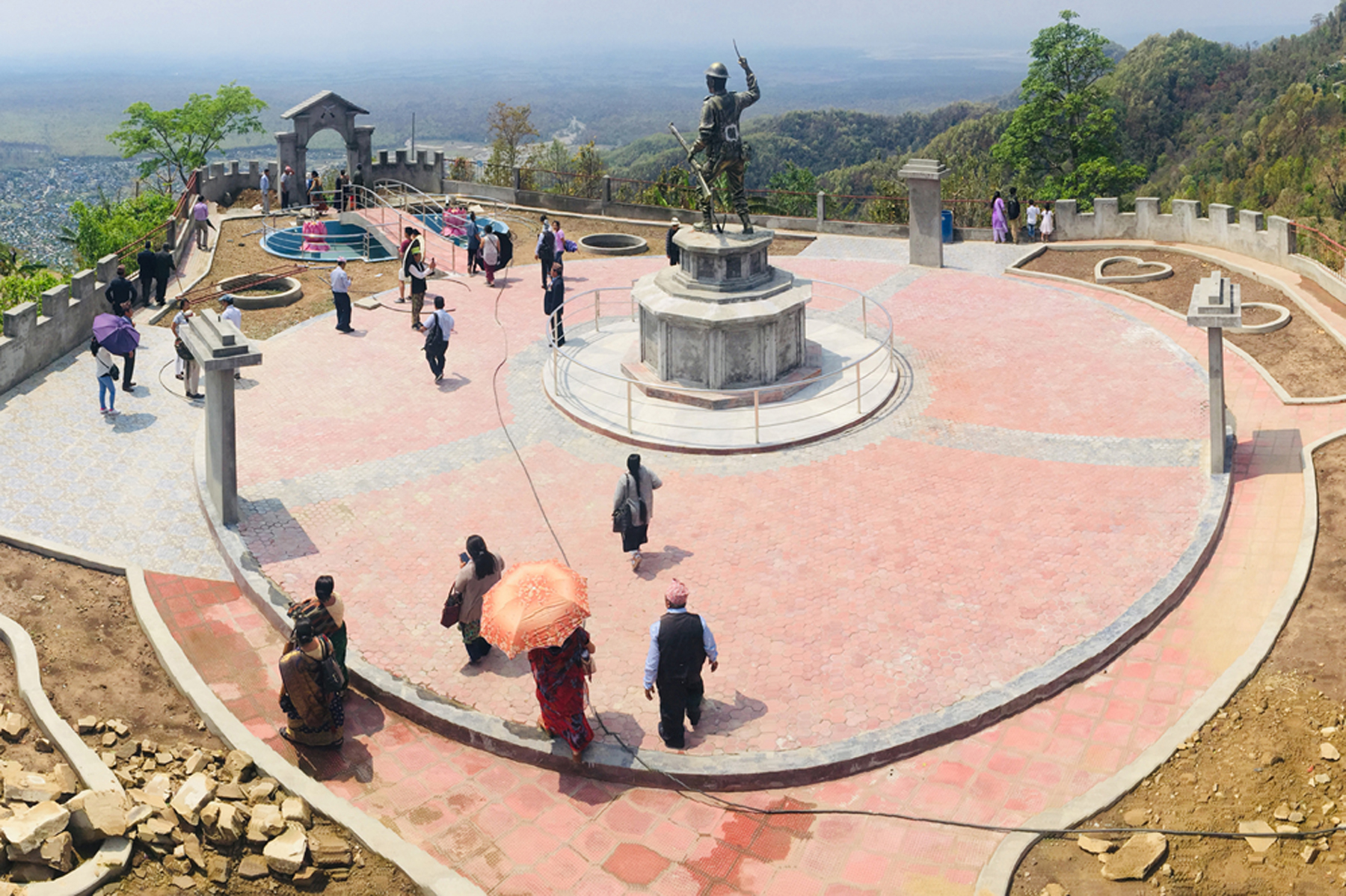 Gurkha Memorial Park in Bishnupaduka, Dharan. The park is built to commemorate the Gurkhas and celebrate their history. Pradeep Menyangbo/TKP
The lahures in the east has set up this park hoping to provide the new generation knowledge about the history of their ancestry. It is located in Bishnupaduka in Dharan and is spread across 12 bigaha land.
The park has a Gurkha soldier's statues commemorating soldiers who fought for the British. The park also has a helipad and a couple of homestays for visiting tourists.
The park was constructed at a total cost of Rs35 million. The park is still being developed with new additions including paragliding service, botanical garden, a children's park, and Dharan View Tower, among others.
Dharan in the foothills of the Mahabharata range is a cultural melting pot of Nepali communities with Rais, Limbus, Newars, Magars, Gurungs, Brahmins and Chhetris, among other native tribes coming together to add to the vibrancy of this city.
Visitors will be treated to cultural exuberance all around the year with Newars celebrating Gai jatra which commemorates the death of loved ones through worship of the cow; Limbus standing out in their Dhan naach celebrating the harvest of paddy, Rais evoking the ancient spirits through Chandi naach; Tamangs celebrating life through Selo accompanied by musical instruments—Damphu, Madal and Tungna and Gurungs lighthearted play at wit through Rodi ghar. Rodi Ghar held special significance in the Gurung community in the past. It was essentially a house in the village where the community gathered after a full day's work to sing, dance and make merry. Today this community gathering has manifested into an evening of celebrations which welcomes everyone with open arms. And, you have Dashain and Tihar, the biggest festivals where Nepalis from all communities come together to celebrate the victory of good over evil.
A meeting point between the Tarai plains and the Eastern hills of Nepal Dharan offers the best of both worlds in terms of climate and people which makes it one of the must-visit destinations in Nepal.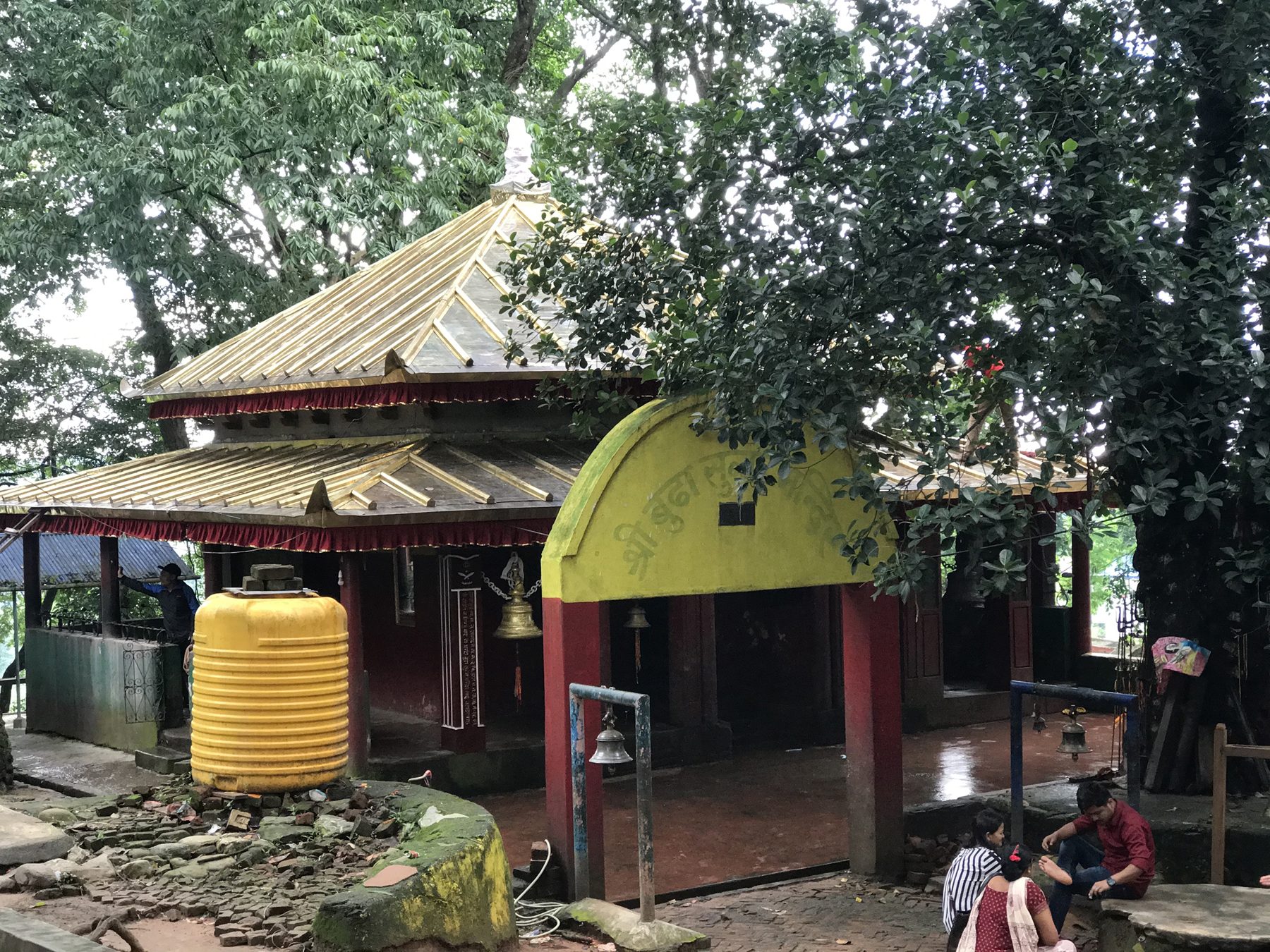 Budhasubba Temple in Bijayapur, Dharan. Devotees throng the temple with alcohol, cigarettes, and tobacco offerings. Pradeep Menyangbo/TKP
A 40-minute flight from Kathmandu to Biratnagar and an hour's drive, and you'll be in Dharan bazaar. Or, you can opt for around nine hours road trip via BP Highway from Kathmandu to Dharan.
There are several hotels and homestays in Namje, Chhotimorang, and Kokaha, among others. In Dharan town, check out Gajure Palace.
Teen pane kodo ko raksi, tongba, pork sekuwa, sukuti.
Rs 5,000 per person for a day.
Visit Chataradham, a Hindu pilgrimage site about a 45-minute drive from Dharan bazaar. You can also drive up to a scenic hill station, Hille, about 65km south of the main town.
---