Gosaikunda: A fair mix of adventure and spiritualism
Don't make the trek only about trekking; stand back, smell the rhododendrons, look at the mountains and breathe in the fresh mountain air.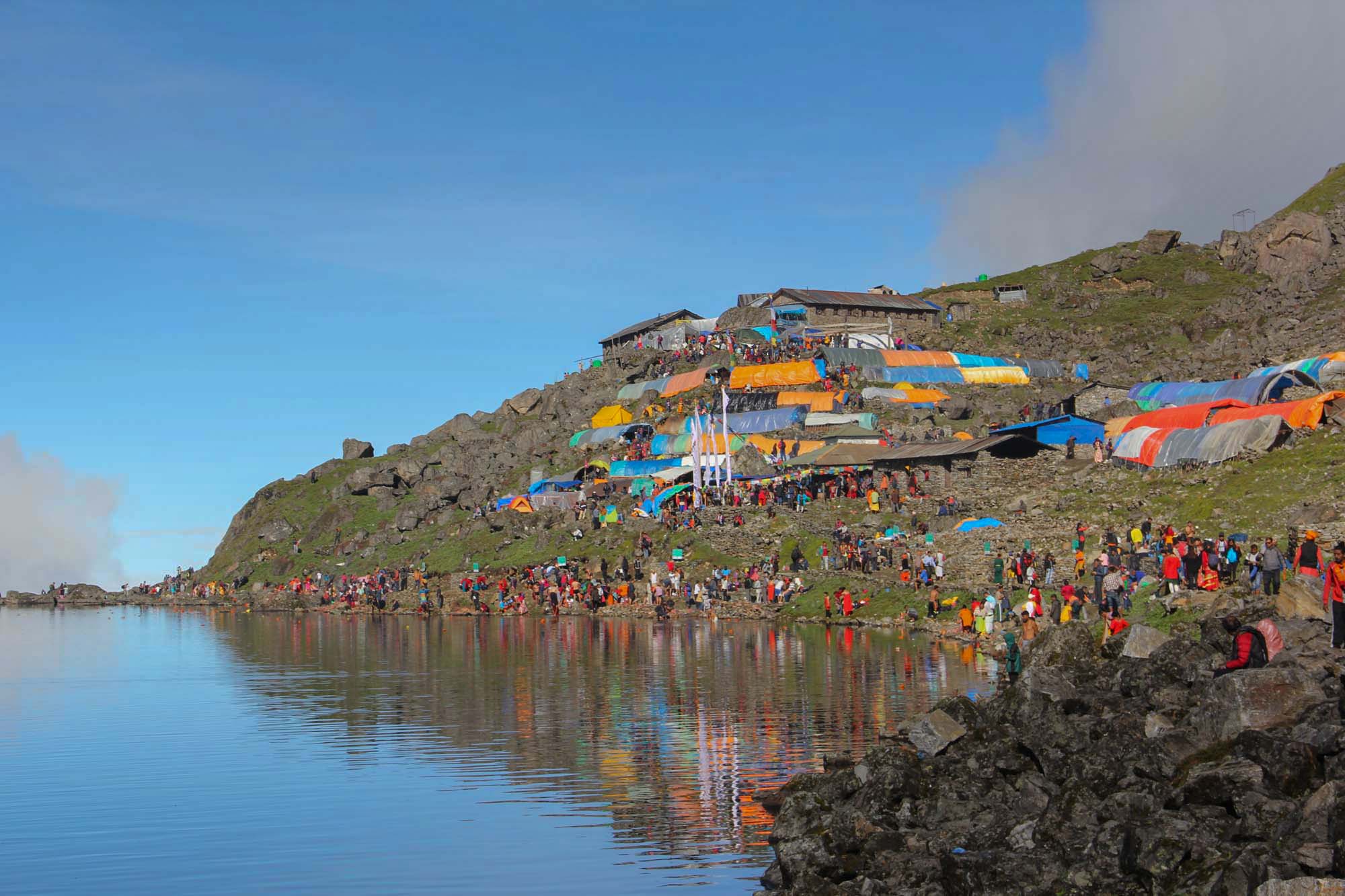 Pilgrims take bath at Gosaikunda during Janai Purnima festival. Balaram Ghimire/TKP
Published at : September 14, 2019
Updated at : September 13, 2019 20:49
If you are an intrepid nature lover looking for some adventure—with a capital A—Gosaikunda is where you need to go. It's perhaps the best high-altitude trekking destination the country has to offer.
Gosaikunda is situated at an altitude of 4,380 metres above sea level in the Langtang National Park in Rasuwa. There are four different trails one can use to reach Gosaikunda from Rasuwa, Nuwakot and Sindhupalchok districts: Kathmandu-Dhunche-Gosaikunda; Melamchi-Kutumsang-Thadepati-Gosaikunda; Sundarijal-Kutumsang- Gosaikunda; and Ghyangphedi-Yarsa-Gosaikunda.
Of them, the Kathmandu-Dhunche-Gosaikunda trail is the most popular. It takes around six hours on a bus to reach Dhunche, the district headquarters of Rasuwa, located 117 kilometres from Kathmandu. Dhunche is a small town that sees cool weather throughout the year and snowfall during the winter.
It is from Dhunche that the trek to Gosaikunda begins. On the first day, one will easily reach Chandanbari or Lauribina by the evening. The route is rich in flora and fauna, consistently offering magnificent views of the snow-clad mountains. Along the route, spots like Ghattekhola, Deurali, Dimsa, Chandanbari, Cholangpati, Lauribina, Buddhadanda, Ganesh Gauda make for good vantage points to observe the rolling hills and mountain peaks such as Mt Langtang and Mt Ganesh. One reaches Gosaikunda on the third day of the trip. The trail is full of ups and downs and gets narrow in some parts.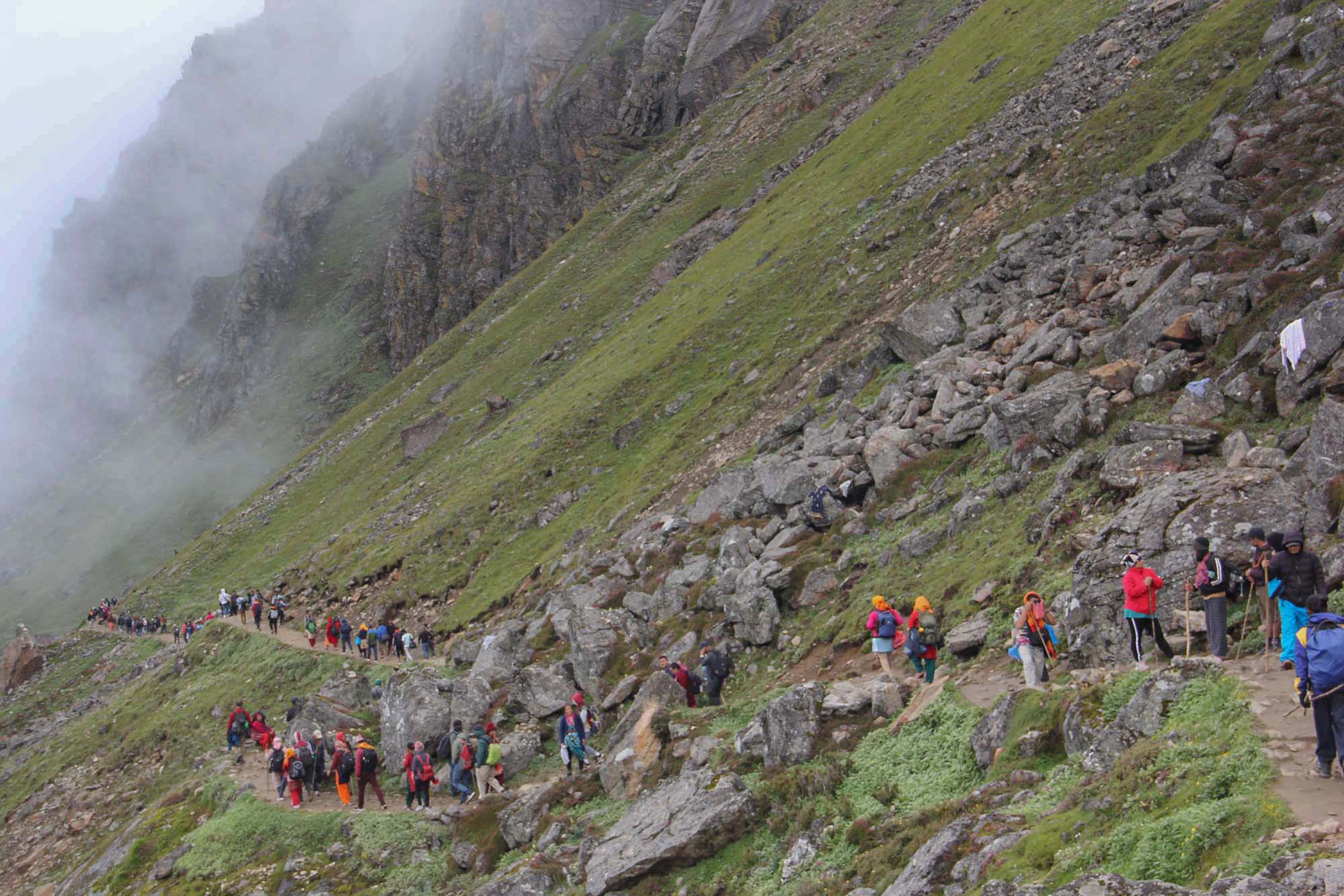 Gosaikunda sees a huge number of pilgrims mainly during two major festivals—Janai Purnima and Gangadasahara. Balaram Ghimire/TKP
The features the trail offers depends on the season. If one travels in March or April, one can see the undulating hills painted red with at least 16 different species of rhododendron. The forests are home to rare wildlife such as red panda, musk deer and several species of birds amid its wild greenery.
The trekking trail passes through several settlements of the Tamang people, who have their typical tradition and culture. The trekkers can freely talk to locals and revel at their way of life and culture. There is a historic monastery in Chandanbari, the locals call it as Sing Gompa. Stop by the gompa to light some butter lamps, to listen to the praying monks or just to rest your weary soul.
In Chandanbari you'll also come across a cheese factory where most travellers drop in to taste the local yak cheese. Some even have it packed to snack on later.
The trekking trail is also home to the red panda, a shy and charismatic endangered mammal species called Habre in Nepali. To get a glimpse of these elusive animals, you have to walk three/four kilometres away from the main trekking trail. A view tower has been constructed in Polangpati which is about four kilometres from Cholangpati. According to the conservationists, Polangpati, Cholangpati, Gupche, Dhokachet are the major habitats of the red panda.

A bird's eye view of Gosaikunda and Bhairabkunda lakes. Photo Courtesy: Mohan K Dulal/Wikimedia Commons
Gosaikunda is an alpine freshwater oligotrophic lake around 600 metres long and 370 metres wide. There are several other ponds around Gosaikunda: Bhairavkunda, Saraswatikunda, Suryakunda, Raktakunda, Chandrakunda, Aamakunda, and Dudhkunda, among others. It is believed that there are altogether 108 ponds in the vicinity of this Ramsar site.
Tourists, both foreign and domestic, visit the area around the year. September to November and March to May are the main trekking seasons in this region. A couple of decades back, it was foreigners who would mostly be seen trekking but of late domestic tourists are seen as equally enthusiastic trekkers, according to tourism entrepreneurs. "Besides pilgrims, the number of domestic tourists who come exclusively for treks has been significantly rising in the past two years," said Subba Lama, who owns a hotel in Chandanbari.
Besides trekkers, Gosaikunda sees a huge number of pilgrims mainly during two major festivals—Janai Purnima and Gangadasahara. The holy Gosaikunda lake has unparalleled importance for Hindu and Buddhist pilgrims. The Hindus believe that all the Hindu deities descend to the lake in Janaipurnima, and therefore, taking a holy dip in the lake is their chance to get closer to divinity.
According to Hindu mythology, Gosaikunda is the abode of Hindu god Shiva and goddess Parvati. Various Hindu scriptures refer to Samudra Manthan, which is directly related to the origin of Gosaikunda. The lake is believed to have been created by Lord Shiva when he thrust his trident into a mountain to extract water so that he could cool his burning throat after swallowing poison during Samudra Manthan.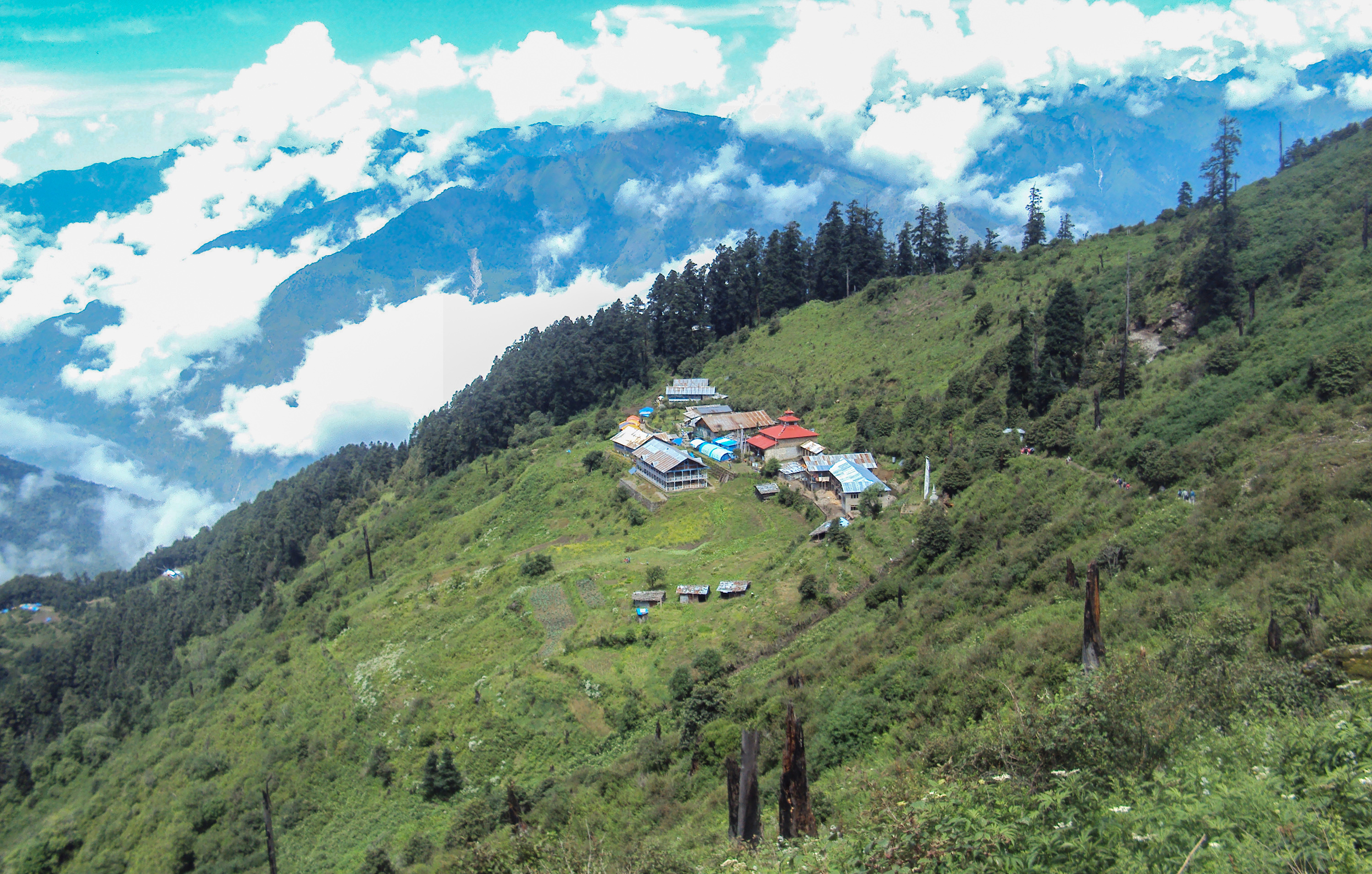 Balaram Ghimire/TKP
Gosaikunda lake holds equal significance for Buddhists as it does for Hindus. According to Phurpa Tamang, a resident of Gosaikunda, who has written extensively on Tamang culture, for Buddhists Gosaikunda lake is of utmost importance with most of them paying a visit to the holy lake to pay reverence to the departed souls, praying for their well-being in the afterlife. On the night preceding Janaipurnima, a procession led by Jhankris (shamans) makes its way towards the lake singing songs and chanting hymns along the way.
Besides religious importance, the Gosaikunda area has historic significance as well. Amarsingh Thapa, the Nepali commander of the western front during the Anglo-Nepal war (1814-1816) had travelled to Gosaikunda and had breathed his last during the pilgrimage. Today a cave in the area is named in his honour reminding his countrymen about his service to the country.
From seeking adventure to quenching one's spiritual thirst to a walk down the history lane, a trip to Gosaikunda will meet all your expectations. But before you decide to take a trip to Gosaikunda, be prepared—physically and mentally. It's a high altitude trek and first-timers are advised to take it slow. As you gradually ascend to Dhunche, oxygen level dwindles. Walk strategically, slow and steady, and give yourself time to breathe. If you show any signs of altitude sickness, it's advisable to immediately start on your descend.
The trekking trail from Dhunche to Gosaikunda only has 14 hotels and the availability of rooms are slim during the trekking seasons, so be prepared to pitch a tent and camp. If you are in the area during the religious festivals—Janaipurnima and Gangadasahara—you wouldn't have to worry about accommodation. There will be temporary huts built for pilgrims and you can be a part of the community living while there.
Dhunche-Gosaikunda trek is a 3-day-long trek
Take a six-hour bus ride from Kathmandu to Dhunche. Your trek begins from Dhunche.
Sleeping bag, warm jacket, thermos, umbrella or raincoat, dry foods and essential medicines.
Local potatoes, black lentils, green beans, rhododendron juice and wine, Tamang handicraft and local cheese.
---