Saipal, land of verdant hills, indigenous festivities, and local wine, invites you for one-of-a-kind experience
Saipal might as well be one of the most beautiful, yet fairly uncharted, territory in the country.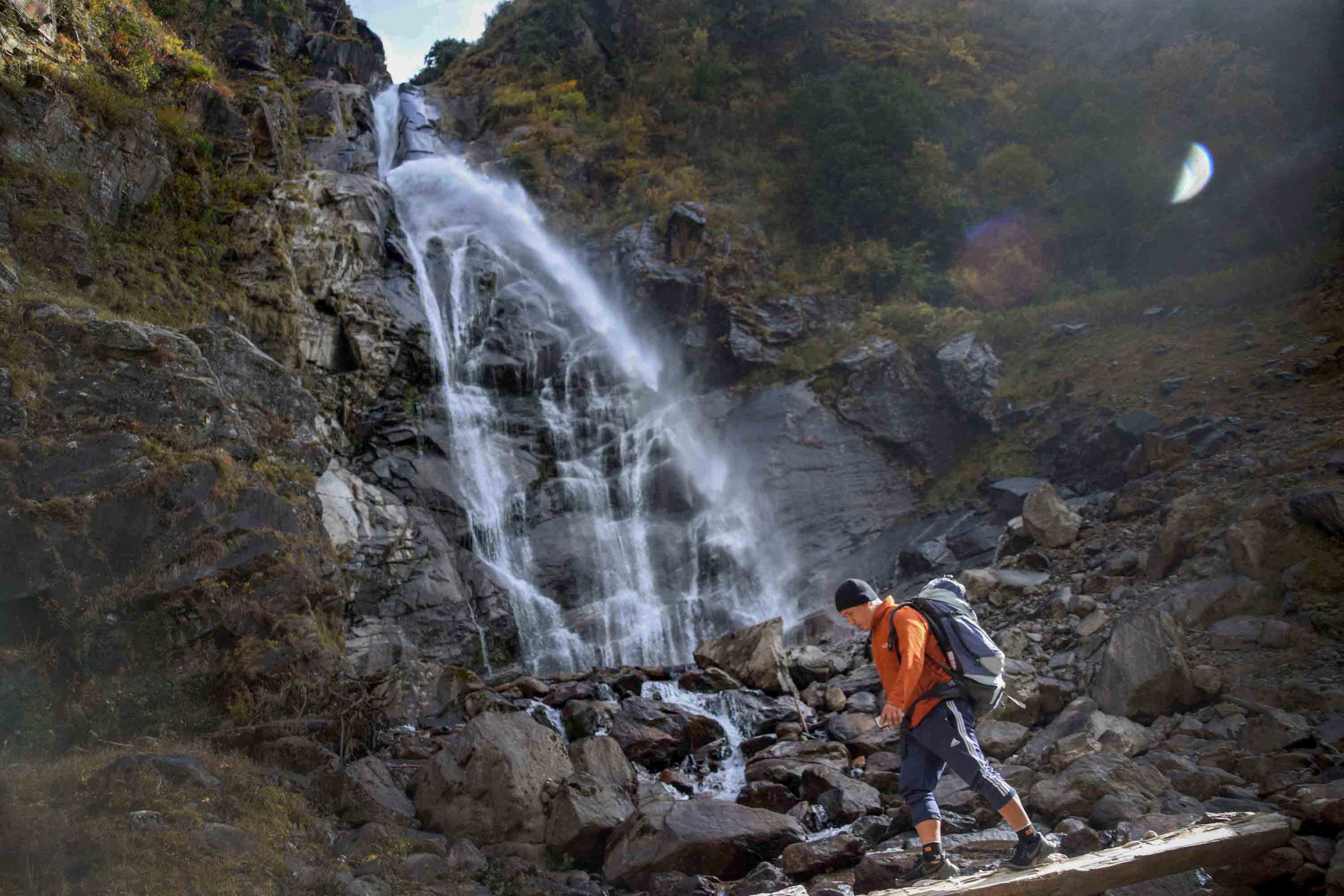 All photos by Basanta Pratap Singh/TKP
Published at : August 17, 2019
Updated at : August 17, 2019 06:59
Waterfalls, lakes and ponds, rivers and rivulets, grasslands with brilliant flowers and rich biodiversity—Saipal has it all. This area in the Far West might be one of the most beautiful regions in the country and yet, it remains fairly uncharted.

From Chainpur, the headquarters of Bajhang district, it's an 18km jeep ride and a five-day trek to the Saipal Base Camp. One has to travel along the Seti river to reach Dhalaun in Saipal Rural Municipality, then move across Rasyalek, which lies at 3,300 meters. Then, it's a two-hour downhill walk, along the banks of the Ghatganga river, the main tributary of the Seti river.
Dhalaun, the gateway to Saipal, is usually the first night stop for visitors. However, instead of just staying the night at Dhalaun, it's advisable to break your trek itinerary and extend your stay for a day or two because Dhalaun hosts an array of traditional fairs and festivals that start in mid-August and continue right up to mid-November.
Dhalaun comes alive with the Siuro mela, Harelo and Bunyathadai, and cultural functions like Deuda, Bhari Khel, Chavai, Lai Biri Chhamka and Chutkila. The songs and dances at these festivals encompass a wide range of subjects, from agricultural practices to matters of the heart, says 30-year-old Bimala Bohara, a Dhalaun local.
"The festivities for this year have already begun and I'm thrilled to be a part of the Deuda dance. It provides an outlet for us to express our feelings of happiness and sorrow," said Bohara. The Deuda dance is one of Far West's essential dance forms, wherein performers stand arm-to-arm in a circle and move in perfect harmony with the rhythm of the tune.

Most festivals during these months emphasise the coming together of communities to celebrate "oneness, harmony, and shared feelings of joys and sorrows". If you happen to be in the area during the Siuro mela, you'll be part of a unique tradition of tasting kheer made of milk collected from every household, which underscores the message of communal harmony.

Once you've had your fill of the cultural exuberance at Dhalaun, you can resume your trek towards Dotale through Kankarkot. Dotale will take you back in time, with small hamlets dotted with kharkas (animal sheds) depicting the most common means of livelihood for the locals—herding. And since yaks and sheep are reared by most households, milk and milk products are staples in most kitchens. While here, remember to chug a mug of fresh yak's milk and taste a scoop of curd with a bowlful of chino rice. The entire Dotale route hosts plenty of homestays and you'll find accommodation easily to rest your tired feet.
Jethi Bahurani Himal makes a breathtaking backdrop for Dotale. You can sit by the Ganai Gadh stream and watch the morning rays of the sun hit the Jethi Bahurani peak.
Kankarkot will be the next destination on your trekking route. It is a small town area serving as a commercial trade hub for surrounding villages. The town has the quintessential spirit of a small rural marketplace where locals from every village meet for business. The adjacent jungle area is rich in native herbs, which make their way into the marketplace through herb collectors.
Next up for trekkers is Tallo Anulagad, famous for the Dhanki Chhada waterfall, known to be the highest in the district. But before you leave for Tallo Anulagad from Kankarkot, make sure you get ample rest and enough food because you'll have to spend the night under your tent. There are no hotels or homestays at Tallo Anulagad, which can be a blessing for those looking for some alone time with the outdoors.

The next morning, after a five-hour walk, you'll arrive right on time for breakfast at Saipal Base Camp.
The base camp lies at an altitude of 4,100 metres and from here, you can get a clear view of the Saipal Himal standing tall alongside other snowy peaks. The mountain range also has various other peaks such as Bhujedi, Raidhungi, Manja, Ranisaina, and Madungra among others.
If you have ample time on your hands, you'll be able to experience all that Saipal has to offer. The forests in the surrounding areas are home to the Himalayan monal, naurs and jharals and if you're lucky, you may be able to spot them in their natural habitat. The forests are also rich in wildflowers and medicinal herbs including buki, padamchal, jatamasi, panchaune, katuki, bis, bhutkesh, sugandhawal, and setakchini dale chuk.
The Saipal region remain unexplored for its tourism potential, but if the authorities develop the Saipal Circuit (from Talkot to Saipal Base Camp), as expected by tourism entrepreneurs in the region, then the mountains and their people will be closer to you than you can imagine.
Edurne Pasaban, a Spanish mountaineer who is a regular in the Nepal mountaineering scene, was in Nepal last year on her 28th visit to the country. And she had this to say about Saipal: "Saipal has the kind of natural beauty which cannot be found in other parts of the country. Everything about Saipal is unique, from its people to food to traditions and customs, even its farming practices."
Foodgrains being an important part of the local diet, meals are prepared using local grains such as chino, kaguno, uwa and buckwheat. All along the trekking route, you'll be served dishes made from the same food grains, but every kitchen has its own preparation, giving you a variety in taste. Also, don't forget to try uwa wine with a side of chyangra meat.
Bhojraj Bhat, chief of Rara Films, who has been making a documentary film about a Saipal expedition, said that he just can't get enough of Saipal. "Saipal is a hidden gem. It is waiting to be explored and if there are enough activities to promote tourism here then visitors will see a side of Nepal they've never seen before," he said.
Mt Saipal, which stands at 7,031 metres, extends towards the southwest whereas other mountains like Kanchenjunga and Api are connected with Tibet in China (northern side). It stands around 47km from the other Himalayan peaks (in the northern side) with Humla and Bajhang districts in the southwestern part.
"It's an incredible mountain but it's also the most technical to climb," said seasoned Spanish mountaineer Jorge Egocheaga who hasn't been able to summit Mt Saipal yet. "I have summitted 14 mountains above 8,000 metres but Mt Saipal is one of the most challenging mountains I have come across so far in my mountaineering career."
Pechhombe Sherpa, a mountain guide, said that the geographical structure of the mountain makes it quite the challenge to summit. "The mountain slope exceeds 60 degrees and therefore is not an easy climb to the top," said Sherpa, adding that the mountain experiences strong winds and unexpected weather patterns making the expedition even more challenging.
The provincial government is also working towards promoting Saipal as a tourist destination, said Maya Bhatta, Minister for Industry, Business and Tourism of Sudurpaschim province. "We are running tourism exercises to bring Saipal close to every traveller. Saipal should not only be looked at as a travel destination in the Sudurpaschim province but as a major tourist destination of Nepal," said Bhatta.
It's a five-day trek to Saipal Base Camp from Dhaluan after an 18km jeep ride
There are many well-facilitated homestays along the trekking route but while in Dhalaun stay at Kadagaun Homestay.
Meals prepared using local food grains such as Chino, Kaguno, Uwa and buckwheat. Also try Chyangra meat.
Undertake the Urai trek from Kankarkot.
Rs 20,000-30,000 per person including food, accommodation, airfare (Kathmandu-Dhangadhi), trekking cost et cetera.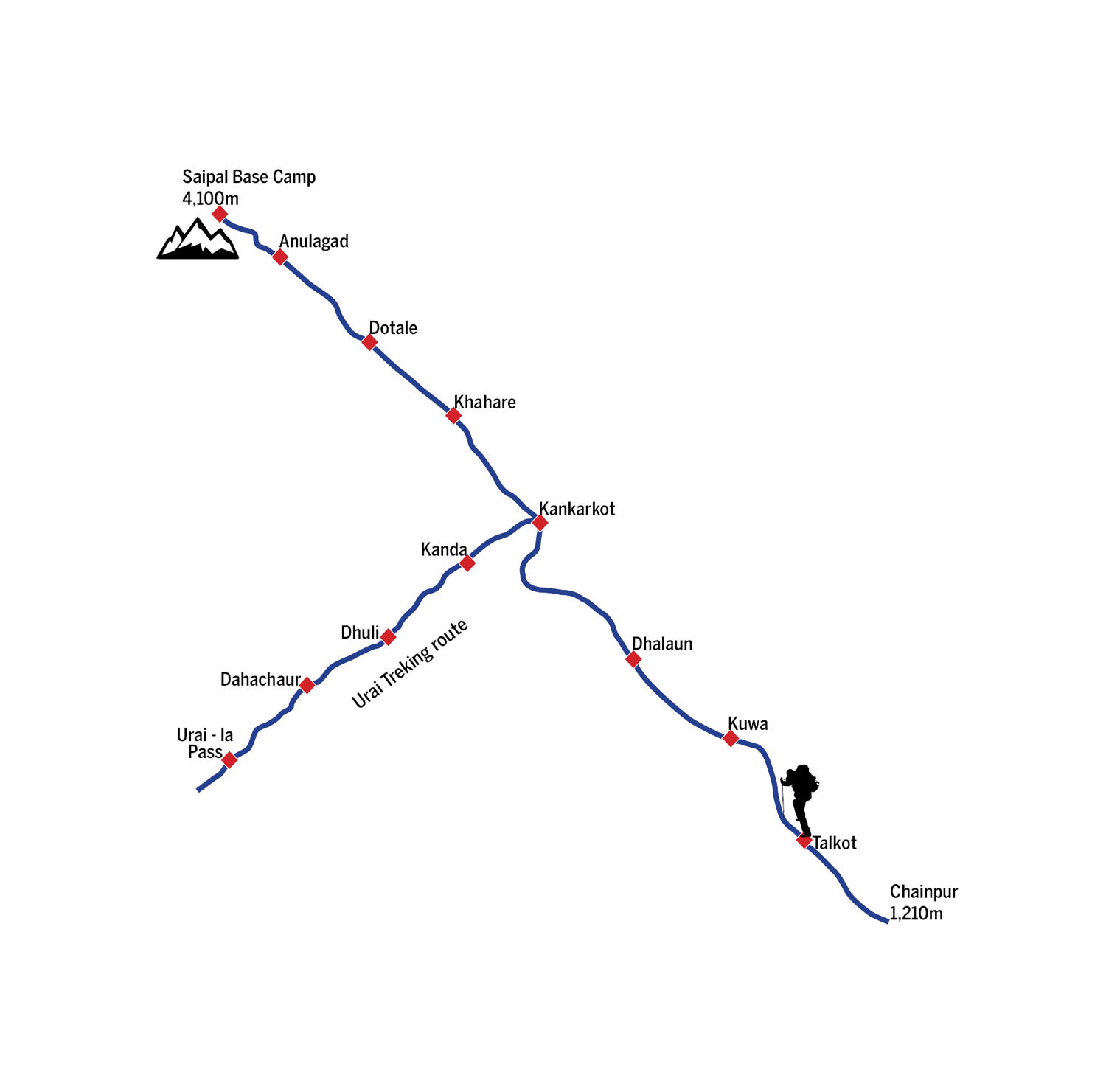 Illustration: Rajkumar Poudyal/TKP
---