Welcome to the jewel of the east
Illustrious Ilam rolls out its green carpet for visitors.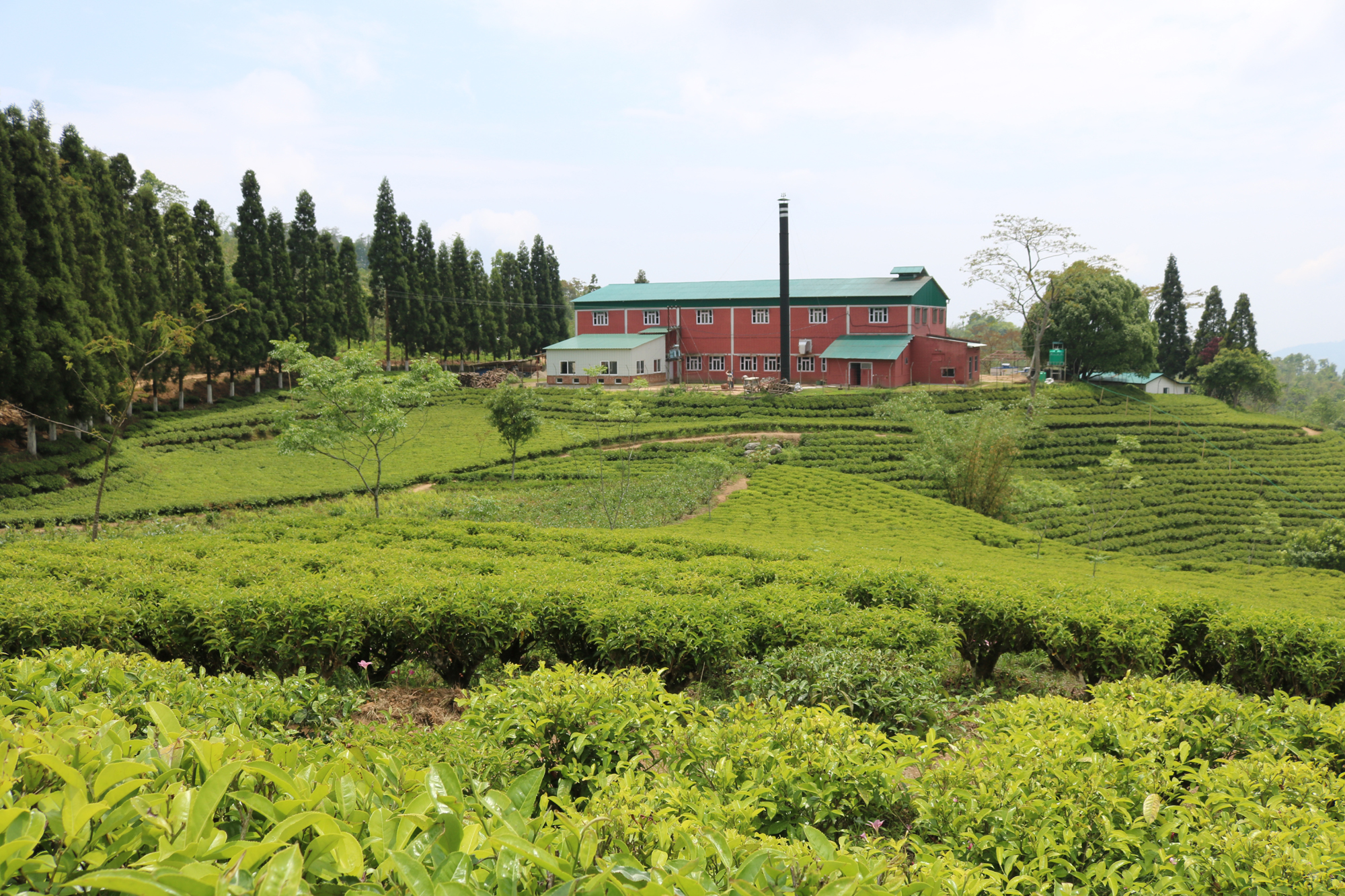 Jitpur tea garden in Ilam district. All photos by Biplav Bhattarai/TKP
Published at : August 3, 2019
Updated at : August 3, 2019 11:07
As the days get longer with the onset of summer, Ilam comes alive, with its rolling picturesque hills of tea gardens, silhouetted against the rays of the summer sun. It might be mid-monsoon in this Eastern district that is so prone to the rains, but that doesn't dissuade visitors.

Most travellers stop by Ilam to get a view of the rising sun, while others, especially from parts of the Tarai and India, come to escape the heat. Ilam, known as the queen of the hills, offers a moderate, cooling climate amid tranquil tea plantations.
Tea cultivation, which started around 1863 in the district, is a major attraction for tourists. The Ilam Tea Estate, which is Nepal's first, along with Kanyam and Antu Tea Estate, brings in hundreds of tourists and tea enthusiasts to observe the entire process of tea production—from cultivation, cutting and picking of tea leaves to their processing and sampling.
Like many other tourism hotspots across the country, Ilam's progress is hindered by a lack of infrastructure, but that hasn't stopped tourists. There is, however, potential here, given that there is much that remains to be explored in the district, from the diversity of lifestyles and culture to wildlife and religious shrines.
A flight from Kathmandu to Bhadrapur and a journey north on the 77-km serpentine Mechi Highway will bring visitors to Ilam bazaar in around three hours.
While in Ilam, here are seven places you need to visit.
Sandukpur, the highest peak in the district, lies at an altitude of 3,636 metres and is 45 kilometres from district headquarters. From Sandakpur, you can get a clear view of two of the world's highest peaks, Mount Everest and Kanchenjunga. On Nepal's northern border, Sandakpur is one of eastern Nepal's major tourist destinations. You can start your journey to Sandakpur from Ilam bazaar via Maipokhari Maimajhua and Goruwale, or you can take a leisurely local bus ride from Mabu via Kalpokhari.
Sandakpur is sparsely populated, with only two hotels—Sherpa Chalet and Sunrise Hotel—on the Nepal side of the border, but there are plenty of hotels on the Indian side. While in Sandakupur, there is an abundance of yak milk, ghee and chhurpi to be had.
Maipokhari is situated 13 km from district headquarters, at an altitude of 2,121m. The eponymous pond is spread across two hectares of land and the 12 hectares around the pond host a variety of rare flora and fauna. One can reach Maipokhari via Deurali Bazaar, which is a kilometre away and has plenty of hotels for tourists to stay at. While Maipokhari is lively during the summer and monsoon, footfall die out in winter because of the cold weather. The area around Maipokhari was declared a Ramsar site in 2008, and is home to native amphibians such as tree frogs, and over 300 species of birds.
All the credit for Dhappokhari's transformation from just a regular pond to a bustling tourist hub should go to the locals. Locals have started homestay services providing accommodation to tourists and recently, also a boat service on the lake, thanks to the effort of locals. The pond is spread out over 50 ropanis of land and makes for a spectacular viewpoint that looks out over various snow peaks and mountains. It's also a popular destination to see endangered species of wildlife, including the red panda and various species of butterfly. Hangetham and Choyatar near the pond are good spots to sight red pandas while the Nunthala area has an abundance of butterflies.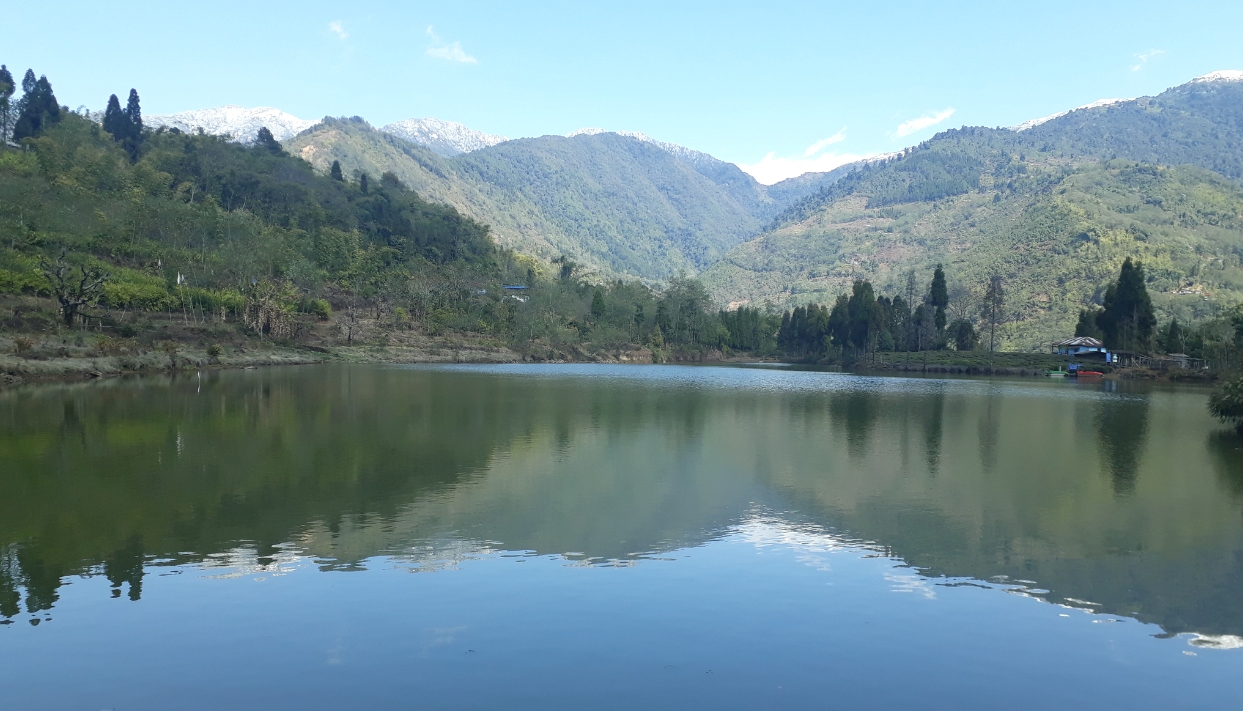 Dhap pokhari
Dhappokhari is located about 22 kilometres, or a two-hour ride, from district headquarters and lies at an altitude of 1,700 metres. The pond is surrounded by resplendent tea gardens to the south and lush forests to the east.
Antu, also called Antu Danda, is perhaps the most popular tourist spot in the district. Antu, located at an altitude of 2,328 metres from sea level and 13 kilometres from the nearest commercial hub of Fikkal, is most famous for providing an excellent viewpoint to observe the sunrise and sunset. Antu also hosts a lake where one can enjoy boat rides at one's leisure. Festivals of various kinds are organised year-round, while the road leading to Antu has recently been black-topped to ease the commute.
For visitors, there are paying guest services that offer visitors the local experience in terms of food and lifestyle. Tourists can also enjoy locally-grown leafy vegetables, millet pancakes, dry meat, tongba , and a variety of teas. West Bengal's famous tourist hub of Mirik is also only an hour away from Antu.
Like Antu, Siddhithumka is also popular for providing a viewpoint to the sunrise, sunset and the Himalayas. Located 20 kilometres west of district headquarters, Siddhithumka's main attractions are the ancient Khandrung cave, Panchami bazaar and the mysterious Azambari danda. As Siddhithumka doesn't have hotels or lodges, one can stay at the nearby Mangalbare Bazaar, eight kilometres away.
Here, you can taste a variety of dishes made of locally-grown millet— sweet potatoes, silam (Perilla frutescens), and buckwheat bread.
The tea gardens of Kanyam are arranged so neatly that from a distance they resemble a crisp green carpet. Kanyam is where most in the district go for picnics. Every Saturday, over 200 groups reach Kanyam with picnic baskets in tow.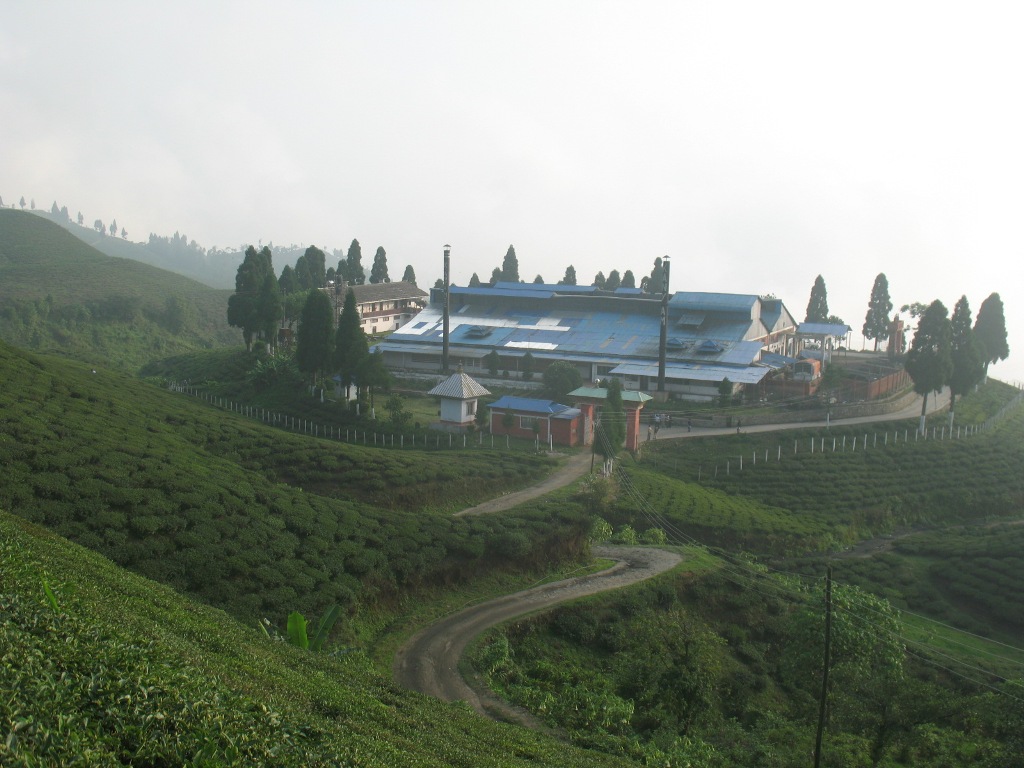 Kanyam
While previously popular only for district natives and domestic tourists, Kanyam has recently grown in popularity with foreign tourists as well. The Mechi highway also cuts through Kanyam, making it more accessible as it lies only 10 kilometres from Fikkal. Despite its popularity, however, Kanyam lacks a proper drinking water system and many complain that picnic spots have been mismanaged with picnickers not cleaning up after themselves. However, Kanyam has plenty of hotels, lodges and home stay facilities at Harkate bazaar. Taking photos while wearing the traditional attire of different ethnic groups is one of the major attractions of this place.

Larumba is perhaps the most rapidly urbanising town in Ilam. In a few years' time, it has transitioned from a quaint sub-urban spot to a vibrant town. Larumba is most popular for its Kirant culture; in fact, it is home to Aatmananda Lingden, a reputed Kiranti leader. Precisely for this reason, the town attracts those with faith in the Kirant religion and researchers on Kiranti language and religion. The town is 'alcohol free' and no meat is available here. Situated 24 kilometres north from Damak in Jhapa and 50 kilometres south-west from Ilam, Larumba has seen remarkable growth as a town for religious tourism.
Getting there: A flight from Kathmandu to Bhadrapur; then a three-hour drive on the Mechi Highway will bring you to Ilam bazaar.
Where to stay: Hotel Green View and Hotel Summit in Ilam bazaar.
What to relish: Tongba (a local brew of fermented millet, served with hot water), and a variety of teas.
Detours: Take an hour-drive from Antu danda towards West Bengal in India. Visit Mirik and Darjeeling, West Bengal's two most famous tourist hubs.
Budget: Rs 10, 000 - Rs 15, 000 per person for a three-day trip.
Dear reader, we'd like to hear from you. We regularly publish letters to the editor on contemporary issues or direct responses to something the Post has recently published. Please send your letters to [email protected] with "Letter to the Editor" in the subject line. Please include your name, location, and a contact address so one of our editors can reach out to you.
---