When Manav met Mayaavi
Shilpee Theatre's recent play 'Tranzit'—written by Kumar Nagarkoti—is about a crummy playwright with a little too vivid imagination.

Keshav Thapa/TKP
bookmark
Published at : July 29, 2023
Updated at : July 30, 2023 18:25
Kathmandu
As the glossy red curtains draw apart, we are introduced to the colour brown. It adorns the walls and covers the oddly shaped furniture. A man—dressed in brown—is seen brooding in the corner. You soon realise that the setting is meta-physical—it is the manifestation of the inner subconsciousness of the brooding figure.
The man is Manav Shastri (played by Divya Dev), the protagonist of Shilpee's ongoing play 'Tranzit'. Directed by Shilpee's Ghimire Yubaraj, the play is written by Kumar Nagarkoti, one of the few writers in Nepal working with surrealism and experimental fiction. Ghimire and Nagarkoti previously worked together in the surreal play 'Bathtub' back in 2019.
Nagarkoti's literature—plays, fiction and articles—are always a roller-coaster of absurd plot lines and amusing wordplay. He has an extraordinary capacity to seamlessly weave Nepali and English, and this play is no exception. In fact, it's this very amalgamation that makes the play exciting.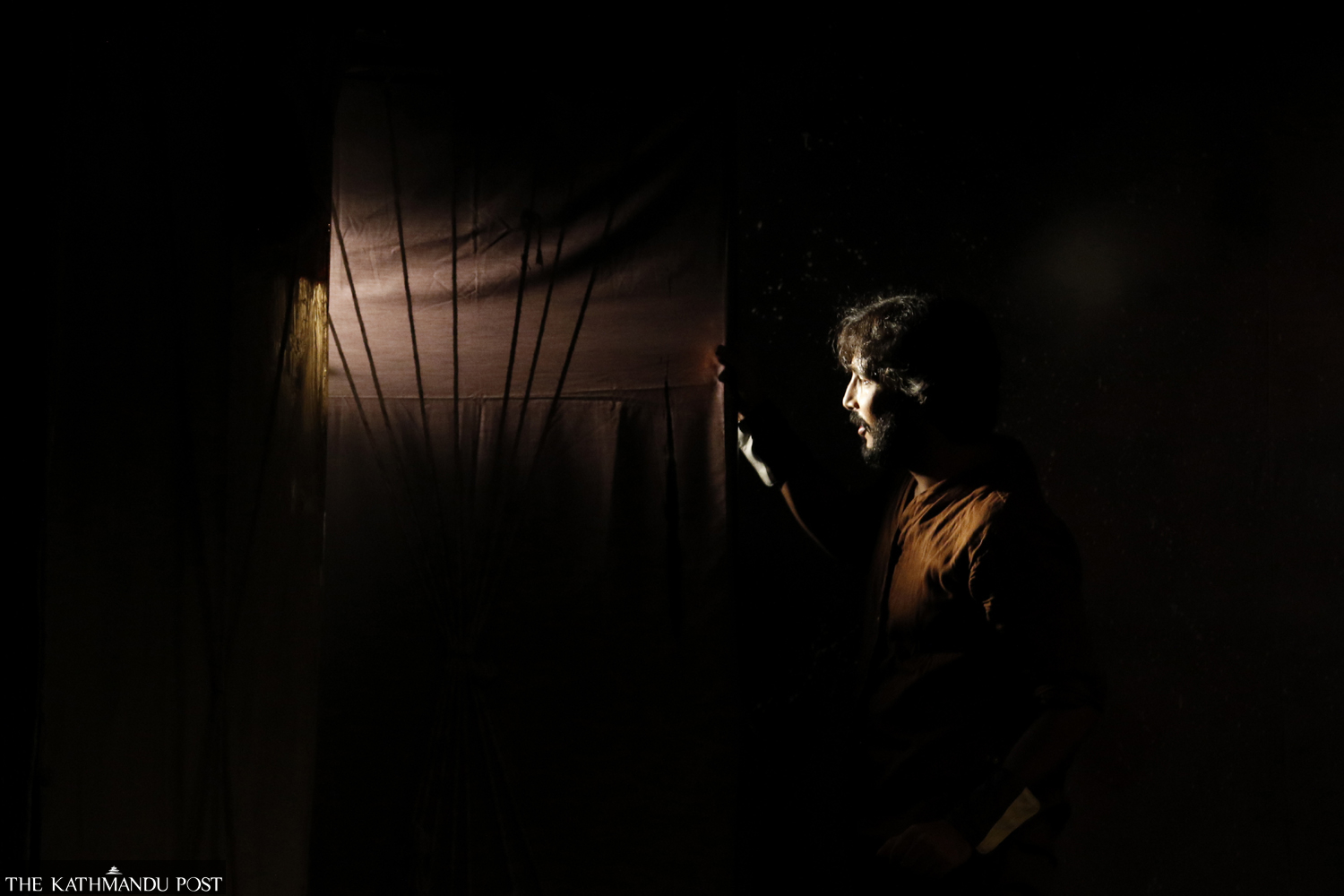 Keshav Thapa/TKP
Going back to our protagonist Manav Shastri—to be said with a pause between the two words, or it would mean manavshashtri (an anthropologist)—is a theatre director by profession, and his most famous play is 'Lipstick, Cigarette, ra Anya Ekanta' (other solitude), which he has showcased for the past three years during the month of December. However, he claims that all three actresses mysteriously died after the play ended.

One day, as Manav is just musing about life (as one does), a mysterious and gorgeous woman walks into his studio, claiming that she's actually from the year 2175 BS. The future—where time travel is possible—allows individuals to jump into different timelines through the Ministry of Time Tourism. She claims that Manav is set to become a legendary playwright in the future, and she's here to learn and be with him.
However, as the play progresses, this mysterious woman—aptly named Mayaavi (magical, illusory) keeps changing facades; she is played by three actors—Akanchha Karki, Shilpa Maskey and Basana Timilsina—and we realise that something is askew. Moreover, a jailor (from the future, played by Milson Rai) is also in the picture, complicating things.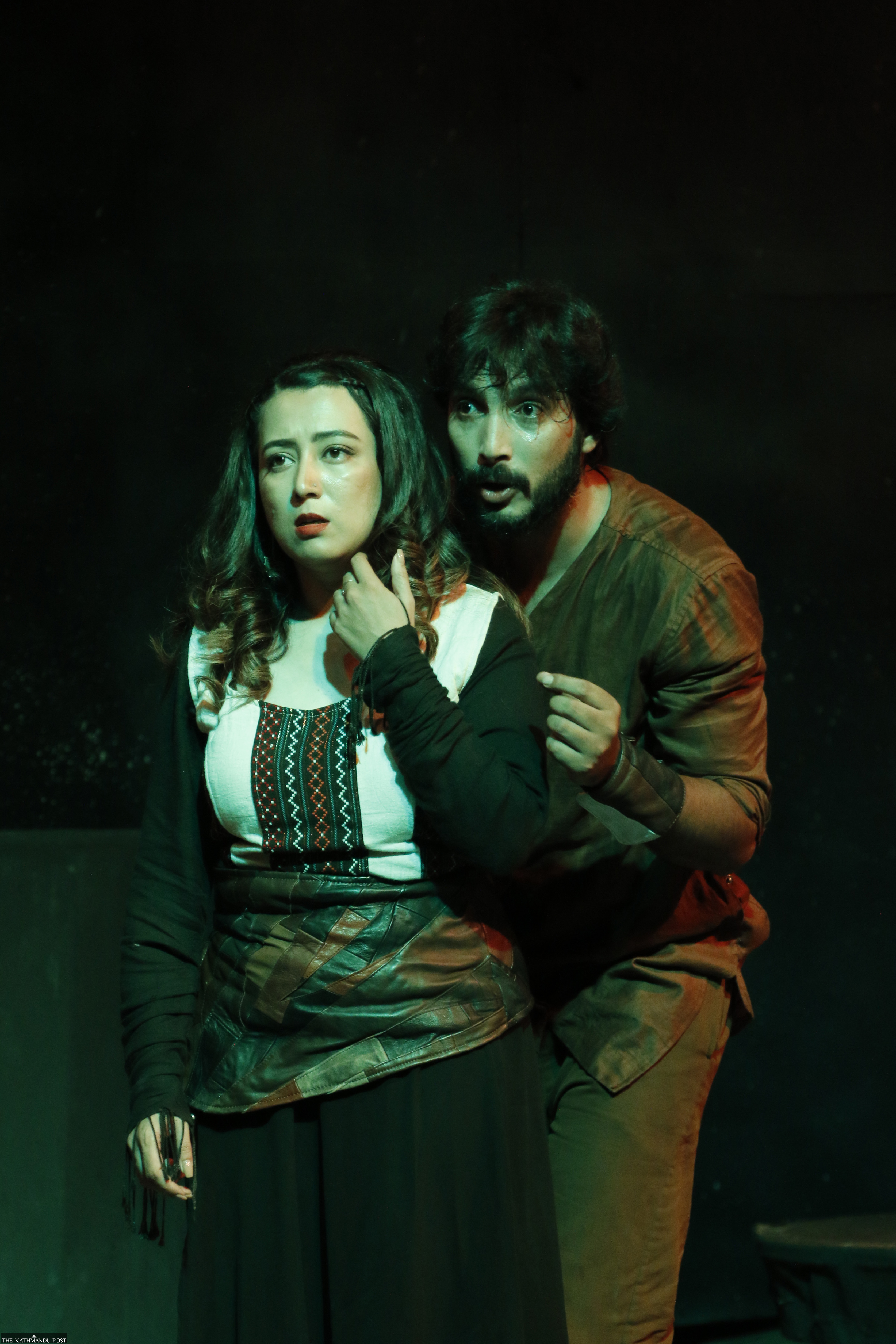 Akanchha Karki (left) and Divya Dev in a scene from the play. Keshav Thapa/TKP
Eventually, several surreal instances start seeping into the play's fabric. Manav and Mayaavi wake up with handcuffs (the physical manifestation of the chains of romantic love). They visit a 'coffee ghat' where it is revealed that the jailor is looking for Mayaavi, allegedly for a crime she committed in the future. At one point, director Ghimire himself interacts with the duo and is seen carrying a cart filled with his previously directed plays.
In between the absurd progressions, Nagarkoti dances with the dialogues, giving us sometimes funny and other times poignant and touching phrases like 'Jo mugdha chha, u mukta chha' (One who is enchanted becomes free). I also particularly liked one of his Nenglish words—'un-bichar-able' (unthinkable) said by Karki's Mayaavi in the play.
However, if you look past the surreal shtick—which I thought was a tad bit overdone this time—the story is fairly simple. The playwright Manav Shastri (spoilers from here) is clearly an unreliable narrator, and the three versions of Mayaavi are the three actresses that supposedly died after starring in his play.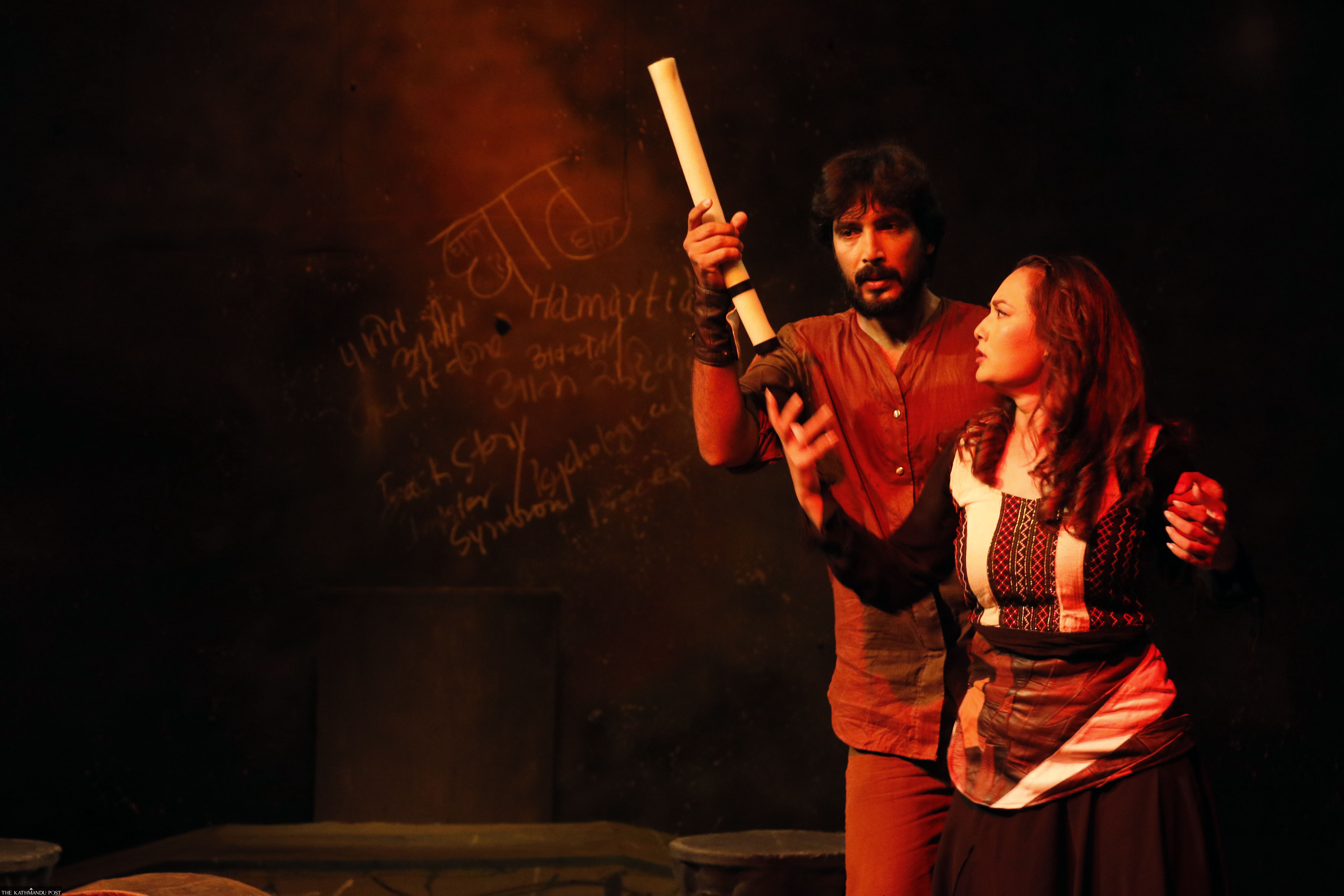 Keshav Thapa/TKP
Manav, later revealed by the very much alive actresses, is a total creep—an Imtiaz Ali main character-esque 'soft-boy' who is so bad at handling rejections that he'd rather create and drown himself in an alternate reality where the women think he's a legendary playwright and an excellent lover.
And I loved this revelation. In the entire play, Mayaavi rarely reveals anything outside of her connection to Manav. Everything about her is about him. With this, Nagarkoti—hopefully intentionally—is satirising these artist-type men who like to man-splain Christopher Nolan movies and blackholes on dates. Those that won't let the girl talk—and aren't interested in what she has to say anyways. And those who act surprised when they realise the girls (who never even got to speak) aren't into them.
Manav, thus, sits alone in his mind palace—creating absurd timelines, narratives and stories to justify the rejections. Any type of inspection on his part is always outwardly—the problem perhaps is a time tourist or a mysterious saboteur, but it's never himself.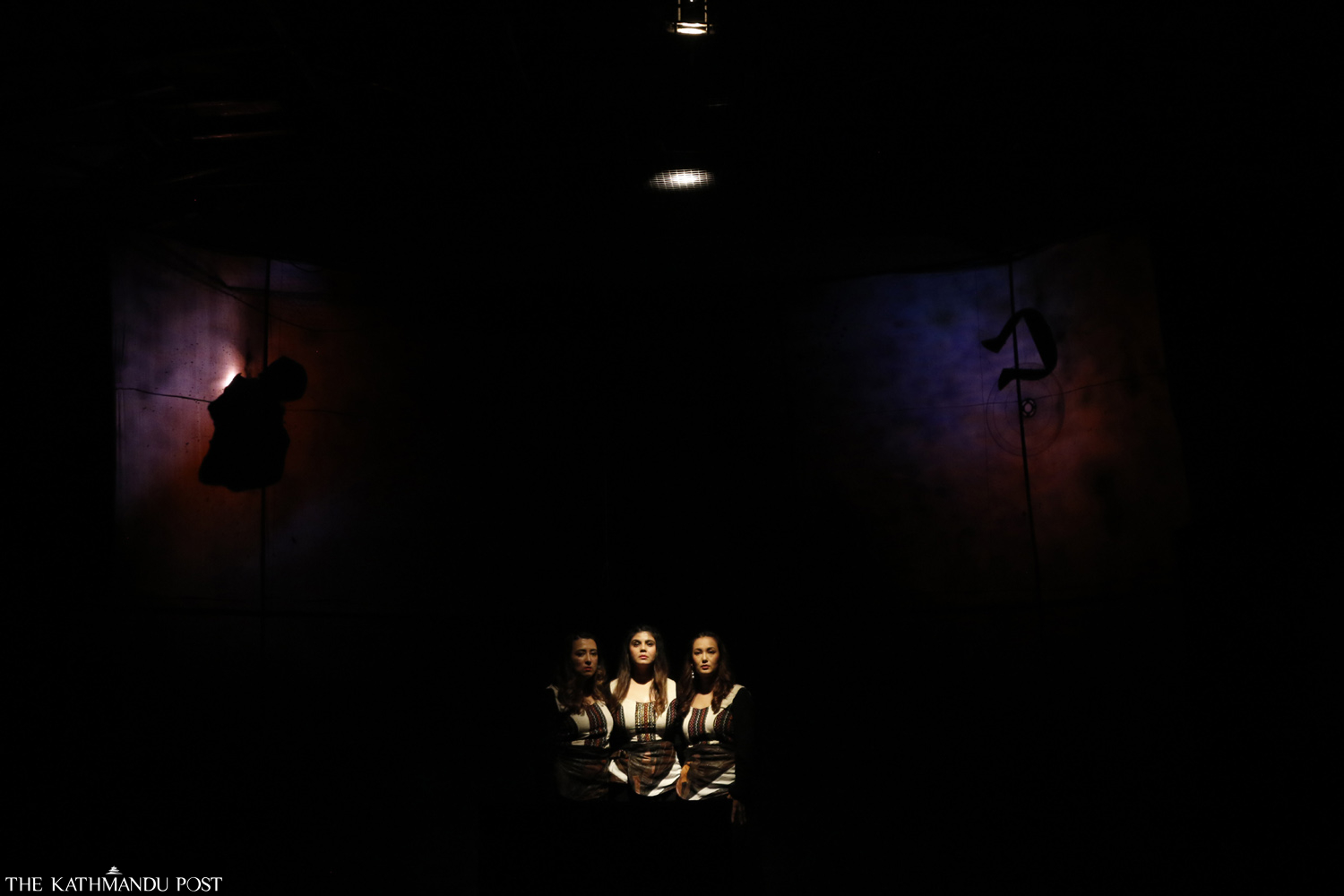 Keshav Thapa/TKP
'Tranzit' is an interesting play. It's not as sharp and articulated as 'Bathtub,' but nonetheless makes for a fun after-watch—because you can come up with theories and explanations long after it's over. It's also a great play to listen to, mainly because of Nagarkoti's prose. Lastly, it's one of the few instances of the recognition and an appreciation for the surreal, which Nagarkoti delivers in his very Nagarkoti-esque way.
Tranzit
Where: Shilpee Theatre, Battisputali, Kathmandu
When: Till August 19
Time: 5:00 pm, extra 1:00 pm show on Saturdays, closed on Tuesdays
Entry: Rs500, Rs300 for students
---
---