Symbolism leads to introspection in 'Ular'
Che Shankar's theatrical adaptation of the novella 'Ular' stays true to the essence of the original medium but dares to lean into symbolism instead of realism.

All of Premlalwa's encounters are portrayed in a highly symbolic manner; when he gets caught in a sudden downpour, everyone else around him has an umbrella except him. Keshav Thapa/TKP
bookmark
Published at : April 27, 2022
Updated at : April 27, 2022 13:51
Kathmandu
The rich and poor. The bourgeoisie and the proletariat. The master and the slave. While the rich and powerful oppress and suppress, the poor and marginalised get trapped in a vicious cycle of exploitation.

As Premlalwa, a tanga driver with limited resources, recognises the inescapable labyrinth of exploitation that entraps him, he laments in a defeated tone, "Hami garib ta mato rahechau, jasle ni kilchera hidcha (We poor are like the dirt. Everyone steps over us)."
Premlalwa is a central character in the novella 'Ular' written by Nayan Raj Pandey and first published in 1996. A scathing social commentary on the rampant exploitation of the working class, the novella follows Premlalwa as he loses his cherished horse, Basanti, and stumbles from one person to another, one place to another in search of compensation and support that he rightfully deserves.
The novella, the magnum opus of writer Nayan Raj Pandey, has now been brought to life on stage at Kausi Theatre, Teku. Produced by Garden Theatre Production in collaboration with Katha Ghera, the play was dramatised, designed, and directed by Che Shankar.
Ular, in the local language in regions in the Tarai belt, means an imbalance caused in a cart or tanga when a heavy load is placed only at the back end of the vehicle. An ular situation is like a see-saw being disbalanced when one end gets a much heavier load than the other. In the play, ular has both literal and figurative meanings.
Premlalwa (played by Sabeer Churaute) is an eager yet naive tanga driver who loves his horse, Basanti. He is also fiercely loyal to his supposed benefactor, Rajendraraj.
We first meet Premlalwa in his hometown Koriyanpurwa where he is energetically campaigning for Rajendraraj's victory in an upcoming election. Premlalwa is surrounded by Rajendraraj's supporters before the election, but when the election results announce Shantiraja, Rajendraraj's rival, as the winner, he is deserted by everyone else.
While Premlalwa believes Rajendraraj to be a noble soul, we find out through an exposition delivered through narration that Rajendraraj had swindled Premlalwa in the past when he suffered from pneumonia and was forced to sell his ancestral home. Out of the total Rs 100,000 of the sale, Rajendraraj only gave Rs 30,000 to Premlalwa, who happily accepted the shorthanded amount.
Still, Premlalwa is crestfallen about Rajendraraj's defeat, and he finds solace in the company of his beloved Draupadi (played by Sarita Giri), a sex worker from the Badi community.
Premlalwa takes part in an ensuing victory parade for Shantiraja, and in the course of the event, a sick Basanti gets even sicker as the tanga overturns due to the load of parade-goers at the back. Eventually, Basanti passes away, and Premlalwa loses his companion and his only source of income.
The scene in the play when the ular happens is when Shankar's prowess as a director shines. While Premlalwa begs and cries that Basanti is sick, others in the parade are carefree and create even more load at the back of the cart. He keeps repeating, "Ghodi bimar cha hajur (The horse is sick)," while other people keep rejoicing. The scene is slightly absurd and bizarre as the helplessness of Premlalwa is drowned out by the cheerfulness of other parade-goers. This type of scene is emblematic of Shankar's style of theatre in which interpretations and symbolisms are prioritised over realism. Throughout the play, the helplessness of Premlalwa contrasts with the external world, which either doesn't care or actively oppresses Premlalwa instead.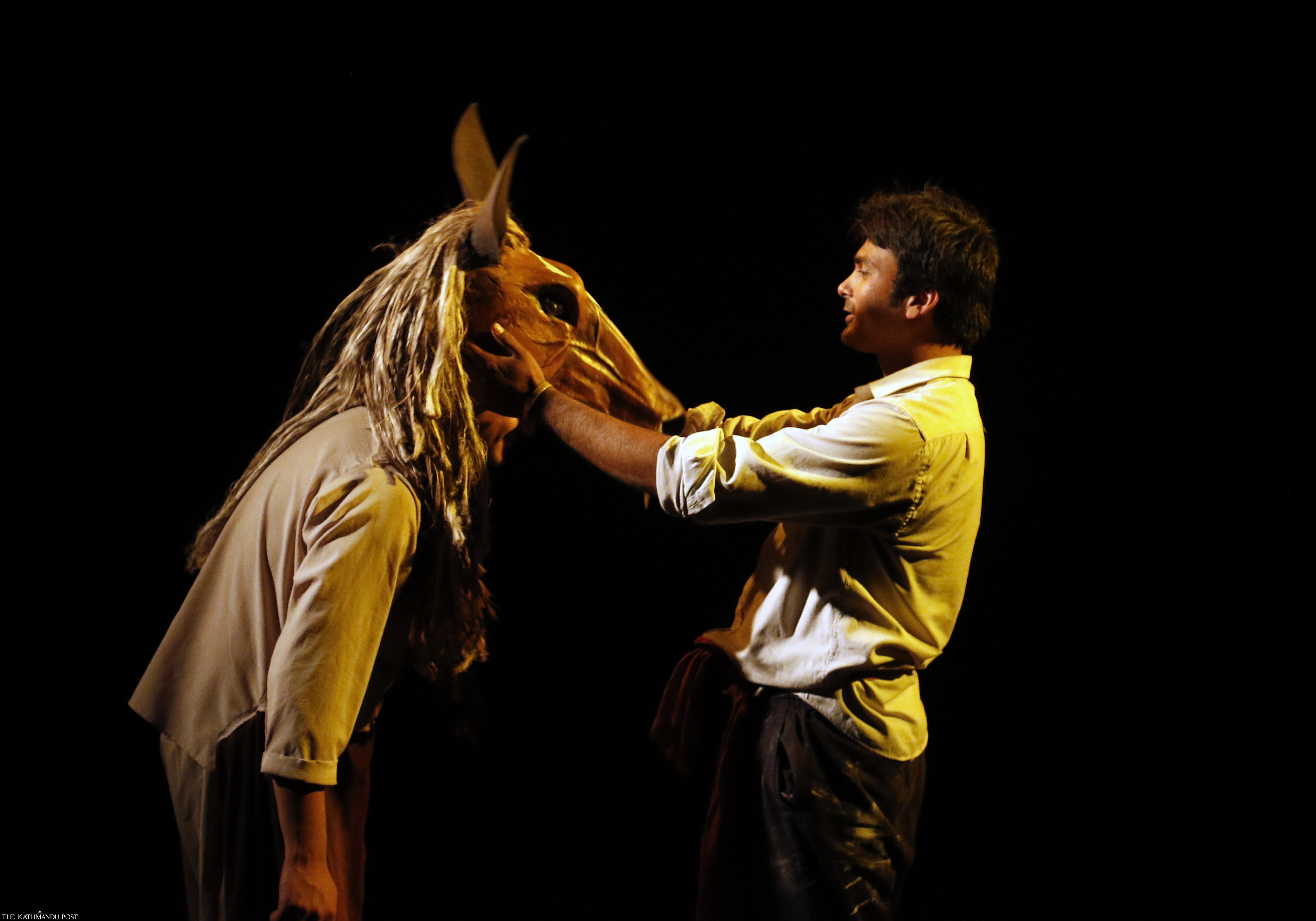 Keshav Thapa/TKP
Premlalwa turns to Rajendraraj for help, who in turn sends him to Shantiraja, who again tells Premlalwa to meet him in Kathmandu instead. During the journey to Kathmandu, Premlalwa runs in place, holding a cutout of a bus as milestones pass by in the background. In Kathmandu, too, he runs from Sundhara to Pulchowk, from Pulchowk to Singha Durbar, and from Singha Durbar to the Department of Transport Management.
Throughout the play, there are two main motifs; motion and repetition. These further emphasise the fact that the poor and marginalised are given false hope and exploited at every turn. The rich keep on climbing while the poor are stuck in a loop.
All of Premlalwa's encounters are also portrayed in a highly symbolic manner; when he gets caught in a sudden downpour, everyone else around him has their own umbrella except him, and soon, the umbrellas surround and trap him. Or when he meets a writer who promises to share his story; the writer is painted white from head to toe. The writer mimics a person dying of thirst in a desert, but instead of water, the writer keeps asking for money from Premlalwa while repeating, "Tero katha ma dam cha (Your story has substance)."
The emphasis on symbolism instead of realism adds an element of introspection into the play. We do not, or rather are not allowed to, accept events as they happen at their face value. We are instead forced to constantly interpret the events according to our own perspectives. From passive audiences, we are turned into active interpreters, and this is what makes the play powerful.
The evocative acting of the leads—Sarita Giri and Sabeer Churaute—is also another aspect of the play that captivates the audience. Both Giri and Churaute, who are oppressed and victims of an oppressive cycle, do justice to their characters. Giri's portrayal of Draupadi especially exudes an air of artistic maturity; her fiery and brusque attitude and mannerisms add nuances to the character of Draupadi, who has been resigned to a life of sex work by birth.
Throughout the play, Shekhar Chapagain acts as the narrator's voice, who provides exposition or an omniscient knowledge of Premlalwa's emotions. While the limitations of a play adapted from a novella might have necessitated this addition, the narrator's scenes sometimes add an unnatural break in the flow of the story. Since the narrator stands in front of a blackened stage and delivers his lines, some action behind him on stage might have helped to avoid this lull in the pace of the play.
At the end of the whole ordeal, Premlalwa is disillusioned with his trip to Kathmandu and returns home empty-handed. He is once again forced to sell his house to Rajendraraj and receives a pittance amount of Rs 30,000 instead of Rs 90,000.
Everything comes back in a circle, but the story doesn't end here. Premlalwa dares to break free from the cycle, and he realises that there are unknown forces at work that always pushes the poor and marginalised like him to the outskirts. "Mainroad bata Surkhet road, Surkhet road bata Koriyanpurwa, Korinyanpurwa bata Paraspur. Ma ra majasta haru sadhai dhakelinchan (From mainroad to Surkhet, Surkhet to Koriyanpurwa, Korinyanpura to Praspur. People like me are always pushed away)." Although he is again forced to relocate farther out into the periphery, he now becomes his own master. He buys another horse and marries Draupadi. In the end, as he takes control of his own destiny, the future looks hopeful and eager for a revolution.
In 2016, writer and editor Pranaya SJB Rana had written, "the importance of Ular does not and has not waned; in fact, it has only become more resonant." Six years later, as the novel comes to life on stage and exposes the prevalent cycle of exploitation of the poor and marginalised, 'Ular' resonates even stronger.
'Ular' is being staged at Kausi Theatre, Teku, until May 1.
---
---