Wild elephants continue to wreak havoc
As many as eight people have been killed by wild elephants in Shuklaphanta and its surrounding areas since 2016.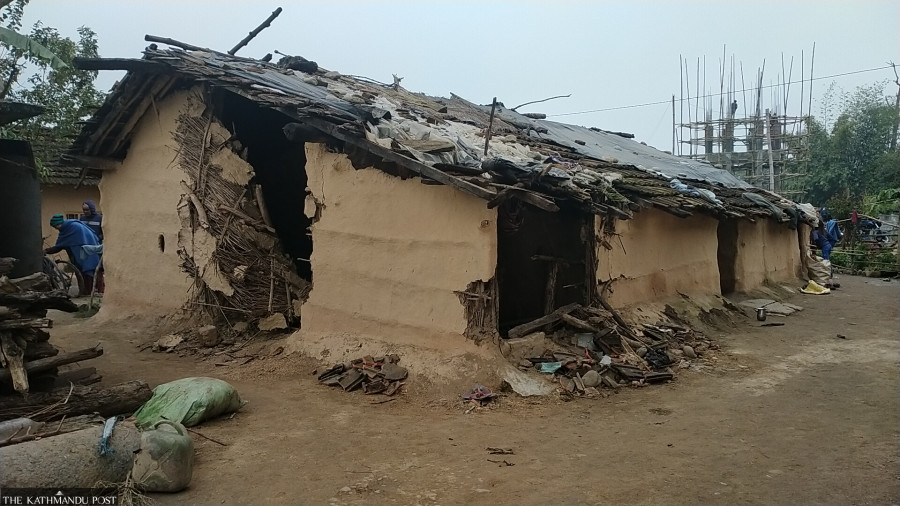 A herd of wild animals damaged two houses and destroyed crops in Bhimdutta last week. Bhawani Bhatta/TKP
bookmark
Published at : January 20, 2022
Updated at : January 20, 2022 08:09
Kanchanpur
Taradebi Bhat of Bhimdutta Municipality-19, Kanchanpur, has been living in a state of anxiety ever since a herd of wild elephants from Shuklaphanta National Park damaged her house and crops last week. Since then, she hasn't been able to get a good night's sleep for fear of the elephants returning to do more damage.
"We have been having sleepless nights for the past one week. We don't know when the tuskers will enter our house and kill us. The wild elephants damage crops planted in our fields almost every year. But this year, they entered our house," said Taradebi.
The residents of Bagphanta in Bhimdutta-19 have been staying up at night to patrol their fields and prevent wild elephants from damaging their crops.
The marauding elephants destroyed the mud and wood house of Taradevi and her neighbour, Haru Bhat, on January 14. The tuskers also damaged wheat planted in around one bigha of land. Bhimdutta Municipality and some social organisations provided them with relief material but the victims have been asking for the sustainable management of the wildlife so that there won't be any possible threats from them in the future.
"Instead of providing relief, the concerned authorities should find ways to prevent wild animals from entering the settlement so that we can live fearlessly. But the authorities do not take our problem seriously," said Haru Bhat.
The wild elephants from Shuklaphanta National Park often enter the settlement and wreak havoc in various local units that abut the protected area. Many people have lost their lives and properties, mainly crops, worth millions of rupees to the jumbos.
Two persons were killed in separate incidents of wild elephant attack in Shuklaphanta Municipality-10 in October third week. In November, another man from Laljhandi Rural Municipality-6 lost his life in a tusker attack. The local farmers claimed that the herd of tuskers damaged their paddy and wheat planted in several hectares of land.
Bedkot Municipality is another area that gets frequented by wild elephants.
According to Kishwor Mehata, the chief conservation officer at the national park, herds of wild elephants come to Shuklaphanta National Park from Dudhwa National Park of India through Laljhadi forest and return to Pilibhit Tiger Reserve of India every year.
"It is the traditional route of elephant movement. The tuskers stayed in Shuklaphanta for longer than usual this year. So there is much damage in the surrounding settlements now. The elephants seem more aggressive as they have calves as well," said Mehata. He argued that the tuskers entered the settlement as their traditional route was encroached due to the expansion of human settlements and their movement was disturbed.
As per the record available at the national park, as many as eight people have been killed by wild elephants in the protected area and its surroundings since 2016. As many as 50 houses and crops of more than 500 farmers were destroyed during the same time.
Shuklaphanta National Park does not have a large wild elephant population. According to the data of the national park, there are only 24 indigenous elephants in the park area. It is estimated that the number of elephants has reached 40 although an official count is yet to be conducted.
According to conservationists, it is mainly the elephants from Dudhwa and Pilibhit that wreak havoc in Kanchanpur district every year.
Some efforts were made to prevent the wildlife from entering the settlements but they haven't been effective. The park administration and the local units built concrete walls and electric fences in some areas but a lack of regular repair and maintenance has rendered them useless.
Conservationists are of the opinion that an awareness programme should be launched targeting the local people on how to avert elephant attacks.
"There should not be an obstruction in the movement of elephants. People attempt to chase away elephants that enter their settlements without providing a way for them to run away. The tuskers can get very violent in such a situation," said Laxmi Joshi, chief of Shuklaphanta Conservation Programme of National Trust for Nature Conservation. He also suggested that crops that are detested by elephants should be planted in areas close to the forests.
---
---