Health institutions in Achham reel under lack of infrastructure and manpower
There are more than 500 health institutions in the district and none of them is equipped to provide essential services.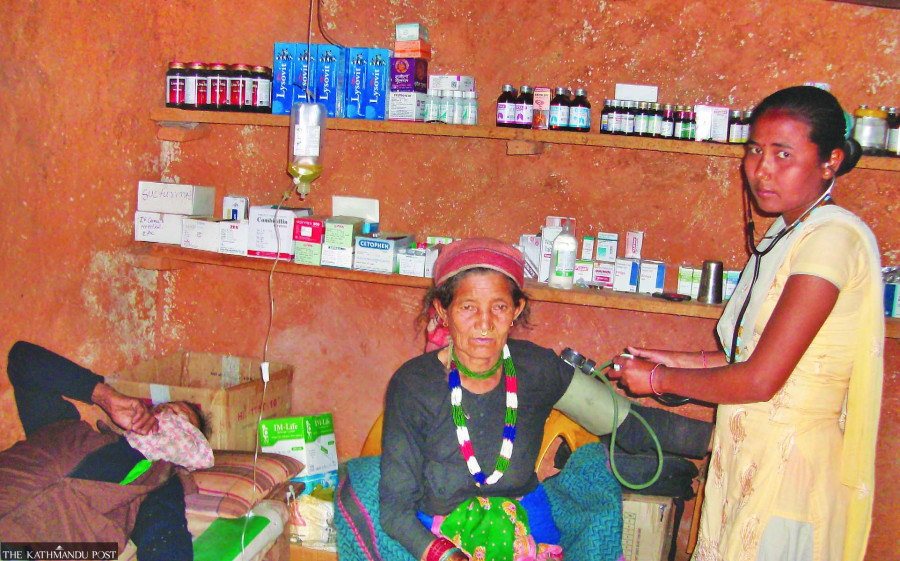 A health post at Basti in Mangalsen Municipality-13 operates out of a dilapidated building that does not even have a toilet. Post File Photo
bookmark
Published at : January 8, 2022
Updated at : January 8, 2022 18:07
Kathmandu
Health services have been hugely affected in rural Achham mainly due to a lack of infrastructure and a shortage of human resources.
Achham, a hill district of Sudurpaschim Province, has a total of 87 birthing centres that provide safe maternity services. However, a majority of them are ill-equipped and face a shortage of human resources.
A health post at Basti in Mangalsen Municipality-13 operates out of a dilapidated building that does not have a toilet.
"The health post is not equipped to provide services. We don't have a toilet and use the one at a nearby school," said Hira Jaishi, the in-charge at the health post. "The building itself is on the verge of collapse and the available medical tools and equipment at the birthing centre are too old to be used."
The local government has turned a blind eye to the issues at the health post, says Jaishi.
"We are tired of requesting the municipality and other authorities concerned to improve the condition of the health post. The problem remains unaddressed," said Jaishi.
Ward No 13 was connected to national road networks only last year. The ward has three major settlements—Basti, Dandigade and Banda. The ward centre is in Basti, which is around three hours walk from Dandigade and five hours from Banda.
According to the local people, many pregnant women give birth to their babies on their way to the birthing centre in Basti.
"It takes around five hours for a healthy person to reach Basti from Banda. It's more difficult for pregnant women to make the journey. But the health post does not have its own transport to rescue women in labour," said Sunita Nepali of Banda. "I gave birth to my younger son in the forest while being rushed to the health post. I was fortunate to survive."
"The road to Basti was constructed recently and public transportation is yet to come into operation. The village does not even have electricity or a strong phone network to call for help when needed," said Saru Dhim, the ward member of Mangalsen-13. "The women of Banda and Dandigade end up giving birth at home since the only health post nearby is in shambles."
"Home births are a frequent occurrence in the ward since it is less risky than having to cross the forest to get to the health post that does not even have good facilities," she said. "I have raised the issue repeatedly at ward meetings but it was not given due importance."
The only other option left for rural women hoping for institutional deliveries is to visit private clinics, which can be expensive, says Hima Saud of Basti.
"Since public health institutions are unable to provide quality health services, we are compelled to visit private pharmacies and clinics. But the cost is high and not all of us can afford to go there," said Saud.
The situation of several health institutions in rural Achham is the same. They are ill-equipped and lack necessary infrastructures.
The construction of a health post building in Chaupati had commenced 12 years ago but the building is still incomplete. Similarly, the construction of health post buildings at Mastabandali, Dhamali, Rahapha, Pulletola, Baijanath and Kalagaun are left in limbo.
According to the District Health Office, there are a total of 581 health institutions in Achham. Among them, only 91 institutions have their own buildings while drinking water facilities are available in only 54 health institutions. Similarly, only 49 institutions have electricity facilities while internet facilities are available in 53 institutions only. And only 12 health institutions have ambulance services, said the health office.
Jhanak Dhungana, chief at the District Health Office, admits that most of the health institutions in the district have poor infrastructure and lack necessary tools and equipment.
"There are 87 birthing centres in Achham. But most of them are unable to provide quality services due to the lack of infrastructure and equipment," said Dhungana, adding that his office is coordinating with the higher authorities to address the issues.
---
---