Women representatives in Achham are excluded from decision-making roles
Most women ward members say the inclusion policy has only served as a token gesture to fulfil gender and caste representation requirements at the local level.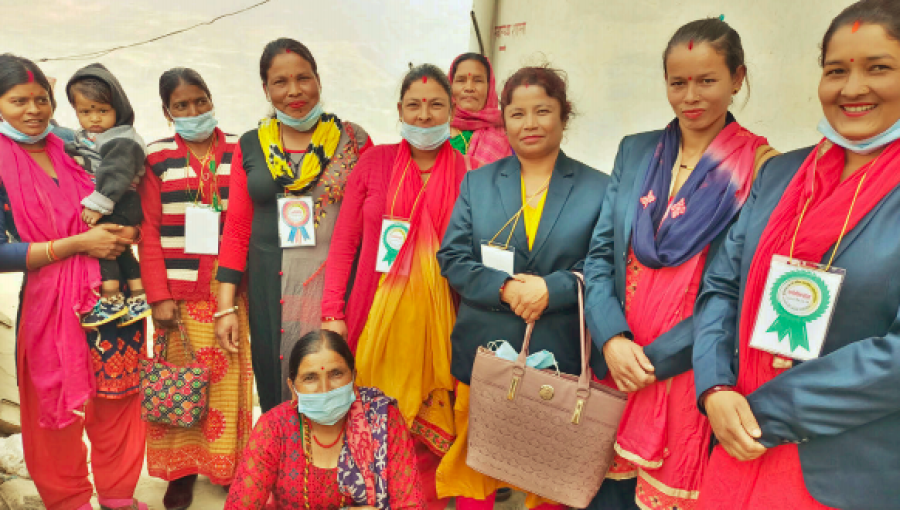 Women representatives say they are not treated by their male colleagues as equals. Menuka Dhungana/TKP
bookmark
Published at : April 5, 2021
Updated at : April 5, 2021 16:01
Achham
Mathura Bhul, a ward member of Jayagadh Rural Municipality-3, is unaware about the local unit's administrative works—be it budget allocation, projects or programmes. Bhul was elected as a ward member under the Dalit quota as provisioned by the law. Her four-year tenure is coming to an end in mid-July without her having shouldered any responsibility as a ward member.
According to the existing legal provisions, the municipal assembly must ensure the representation of three persons from Dalit and minority communities while the village assembly should have the representation of two from these two groups.
The Local Level Election Act 2017 has made it mandatory for local units to have the representation of two women ward members, including a Dalit woman, in each of its ward offices.
There are a total of 364 ward members from 10 different local bodies in Achham district. Most female ward members say the government policies have only served a perfunctory function of fulfilling gender and caste representation at the local level.
"We are elected representatives only on paper and for the sake of filling quotas," said Bhul. "We haven't been given any responsibilities by the ward office. We haven't even had the chance to work for those who voted us in."
A majority of women elected representatives reiterate Bhul's sentiments. Another Dalit representative Bhunti Dholi of Ward No. 2 in Mangalsen Municipality said, "I had reached people's doorsteps asking for votes, promising more Dalit representation and changes at the policy-making level. But that has not happened. My term is about to end and I haven't been able to keep my promises to my voters."
The ward offices have failed to keep Dalit and even non-Dalit female elected representatives in the loop about administrative works.
"We have been given a place at the table but that's where the buck stops," said Dholi. "The ward chairman does not coordinate or even consult with us before making decisions. Our voices continue to go unheard."
At a time when voices are being raised from all corners on the importance of having women in politics, women representatives in Accham have been let down by the nature of politics practised at the local level.
"I got involved in politics because I felt it was important that women, more so Dalit women, be in decision-making roles to be able to change the current political narrative dominated by men," said Radhika Jaigadi, a Dalit ward member of Mangalsen-1. "I wanted to do something for our community. But in the last four years, I did not get a single chance to speak up."
According to her, she attends local-level meetings only if the ward office calls her. "I've tried to speak up before but I have been sidelined by my male colleagues. Now I don't even bother attending meetings," she said.
Non-Dalit women ward members who were elected under the open category also complain of being excluded from decision-making.
"Development projects hold a lot of importance in rural areas. When our voters ask us about these projects, we don't have an answer," Ganga Thapa, who was elected as the ward member of Mangalsen-1 under the open category, told the Post. "We do not know how the development projects are selected by the ward office; we don't know the process or when and how they are monitored. I feel like I have wasted my four years in this office."
Dambara Devi Swar was elected a ward member of Bannigadhi Jayagadh Rural Municipality-2 four years ago but she still does not have the working knowledge of her job.
"It's unfortunate that I couldn't learn much about my role as a ward member. I attend meetings when the ward chairman calls me and I get allowances sometimes. But when the voters ask me about women-centric policies and programmes, I listen to them silently since I have nothing to offer them," said Swar.
Elected women representatives in local units say that the male representatives constantly attempt to sideline women from participating in meetings and other development activities.
"There's more investment in development activities and men have managed to keep women away from it," said Maya Kunwar, the vice-chairperson of Chaurpati Rural Municipality.
Sarita Upadhayay, deputy mayor of Mangalsen Municipality, agrees that there are gender and caste biases at the local level.
"In meetings, male representatives do not show a positive approach to women-related issues. Matters related to gender and caste are shrugged off even in the executive meetings," said Upadhayay. "All male representatives show a united front and leave women out of decision-making. Even I am facing problems to execute my responsibility as the deputy mayor."
---
---