Bajhang's revered Surma Sarovar dries up
Some Hindu devotees see it as a bad omen but scientists say the phenomenon could be explained with a study.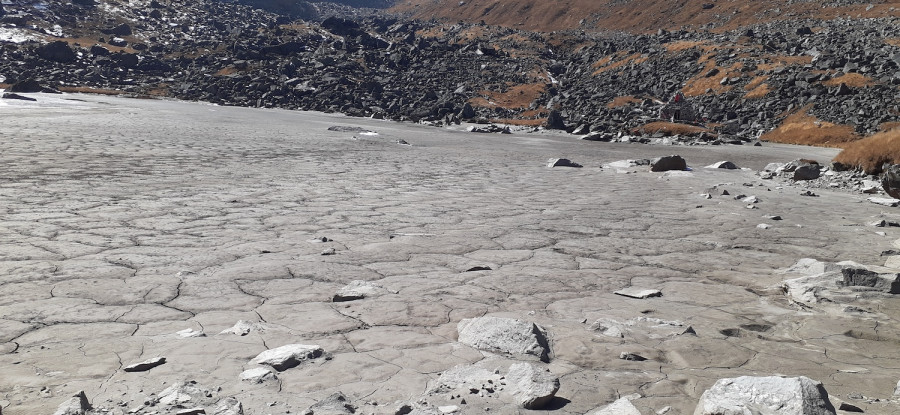 Hindu devotees from Bajhang and other districts of Sudurpaschim Province flock to the lake, also known as Mini Kailash, during major Hindu festivals. Post courtesy: Krishna Bohara
bookmark
Published at : February 12, 2021
Updated at : February 12, 2021 08:05
Bajhang
In early January, Ganesh Bohara, a resident of Surma Rural Municipality in Bajhang, made his way towards Surma Sarovar lake. It was his annual trip to the lake to collect medicinal herbs. But what greeted him when he reached the destination was a dry barren lake bed.
"My initial thought was that I must have taken the wrong road and reached somewhere else. The water in the lake has completely dried up, exposing the dry bed with cracks running across the surface," said Bohara.
Surma Sarovar Lake, also known as Mini Kailash by Hindus, is a holy lake in Bajhang situated at an altitude of 4,333 metres. To reach there, one has to walk for four days from the district headquarters, Chainpur, across the Chande Shikhar Nagna pass at 4,859 metres above sea level. Hindus believe the lake is the abode of Surma Devi, a Hindu goddess.
"The lake used to be at its most beautiful during December-January. It's saddening to see all that beauty gone now. In my more than 15 visits, this is the first time I have seen the lake dried up," said Bohara.
Hindu devotees from Bajhang and other hilly districts of Sudurpaschim Province flock to the lake during major Hindu festivals.
The residents of Chhabis Pathibhera, Durgathali and Surma rural municipalities and Jayprithvi Municipality in Bajhang have expressed concerns about the lake drying up. They consider it a bad omen. "The deity must be angry for the lake to dry up completely," said 60-year-old Kuya Bohara in Surma.
Nara Bahadur Bohara of Surma Rural Municipality says the lake did not dry up even during the 11-month-long drought in the area five years ago.
Tourists and regular visitors to the lake have also expressed grave concerns about the current state of the lake. "I was there four years ago and the lake was filled with water. There should be a detailed study done to know what happened here. How did the lake dry up?" said Kishwor Khadka, a tourism entrepreneur from Bajhang.
According to experts on water issues and climate change, they can ascertain the reasons for the lake drying up only after conducting a proper study and research.
"There could be many reasons but we can't say for sure," said Ajaya Dixit, a water resources engineer who has expertise on issues of water and climate change. "It could be the environmental degradation or the rapid evaporation of water given the increase in temperature in the hilly and mountainous regions. Another reason could be the drying up of water sources in the watershed area of the lake or leakage of water due to some geological changes."
---
---