Two killed, two others injured in a landslide in Darchula
The landslide triggered by heavy rainfall swept away 10 houses and a school building in Naugad Rural Municipality.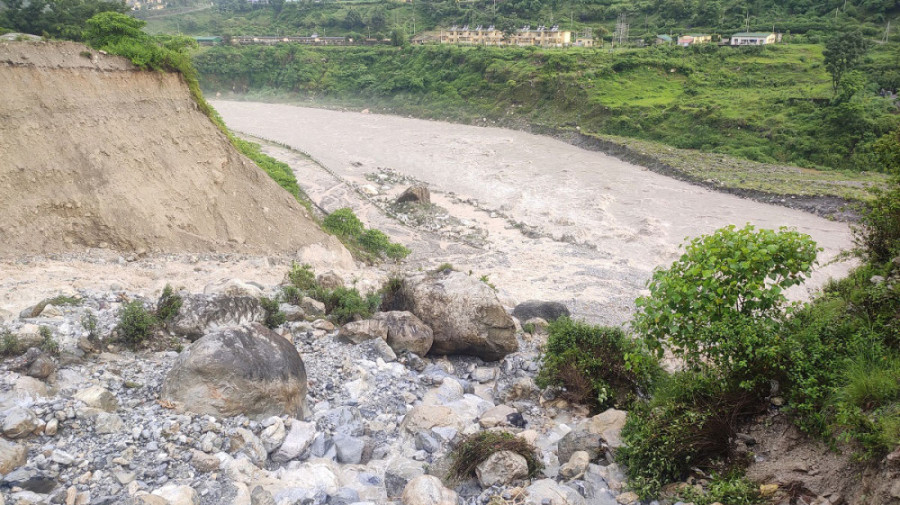 Flood in Dhauligad river at Mahakali Municipality Ward No. 5 has caused obstructions on the Mahakali Highway. Post Photo
bookmark
Published at : July 20, 2020
Updated at : July 20, 2020 23:03
Darchula
Two people were killed when a massive landslide swept away 10 houses and a school building at Parigaun in Naugad Rural Municipality Ward No. 6, Darchula, on Sunday night.
Deputy Superintendent of Police Padam Bahadur Bista said a mother and her five-year-old child died while two others sustained injuries, one critically, in the landslide. The bodies were recovered by the locals and police personnel.
"Four other individuals were rescued from the incident site by the villagers," said Fagun Singh Thagunna, a local.
Floods and landslides triggered by incessant rains have wreaked havoc in several places of Darchula district, killing and displacing many people and destroying properties and infrastructures.
"Preparations are underway to send critically injured Mohana Thagunna to a well-facilitated hospital, as her treatment is not possible at Gokuleshwar Hospital in Shailyashikhar Municipality," said Bista.
According to the District Police Office, 83 goats, 36 cattle and two mules were buried to death in the landslide.
"The actual damage caused by the floods and landslides in the area is yet to be assessed," said Bista, adding that security personnel were deployed in the affected areas for rescue.
Similarly, the rain-swollen Kharkhola has swept away three shops at Ward No. 3 of Naugad. Raghubir Singh Thagunna, a local, told the Post that the flooded streams swept away 10 water mills and eight bridges. The floods have also caused damage to the Khar Micro Hydropower Project, a local playground and a fish pond.
Likewise, the floods in Lasku stream damaged various infrastructures at Ward No 1, 2 and 3 of Mahakali Municipality. According to Padam Mahara, the ward chairman of Mahakali-3, the floods have swept away six water mills, four bridges and a drinking water project in the area. Six houses at Dungri Bazaar are at high risk of floods, he added.
Dunguri Power House of Nepal Electricity Authority in Mahakali has been inundated by floodwaters of the Dunguri stream. Dayaram Sah, chief at the Darchula distribution centre of the authority, said power supply in the area will be disrupted for about two weeks, as several machines and tools in the power house have been damaged by the floodwater.
Similarly, flood in Dhauligad river at Mahakali Municipality Ward No. 5 has caused obstructions on the Mahakali Highway while a road connecting Duhu and Byas has been blocked by floodwaters from Lasku river in Ward No. 4 of the same municipality.
---
---