Employees hired on contract basis complain of unequal pay at Baitadi Hospital
They are afraid to talk about the matter with hospital administration because of the risk of being fired, say nurses.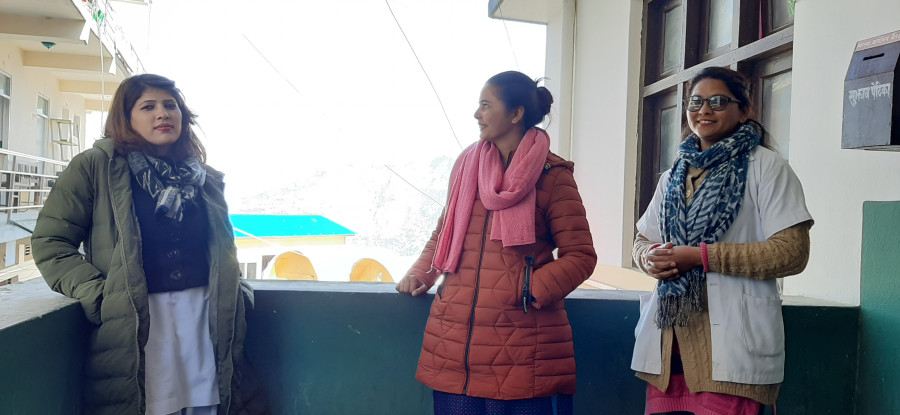 Tripti Shahi/TKP
bookmark
Published at : February 2, 2020
Updated at : February 2, 2020 09:50
Baitadi
Parbati Bhatta of Bhimdatta Municipality is currently employed as a staff nurse at the District Hospital in
Baitadi
. Prior to this, she worked at Bharosa Hospital in Kathmandu where she used to get Rs8,000 monthly salary. The sum was barely enough to sustain life in the Capital. After all, her family had invested Rs1 million for her to become a nurse. A meagre Rs8,000 didn't seem like a fair return to her hard work. Then, when the Baitadi hospital announced vacancy, she immediately applied and was hired. Currently, she earns Rs25,000 per month.
This is significantly higher than what she used to get paid. But other staff nurses employed in the same hospital and working in the same capacity are getting paid over Rs28,000, she said. "I often get demoralised experiencing this discrepancy in pay," she said.
Jyoti Bagdas of Dashrath Chand Municipality, who is an auxiliary nurse midwife at the same hospital, has similar complaints. While others working in the same capacity get Rs26,000 or more, she gets only Rs18,000, she said. "But we have no option than to put up with it," Bagdas said.
All other nurses in the hospital who were hired on a contract basis too complain about the same. They have to work equally, and often more than, what the permanent employees do. Some said they are working for a salary as low as Rs8,000 per month. "We want the hospital to respect the work we do and pay us accordingly," Bagdash said. "There is a discrepancy regarding other facilities, stipends, leave days and training, too." She added that she has had to put up with it because of "the financial status of my family" and that "something is better than nothing". Bhatta said that they are afraid to talk about the matter with hospital administration because of the risk of being fired.
The hospital's medical superintendent, Basantaraj Joshi, said he empathises with the nurses. "It's apparent that the pay scale is not equal among the nurses working in the same capacity," he said. "Many are facing trouble because of a lack of training and facilities."
Madan Mahara, health coordinator at Patan Municipality in Baitadi, said that unequal pay affects the will and confidence to work among nurses. "Keeping that in mind, the local unit is trying to increase their pay scale," he said. The nurses working on contract basis are hired by the municipality.
Baitadi has 65 health posts, two primary health centres and one district hospital, where two staff nurses and five ANMs are currently employed. The hospital, however, doesn't have data about nurses working elsewhere in the district. But it is estimated that each local unit in the district has employed about 16 individuals on average.
---
---