Washmandu: Online laundry service aims to 'hurt the dirt'
The startup handles a payload of 200 kgs of dirty clothes daily.

An employee checks the day's delivery orders on his smartphone. Hemanta Shrestha /TKP
bookmark
Published at : December 1, 2019
Updated at : January 23, 2020 12:50
Kathmandu
On a cold weekend morning, 24-year-old Nag Narayan Chaudhary is busy jotting details from a smartphone into a logbook at a facility in New Baneshwor.

Chaudhary, a service handler at Washmandu, an online laundry service provider, is transcribing wash-orders from households, hostels, apartments and dry cleaning service providers from Imadol and Bhaktapur. Three back-to-back loud honks from a Maruti Omni van parked outside the facility with a floor full of laundry, blanket bags and carpets add to the humming of four large washing machines and three medium-sized dryers.

Two of the eleven employees, including Chaudhary and the business owner, share a quick glance acknowledging that the day's first consignment of dirty clothes has arrived from multiple households and it was now time to do what they call 'hurt the dirt.'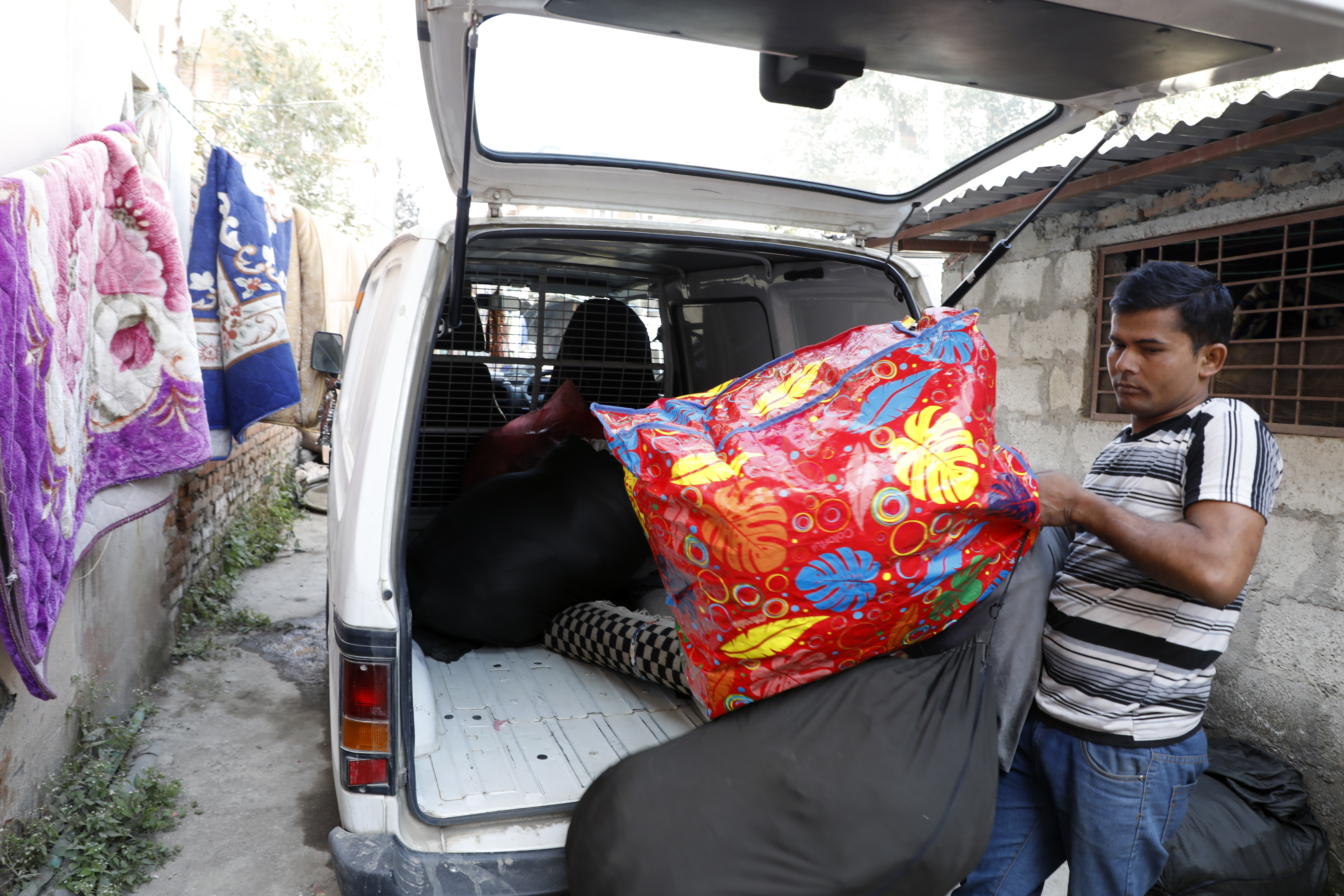 An employee collects and drops off customers laundry. Hemanta Shrestha /TKP
It is only 9 in the morning but the delivery employees have already made trips halfway across the city in a pickup van and two motorbikes collecting dirty laundry.
"Laundry always tops the list of most hated home chores and is a never-ending story," says Mrigendra Karn, founder of Washmandu. "Here, we make people's life simple by picking up their laundry, doing their washing, ironing and folding and delivering the clothes for them."
What started with an investment of less than a million rupees and a single washing machine and a pickup bike is now valued at 10 million rupees with average monthly revenue of over half a million.
Two years ago, Washmandu was a non-existent entity and 29-year-old Karn, a chartered accounting drop-out, was trying to crack the philosophical question bothering many youths like him, "How do we get somewhere in life?'
"I came back from Delhi and started living in Radhe Radhe, Bhaktapur where I saw residents struggling with a shortage of water for household chores including the dreaded task of doing laundry," said Karn. "Although I had faced the laundry problem myself and knew that the problem required a modern solution, it took me two years to figure out the business model and arrange finances to start the business."
Karn then leased a plot spreading a little over 8 aanas at Prayag Marg in Shantinagar and transformed the once wasteland and dumping site for locals into the headquarters of Washmandu. He raised a washing, drying and ironing centre which seems like a makeshift shelter but handles a payload of 200 kgs of dirty clothes daily.
In the initial days, Karn operated the service with one motorbike and one washing machine. After gaining a base of over 10,000 loyal customers including tourists and foreigners working for non-governmental organizations, he has set his sights on making the business bigger and better.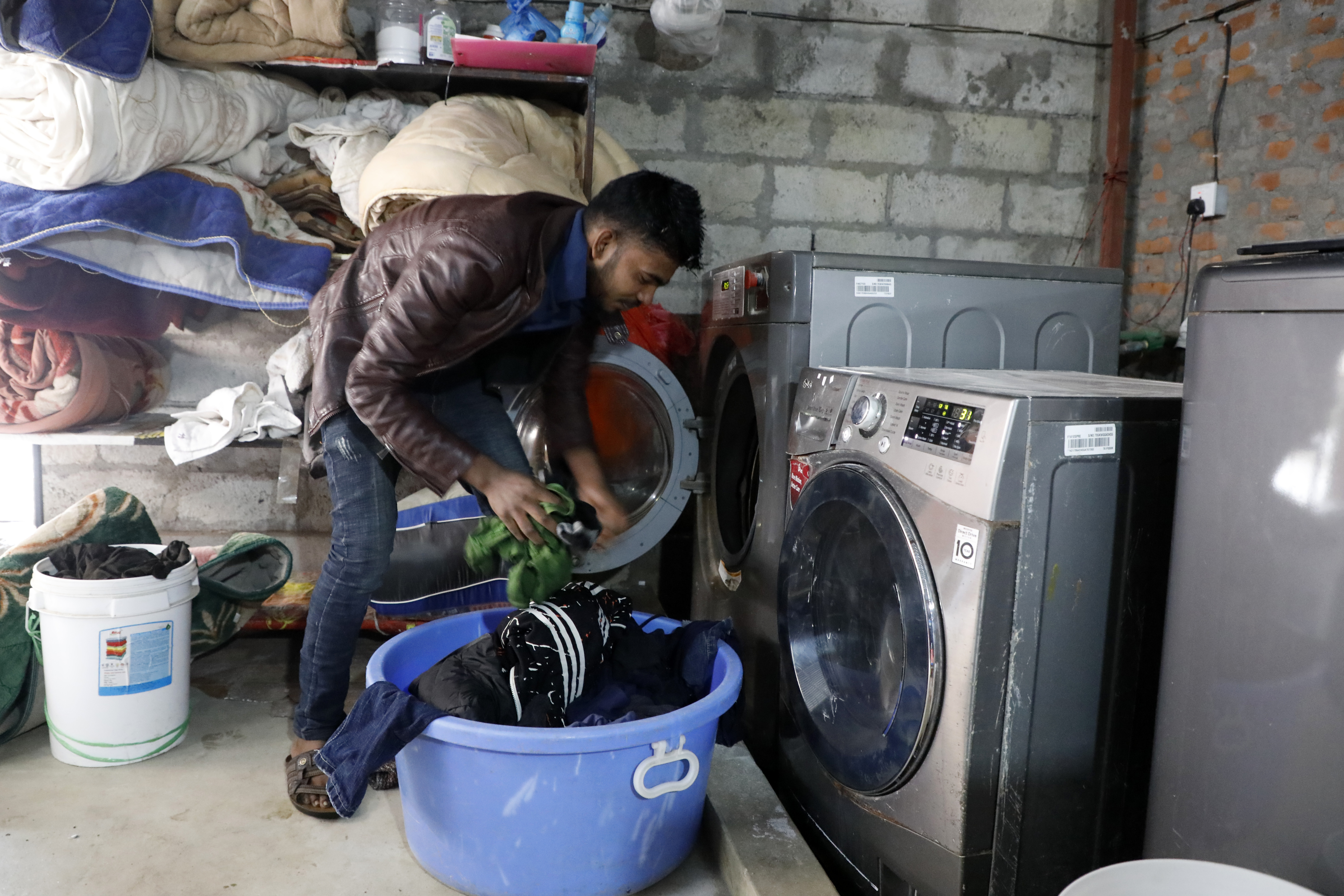 Dirty clothes are then treated and washed. Hemanta Shrestha /TKP
"At present, we are witnessing good profits and are operating at maximum capacity with the existing manpower and machines not able to handle wash load of over 200 kilograms and the quantity is still not even one percent of Kathmandu's daily laundry requirement," said Karn. "We plan to open 10 collection centres in major areas of the Valley and expand our capacity to 1,000 kilograms per day within a year."
The facility which operates at maximum capacity has 11 employees working in three shifts — day, night and part-time. The part-time employees iron and fold the ready to be delivered consignments while the majority of the washing happens during the day and night shifts.
Washmandu has subscription plans for households and the rates differ depending on the size of the family. At the same time, it runs two models of service delivery, normal and express. According to Karn, if an express order is placed before 10 in the morning, Washmandu will treat, dry and deliver the clothes within eight hours of pickup.
Apart from handling online orders, the facility also sees a steady stream of foot traffic from nearby residents who walk right in with their laundry instead of sending a request online, skipping the pickup process.
As Karn was laying out the construction and expansion plans, 20-year-old Mukunda Khadka, a 12th-grade pass out walked in with a friend and a rugged down jacket.
"I have been here countless times and the service is above par and the cost is also not that high," said Khadka.
Another regular customer, Anil lama who runs a printing business followed the 12th grader and corroborated the aforementioned statement before walking out happily with a large bag of treated clothes.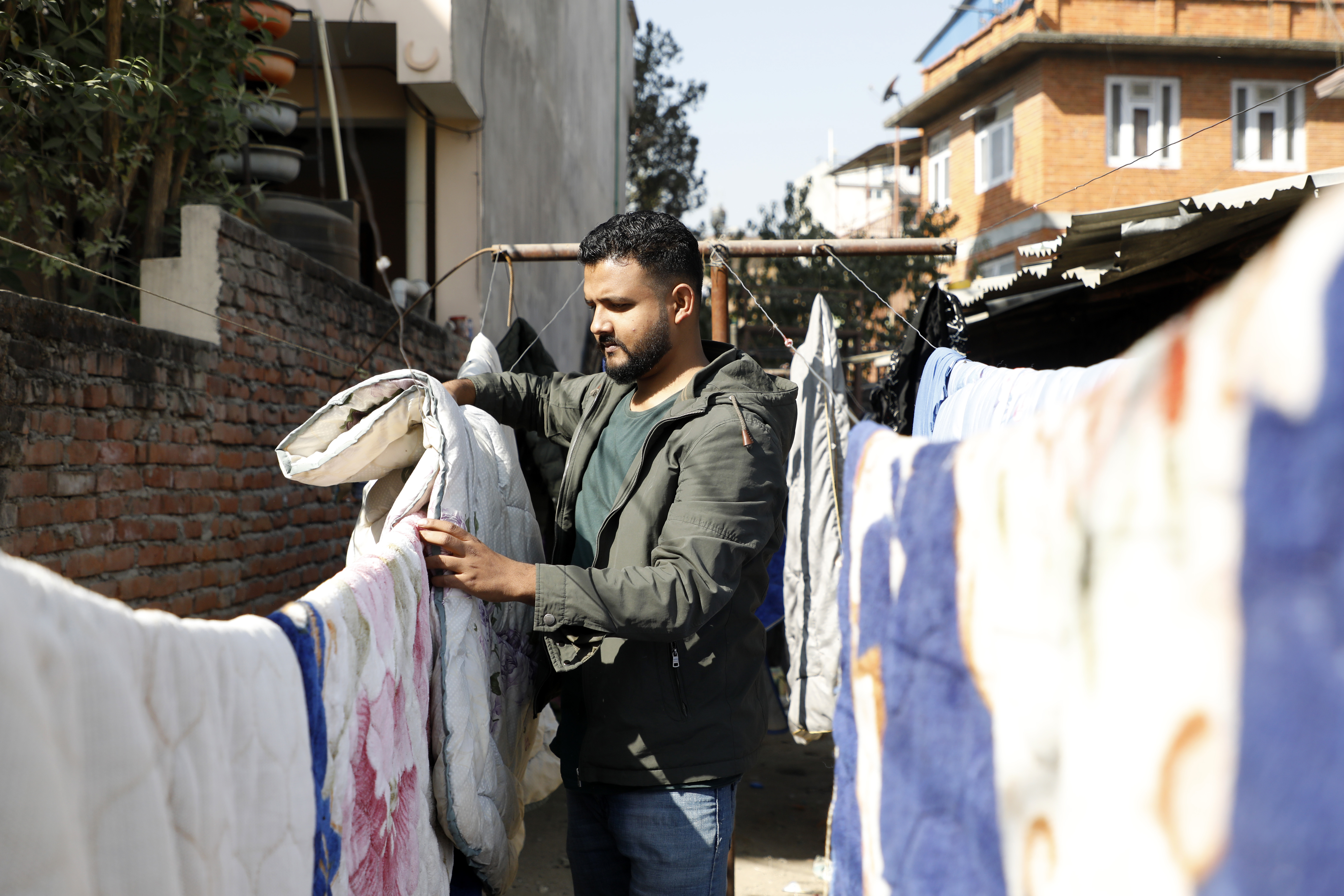 Mrigendra Karn, founder of Washmandu, hangs clothes. Hemanta Shrestha /TKP
"We have received minimum complaints on quality as we use high-quality detergent and cross-check every piece of tagged clothes out of the dryer before delivering it," said Karn while scrolling his phone to show a letter of appreciation placed inside a consignment from one of Washmandu's regular customers, who he and Chaudhary know by name, Lisa, a foreigner.
The letter read, "Washmandu, we think you are amazing, those who are washing our clothes today we bless you and thank you for doing such an amazing job."
However, customer reactions are not always rainbows and butterflies with some irate customers slamming the facility in its facebook page for not clarifying service terms, missing orders and even staining and misplacing clothes.
"I took an appointment for the pickup of my clothes for the time slot of 9-12 this Friday, however, I neither got the confirmation mail nor the rejection mail/information," wrote one unsatisfied customer. "One of your employees today told me that we could give pick up service if you have 20+ clothes. Have u specified these things in your advertisement?"
Another disgruntled regular customer wrote, "Since I have a lot of laundry daily, I called Washmandu like any other laundry service but when I got my laundry, it had stains and some of my clothes were missing. They still haven't brought my missing clothes...You didn't hurt the dirt but you 'hurt my imported shirt'."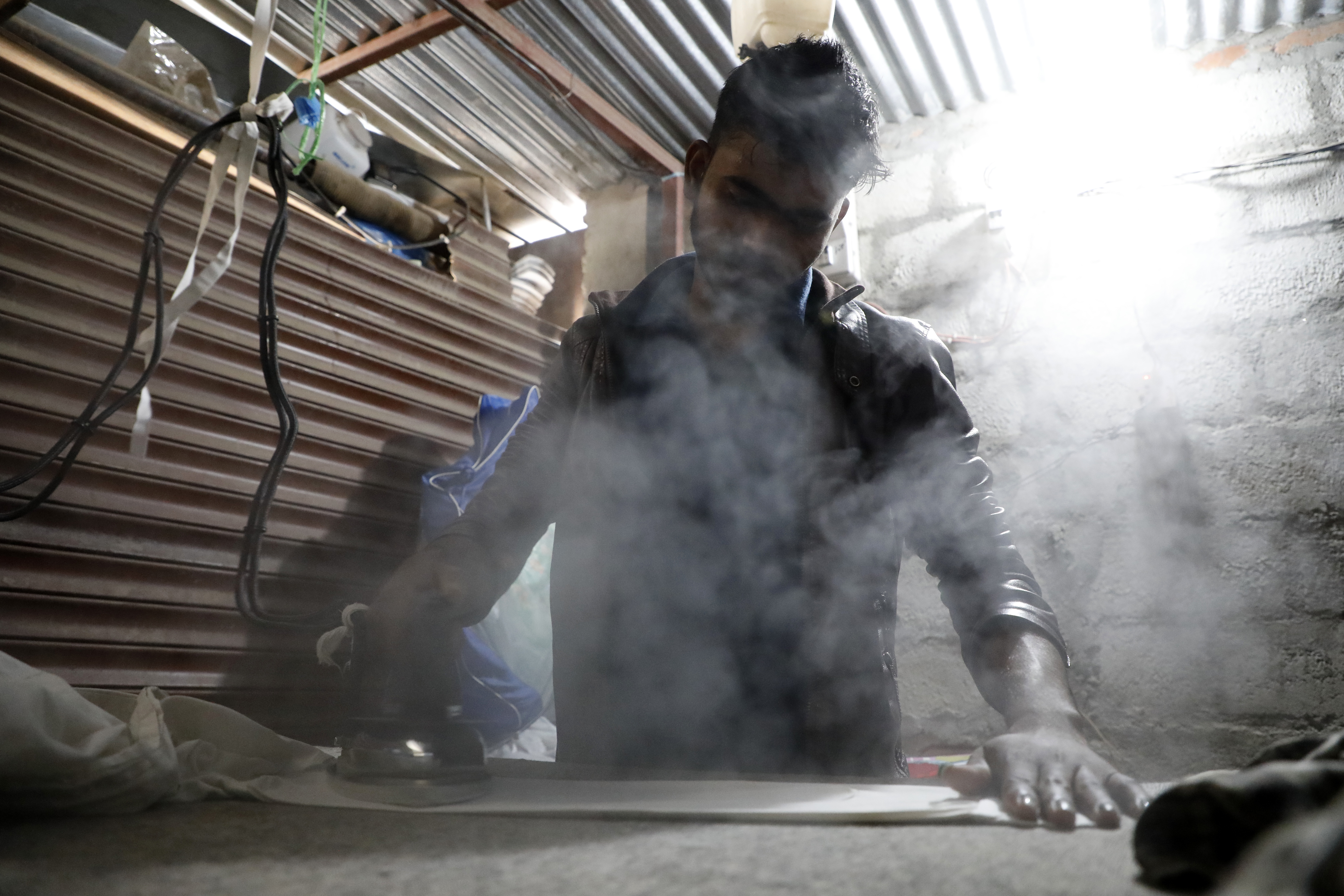 A worker folds and irons clothes before delivery. Hemanta Shrestha /TKP
When asked about the negative comments which surfaced over 30 months ago, Karn admitted that there were operational efficiencies due to multiple factors including, size and scope of the business, water quality, and Kathmandu's perennial traffic.
"We lost many customers because of the high iron content in water staining the clothes. But when we identified the problem, we installed large water filters to prevent future incidents," said Karn. "Also we were operating in only a 5-kilometre-radius as we had less manpower or pickup vehicle at the time. But now, we have expanded the coverage and provide delivery free of any additional surcharge. These days we notify faraway customers that we can only make bulk pickups to adjust for gas expenses to haul the clothes back and forth."
As for the missing item problem, the business has now come up with a paper tagging system for each piece of individual clothing.
However, timely delivery and pickup still bug the company thanks to the unpredictable traffic in the city.
"We hope to tackle the traffic issue once we begin our expansion and open the planned collection centres and also take more orders after increasing the capacity of the facility with the addition of large washing and drying machines along with a three-phase electricity connection," said Karn.
---
---