Nepal trekking start-up company ups its ante in the cut-throat travel business
MountainKick has hired veteran tour operators and guides to enhance foreign travellers' trekking experiences.

The company runs itself from a small space in Nayabazar and the tour logistics including guides, porters and accomodations happens through online channels and over the telephone, saving paperwork and hassles for both travellers and operators. Photo Courtesy: Mountainkick
bookmark
Published at : November 3, 2019
Updated at : January 23, 2020 12:51
Kathmandu
Gourav Basnet, an IT under-graduate and an MBA dropout, entered the cut-throat world of travel business in Nepal about a decade ago after realising that his true calling lay in organising mountain treks.

Working as a marketing professional for a renowned travel operator for five years learnt the tricks of the trade. He realised that to run and sustain a trekking company in Nepal, he needed to build a strong virtual presence and a team of highly experienced professional working in tandem.

In 2017, Basnet became the founder chief executive of MountainKick, a trek operating company and now his team comprising veteran tour operators and guides run the venture which has been rated 'excellent' by 98 percent of its clients on one of the world's largest online travel agencies - TripAdvisor.

"Any aspiring trekking entrepreneur must realise first that they do not need to run adverts on mountains of Nepal but build a super-strong virtual presence of their business," says Basnet. "Without a strong knowhow of handling customer relationships online and without enriching a client's travel experience, it is better not to start a travel company."

According to the MountainKick team, after years of exploring the Himalayas as travel enthusiasts, they realised that the company had to go beyond the greed and share the 'kick' that they themselves had experienced while exploring the mountains.

So, what does it take to become an excellent trek service provider in a country mired by fake rescue scams, lengthy processes, unhealthy price wars hurting the highly sensitive tourism industry amid small fishes like Basnet's company?

In the words of Dave Milner, a recent visitor to Nepal, "The trip with MountainKick was exceptional in every way, exceeding expectations. The organisation, service, administration, accommodation, and value for money; outstanding."

To make things 'exceptional' and 'outstanding', the company needed to begin with getting highly-experienced professionals who could get down to the nitty-gritty of bringing in tourists to Nepal through the company and personalising the trips. And it did.

"Starting a travel business in Kathmandu where every second building in tourist-hub of Thamel has a tour operator needs a lot of experience and it is not a one-man-show," says Basnet, who has trekked thrice to Everest Base Camp to gain insights on improvising treks for foreigners. "MountainKick began with a team of professionals including guides who were involved in the industry for over two decades."

In its starting days, the company didn't just open an outlet and waited for potential visitors to visit its websites, it cashed in on a clientele base which its founders had formed over the years and somehow managed to get listed with worldwide online travel agents.

"We had our access to a client base of regular visitors, but it was not enough to drive the company towards sustainability," said Birendra Pant, co-founder and executive director of MountainKick.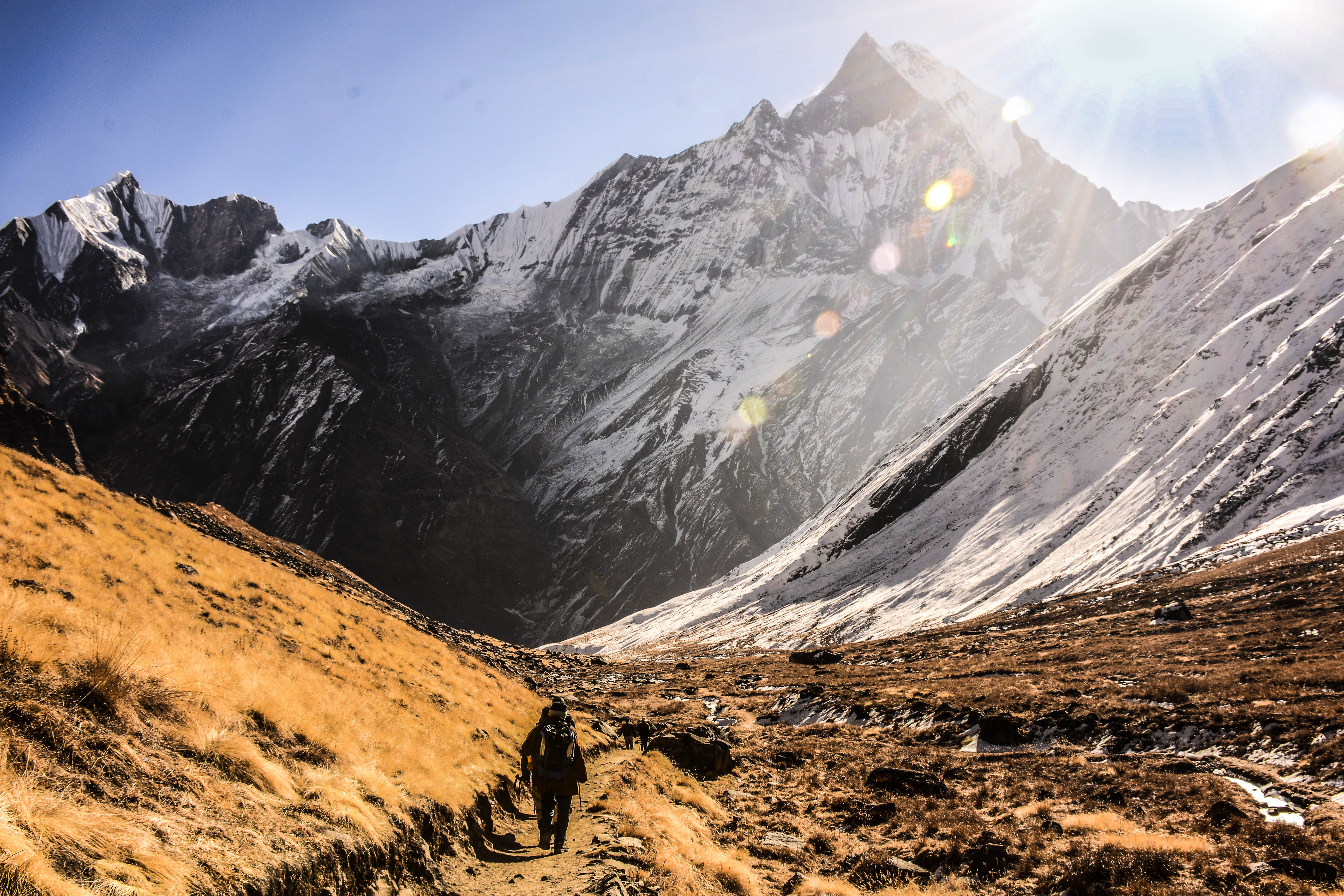 As a solution, the company invested heavily in Search Engine Optimisation, knocked on the doors of travel agencies like TripAdvisor and TourRadar seeking business-to-business affiliations and hired offshore foreign nationals as company representatives who happened to be travelers to Nepal and were ready to help the company grow.
However, the company has not been able to get itself affiliated with other global agents owing to poor legal reforms and lack of insurance services for tourists in Nepal.
The online travel agents seek liability insurance coverage by travel operators for foreign tourists which Nepali operators cannot provide at present. That's been hurting chances of favorable B2B tie ups and credibility.
Nonetheless, there are other ways that can sustain a travel business here.
According to Pant, it is certain that Nepal will witness influx of tourists without state-run campaigns as mountains sell themselves but a travel company has to make it certain that it is their website and content that makes tourists lap up the opportunities they have to offer.
"As for big operators, they can take part in travel marts across the world promoting their packages. For small startups like us, we have to build a website that is super-informative, super friendly and has content that hooks in the potential clients," said Pant. "But the things don't end there. If you don't deliver what you promised on the website, you will see one bad online review tumbling your bookings within a day."
MountainKick, which also faced operational cost issues in its initial days found a solution: minimal physical presence.
The company runs itself from a small space in Nayabazar and the tour logistics including guides, porters and accomodations happens through online channels and over the telephone, saving paperwork and hassles for both travellers and operators.
Asked if the future of travel business rests on going fully-virtual, Basnet said it is crucial, but Nepal is not yet ready for it.
"Our laws mandate businesses to have a physical setup and that has hindered travel businesses from going fully online," said Basnet. "As tourists do not require over the counter interaction with travel operators, acknowledging virtual presence will open doors for many aspiring travel entrepreneurs to run things from home or anywhere, but that can also degrade the quality of service which in turn, would hurt Nepal's reputation."
Also, with the unhealthy price war and unethical practises undertaken by the big fishes of trekking business in Nepal, small companies like MountainKick have faced troubles.
"Some companies have offered Everest trek packages at a cost lower than air fares to attract large volume of tourists and while those companies recoup the lost money of such packages by running rescue scams, smaller companies who do things right, lose out on business," rued Basnet.
---
---