Juni Rai looks to ease the painful memory by clinching wushu gold medal
In the last three South Asian Games, wushu has won five gold medals including two each in the 10th and 11th edition.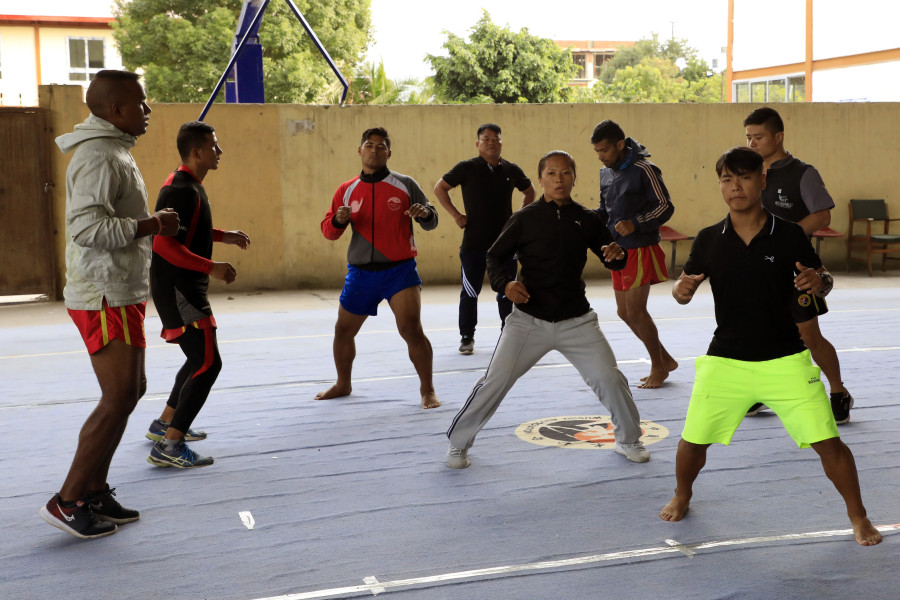 Nepali wuhsu player Juni Rai during a training session at Dashrath Stadium premises in Tripureshwor, Kathmandu. Post Photos: Hemanta Shrestha
bookmark
Published at : September 18, 2019
Updated at : September 19, 2019 18:03
Kathmandu
Nepal Police Club wushuka Juni Rai is out to erase the painful memory of the 12th South Asian Games in 2016 by going one better this time by winning the gold medal. Rai had lost the sanshou title bout to an Indian opponent in India.

The 28-year-old lost the women's 60kg sanshou final in 2016 but now will compete in the 56kg division when Nepal hosts the sub-continent sports meet on December 1-10 in Kathmandu and Pokhara.
"As the 56kg category was not included in the last Games, I had to compete above my division," said the athlete from Ilam recalling the defeat in the final as one of the most painful memories in her sports career. "I am working really hard to finally realise my dream. I have also now matured as a player than what I was in 2016," said the Assistant Sub Inspector of Nepal Police.
Unlike many other athletes, Rai took up the sports too late. She turned to the sports in 2010-11 when she was 20 years old. She got the feel of the sports when she arrived in Birtamode, Jhapa, to pursue her higher secondary education. It took her no time to excel in the game. She was able to win a silver medal in the very first tournament she participated: the Sixth National Games in March 2012. In June 2013, she claimed the gold medal during the Ninth National Wushu Championship. Ever since she has not lost a single bout in the domestic circuit, claiming six more national-level gold medals.
"Competing on home soil will be an added advantage this time. Besides, I am a far better player than I was in 2016," said Rai who is in the closed camp training since August 1. She believes her speed, wrestling skills, ability to kick and punch have improved a lot. Rai is a bit frustrated, however, over the lack of proper equipment for training. She also believes abroad training and competitive match exposures will be key to Nepal's chances of winning gold medals.
"There's World Championships on October 19-21 in China. If we get the opportunity to play there, it will not only allow us to measure ourselves but also help get the general idea of what to expect in the Games in December," said Rai.
National Sports Council wushu chief coach Ambar Kumar Theeng also lamented on the lack of equipment for training. "We will have to compete in the Taolu arena during competitions but we had to do with mat during training in the absence of such a facility. There is a huge difference while balancing yourself in an arena and mat surface. We have notified it to the National Sports Council," said Theeng, who is unaware as to when they get a proper wushu arena.
Besides mat, the wushu team also lacks proper training stick (kunsou), sword and javelin (chemsu). The dearth of training venues besides a semi-covered hall at the Dashrath Stadium is also a big concern for wushukas. Even the ones that is in use gets interrupted by rainfall.
But despite all the odds, Theeng is hopeful of pulling the best ever results in the Games. Wushu was one among the three gold medal earners in the last Games in India. Wushu was in the Games since 10th edition in Colombo in 2006. Wushu has not missed out on winning gold ever since.
In the past three editions, wushu has won five gold medals including two each in the 10th and 11th (2010 Dhaka) edition and one in the last edition. The sport fetched 15 silver and three bronze medals in just three participation. Nepal remarkably lost 10 gold medal contest in the last South Asian Games, losing to Indian opponents in most of them.
Theeng roughly predicts Nepal to win at least win five gold medals this time around. "India are the competitor and we should realistically look for a minimum of five gold. Our coaches standard has also gone high," said coach Theeng, who has Ganesh Prasad Aryal, Prakash Bahadur Lama, Mohan Bahadur Pandey, Bimal Thapa, Manjur Maharjan and Tusli Nanda Bajracharya as his deputy.
Wushu offers a total of 17 gold medals in the Games including eight in men's sanshou (fight) and six in women's sanshou besides one gold each in taolu (stick and sword), taijiquan (mixed team) and changquan (bare hand).
---
---