Indie games you might have missed
While both big and small developers have kept us entertained, some interesting, smaller indie titles have managed to go unnoticed. Here are some of them.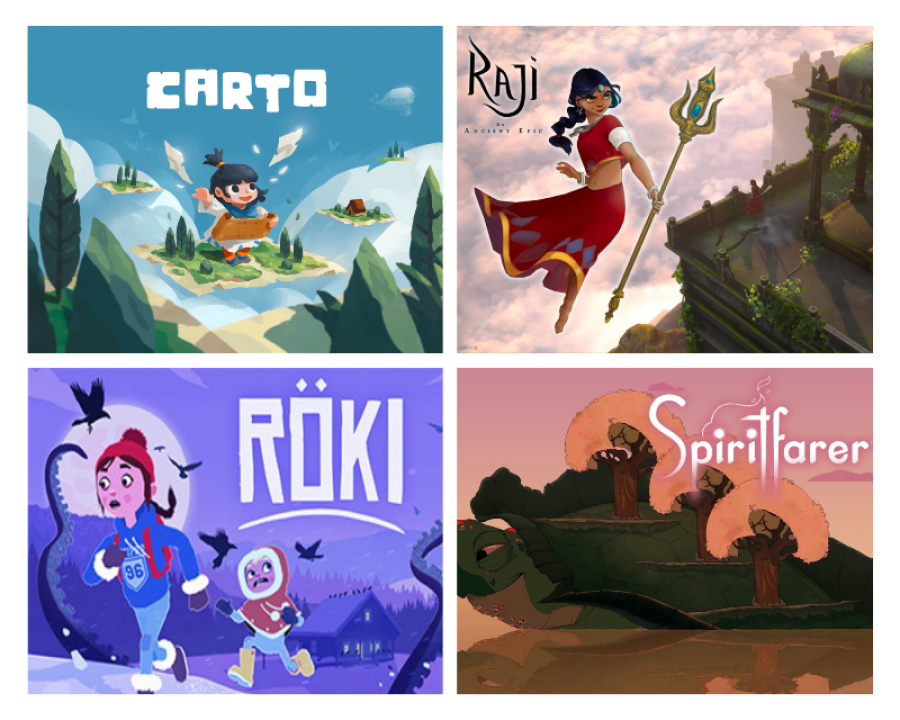 These games kept us company amidst uncertain lockdowns and work-from-home orders. Screengrabs via YouTube
bookmark
Published at : February 2, 2021
Updated at : February 2, 2021 08:05
Kathmandu
The year 2020 was not easy, to say the least, but through the eccentricities of the past year, some really good games kept us company amidst uncertain lockdowns and work-from-home orders. Some really good AAA games like DOOM Eternal, Dragon Quest XI, and Ghost of Tsushima have kept us entertained during our time at home, and we also revelled in the indie charms of games like Hades, Ori and the Will of the Wisps and Animal Crossing: New Horizons. While both big and small developers have kept us entertained in 2020, some great, interesting smaller indie titles managed to go unnoticed. We take a look at some of these games as we get ready for the numerous titles to come out this year.
Carto
Carto is a game about maps. It doesn't have battles, difficult platforming puzzles or even death. Throughout the game, you play a young woman with the power to change landscapes and worlds through a jig-saw like map. You can move, rotate and place various map pieces creating a path for your character to transverse the world, meeting colourful characters, cultures and customs, while leading the young protagonist back home. Carto is about the journey home through gorgeous hand drawn worlds lush with colour and quirky characters that give life to the charming world. Carto is as easy on your mind as it is on your hardware; this meditative game should work on your not-so-great laptops easily.
Raji: An Ancient Epic
Raji is a game developed by our neighbours to the south. Developed by Nodding Head Games, a studio based in Pune, Maharashtra, the game borrows heavily on Hindu mythology, most specifically the Mahabharata and the Gita. Many eminent figures like Vishnu and Durga accompany Raji through her journey to rescue her brother from the demons. The game has Raji transverse beautiful Indian landscape and architecture while battling hordes of demons. The game has a very unique Indian flavour to it, with cut-scenes drawn out with puppet silhouettes in an ode to the country's culture of shadow puppetry and frescos peppered throughout the game mimic images of Hindu mythology.
Raji is a gem to play and to experience. Rarely do we see games set to South Asian mythology and when done right, it looks like Raji. A must play if you've missed this one.
Roki
Roki is very similar to Raji in terms of narrative. In Roki, you play as Tove, a young girl on a mission to save her mischievous brother from the clutches of a monster. But while Raji takes place in South Asian mythology, Roki put you in the center of Scandinavian folklore filled with mythical monsters. While Raji has a fast-paced battle system, Roki follows a slower point-and-click adventure gameplay with object puzzles that will have you pixel-hunting various parts of the game's beautiful shell-shaded world for the exact item you need to pass a gate. The puzzles aren't all easy however, and you will find yourself thinking hard to solve a puzzle. But while the gameplay can get a bit rote after a while, the well-crafted narrative keeps players engaged. The journey to find her brother leads Tove into the deep pockets of her psyche where she is forced to come to terms with her sense of grief, abandonment and fear. Roki is an emotional roller-coaster ride painted beautifully in front of a myriad of unusual monsters.
Spiritfarer
Spiritfarer is a narrative-adventure game that has you play the part of a Spiritfarer, a being that transports lost spirits to their final rest. You play as Stella, accompanied by her cat Daffodil, as you take on the responsibilities of a ferry master. As the new spiritfarer, you will have to find spirits, upgrade your boat, and explore new islands. While there are plenty of things to do in the game, like crafting, cooking and resource hunting, the strongest aspect of the game would most definitely be the narrative. Each ghost you meet is a unique character with their own life stories before death, understanding these characters helps Stella make their stays in the afterlife more comfortable and the final hug before sending them to the final resting places pulls at your heartstrings more than a few times. The game can feel a bit grindy towards the end with plenty of management tasks to undertake but its charming cast of loveable, anthropomorphised and well-written characters makes the game a wonder to play despite with little hiccups.
The Pathless
Pathless is a bit bigger than the other linear games mentioned here since it's open-world with a lot of interesting areas to explore. Unlike other open-world games, however, Pathless focuses strongly on fluid movement and archery. In the game, you play as a mysterious hunter tasked with lifting the curse off an island. As a master archer, the mysterious hunter runs and dashes her way across the game's beautifully rendered landscapes, shooting floating gems scattered across the land with her bow. The fluidity through which the hunter makes her way across the land makes movement really fun and without having to aim accurately, forces players to focus more on the run. There is plenty to do in the world however, with many environment puzzles to solve and many interesting bosses to kill and interesting ruins to explore. The game's delightful movement system paired with gorgeous landscapes of the game make the world a joy to transverse through while the layered puzzle system works great in balancing the pace of the game. The Pathless might not have the best story, but the unique gameplay mechanics make it a must play if you've missed it.
---
---