'Trash can' to 'cheese grater': Powerful new Mac Pro is no joke
Apple has done its best to make people forget about their 'trash can' debacle, with its latest Mac Pro.

The new Mac Pro boasts immense power, but an equally immense price tag. Photo courtesy: WikiMedia Commons
bookmark
Published at : January 27, 2020
Updated at : January 27, 2020 18:05
For six years, Apple has refused to update its Pro line of computers. Ever since the "trash can" Mac was introduced in 2013, creative professional dedicated to the Apple eco-system suffered performance impacting thermal performance, while also getting limited by sub-par hardware. For years, Apple offered the horribly engineered trash can-shaped Mac as their highest spec professional Mac, which forced many to move from Mac to PC workstations, which provided them the horsepower and customisability they needed.

Answering the prayers of many professionals, Apple released a redesigned Mac Pro towards the end of 2019. With the refreshed design, Apple went all out, chucking out the small, compact, consumer-focused design of 2013 for a massive tower weighing a hefty 18 kilograms. Following classic Apple design, the new Mac Pro is built completely out of aluminum and stainless steel with a cheese grater air-inflow design harkening back to the original 2006 Mac Pros.
Like all Apple products, the Mac Pro is designed extremely well, and even over-engineered in some aspects. The aluminum chassis comes off as one single piece, providing full 360-degree access to all the computer's internal components. Held together by a single circular latch atop the frame, the Mac Pro is really simple to get into. All the internal components are also held together by well-designed latches and access to all of the computer's internal components are easily user-replaceable and -upgradable. This comes as a welcome surprise to Apple fans who have been locked into factory specifications through soldered-in internal components. Apple's atrocious approach to repairability and upgradability has been a constant problem for professionals who wanted access to leading components that resided outside of Apple's hardware offerings.
With the new Mac Pro, however, this changes. The Mac Pro is built to be modular. Everything within the tower can be replaced, even the processors. Apple's Mac Pro motherboard is massive, covering almost the entirety of the 20.8 inch height of the tower. It's double-sided too, with one side offering massive expandability through its eight PCI-E slots while the other side houses all storage capabilities, such as RAMs. Unlike traditional tower PCs, the Mac also doesn't have any power supply wires connecting each individual piece of the computer. Everything within the computer is powered through a massive motherboard, through an Apple engineered power supply that directly plugs into the motherboard itself. The power supply is also nothing to scoff at, with 1.4 kilowatts, which will easily power anything you plug into it. In the base configuration, the power supply is going to be overkill but does support expandability, unlike Mac Pros of yesteryear. They used to be so weak, people had to DIY an external power supplies into their Macs to power upgraded components.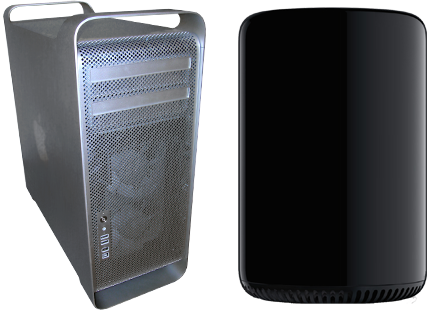 Previous models of the Mac Pro have been slated, including the 'trash can' launched in 2013 (right). Photo courtesy: WikiMedia Commons
Thermally, Apple has decided to passively cool all of the internal components of the Mac Pro. The CPU doesn't have a dedicated cooler, nor does the GPU, rather everything is cooled through the case that has three large air-intakes behind the perforated design in front. The front inflow design is also designed to mimic a naturally occurring phenomenon in molecular crystal structures. In practice, the Mac Pro is very well cooled even when equipped with high performance CPUs and GPUs. A rear exhaust fan also helps air flow by directing hot air through the back.
Apple has finally managed to fix thermal issues in their high-performance computers, and have managed to make it as whisper-quiet as their design principles dictate, but what about performance? The main reason why professionals ditched Apple in the past was because the company failed to provide the high-performance specifications many workloads demanded. Well, the 2019 Mac Pro is a workstation computer through and through. The Mac is now equipped with Intel Xeon W workstation grade processors that can be configured up to 28-cores with 52-threads. The RAM configuration supports up to 1.5 terrabytes of DDR4 ECC memory which runs at an insane speed of 2933MHz. Apple also offers the best graphics cards designed until now, with the AMD Radeon Vega Pro II Duo and two Vega Pro II chips baked into one, with an Infinity Fabric link that connects the two chips together. While this configuration is already insanely impressive, Apple provides an option to stack two of these graphics for a total of four GPUs with a total HBM2 memory of a whooping 64GB (32GB each). Apple also offers an Afterburner card for the computer, which can help video editors by natively supporting 3 streams of 8k ProRes RAW and 12 streams of 4k ProRes RAW. With the Afterburner card installed, the Mac's CPU performance dropped to a mere two percent during 8k video editing.
Because of the incredible eight PCI-E slot expansion, users can easily configure or upgrade the Mac Pro with off-the-shelf components not endorsed by Apple. The computer does have a T2 security chip however, that encrypts all storage which is why the SSD storage needs to be Apple certified for it be to compatible with the computer. So if you're investing in a base model, the SSD storage is probably the only thing that you might not want to skip out on if you're planning upgrades later down the line.
All of this power doesn't come cheap however and the base-model with a 8-core processor, 32 GB of RAM, Radeon Pro 580x, and 256 GB of SSD Storage will cost an insane US $5,999 (Rs 690,000). If you opt for everything, and add an Afterburner card, the cost rises to a preposterous US $53,399 (Rs 6.1 million). Keep in mind these costs are only for the tower without a display, Apple's complementary Pro Display XDR will cost you another $4,999 for the base model.
Considering the price of the computer, the Mac Pro is definitely not for everyone. Who is it for then at such exorbitant prices? Well, considering just how powerful and impressive the Mac Pro really is, dedicated professionals and creative companies should benefit from the insane performance that the Mac Pro provides. Because of the price alone, these computers are certainly out of reach for those seeking a personal computer. But the price is easily going to be swallowed by big business or multi-million dollar production budgets. Regardless of the price, Mac Pro is a seriously impressive computer from Apple that easily caters to the performance needs of creative professionals while going a whole yard more, with an equivalent price to go along with it. The only question remaining is whether creative professionals are willing to embrace Apple after the whole "trash can" Mac Pro debacle. Apple is not joking around anymore with the release of this beast of a machine.
---
---