Farmers prosper after growing chillies to be free of marauding monkeys
Asparagus and chilli are in great demand in the cities. Farmers hope to earn Rs9 million from the crops this year.

A slope in Palpa that has been turned into an asparagus plantation. Madhav Aryal/TKP
bookmark
Published at : July 3, 2022
Updated at : July 3, 2022 10:36
Palpa
Devka Bashyal of Bagnaskali Rural Municipality-8, Barangdi gave up growing maize on her small farm as monkeys were raiding the crops all the time.
The growing macaque population in the area was becoming a serious problem after the animals began entering homes in the village in search of food. Besides monkeys, porcupines have been invading the farmers' fields too.
So the harassed villagers decided to grow something the marauding animals would not eat.
For two years now, Bashyal has been growing a very potent variety of chilli known as habanero (akabare) and asparagus, which the crop raiders do not touch. "The wild animals don't like these crops. They don't eat them," Bashyal said.
A local cooperative named Bagnaskali Multipurpose introduced the chilli and asparagus farming programme in the village as a solution, which has brought peace of mind to the villagers.
"I didn't earn much in the first year, but this year, I made more than Rs250,000," said Bashyal. "If I had planted maize and other crops, I could not have protected them from the wild animals."
Another farmer, Lal Prasad Bashyal, of Barangdi was surprised to see his neighbours planting asparagus and chilli instead of the usual maize and millet crops.
Seeing the sense in their ways, he also switched to asparagus and chilli. "It's easy to protect these crops from animals, and you can make good money from them too," he said.
Animals like monkeys, porcupines, deer and boars swoop down from the surrounding forests and spread out over the fields. They had been terrorising farmers for decades.
Now more than 200 farmers in the rural municipality grow asparagus and chilli, which are in great demand in the cities. They expect to sell Rs9 million worth of pepper and the vegetable this year.
The cooperative is helping them with market access too. The region is becoming known for its commercial chilli and asparagus farming.
But it took some time to get there.
"It was difficult to convince the traditional farmers in the beginning," said Krishna Prasad Bhusal, chairman of Bagnaskali Multipurpose Cooperative. "Habanero or akabare used to be cultivated only in the eastern hill districts."
Now a majority of farmers in Palpa are attracted to commercial farming of these two high value crops. Each farmer has planted 6,000 to 15,000 chilli seedlings. Asparagus farming has also flourished, Bhusal said.
The farmers have signed an agreement to supply chilli to a number of noodle companies in the southern Tarai.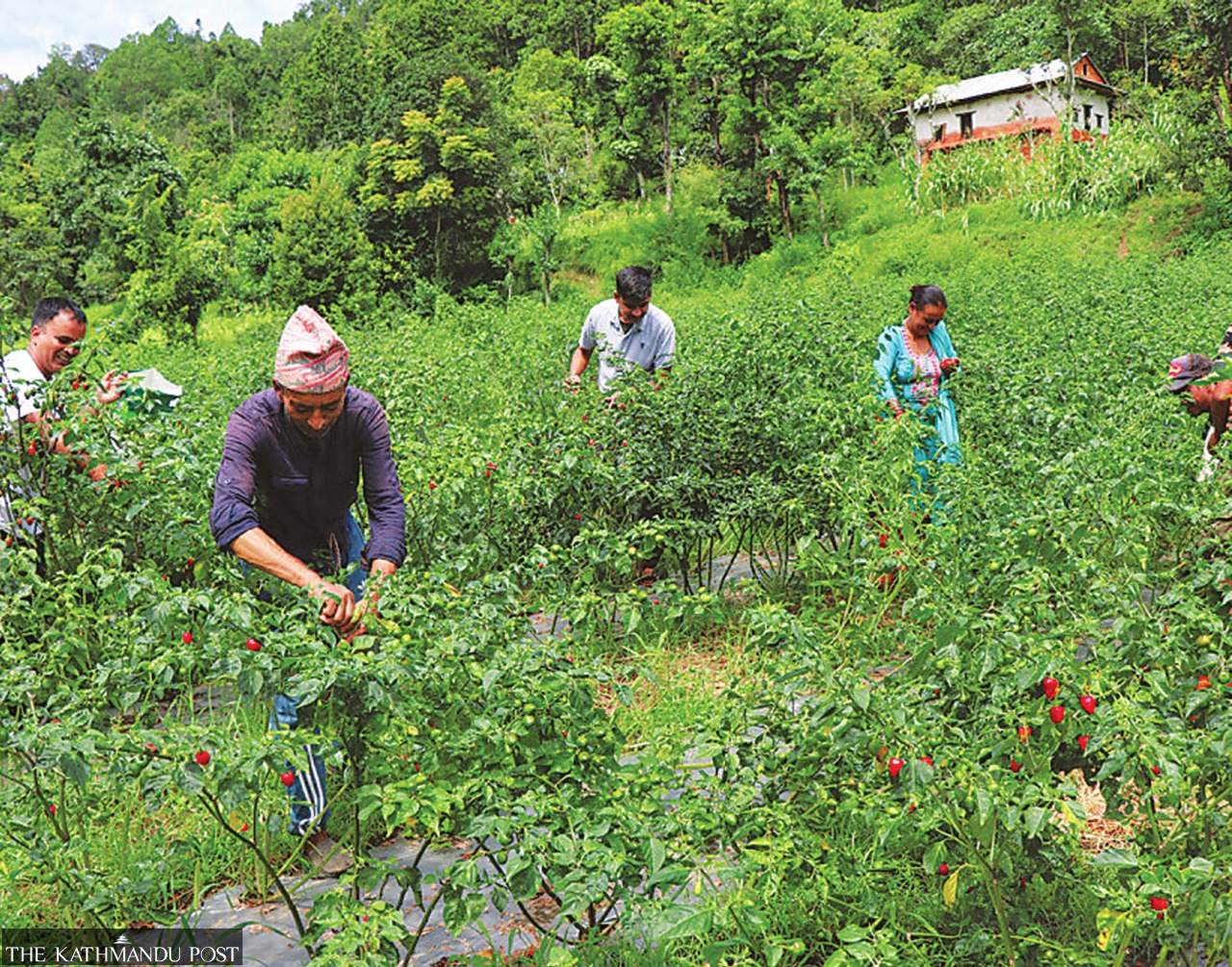 Lately, farmers around the country are growing akabare chilli peppers commercially for the crop's growing demand in Nepal and beyond. Post File Photo
"But the market for asparagus is still small," said Bhusal. "High production has led to a glut as the usual market in Tansen could not absorb the entire output. We are exploring markets for asparagus."
Bhusal said the cooperative had assured the farmers that their harvests wouldn't go to waste and they wouldn't have to sell them cheaply.
Deepak Bhattarai, senior agriculture development officer at the Prime Minister's Agriculture Modernization Project Implementation Unit Office in the district, said the farmers had benefited from the land pooling programme launched by Bagnaskali Multipurpose Cooperative.
"Initially, we were worried that the farmers wouldn't agree," Bhattarai said.
Production is expected to be good this year due to timely rains. Last year, 3.9 million chilli saplings and 500,000 asparagus saplings were sold in Barangdi alone.
"For the next crop cycle, we are planning to sell 9 million saplings," Bhattarai said.
Habanero sells for Rs300 per kg in the local market. Asparagus sprouts are being sold for Rs400 to Rs500 per kg.
Bhattarai said they were getting orders from Tansen, Butwal and Bhairahawa.
In the previous fiscal year, farmer Janak Acharya of Ribdikot Rural Municipality-7, Palung Mainadi, sold chillies worth Rs5 million.
This year, Ribdikot Rural Municipality has provided a subsidy for distributing 1.25 million habanero saplings.
"We have talked to some noodle companies for a supply contract," said Narayan Bahadur Karki, chairman of Ribdikot Rural Municipality. "But I do not think the noodle companies would buy all the chillies. We are in talks with other traders as well to sell the red chilli."
According to Karki, the Ribdikot area alone produces 1,000 tonnes of red chilli during one crop cycle.
Last year, farmers started planting habanero as a trial in Mainadi of Palung Mainadi, Rupse of Mathagadhi, Charchare of Tinau and Barangdi of Bagnaskali.
More than 200 farmers have planted it.
Ranjiv Kunwar, chief of the agriculture office of Ribdikot Rural Municipality in Lumbini Province, said that commercial farming flourished this year due to the good yield.
Chilli has been cultivated on 400 ropanis in Mathagadhi Rural Municipality-2, Rupse, this year. One farmer in Palung Mainadi has planted chilli on 190 ropanis of land.
The Prime Minister's Agriculture Modernization Project Implementation Unit, Palpa, has encouraged farmers to plant chilli through a land pooling farming programme. "This has been attracting returnee labourers," said Kunwar.
Farmers say one plant produces at least 2 kg of chillies.
Tulsiram Bhusal, chairman of Madi Multipurpose Agriculture Cooperative, said that 33 farmers of Rupse planted chilli in the first year. Another 30 joined chilli farming this year.
Tara Pandey, who lost her job in India due to the coronavirus pandemic and was forced to return, is making a good income by cultivating chillies commercially.
She earned around Rs600,000 by growing the pepper on 4 ropanis.
Krishna Bhattarai, secretary of Madi Multipurpose Agriculture Cooperative, said that the programme was launched with an aim to develop Rupse as a chilli pocket area.
According to the Prime Minister's Agriculture Modernization Project, land pooling has been done by farmers' groups, cooperatives and private firms as well to produce chillies.
Farmer Ram Chandra Nepal of Rupse said he faced no marketing problems. "We decided to cultivate chilli to be free from wild animals. We brought the plants from Ilam," he said.
Janak Acharya, director of Triput Livestock and Agriculture Multipurpose Farm in Ribdikot Rural Municipality-7, has leased land and planted red savina pepper.
"I have cultivated chilli by leasing land from six households," ​​Acharya said.
---
---