67 vultures found dead in Parasi
Preliminary investigation shows that the vultures died after feeding on the carcasses of dogs that were probably poisoned to death in Nawalparasi (West).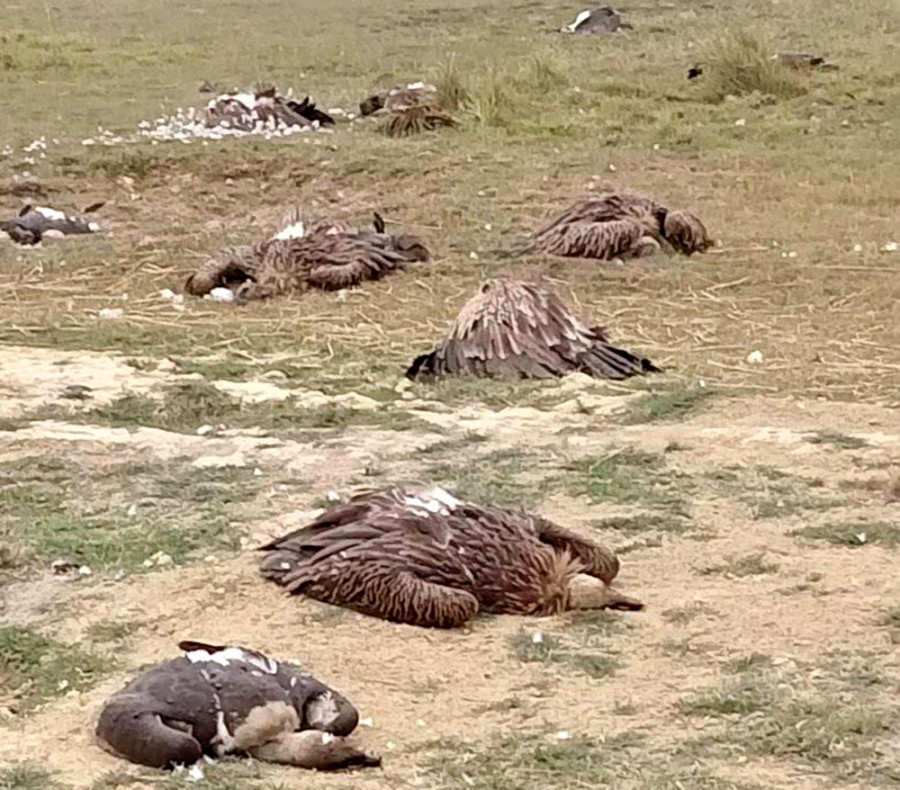 Nabin Paudel/TKP
bookmark
Published at : April 21, 2021
Updated at : April 22, 2021 08:11
Parasi
As many as 67 vultures of various species were found dead at Jitpur of Ramgram Municipality Ward No. 4 in Nawalparasi (West) on Wednesday. The rare birds were found dead near a local pond.

According to Bharat Kafle, chief at the district livestock service expert office in Nawalparasi (West), 33 white-rumped, 31 himalayan griffon, two cinereous vultures and one slender-billed vulture were found dead on Wednesday. Investigation is underway to find the cause behind the death of those vultures, said Kafle.
"One himalayan griffon was found ailing in the area. The bird is undergoing treatment at the moment," he said.
Meanwhile, the remains of two dogs were found where the vultures were lying dead. The carcasses of two other dogs were also recovered in a sack nearby.
"Preliminary investigation shows that the vultures died after preying on the bodies of the dogs who were probably poisoned to death," said Deu Bahadur Rana, the project officer at Conservation Bird Nepal. "Sample collected from the incident site will be sent to Kathmandu for further lab tests."
"We were shocked to find dozens of dead vultures lying on the ground. It is extremely bad news for bird conservation in Nepal," said Shambhu Prasad Upadhyay, a local resident.
The local people suspect that the dogs had been fed poison-laced food. The municipality, however, said it was unaware of the killing of the stray dogs.
"The local unit has not launched any programme to manage stray dogs. We do not know who was involved in the poisoning of the dogs. The police should investigate into the case," said Rajesh Panthi, the chief administrative officer of Ramgram Municipality.
The government and various organisations, in their efforts to conserve the vulture population, have launched various conservation programmes. Vulture 'restaurants' were set up in several places where the birds could feed on safe carrion to increase their number. Similarly, a vulture conservation and breeding centre was established in Kasara in the Chitwan National Park in 2008.
"The death of 67 endangered vultures is a huge loss for vulture conservation. Proper investigation and study should be conducted to avert such a tragedy in the future," said DB Chaudhary, a bird conservationist. "Sixty-seven vultures died on the spot where they fed on the dog carcasses. Some others that flew away after feeding the carcasses might be lying dead in other places."
According to conservationists, a wake of vultures might have flown to Jitpur from Nawalparasi—both east and west—Rupandehi and Kapilvastu, among other neighbouring districts, after sensing carrion and possible feed in Jitpur. The vultures, conservationists say, travel as long as 100 km—sometimes even longer distance—from their base in search of food.
White-rumped vultures, locally known as dangar gidda, are critically endangered scavenging birds. They are the smallest among the nine vulture species found in Nepal. Their population in South Asia dwindled sharply during the 1990s due to diclofenac poisoning. The anti-inflammatory drug used to treat livestock found its way into the body of the birds that feed on carcasses and resulted in kidney failure, studies show.
The population of white-rumped vulture has been gradually increasing after the government banned the production, sale and use of the drug in 2006. Around 2,000 white-rumped vultures are believed to roam Nepal's skies at present.
Conservationists say vultures are helpful in containing outbreaks of cholera, rabies, plague, anthrax and other diseases, as they feed on putrid carcasses that could spread pathogens.
Nine species of vultures are found in Nepal. Four species—white-rumped vulture, slender-billed vulture, red-headed vulture and Indian vulture—are listed as critically endangered while Egyptian vulture is listed as endangered. Three other species are listed as near threatened by the International Union for Conservation of Nature.
---
---