Fall armyworm destroying corn in Banke and Bardiya
Farmers are worried to control the pest because of unavailability of pesticides due to the lockdown.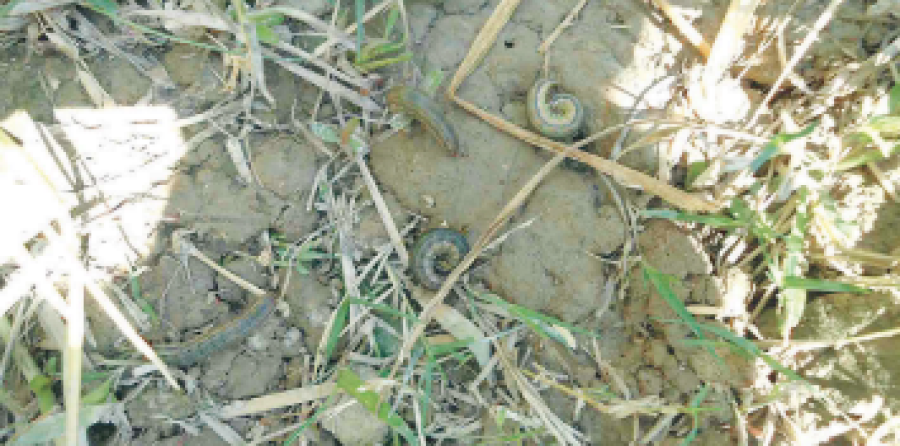 Farmers are worried because of the unavailability of pesticides due to lockdown. Kamal Panthi/TKP
bookmark
Published at : April 12, 2020
Updated at : April 12, 2020 09:36
Bardiya
Fall armyworm has started to invade corn and other crops in Banke and Bardiya districts. Farmers, meanwhile, are worried due to the unavailability of pesticides because of the lockdown.

Dil Bahadur Khadka, a local farmer at Madhuban Municipality Ward No. 5 in Bardiya, said the pest was spreading at a destructive pace.
"We have tried to control the pest using a traditional way without any success. We are in a desperate need of pesticides. If the lockdown continues, we won't be able to get pesticides and crops will die," Khadka said.
According to agriculture experts, the fall armyworm, which was once common in the Americas, has been spreading through Africa and Asia since 2016, flying up to 100 km (60 miles) a night. Usually, fall armyworms become active at night and feed on crops.
In this season, corn has been planted in 4,900 hectares of fields in Bardiya, according to the Agriculture Knowledge Centre in Bardiya. Fall armyworm has spread in the corn fields at Badhaiyatal Rural Municipality, Bardbardiya, Gulariya, Madhuban and Thakurbaba, among other local units, farmers say.
Sagar Dhakal, chief at Agriculture Knowledge Centre in Nepalgunj, said around 80 percent of corn fields have been infested by fall armyworms in Banke and Bardiya districts. "The pesticides are not available due to the lockdown. This is why the outbreak has threatened overall corn production this season," said Dhakal.
In Banke, farmers have cultivated corn in 2,450 hectares of land. The ready-to harvest corn is getting destroyed, according to the farmers.
Due to the lack of vehicular movement, farmers are facing shortage of pesticides and other essential fertilisers these days.
Usually, pesticides are transported to Banke and Bardiya from Birgunj and other parts of the country.
Farmers have requested the agriculture office to immediately start a campaign in the affected areas to control the pest.
"This outbreak may threaten the overall grain output from the district this year. That's why we demand the government to compensate us," Khadka said.
The first case of fall armyworm was reported in Ramechhap in 2019, but lack of timely intervention has led to the spread of the pest in other parts of the country, farmers say.
---
---