Kavre villagers face threat from wild animals
Farmers have been deprived of compensation for the crops destroyed by monkeys.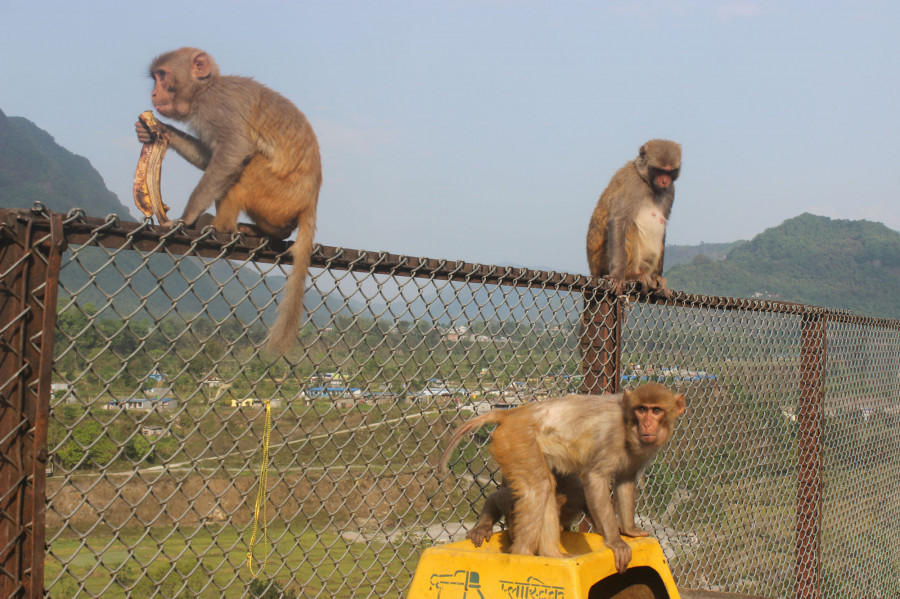 Almost all the settlements in the district have been affected by monkey menace, say officials. Post File Photo
bookmark
Published at : February 4, 2020
Updated at : February 4, 2020 11:50
Kavre
Harihar Uprety, a livestock farmer in Bhumlutar of Kavre, woke up last Thursday to a shocking discovery: all eight goats were dead in his pen. A leopard from a nearby forest had mauled his goats.

"One of the billy goats was left half-eaten. Seven others were lying dead with injuries around their neck," said Uprety with a sigh.
"My goat pen has been emptied. How can I fill it again? The wild beasts have been causing havoc in the area by killing our livestock and destroying crops," he added.
It is not an isolated case. The leopard also killed a goat belonging to Laxmi Rijal in the village the same night. The incidents of a leopard preying on domesticated animals in Bhumlu and other adjoining villages in the district have been reported each year. The continued menace of wild animals has terrorised the farmers.
According to the Division Forest Office, people from Bhumlu, Bethanchok, Nala area of Banepa Municipality and several other settlements near the forest area are affected by leopard attacks. Leopards also attack human beings occasionally. According to the forest office data, 13 people, mostly children, were killed in separate incidents of leopard attack in Kavre in the past 10 years.
Besides, the farmers have been affected by wild animals, including monkeys, Himalayan bears and wild boars. Of late, rhesus monkeys are posing a threat to their crops. Gaurab Bhatta, assistant forest officer at the Division Forest Office, said almost all the settlements in the district had been affected by monkey menace.
"Leopards kill our domesticated animals while monkeys and wild boars destroy crops. Around 100 monkeys are around the village. How can we chase them away and protect our crops?" questioned Uprety.
The farmers say they are having a hard time saving corn from the monkeys. The local people expressed their anger at the people's representatives and the authorities concerned for not doing enough to control the animal menace. "The wild animals, mainly monkeys, have terrorised the farmers. Attempts at the local level are not enough to control the animals. We have urged the authorities to address the problem," said Dil Bahadur Shrestha, the ward chairman of Bethanchok-3.
The government authorities provide compensation for the domesticated animals killed and crops destroyed by the wild beasts. But the farmers, whose crops are destroyed by the monkeys, are deprived of compensation as the list of wild animals in the current directive does not include compensation for damage caused by monkeys.
"Monkeys cause huge damage to crops in the district, but we are unable to provide compensation as it is not mentioned in the directive," said Nhuchchhe Krishna Shrestha, an officer at the division forest office.
---
---
Most Read from Bagmati Province
E-PAPER | December 08, 2023