Sindhupalchok local units introduce women-centric and agro-friendly drives
Tripura Sundari Rural Municipality recently launched a campaign called 'Security Plan for Your Daughter's Future'.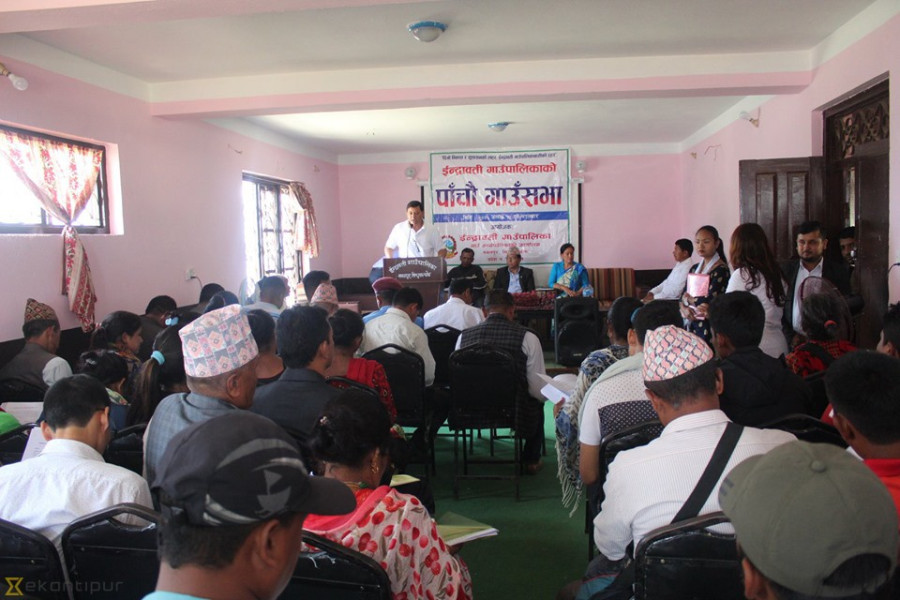 Elected representatives in Indrawati Rural Municipality, Sindhupalchok, participate in the village assembly. Post Photo: Anish Tiwari
bookmark
Published at : July 1, 2019
Updated at : July 1, 2019 09:40
Sindhupalchok
Local units in Sindhupalchok have come up with a roster of plans and campaigns focusing on women empowerment and development of agriculture and tourism sectors.

Tripura Sundari Rural Municipality, for instance, has come up with a couple of campaigns targeting women and farmers. The rural municipality recently launched a campaign called "Security Plan for Your Daughter's Future", as per which, the parents of a newborn girl gets an allowance of Rs5000 upon the registration of birth.

Moreover, the rural municipality is also preparing to launch a campaign targeting farmers, wherein the farmers will get an allowance of Rs2000 upon the registration of newborn cattle. The scheme will come into effect from Shrawan.
"We also plan to increase the salary of staff of all ranks," said Bhupendra Shrestha, chief of the rural municipality. "This will encourage them and also help incorporate our schemes."
The rural municipality is also aiming to develop its major touristic spots as parks, and its communities into home stays, Shrestha said, adding that there are at least a dozen definite plans to develop the rural municipality into a tourism hotspot.
According to Shrestha, also among the projects on pipeline is the construction of Thami museum that aims to preserve the culture and lifestyle of the endangered Thami community.
Meanwhile, Indrawati Rural Municipality has placed the distribution of sanitary pads and awareness programmes on its priority, according to rural municipality chief Banshalala Tamang.
Among the women-centric campaigns is the increment of remuneration and allowances to women health volunteers.
"We have a couple more campaigns targeting agriculture, education and tourism sectors," Tamang said. "Moreover, girls from impoverished families and orphans will be given stipends and other facilities."
Representatives from other municipalities such as Chautara Saga Chokgadi, Jugal and Melamchi also said that the municipalities are focusing on women-centric and agriculture-friendly campaigns.
"Given that societal ills such as human trafficking, child marriage, witch-hunting and gender violence are rife in the municipality, we have introduced plans, policies and campaigns to curb them," Srijana Tamang, deputy chief of Jugal Rural Municipality, said.
---
---